Climbing
Best Climbing Shoes for Beginners (Buyer`s Guide)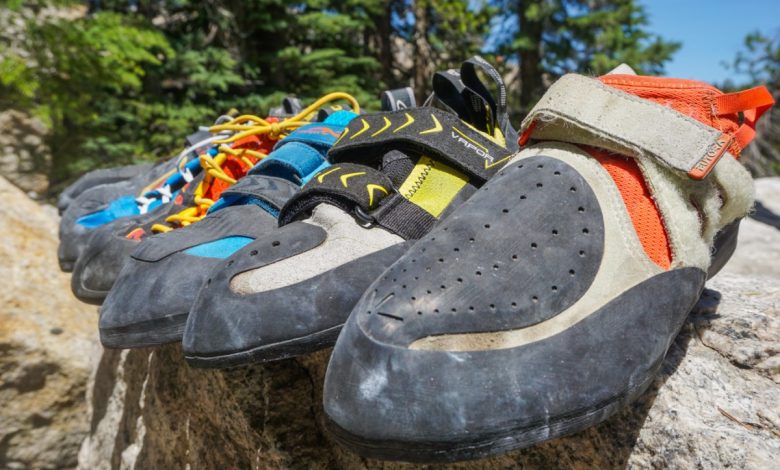 If you are new to climbing and looking to start out gym climbing, you need a pair of shoes that supports your underdeveloped muscles and also gives you the best bang for your bucks! With 20+ hours into this detailed guide, you will find the best climbing shoes for beginners that meets your needs. 
Best Climbing Shoes for Beginners
"4.4% of all Americans were involved in indoor climbing in 2018"― Climbing.com
With so many people starting out rock climbing and gear cost so high, the need to make an informed purchase is at the top.
We covered everything you need to know on how to choose a proper entry level climbing shoe― the type of lace, quality of sole, and so on!!
Head over to the buying guide below before you churn out the reviews. Every dollar matters!!
Let's get started….
Best Beginner Climbing Shoes Review
1. La Sportiva Finale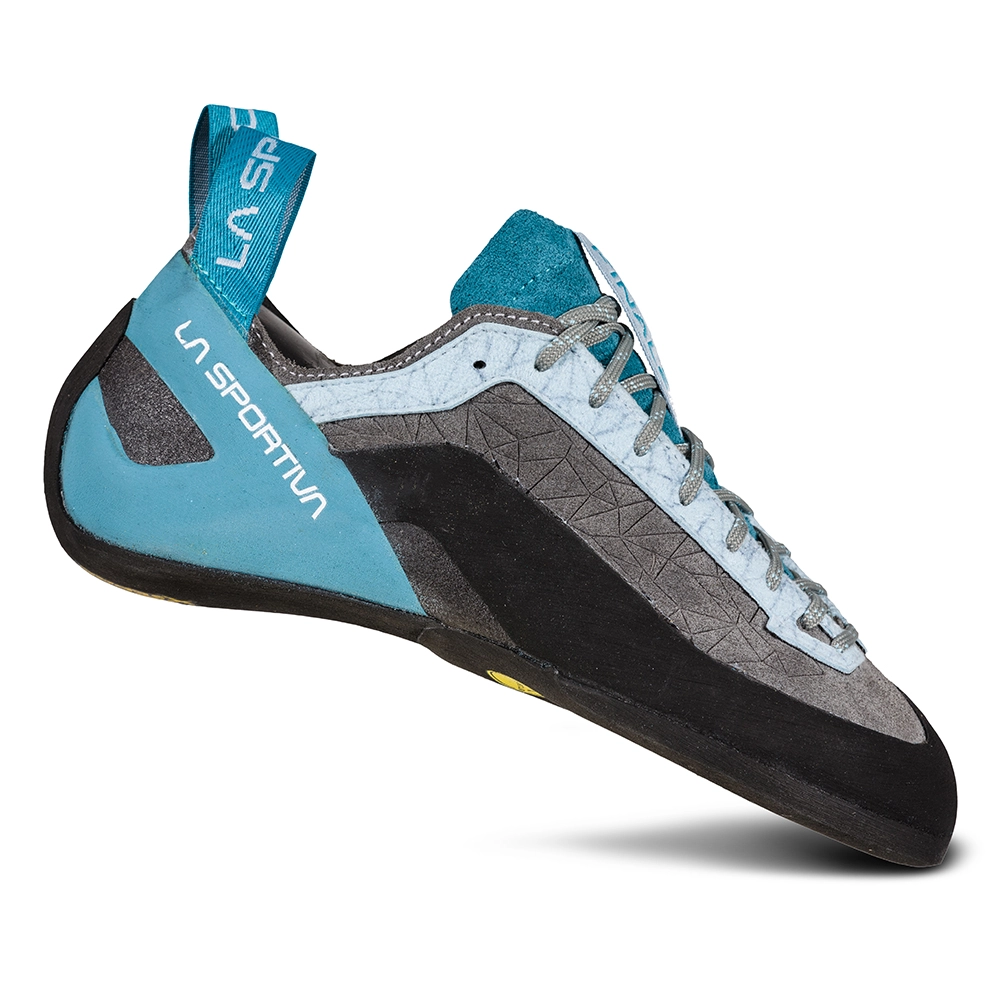 Basic Specs
Upper:

 Leather

Closure:

 Lace

Outsole Thickness:

 5mm
The LA Sportiva Finale with unlined leather and stiff XS Edge sticky rubber has all the essential ingredients to make it probably the best entry level shoe for climbing. We call it 'the best' simply because of its versatility in climbing indoors and outdoors (to some extent).
The top notch feature is the P3 system that maintains the downturn longer. The slightly narrow toe box and sharper tip helps to gain precise footwork and edging. You can expect it to perform quite well on most terrains and efficiently for crack climbing too! That's not something you're gonna find in every beginner climbing shoes.
For the first two/three times, you can feel it rub on your heel. But after that period, the shoes will fit comfortably. Being a lined leather, it can stretch from half to full size. It has a slightly tighter fit than the Tarantulace.
What really matters is the durability as a beginner. With a 5mm sole, it feels a little chunky but the added benefit is the durability. It doesn't provide a whole lot of sensitivity but enough to feel in control.
The LA Sportiva Finale Women version offers exactly the same features and benefits. This shoe is equally comfortable for lady climbers as well.
Pros
P3 technology keeps the downturn in better form
Precise edging on smaller foot holds
Versatile for indoor and outdoor crack climbing
Stiffer design makes outdoor climbing comfortable
Cons
Dye can sip through and reach the feet
2. Evolv Men's Defy Climbing Shoes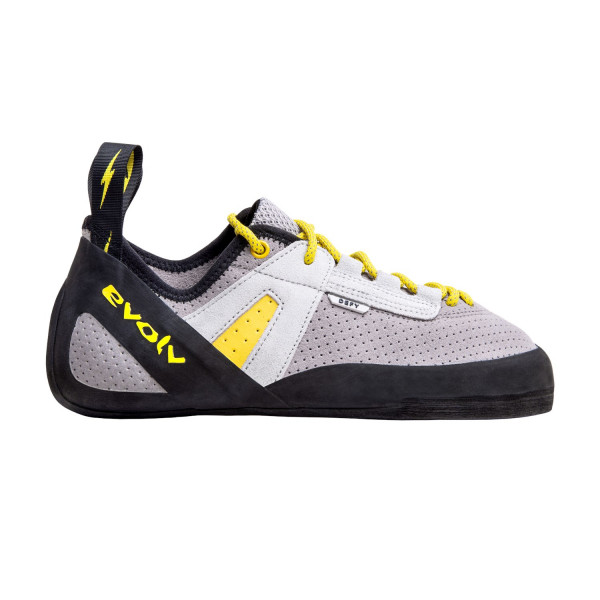 Basic Specs
Upper:

 Synthetic

Closure:

 Velcro

Outsole Thickness:

 4.2 mm
The Evolv Defy is strictly beginner climbing shoe intended towards gym climbing! At a reasonable price, these shoes are maybe the best climbing shoes for beginners.
The shoe has a flatter profile with a synthetic upper that doesn't stretch. That means you will get comfort and start climbing straight out of the box. On the contrary, you won't have too much sensitivity and need to strive harder on overhangs and vertical terrains.
The TRAX high friction rubber sole adds a lot of grip. As beginners, you really want that. The shoe is on the stiffer side but still it will require more footwork from the go. Good for learning the basics and focusing more on technique rather than gear upgrades.
For sizing, you won't want to buy a smaller shoe as synthetic doesn't stretch at all. In fact, we found that the Evolv Defy has a relatively tighter fit compared to the regular sizes. So, you might have to go for at least 1-2 size up for a comfortable fit. The width is absolutely perfect and gives you plenty of room.
Pros
Flat profile offers comfort from the go
High-friction rubber is helpful for gripping
Low break in period
Suitable for learning footwork
Cons
The synthetic fiber can become smelly sometimes (requires cleaning regularly)
3. La Sportiva Men's TarantuLace Performance Rock Climbing Shoes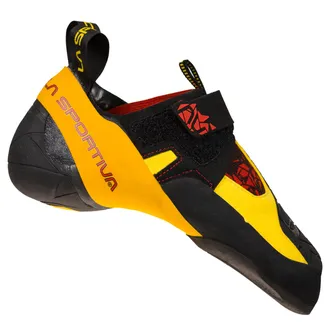 Basic Specs
Upper:

 Leather

Closure:

 Lace

Outsole Thickness:

 5 mm
The LA Sportiva Tarantulace are one of the best climbing shoes for beginners. Intended for mainly gym climbing, you can take it one notch higher and use it on a little bit more difficult terrains due to the slight downturned design.
This shoe is best known for comfort rather than grip. The 5mm thick rubber, flat bottom, rounded edge and symmetrical shape supports gym climbing for hours without any discomfort. The rubber falls in between soft and stiff, so that's great for performance to some extent.
We think this shoe is great for less than 5.9 or V2 boulder problems and moderate multi-pitch terrains. Being a lined leather, you will only need to adjust half a size more than your regular size.
The Tarantulace doesn't require a lot of technical knowledge to get it going. It's simple and makes your training sessions a breeze. You probably will outgrow them sooner but before that, you will absolutely love the feel of wearing it.
Pros
Lined leather makes it easy to find the right fit
Super comfortable with flat and symmetrical design
Above average sole thickness increases durability
Slightly downturned
Cons
Might lose gripping over time
4. La Sportiva Mythos Climbing Shoe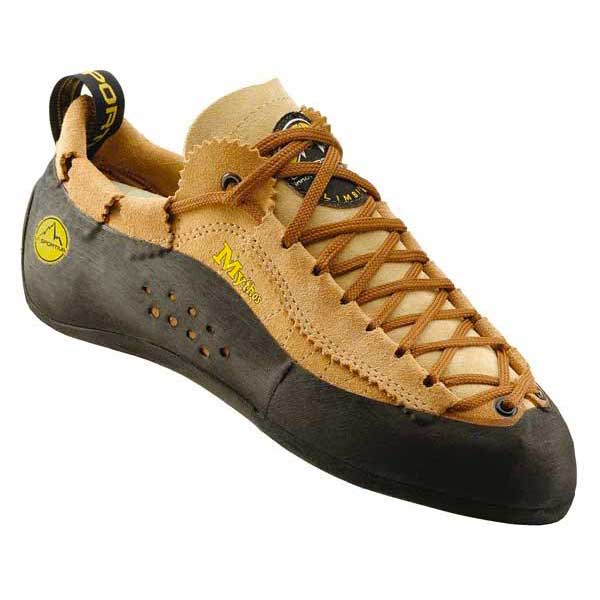 Basic Specs
Upper:

 Leather

Closure:

 Lace

Outsole Thickness:

 4mm
Need the best intro climbing shoes that can support even when you transition into real rock climbing? The La Sativa Mythos is for you! It's a weightless shoe for sending problems in the V0-V5 range.
When it entered the market it was mainly a go-to shoe for trad climbing. The rugged rubber makes it feasible in varied types of terrains and even outdoor cracks and boulders. It might not be super efficient for small footholds but the advantage of comfort outweighs these small issues.
What we love most is the toe to ankle lace up option. This makes the shoe extremely convenient whether you have a wide or narrow toe box. As it's a leather shoe, you will have to size down a bit and wait for the break-in.
For ladies, the good news is there's a Mythos women version. The lacing system just makes it easier for women to gain a proper fit irrespective of your feet shape.
The soles in the range of 4mm are neither too thick nor too thin. So, you get both grip and durability in a single package. If you are planning to pursue only gym climbing, this shoe might be a bit expensive for you. But for beginner to intermediate level climbers, you can't get better than this.
Pros
Quality stitching enhances durability
Almost customized fitting with toe to ankle lace
Good for smearing and sticks well on cracks
Versatile and comfortable
Cons
Not effective for overhung routes
5. SCARPA Origin Climbing Shoe-U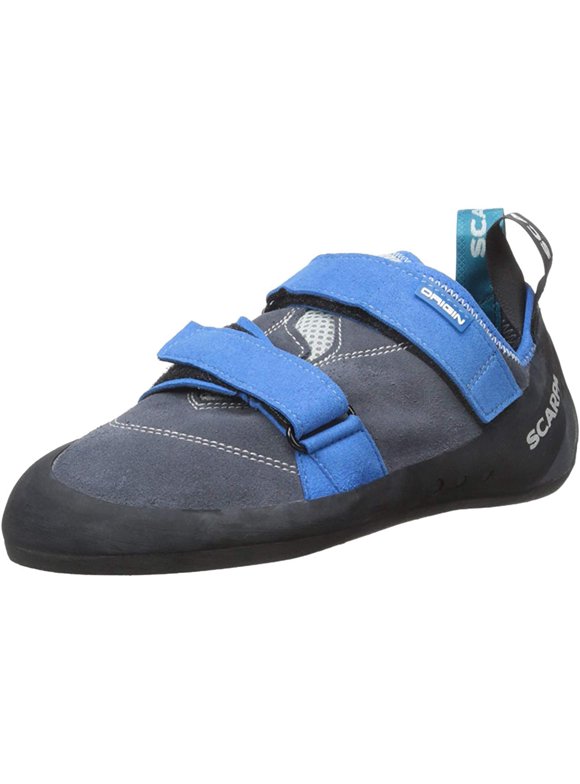 Basic Specs
Upper:

 Leather

Closure:

 Velcro

Outsole Thickness:

 5mm
We won't be boasting too much about the Scarpa Origin. Nevertheless, it does make for a good beginner climbing shoe. With a flat bottom and a stiff sole, it will support you on multi-pitch days and the starting days when you aren't looking for performance at all.
The comfort is noticeable straight out of the box as the padded tongue feels very soft on the feet. The shoe is well built and for non regular users, it should last quite a while.
The thicker sole makes edging a lot easier— good enough for gym climbing but not the best for technical terrains. The rubber feels a bit imprecise especially when you expect grip. If you are not focusing on vertical routes and stay below V3 or V4 range, that shouldn't be much of a problem.
Despite being a leather shoe, it doesn't stretch quite a lot. So, go for the regular size or a half a size down. This makes the break-in period whole lot less. If you want to feel comfort from the get go, the shoe is absolutely perfect.
As for fit, the dual power straps enables a lot of adjustability with the added benefit of easy on and off in the gym.
Pros
Higher quality materials
Effective for edging
Padded tongue delivers comfort
Superior adjustability with dual straps
Cons
6. Evolv Nighthawk Climbing Shoe – Men's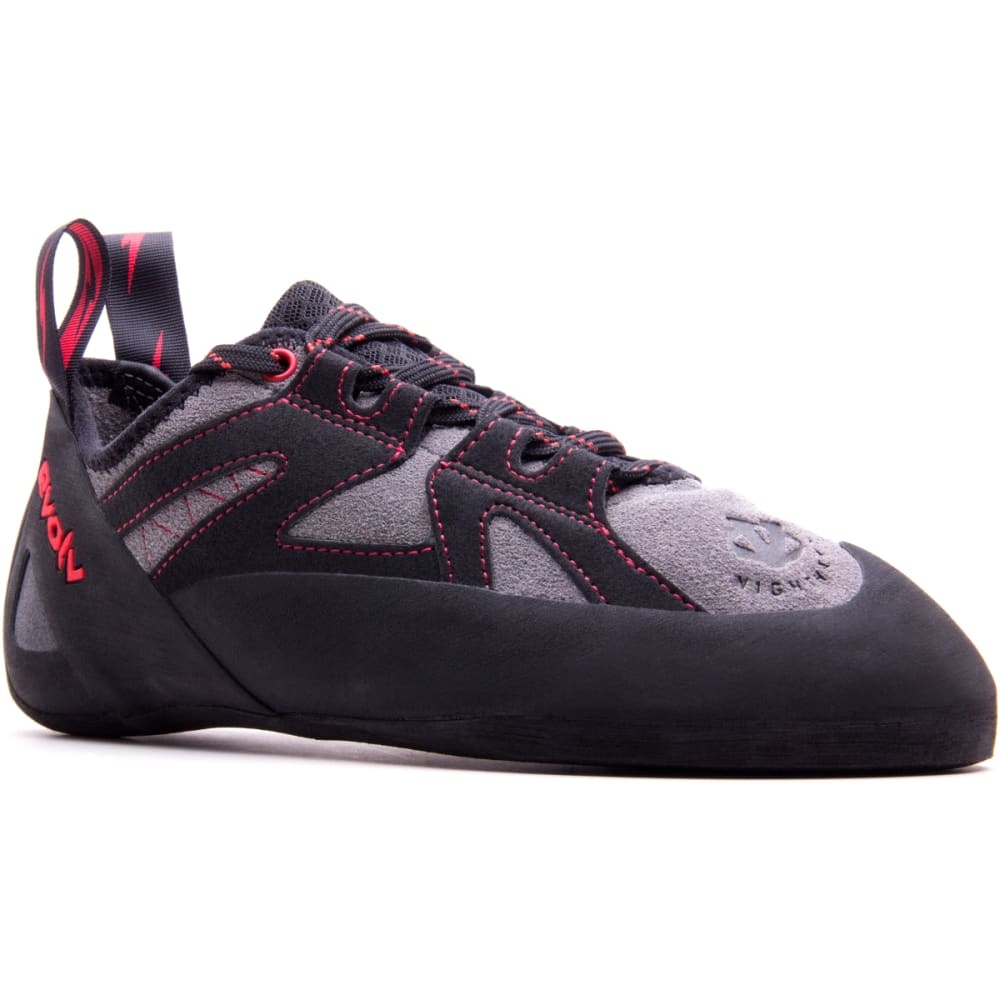 Basic Specs
Upper:

 Leather

Closure:

 Lace

Outsole Thickness:

 4.2mm
If you want the best beginner climbing shoes in an affordable price range, the Evolv Nighthawk is a feasible option. The lower price tag doesn't compromise on the quality and comfort.
It has a neutral profile that keeps users relaxed and going for longer. But limits usage on overhanging terrains. You can expect further comfort from the antimicrobial mesh that enables breathability and keeps odors at bay.
As far as the sole is concerned, it's a bit on the thinner side. So, you will gain sensitivity and grip. This is a compromise on durability. However, for novice users it will still last quite long.
It's made from lined leather, which means you will need to get at least one size smaller fit. Our experience with Nighthawk has revealed that leveling up from half to 1.5 size should fit most users depending on their feet shape.
The Nighthawk is a dream come true for entry level climbers as prices of other gears can add so much, a shoe like this can help to get started easily.
Pros
Better grip and sensitivity
Neutral profile provides comfort and longer climbing hours
Breathable mesh that eliminates odor
Getting proper size is relatively easier
Cons
Overhanging is tough with this shoe
7. Black Diamond Momentum Climbing Shoe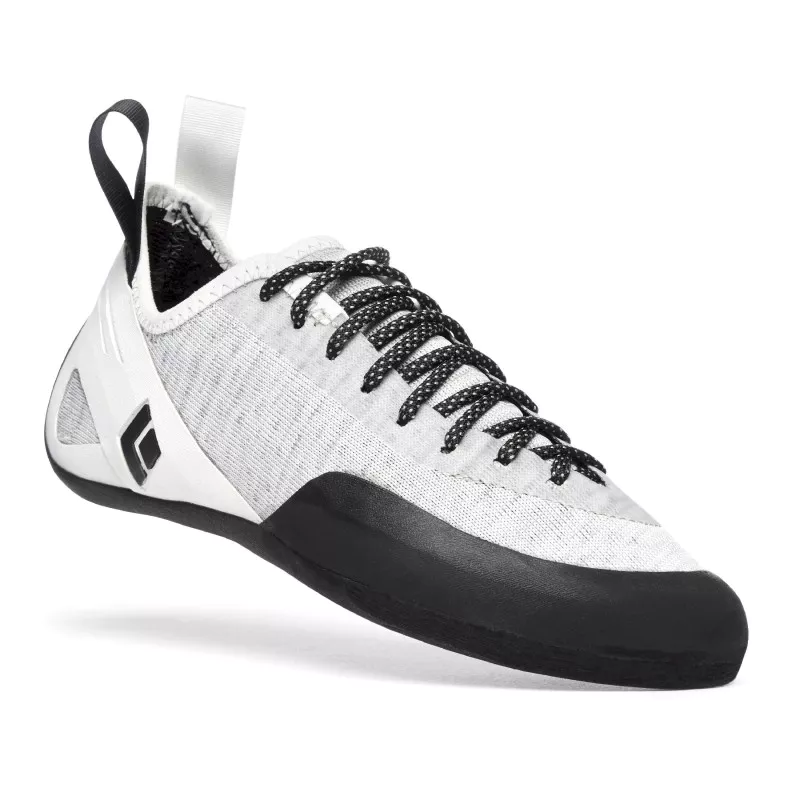 Basic Specs
Upper:

 Synthetic

Closure:

 Velcro

Sole Thickness:

 4.3mm
The Black Diamond Momentum is a great choice for entry level climbers. The breathability and comfort promotes increased gym time. It's not a game changer but definitely worth purchasing if you both sensitivity and edging.
The value you are going to get from it is pretty much comparable to the Scarpa Origin and Evolv Defy. The only notable difference is the breathable synthetic upper which is a bit different than traditional synthetic material. You can expect to sweat a little less with this shoe on.
The midsole is softer with a moderately thicker rubber. The performance is great on the overhangs but not much effective on the roofs. Yet, we think it's a good climbing shoe for beginners who will keep it indoors mostly.
The velcro closure disappointed us as it has a limited adjustability. That's not a problem if you manage to find a proper fit. Usually, the Momentum fits nicely if you go up a 0.5-1 size.
This is a superbly stylish shoe and the aesthetics ever so slightly makes up for little issues. After all, you want to look like a professional climber from the beginning. Definitely one of the best climbing shoes for beginners.
Pros
Super breathable and soft upper fabric
Allows moderate sensitivity and edging
Suitable for face climbs and overhangs
Cool and stylish design
Cons
The velcro system is not up to the mark
Best Beginner Climbing Shoes Buying Guide
Ideal Characteristics of Best Climbing Shoes for Beginners
Here's a quick guide to know what features define a beginner shoe for climbing. You can definitely go with different features, but the lengthy guide following this section will clear out your confusion.
These shoes are 

usually flat

 and has less aggressive downturn

The toe isn't pointed and 

more on the rounded side

 with very little asymmetrical design

Beginner shoes are simple and 

cost somewhere around $xxx-$xxx

. Climbing shoes above this price range should be effective for novice climbers but that will be overkill and unnecessary.

The 

sole is thick 

and focused more on durability rather than grip.

They are 

more on the loose side

 in terms of fitting and size. So, comfort is prioritized over performance.
Here comes everything in more detail…
Uppers: Leather or Synthetic
Whether to go with leather or synthetic uppers is a totally personal choice.
The only difference between these two materials is leather stretches and synthetic doesn't.
You will find two kinds of leather uppers. Lined and unlined leather. An unlined leather will stretch to a full size whereas a lined leather will stretch less.
What makes leather ideal for beginners is the higher level of durability and comfort. The only issue is you need to buy a tighter fit and bear some pain before it stretches out.
With synthetic, your shoe will stay true to size. So, you can feel comfortable from day 1, but in the long run leather outruns synthetic.
Types of Velcros to Consider
Whether you go with a lace, velcro or elastic, it really doesn't matter when starting out. However, all of these closures have subtle differences that might entice you to choose one over the others.
Here are the strong points and weak points of each:
#1- Lace
Strong points: Adjust the tightness easily, shift from comfort to performance mode
Weak points: Time consuming when putting on and off frequently
Best use: Crack climbing
#2- Velcro
Strong points: Easier to put on and off
Weak points: Limits the degree of tightness or looseness, Chances of failure becomes high with time
Best use: Gym climbing and bouldering
#3- Elastic/slipper
Strong points: Super easy and fast to put on and off, Comfortable, 
Weak points: No way to tighten when stretches, have to wear a tighter fit that causes pain
Best use: Crack climbing, gym climbing and bouldering
Final recommendation: If you have the ability or are willing to transition to crack climbing and outdoor climbing sooner, the lace closure should be a better option. Otherwise, either velcro or elastic closures are perfect.
Sizing: Loose Fit Vs. Tight Fit
As a novice climber, there's no point in focusing on performance. The first thing you will need is to feel comfortable and keep the learning curve going upwards.
Shoes that are extremely tight fit will give you greater grip and enhanced performance. But the painful period you are going to live will ultimately decrease your performance and might even force you to quit.
We don't recommend very loose shoes that will put stress on your footwork. So, get a shoe with comfortably tight fit. This means, opt for the same size as your regular shoes or just half a size down.
If you are a leather guy, then a full size down is needed. Don't worry. Just endure the pain for a few sessions and then enjoy the comfort later.
Sole: Soft or Stiff
You can either choose a sole and midsole that is soft or stiff. Depending on your usage, your purchase will vary.
Soft shoes provide greater sensitivity between the rock and foot. That means, you will have a better grip and ability to flex your feet around holds. The downside is you'll need stronger feet muscles for that increased flex.
Stiffer shoes are a lot supportive and you will have the advantage of edging and stability. Your feet will have to work less harder with these shoes. The only downside is these shoes won't last long.
It seems stiffer shoes are the way to go for beginner climbers. But considering the fact you will be starting out at gym climbing or steep bouldering problems and then transition to outside climbing, a moderately stiff midsole should be perfect.
Rubber: Grip, Durability & Thickness
You have two options:
Thinner rubber (3-4 mm): A thinner rubber means you have more sensitivity and grip when climbing. Unless you are planning for smearing on slab routes, it's best to avoid thinner shoes.

Thicker rubber (4-5.5 mm): A thicker rubber is perfect for durability and support of your feet. As a beginner, you want the best bang for your bucks as you learn and develop better muscles. These shoes won't give you high levels of grip.
Start with thicker rubber. Later on, when you transition to outdoor climbing or want to focus on performance, you can shift to a thinner rubber.
Price Factor: Keep it Low
The upfront costs of rock climbing is huge!! For gym climbing, you will need at least $200 dollars with recurring monthly costs in chalk and gym membership. When outdoor climbing, the cost increases further with addition of rope, crash pad, etc.
The last thing you want is an expensive climbing shoe and you are using only half or less of its potential.
As a beginner, you don't need a super aggressive downturn, powerful rand or precise edging. You will need them at some point but by that time your shoes will wear out and need change. Invest more on the second shoe.
For now, an affordable and midrange priced shoe should be more than perfect.
Advanced Vs. Beginner Climbing Shoes
Advanced climbing shoes are built to support precision and performance. We have included a few models in this review like the X and Y. These shoes are inclined a little towards performance. If you are one of those few climbers who have a huge passion and are willing to learn quickly to get beyond the gym walls, then go ahead buy these ones.
Otherwise, beginners who want to take time and learn slowly, a good time to upgrade is when you start to feel that you have reached your shoe's limit. Until then most shoes in this list will do a great job for you.