Hunting
Best Cold Weather Hunting Gloves –The Guide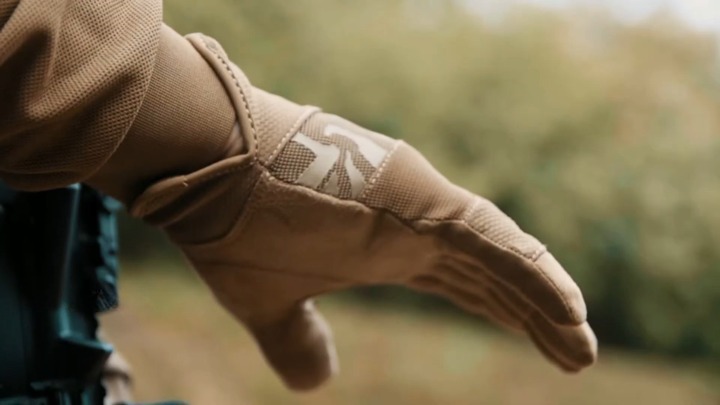 Are you a hunting enthusiast? Catching game is all fun until your hands start freezing, making you want to get in your car. The weather can totally ruin your experience, but not if you have the best cold weather hunting gloves!
Whether it is your hobby or a source of income, hunting involves a lot of challenges. For moving around in tough terrains and harsh weather conditions, you need to prepare in advance. Most importantly, your fingers must be protected at all times to function actively.
The guide lists the 5 cold weather hunting gloves along with the features you must consider while buying. So without any further ado, dive in!
5 Best Cold Weather Hunting Gloves
1. Huntworth Men's Light Weight Hunting Gloves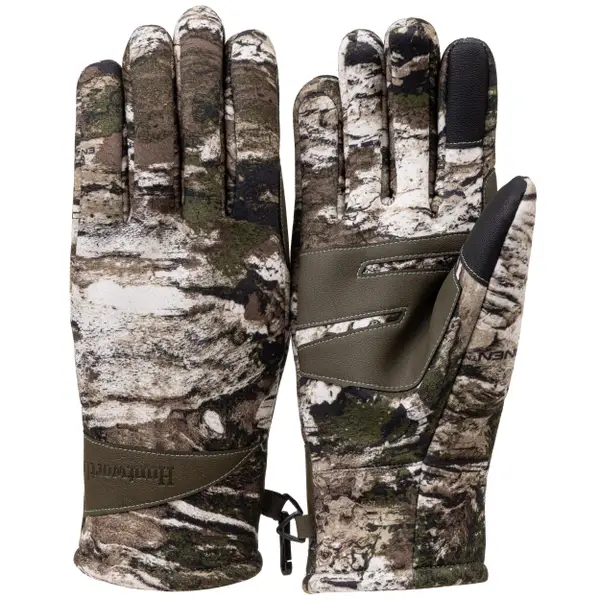 The Huntworth lightweight hunting gloves feature polyester (97%) and spandex (3%), making it perfect for the outdoors. It is highly stretchable, allowing complete maneuverability so you can hold your hunting equipment with ease.
These are even better than wool hunting gloves, being warm, windproof as well as waterproof. The fleece material at the back ensures complete motion while the silicone print on the palm enhances the grip.
Its triple-layer fabric and neoprene cuff makes sure that the gloves fit snugly to your hand and wrist. You get all of this, along with a scent control technology. Its Microban antimicrobial protection will prevent unpleasant odors caused due to moisture. 
What makes them one of the best cold weather hunting gloves is that they are touch-screen enabled despite being thick. Its index finger and thumb are made of an ergonomic fabric, allowing you to access your touch screen devices.
Its brilliant camo print will conceal and help you outwit the eyes of your game. What's more? You need not worry about the dust on the gloves as they are machine-washable.
Highlights
Polyester and Spandex

Neoprene Cuff

Silicon Palm for Enhanced Grip

Highly Stretchable

Scent Reduction

Touch-Screen Enabled
2. Sitka Incinerator Flip Mitt Optifade Elevated II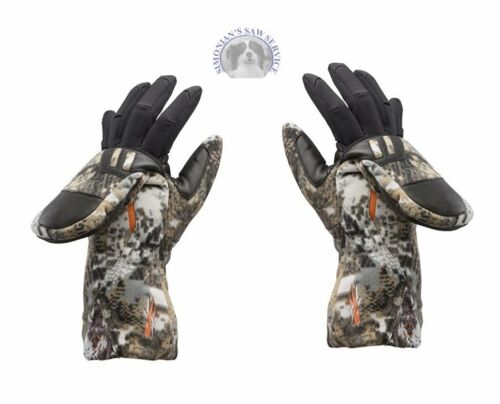 The Sitka Incinerator gloves are one of the premium products in this list, justified by its superb quality and features. The gloves have an extra flip-over cover. If you have to stay outdoors for long hours, you can cover your fingers with the thick protecting layer.
The feature that makes it stand in the list of the best cold weather gloves is its fabric. It features the Gore-Tex material that is 100% windproof, waterproof, as well as breathable.
Apart from its prime fabric, the mittens feature leather palms to ensure complete grip. Moreover, its fingers are articulated. Thus, the gloves are highly maneuverable, providing the ultimate dexterity and precision. Now there is no fear of your ammunition falling slipping from your hands.
Its Gore Optifade pattern provides the perfect concealment for your hunting sessions. Whether you are on a tree stand or other elevated area, it is optimized to hide you from animal view. Furthermore, the gloves are long enough to cover your sleeves, keeping the cold at bay.
Highlights
Flipover Mittens

Gore-Tex Material

Leather Palm

Long

Articulated Fingers
3. BANDED Men's White River Insulated Gloves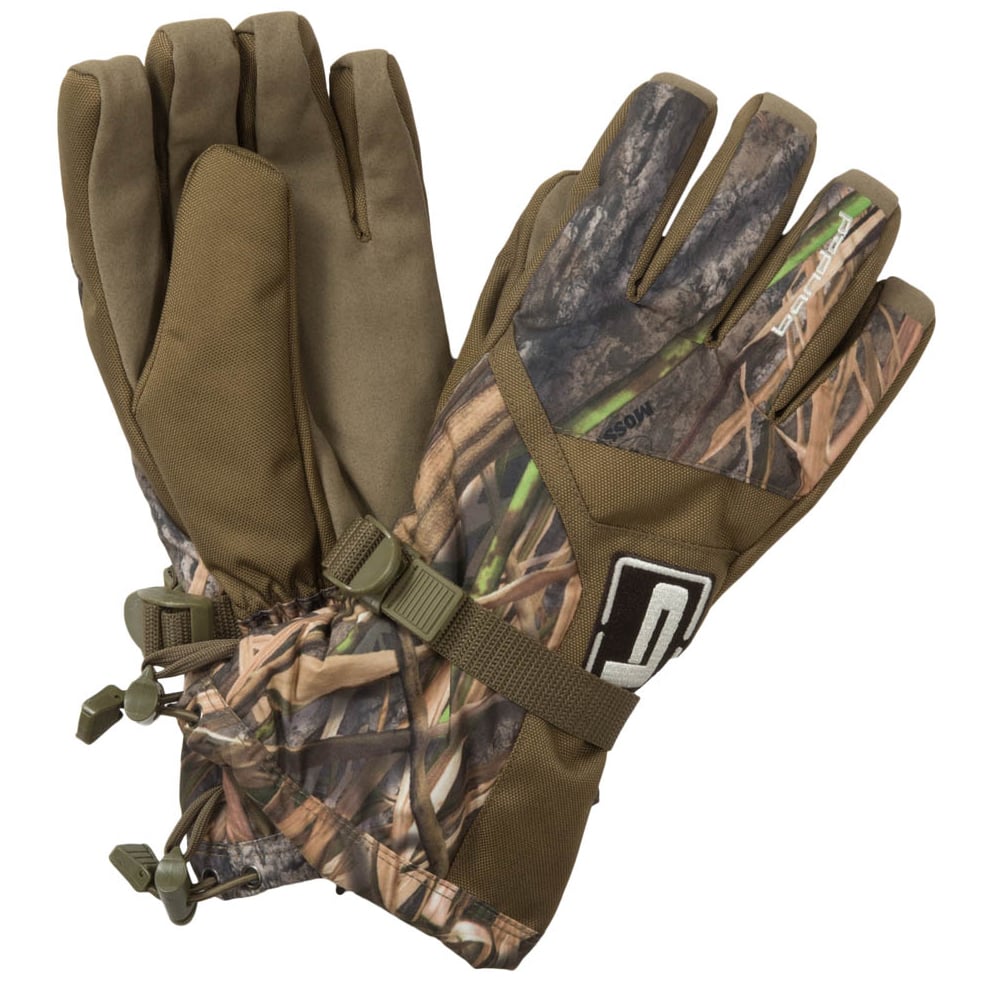 Banded gloves feature the SHEDS technology, making it one of the best hunting gloves for cold weather. The Super Hydrophobic Evaporative Development System ensures the utmost breathability and comfort.
Its exterior laminate makes sure that your hands remain dry even in heavy rains. Furthermore, its scientifically-tested breathable material allows ventilation to prevent uncomforted moisture or sweating.
The construction of the Banded gloves is such that it provides high insulation. It features 10oz HARS at the back while 6oz around the palms. Now you can beat the chills of a cold hunting session and still catch a big game. Moreover, its palm is made with leather to enhance your grip.
What's more? The gloves are long enough to cover a part of your sleeves. You can protect them around your wrist with the strap present on the gloves, tighten-up its ends with the in-built hook. Now your hands will remain perfectly protected even during harsh winds!
Highlights
Super Hydrophobic Evaporative Development System

Looped Strap

Leather Palms

HARS (Heat Absorbing Retention System)
4. Under Armour Men's SC Primer Gloves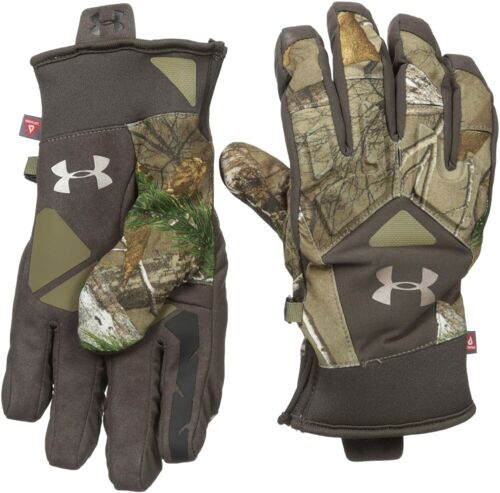 The Under Armour primer gloves are made of polyester and other fibers. The material allows complete movement, letting you hold your ammunition with the utmost ease. Furthermore, the Tech Touch print on its fingertips and thumb enables the use of a touch-screen device in a hassle-free manner.
With these gloves, you can hunt in heavy rain, snow, as well as harsh winds. Its UA storm finish repels water and ice while the scent control technology maintains breathability. Additionally, the silicon-printed material on palms enhances grip as well as comfort.
Its ColdGear infrared lining makes the Under Armour primers one of the best warm hunting gloves. The inner coating of these gloves is soft and thermo-conductive, which absorbs your body heat. Furthermore, it ensures that this warmth is retained, giving you prolonged insulation.
That is not all. The gloves feature extra foam padding on the knuckles. It is lightweight, protects your hand from hurting, as well as the chills.
Highlights
Polyester

Scent Control

Touch-Screen Enabled

Foam Padding

ColdGear Insulation Lining

UA Storm Finish
5. Glacier Glove Aleutian Full-Fingered Neoprene Fleece Lined Glove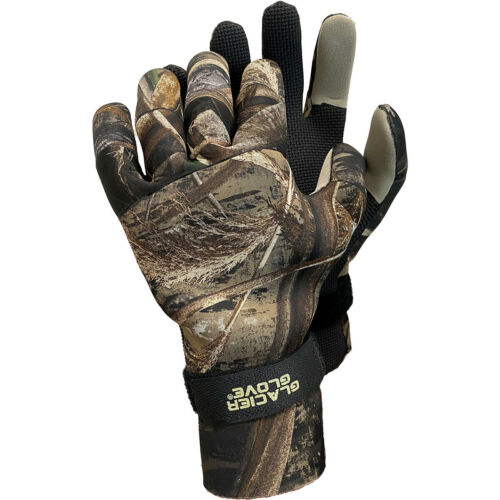 The Aleutian Glacier gloves are specially designed for outdoor activities. Despite its reasonable price, they keep you warm and dry even in cold, windy, as well as wet conditions.
It is made of 2mm Techline Neoprene material along with fleece lining. Furthermore, its blind-stitch construction makes the product long-lasting. Hence, the best cold weather shooting gloves provide complete insulation while being 100% waterproof.
You enjoy all of this without compromising on breathability. The front side of these mitts features sharkskin construction. It makes for a perfectly-seamless grip while proving to be highly comfortable and maneuverable.
While its front side is black, the backside and the index finger feature The authentic Realtree MAX-5 camo print. With its concealment pattern, your game hunting session is sure to be successful!
Highlights
Fleece and Neoprene

Seamless Palm Material

100% Waterproof

Low-Friction Fingertips
What are the Features to Look For In the Best Cold Weather Hunting Gloves?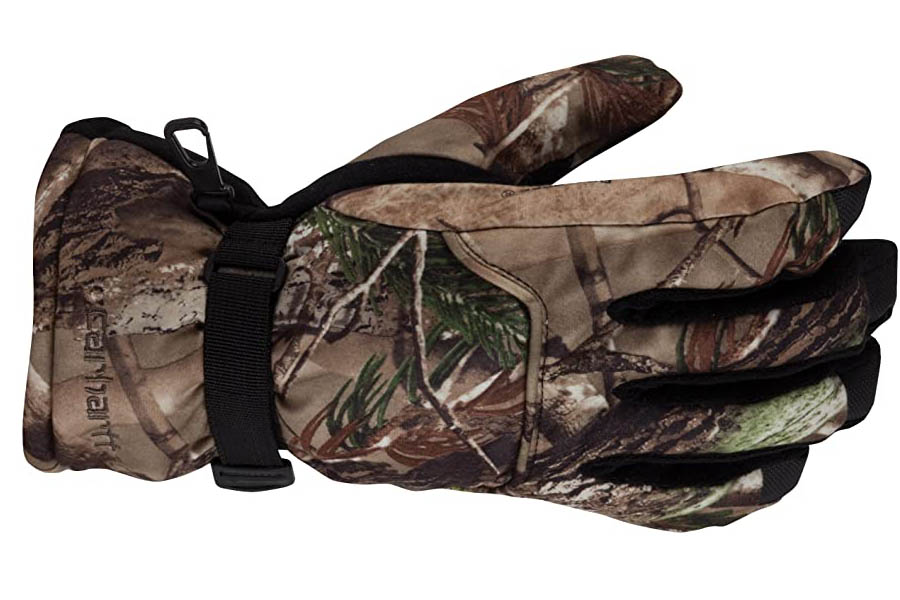 Before getting to your final decision, there are certain features that you should go through while buying winter shooting gloves.
Size
Make sure that your winter shooting glove is neither too tight nor loose. You can measure your hands and compare it with the size chart before making your purchase. Additionally, a hunting glove that is long enough to get tucked in your sleeve will keep the cold at bay.
Comfort
You must choose gloves that allow enough maneuverability. You do not want mittens that make your hands stiff, resulting in a failed hunting session. Moreover, the gloves should do their primary work, i.e., keep your hands warm while being breathable.
Water-resistant
You can never be sure of the weather conditions when you go outdoors. Gloves that are soaked in water and plastered around your hands are something that you certainly do not prefer. More so, as you may have to cross small streams in the jungle.
Material
It all comes down to the material you choose. From synthetic to wool and leather to other fibers, you have a variety of options. While synthetic is mostly stretchable, wool provides the ultimate warmth. Leather gloves are waterproof as well as warm.
Color
When it comes to hunting in the jungle, the camo print is undeniably the most preferable. It will work perfectly with your other clothes in concealing you. You may still choose dark colors such as black and brown, which does not get dirty easily.
Endnotes
Despite the freezing weather, you need not worry about your fingers going numb. You can still enjoy a bang-on hunting session if you have the right gloves. You can choose the most suitable options from the list of the 5 cold weather hunting gloves provided here.
There is a vast range out there, from varying materials and construction to sizes and quality. Before choosing, make sure you consider the essential features in your winter shooting gloves.
Now nothing can stop you from enjoying a power-packed game-hunting session in the winter!