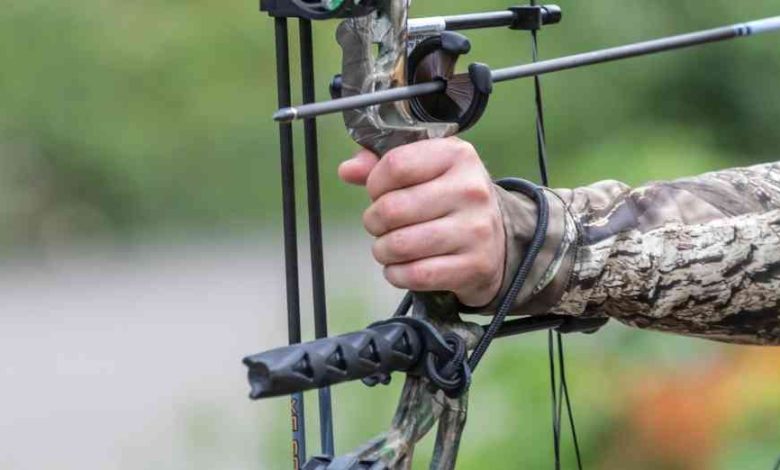 If you're just getting into archery and you are a beginner. Chances are that you might want to find the best beginner compound bow to use while you are learning the basics. Well, you're just in luck, because in today's article we've decided to talk a bit more about which are the best beginner compound bows in each age group. But, we do have one best all-rounder. Keep on reading and find the best beginner compound bow for your specific group.
Top 7 Best Beginner Compound Bow Reviews
1. Best Compound Overall – The Diamond Infinite Edge PRO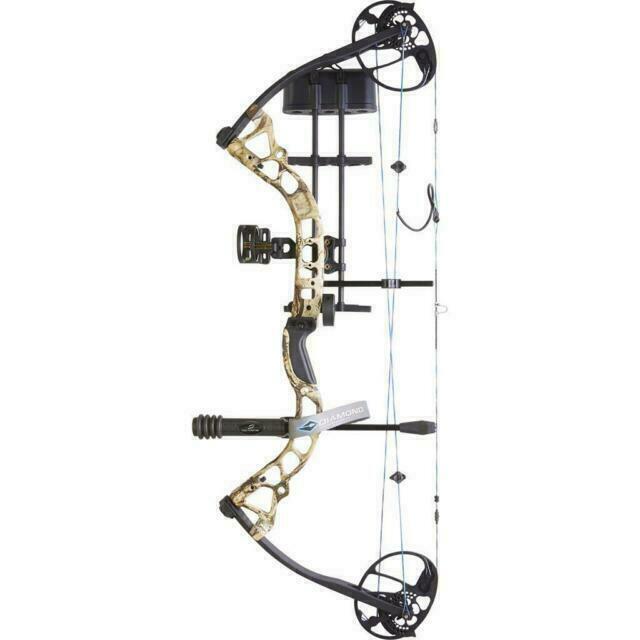 The infinite edge pro has two generations. The second iteration is a bow that most people would never outshoot. Lots of commercials make out the Diamond infinite to be a ladies' or kids' bow. Still, the truth is that the adjustability that it offers makes it the best compound bow for beginner for a variety of archers. As you use the bow more and more, it will improve alongside you with the adjustments that you make. So, you don't need to buy a new bow every two years because you'll never outgrow this bow.
Diamond seems to have hit the nail right on the head with this iteration of the Infinite Edge. It offers innovation, versatility, and performance for a pretty reasonable price if you ask me.
It offers an adjustable draw weight, from 5 to 70 lbs. As well as adjustable length, from 13 to 31 inches.
Many people would call the brace height that the infinite edge has, the ideal height at seven inches. And the stall that it offers is at 310 fps alongside an 80 percent let-off.
We haven't chosen this bow to be our overall best compound bow. It's because a growing number of people are raving about how good this bow actually is. And, it ticks all the boxes in our list.
Pros
Easily adjustable
Many Colors to Choose from
Solid Back Wall
Warranty for Lifetime
Cons
The only setback that we've felt with this bow is the fact that you might feel the grip is a bit square. But, there are many aftermarket grips that you can use to adjust it as you like it
2. Best Compound Bow for Beginner – The Bear Cruzer RTH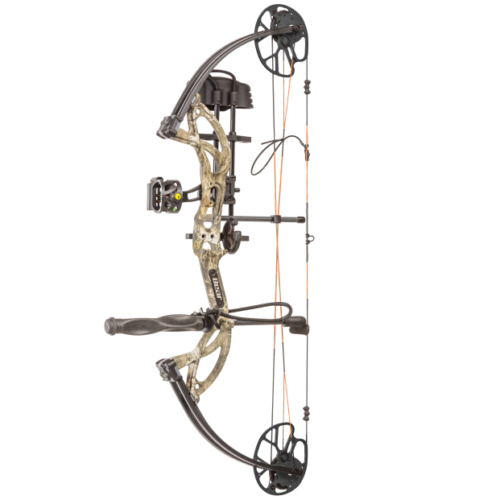 This beginner bow is one of the best out there to start your journey on. It's big enough to hunt big game, and it is versatile enough to smooth you into the art of archery. Personally, the Bear brand of bows is my favorite, and the Cruzer is just the right thing for a beginner.
The draw weight ranges from 5 to 70 lbs, and the draw length ranges from 12 to 30 inches. The bow has 75% let-off, and you get 310 fps IBO Speed. The brace height of this bow is 6.5 inches. And, the only thing that it leaves you wondering is whether you should choose this one, or the Cruzer G2 or maybe the Cruzer Lite.
For those of you who have a smaller overall body frame and don't need all that power that the RTH has to offer, we would recommend you to go with the Lite version. And, if you're not a newbie into archery and have had some experience before, the G2 gives you more versatility such as weight reduction and better performance. But, for the newbies out there, the RTH is the best fit. With it, you get a smooth draw, a lifetime warranty as well as stabilizer, sling, sight, and quiver.
Pros
Versatility and adjustability
Smooth draw
Warranty for lifetime
L&R Handers
Many colors to choose from
Cons
The back wall is not as sturdy
A bit heftier than the Diamond
3. Best Beginners Compound Bow for Adults – The Leader Accessories Compound Bow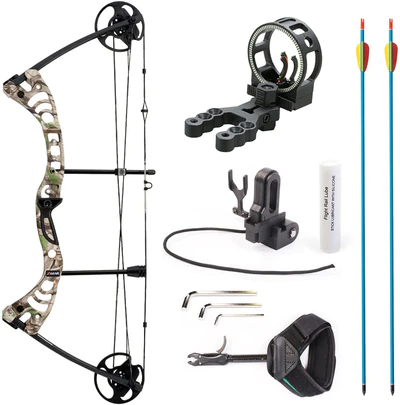 A basic beginner's compound bow with this many options and colors is not easy to come across. And, that's the main reason why the Leader Accessories one caught our attention. And, even the starting option that they got to offer comes with an Allen wrench, which allows you to adjust the draw weight and the length of the bow to what suits you best.
The draw weight starts with 30 lbs and can be ramped up to 55 lbs. This is pretty enough for anyone who is trying to hunt, but it also gets low enough to get a good feel if you're new to the bow. Archery experts at archerssupplies.com inform that, "if you have a bigger body frame, later down the road, you might want to increase the draw, but this is a good draw to start with. You also get a 70 percent let-off as well as 296 FPS of firing speed."
But, despite all the adjustability that this bow offers, there is only an option for the right-handed people. But, if you are not a leftie, the dozens of camo patterns that you can choose from make this an amazing choice if you are trying to get into hunting.
It is particularly a good choice because of the fact that you can get the bow with lots of accessories. And, even if you include all the accessories that come with the bow, it doesn't get a lot expensive. In fact, it's much cheaper than many other beginner models out there. And, the best part is that if you don't want the accessories and only want to learn the bow first, you can get it for dirt cheap!
Pros
Dozens of patterns to choose from
Adjustability and Personalization options
A Budget Flagship
High-quality Accessories
Cons
Not an option for Lefties
Not a strong string
4. A Good Way to Get Into Hunting – The Raptor Compound Hunting Bow Kit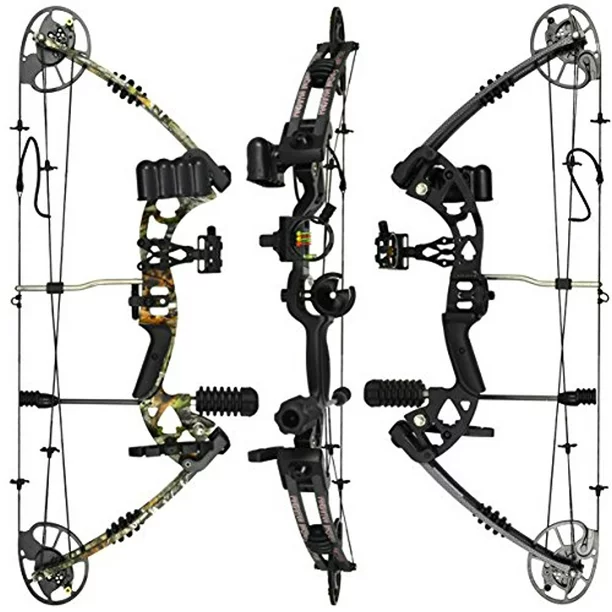 This kit is a great one if you want to start with the "out of the box" experience. But, we would not recommend it for absolute newbies. Because of the fact that this would be a great choice for someone who understands somethings around archery and bows. It's great for beginners that want to dip their toes into hunting.
It's not really a beginner's bow because of the fact that it's pretty powerful. Namely, it comes with 70 lbs of draw weight, 315 FPS firing speed, and the draw length ramps up to 31 inches. So, these specs make the Raptor kit a great choice if you want to score big game.
The fact that this kit is made in the USA doesn't do anything to its price. In fact, this bow comes at a pretty affordable price if you compare it to some choices out there. And, when you open the box and see all the accessories that you get inside, this option becomes even more affordable. In the box, you'll get a fiber-optic sight, stabilizer, silencers, and everything else that you might be needing to take it straight out for hunting. The only thing that you will need to get yourself is the arrows.
There are only two options to go with, though, camo and black. It isn't ambidextrous. But, you get a lifetime warranty when you purchase this bow.
Pros
Good Draw Weight
Amazing Construction
Fast Firing Speed
Good Draw Length
Affordable
Lifetime warranty
Accessories included
Cons
It's not ambidextrous
They tell you how to set the accessories up
5. A Great Affordable Option SAS Rage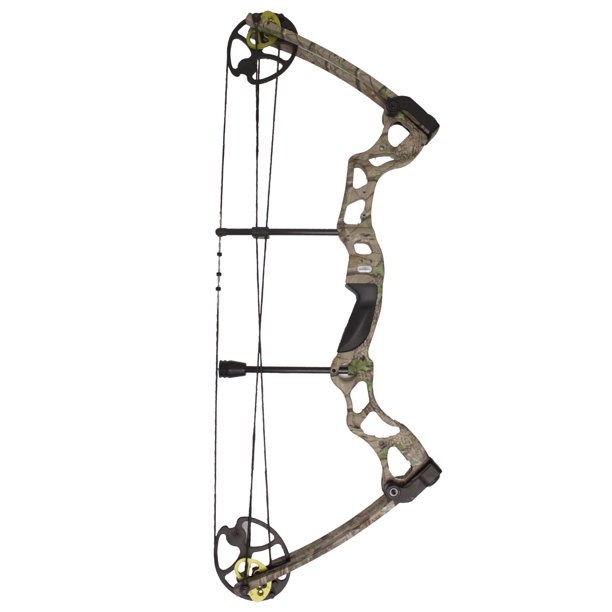 This company is developing a lot of options for affordable compound bows, and the best thing is that they don't really cut on the quality. They include lots of options that come at the lower price range. The firing speed isn't really as powerful as the other bows we mentioned today. But, for beginners, you really don't need power. It comes with 270 FPS and 70 percent let-off. The draw comes from 30 to 55 inches, and the weight comes from 55 to 70 lbs.
This is the most affordable, best beginner compound bow. It's an amazing option for the ones of you who are really just dipping your toes into archery.
It's also a great option for standard deer and turkey hunters or range target shooters.
Pros
Amazing Price
Long A2A (35 inches)
3 colors to choose from
Cons
It gets hefty
Not a silent option
6. Best for serious child archers – The Bear Archery Cruzer Lite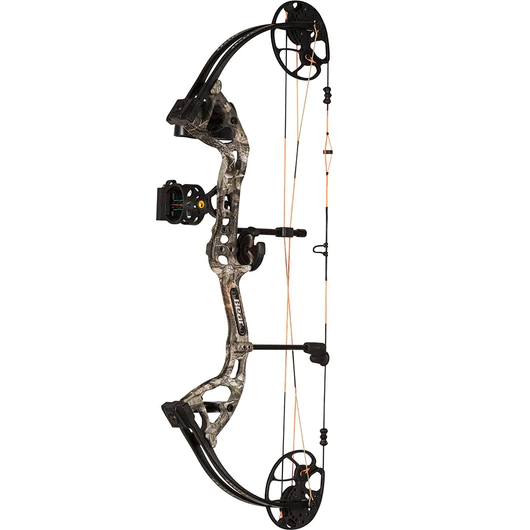 If you notice that your child loves archery, and they're tired of using the flimsy bow you bought them years ago. The Bear Archery Cruzer Lite is an amazing option to get them into the more serious game. Despite the fact that it's build and sized for kids, this bow has the quality and design of much more advanced options.
The draw weight of this model is starting from five pounds, and it can be ramped up to forty-five pounds. And the range is amazing for starting to getting the feel of the bow and all the way to getting into hunting.
You also get an adjustable draw length. Starting from twelve inches, a good length for a kid, and you can go to the max of twenty-seven inches, which is still good for most teens. In the box, included with the bow, you get an Allen wrench with which you can make all these adjustments.
If your kid would like to get into hunting, you also get amazing accessories such as whisker, sight, nock loop, biscuit, quiver, and stabilizer. It would be enough to get a small game, and the 290 FPS firing speed complements this pretty well.
Pros
Adjustable and Versatile
Good Draw Weight
Good Draw Length
Great Accessories
Great Firing Speed
Cons
7. Genesis Original Kit – Best for Beginner Kids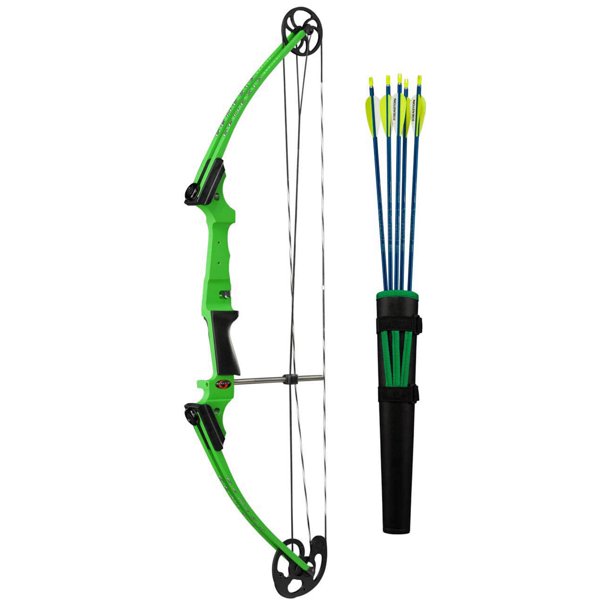 This kit is the official kit for the NASP (the National Archery in Schools Program). This is a fantastic choice if your kid is a bit older and wants to start going into archery. It's designed so your child will never outgrow it. The draw length comes into 30 inches, which means that kids won't have to adjust it as they grow.
It's designed with though aluminum and composite limbs, which allows this compound bow to endure the mistakes of starters and helps it age well. These bows are created and manufactured in the USA, and the quality is top-notch. And, once your child decides that they want to move to a more advanced bow, they can hand it down to a younger sibling.
This bow comes with an optional camo finish, but despite that, it isn't a hunting bow. You can ramp up the draw weight only up to 30 lbs, and this isn't enough to take down any game. But, it's a great bow for your child to practice before moving to a better bow and jumping straight into hunting.
The company also took care of all of the accessories that you might need. So, this bow comes with 5 aluminum arrows, quiver, and arm guard in the box.
Pros
NASP Approved
Kids never Outgrow This Bow
Good Draw Length
Good Design
Great Accessories
Cons
If you liked this round-up, make sure to tell us which bow was your favorite. Why did you like it, and don't forget to share this post on your social media so more people could find the best option for them! If you have any questions, leave them in the comments down below, and we'll make sure to answer them as soon as we can!