Hunting
Best Belly Band Holster in 2023 Reviews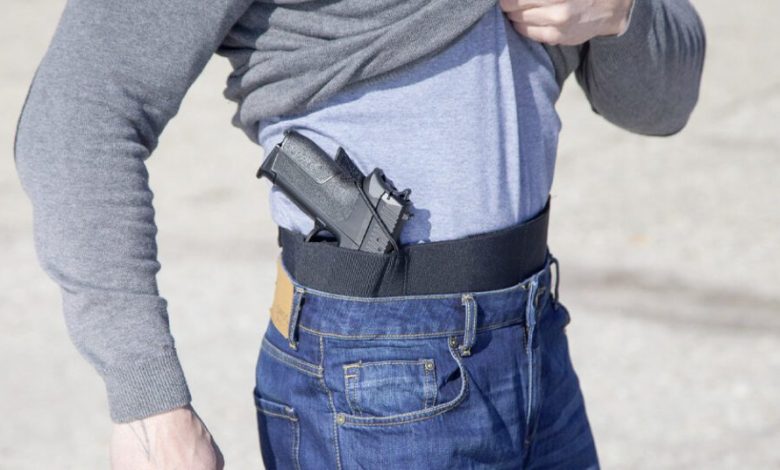 What makes or breaks the best belly band holsters? Well, we took it to you, our loving readers, to tell us your top 13 best belly band holsters. And, with that info in our hands, we went out and researched the best choices and compiled a list of them. If you haven't figured it out yet, in today's article, we will be talking about something that many gun-lovers find to be the most important part of their experience – The belly band holster.
One of the worst parts of buying a new belly band holster is the fact that you need to decide which one will suit you most!
But, today is your lucky day, because now you have us to go through the hassle and find out which are the 13 most adored belly band holster by gun-lovers all over the world.
Best Belly Band Holster Reviews
ComfortTac Ultimate Belly Band Holster for Concealed Carry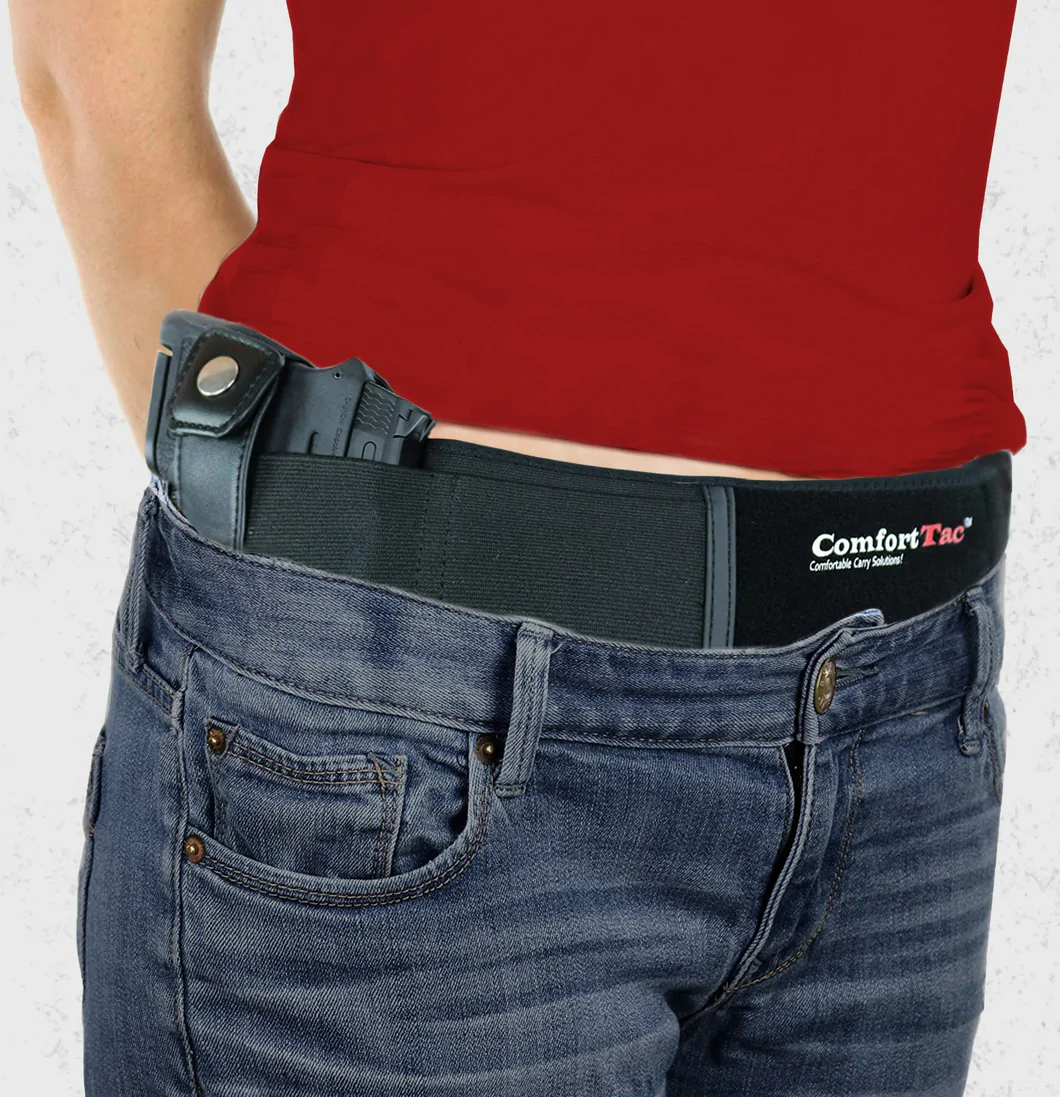 Our first contender for the best belly band holster is ComfortTac's ultimate Holster. This is an amazing option for concealing your gun, and it does a beautiful job of doing this!
One Size Fits All… Almost!
This Holster is made for everyone! Well, almost everybody. If your waist size is 44 inches or below, this will be an amazing fit for you. This Holster can be stretched out pretty big, because of the fact that ComfortTac has used a surgical-grade elastic to develop it. The neoprene used in this Holster is fantastic because it will offer you a soft and comfortable experience. One of the biggest pros of this product is the fact that it is breathable and allows your skin to breathe and look exceptionally without any irritations.
Which pistols can I Use with this?
Well, to be completely honest with you, in the beginning, I didn't think that I could fit anything more than a compact gun. But, this Holster proved me wrong, and it is able to fit everything, from a full-sized all the way down to the sub-compact sized guns.
Did Somebody Mention flexibility…?
There are numerous ways in which you could wear this Holster. Outside or inside the waistband, the appendix position, 5 O'clock position, shoulder, across the body or small of the back position. As you might've thought to yourself already, there are lots of ways of wearing this Holster. So, we would recommend you to experiment and find the best position for you!
You can also find a couple of unique features like a spare magazine pocket. This allows you to reload your gun as fast as possible, and this could be the difference between life and death for someone. You can also find a quick-release strap. This helps your gun fit more snuggly into the pocket.
Belly Band Holster for Concealed Carry | IWB Holster|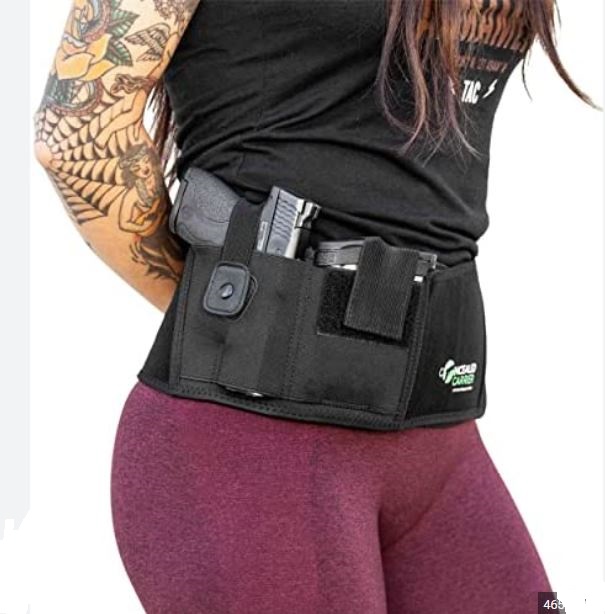 The second Holster on our top 13 list is the IWB belly band holster, this one includes a concealed carry of weapons design, and it's strictly made for right-hand shooters. But even with this, it can be used in a variety of situations.
Here are Some Worth Mentioning
The carrying potential of this Holster ranges through a variety of weapons. From revolvers, all the way down to subcompact guns. So, if you're the proud owner of many guns in various sizes, this Holster will fit you right!
There are many ways that this Holster could be worn. Ranging from outside and inside the waistband, on your back, or across your body. The choice is yours to make. We assure you that you will find a comfortable way to wear this fantastic belly band holster.
How Comfortable it Really is?
If you want to know the short answer, it's YES; it is pretty comfortable. After all, it is a belly band holster designed using surgical grade elastic. What else did you expect the answer to be? It fits for people that don't exceed the 44 inches mark around their waist. The main fabric used in this one is the same as the previous one – Neoprene, and as we mentioned before, you won't be experiencing any itching or skin irritation. But, this one also includes a ventilation design, which allows the Holster to breathe more than the previous one. You can also find a spare magazine holder in this Holster as well.
Kaylle Belly Band Holster for Concealed Carry – Most Comfortable Waistband Holster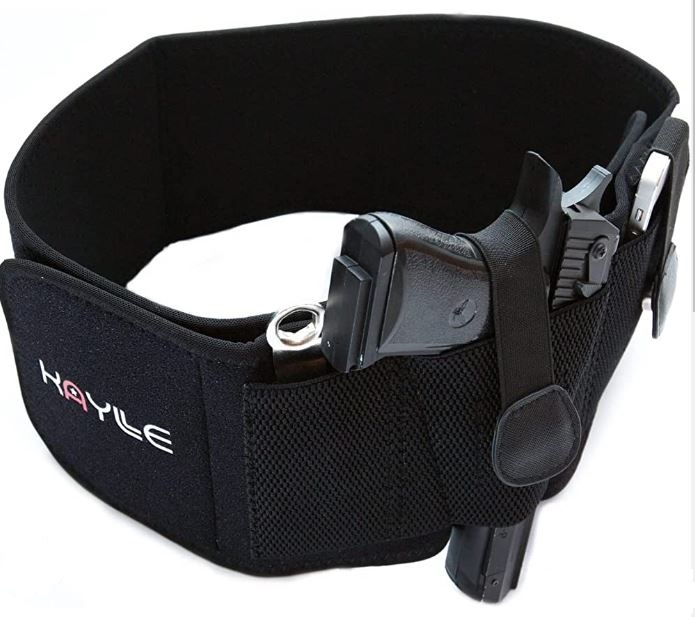 Third on our list you will find the Kaylle belly band holster. It's a unisex option for both girls and guys alike. This one is a significant upgrade from their previous iteration.
Great for Concealing and Carrying your Gun
This is an inside the waistband holster, and the great thing about these kinds of holsters is the fact that it's pretty easy to conceal your weapon because of the fact that they are designed this way. With its 2.55 mm thickness, it will be extremely comfortable while concealing your weapon.
Its pretty simple design allows you easy access to your gun. This also helps in the weight management of the Holster because it makes it lighter than other holsters.
The Design Material
Just like many of the holsters mentioned in this list before it, the Kaylle belly band holster is created from a high-quality neoprene. But, the extra holes that they added into the design of this Holster make it even lighter, and extra breathable. And, as a bonus, they also added in an anti-sweat technology to make it even more comfortable for you.
The crazy thing is that you can even take this Holster out for runs or other exercises on you, and wouldn't need to worry about sweating, it surely will hold up! You can read the full review here.
BRAVOBELT Belly Band Holster for Concealed Carry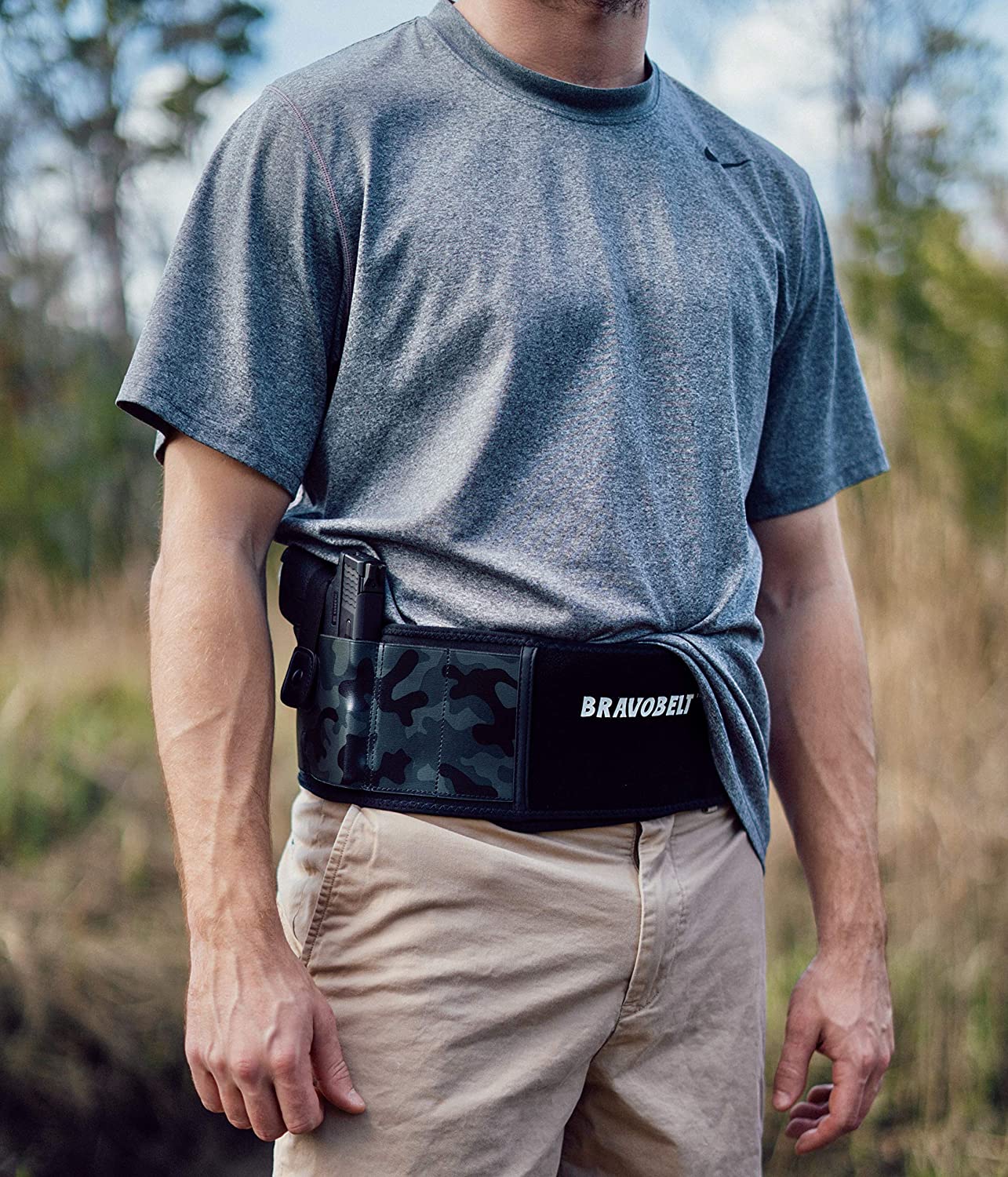 As the name of this Holster suggests, it's intended for Fitness focused people. The bravobelt athletic flex fit holster is amazing. It can hold up lots of fitness situations.
A Great Soft Experience
The folks at BravoBelt made sure to use a specially designed neoprene, with the CoolVent technology, which allows the Holster to be as breathable as possible. This specific neoprene allows for the BravoBelt to be a pretty ventilated belly band holster, and the inclusion of the anti-sweat technology makes it even better!
Like most of the previous holsters, the BravoBelt too can stretch up to 44-inches of belly size. The Flex-Fit system is the part of the Holster, which allows for this flexibility.
Great for Lots of Situations
If you are looking for a concealed holster that allows you to fit various gun types and go out for a run and exercise with it, then the BravoBelt is the choice for you! This Holster is great at carrying most of the well-known names of pistols such as Glock, Smith and Wesson, Taurus, Beretta, etc.
This Holster is good for the left as well as right-handed people. And, the numerous positions that you can wear it make this Holster applicable for lots of situations.
One of the last things that we will mention about this amazing belly band holster is the fact that if you are for any reason not satisfied with it, you will get a 100% Money Back Guarantee. If you get it and don't like it, just send it back, and you get all your money back!
Fullmosa Concealed Carry Holster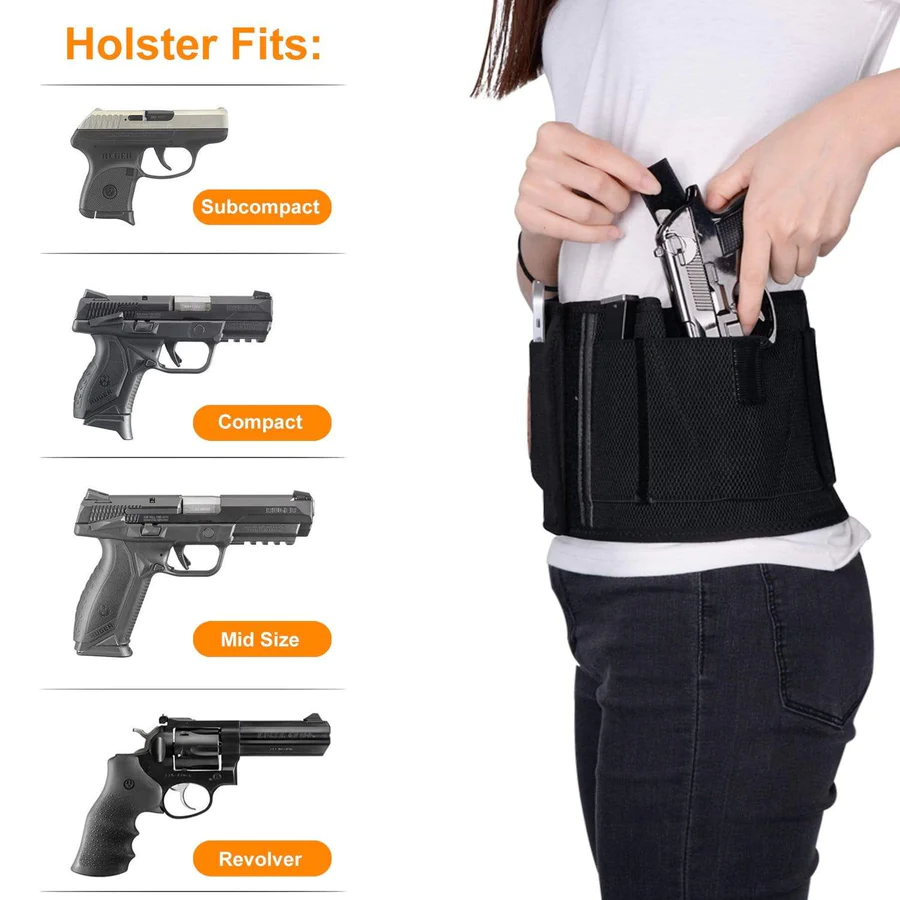 This is actually the first belly band holster that comes with set sizes. The Fullmosa holster offers a variety of sizes for you to choose from. So, it is good for both the thinner as well as the larger people around the waist. It starts with S that is for people who are around 28 inches around the waist, and it goes all the way up to XXL, and that's for people with 58 inches around their waist. It has the number for everyone!
Do you Need to Carry More than one Pistol?
If you find yourself in this situation, then you're in luck! Because the Fullmosa holster has a pretty smart design that will allow you to carry two to three subcompact, medium, compact-sized weapons. But, the barrel length needs to be below 4.5 inches.
You will also find four magazine storage pouches, as well as a place for you to keep your wallet, cash, or even your phone!
Amazing Design
The elastic mesh used in the design of the Fullmosa belly band holster makes it lightweight and breathable. This results in a great design, and when you add in the anti-sweat technology that is built into the Fullmosa, you end up with an amazing design!
The fabric that rests on your skin is really soft. This means that you can say goodbye to the itchy skin and irritations. They've also added a Velcro strap for the gun holder, and this means that it won't scratch up your gun or catch on your clothes. 
Lirisy Belly Band Holster for Concealed Carry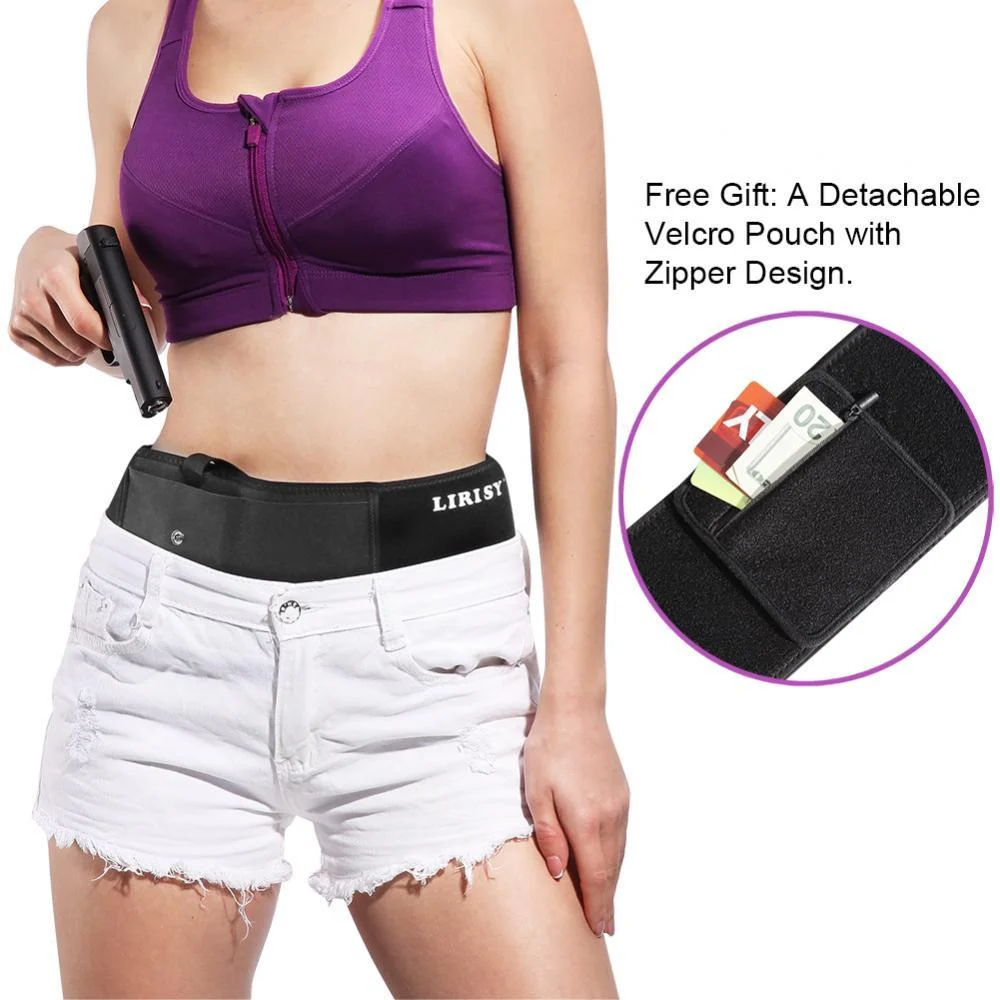 This is another 45-inch belly band holster. And, the elastic material used in the design of the lirisy makes it a great one size fits all Holster.
It's Useful in many Situations
Lirisy is great inside the waistband holster, which is going to conceal your gun, and nobody will be able to notice that! Lots of gun sizes can be fitted inside from subcompact all the way up to compact handguns. And it will only fit some full-sized guns.
A Good Ambidextrous Design
In case we haven't mentioned it, the Lirisy has an ambidextrous design, which makes it suitable for both left-handed as well as right-handed people. You can also include your phone, wallet, and other valuables in the detachable pouch. And, the fixed magazine storage is great when it comes to fast reloading. 
As many of the previous holsters we talked about, the Lirisy is made out of neoprene, which means that you get a comfortable holster that allows you long periods of wearing without any skin irritation problems. 
Another plus is the fact that this Holster is sweat-resistant. This means that you won't be sweating down there anymore. 
Conclusion…
The flexibility and the comfort that this Holster allows makes it a serious contender for our best belly band holster. It's a unisex choice and fits almost all sizes.
AlphaHolster Belly Band Hand Gun Holster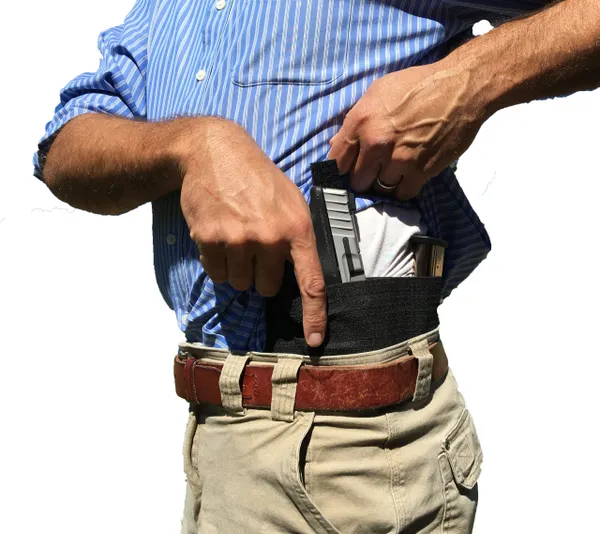 The alpha holster is next in our list, and this Holster sports a unisex and ambidextrous design. It's design also allows you to wear it almost under any clothing.
US-Made
I think that it's worth mentioning that this is a US-made holster, and it is the first US-made Holster on our top 13 list. This Holster is made up of an elastic material that is pretty breathable, and we guarantee you that there are no toxic elements added in it. It's great at concealing and carrying your weapon, and the fact that it can take a variety of guns makes this Holster one of the top choices for many gun lovers!
The simple and effective retention straps improve the experience of the Holster because they're designed to fit your gun snuggly into the Holster until you decide that you need a quick draw. 
It Offers some Extra storage…
There are a couple of compartments that allow you to keep a couple of spare magazines at your reach. The retention straps are here too, making the magazines easily accessible if you need them quickly.
Bang for your Buck
One thing you cannot ignore about this Holster is the price tag that it comes with. And, to be honest with you with the things that you are getting with this Holster, we thought that this might come pretty expensive. But, we were surprised to find out that this Holster is pretty cheap considering the things you're getting. 
Tactical Holster Belly Band Bear Armz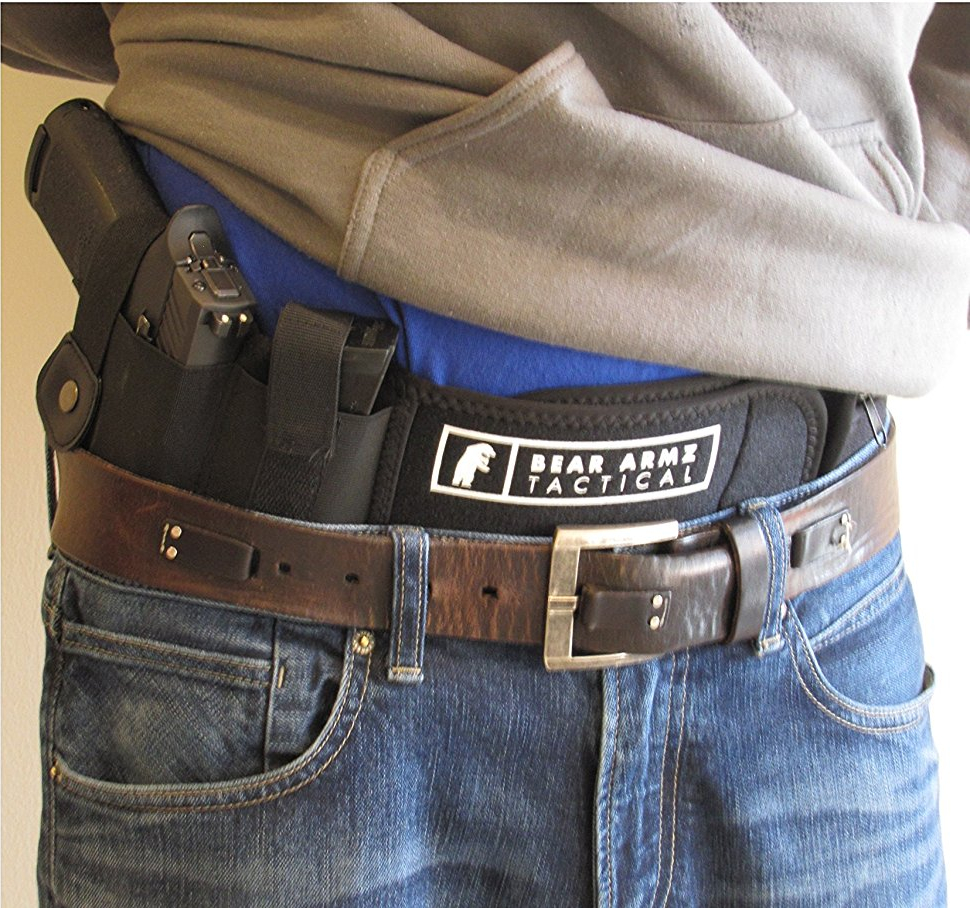 Now, we will be talking about the Bear Armz Holster. This is yet another "inside the waistband" holster. Designed with the comfortable and reliable material which we mentioned in almost every Holster before – Neoprene fabric!
Magazine Retention
Alongside the retention strap to keep your gun in place, you also get one for your magazine to keep it firmly into place. This allows you to go through pretty rigorous activities without worrying about losing magazines.
It's Good for a Variety of Guns
If by any case, you are a proud owner of lots of guns, then you would like to know if a holster can hold them. And, rest assured that the Tactical Bear Armz holster is great for a variety of guns. No matter if it's a sub-compact gun or a full-size one. There's one downside to this Holster, though, and that's the fact that it is being made exclusively for right-handed people. So, if you use your gun with your left hand, you're out of luck, and you better move on to another holster!
There aren't any specific sizes for this Holster, it's a one size fits all Holster, and it can stretch out to 43 inches around your waist.
A Comfy Yet Breathable Design!
This Holster has an amazing design that is both comfortable to wear and allows you skin to breathe while you're wearing it. And its lifetime warranty is really reassuring when you're shopping for these kinds of things.
Can Can Hip Hugger Classic Holster for the Ladies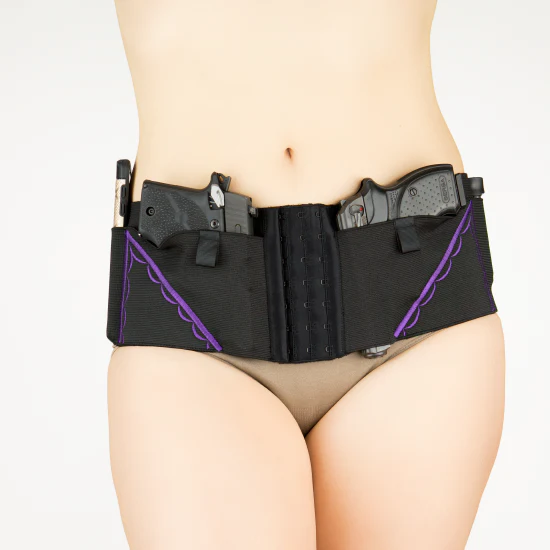 This one is for the ladies!
This Holster Breathes Comfort
Made from five inches thick elastic that is military-grade the Can Can holster provides you with a comfortable fit on your skin while snuggly holding your gun. The non-slip material named Tacti-Grip is a great way of holding the Holster in its place all day long.
Besides the two rows of Tacti-Grip, the "can can" Holster also sports three rows of metal Hook and Eye that allows it to be adjusted easily with a low profile closure. And the earth magnets ensure that everything stays right where you left it. 
A Convenient Addition
They've also slipped in a convenient way of slipping your gun into place without the need of looking where you're sliding it in. You'll forget the times when you were fumbling around the Holster looking for where to put your gun. 
Also, you will also be able to store spare magazines inside the Can Can. But, there's even space for money, wallet, phone and other valuables. The important information to mention is the fact that it's designed for .380 caliber and compact 9mm guns.
UnderTech UnderCover Original Belly Band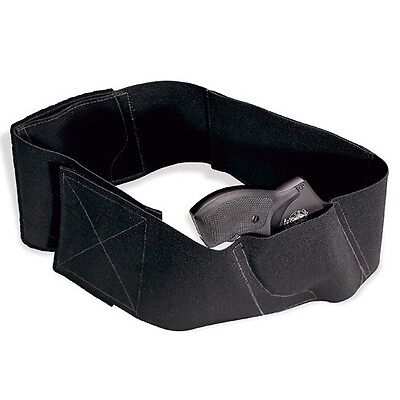 This is the 10th Holster in our top 13 best belly band holster. It's a great way to conceal the gun you're carrying.
Useful in Many Situations
If you find yourself in many situations where you need your gun, the undercover Holster will surely be the option for you. This Holster is a great one for those of you who spent their whole days wearing their Holster. But you can even take it to the gym.
Created in-house in the USA, this Holster boasts with a military-grade elastic design. You can strap it on with strong Velcro straps, which won't agitate, nor will it irritate your skin.
It can hold everything that you Need
This holster sports two ambidextrous pouches that can hold two pistols. One of the pouches can fit a whole revolver, whereas the other one can only fit a compact pistol. But that's not all! The pockets that are six inches long can also take your magazines, a phone, a wallet, or something else that you need to carry. Because of the fact that this Holster boasts a concealed carry design, you would like to carry only a medium-sized handgun or revolver. 
This is the end of our immersive best belly band holsters for 2023. And, according to many experts and us, these holsters can be a fit for everyone. There's something for everybody's taste. It doesn't matter if you are looking for a concealed carry or something comfortable while you are exercising; there's something for you in this list. 
But, we're still not done. In the following couple of paragraphs, we will be looking through some specific needs and help you find the specific Holster for you.
The Four Way Holster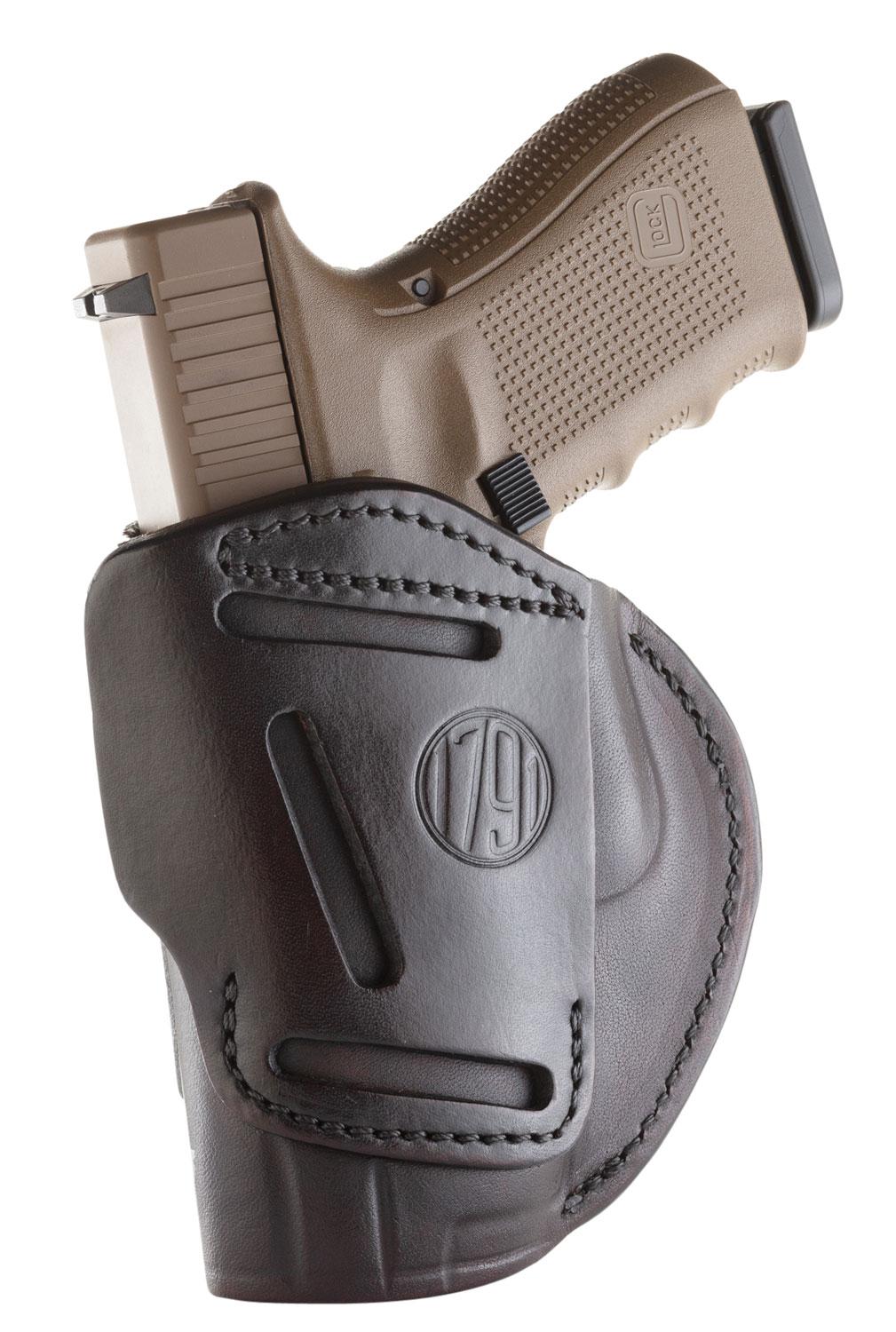 This holster is a good belly band holster, mainly because of the fact the interesting design that it sports, and, when you put the great price that the Four Way Holster has, you've got a great deal for yourself. It is a holster with an inside the waistband design, but you can also wear it over the pants. If you decide to wear it inside your waistband, you will experience a comfortable carry.
A great thing to mention about the Four Way Holster is the fact that alongside the inside the waistband design, it also has an ambidextrous design. It also sports a big pocket where you can fit most sizes of pistols and even some revolvers as well. The breathable material used to make this holster is a great thing about the Four Way Holster. This will allow you to wear it for longer periods without experiencing any discomfort.
One bad thing about the Four Way Holster is that it doesn't have any space for magazines.
ACTIVE PRO Holster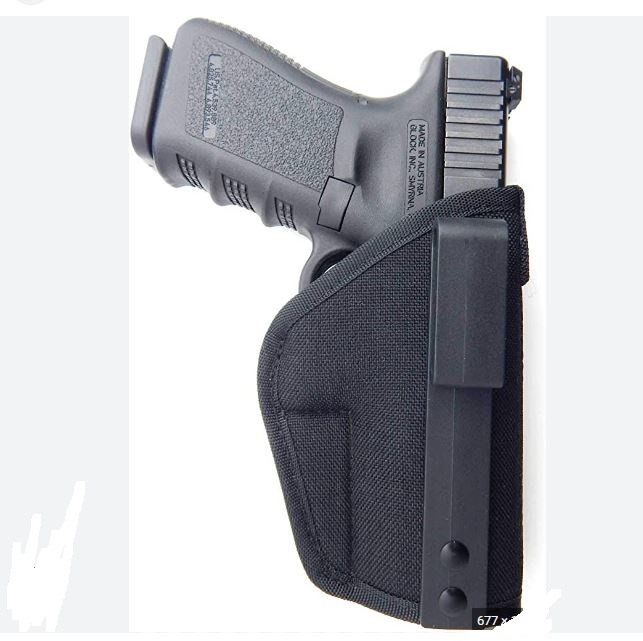 If you decide to get the Active Pro Gear holster, you will experience a pretty comfortable fit. Of course, if you choose the right size, because it comes in different sizes. You will be able to fit in lots of pistols inside the pocket of the Active Pro, and we're talking everything from bigger revolvers all the way down to the subcompact ones.
It has a pretty amazing weight distribution, and we really loved it because of this. It can offer up a pretty comfortable experience because of the fact that the belly band is distributing the weight of the gun all around the holster.
You also get a belly band holster that is made for long periods of wearing because of the breathable and elastic fabric that is used to make the Active Pro.
I think that this is nitpicking at this point, but one thing that I didn't like about this holster is the fact that it is pretty hard to maneuver it with one hand.
Defensive Gear Holster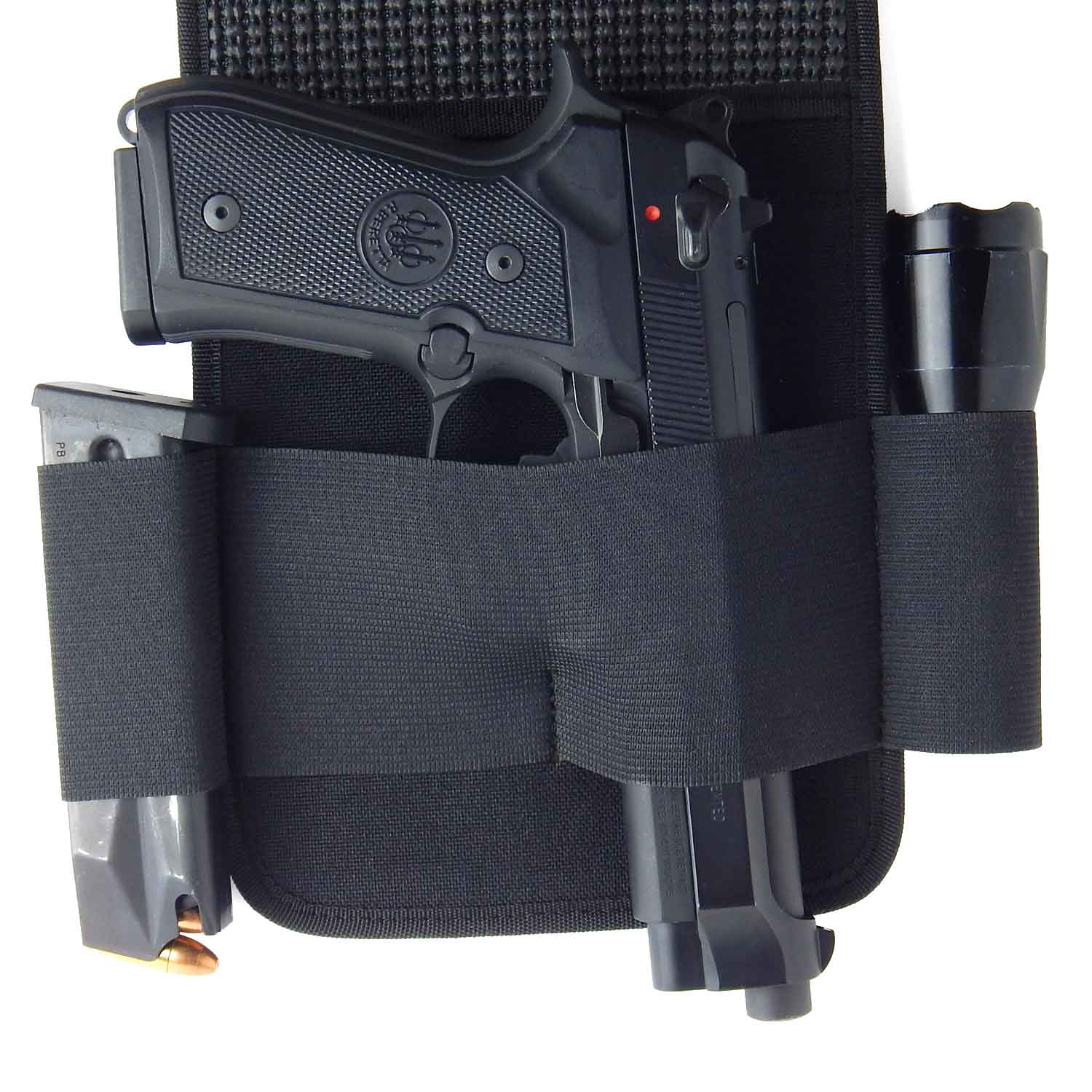 This holster is a great conceal carry because of the fact that comes at a pretty budget price, and for that price you get a neoprene material. A one size fits all design and comfortable wear. You will feel pretty comfortable if you have anything less than 47" around your belly.
I love the way that the Defensive Gear is constructed. You will never feel its weight because of the fact that its lightweight. You will notice that there are pouches for your magazines alongside the pocket for the gun. All of them have a snap button to hold your guns as well as your ammunition in place.
Best Belly Band Holsters Buying Guide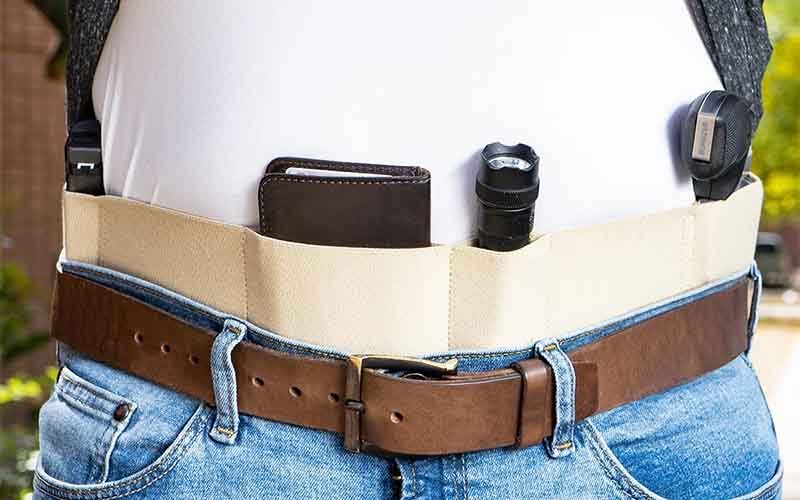 If you're looking for a holster, then the chances are that you are looking for a concealed carry holster. And, most of the items on our list of top 13 best belly band holsters are designed for this trait. But, even with that fact in mind, we think that some holsters are better in this function than others.
So, our favorite Holster for concealed carry is the:
This solution is amazing for concealing even the biggest of handguns.
Another holster that is good for this function is the:
With only two and a half millimeters of thickness, this amazing Holster is pretty discreet. And the use of neoprene fabric makes the experience of carrying this Holster extra comfortable!
Next, we will be talking about our most comfortable Holster out of the list. So keep on reading and find out which Holster we think is the most comfortable one.
Most Comfortable Belly Band Holster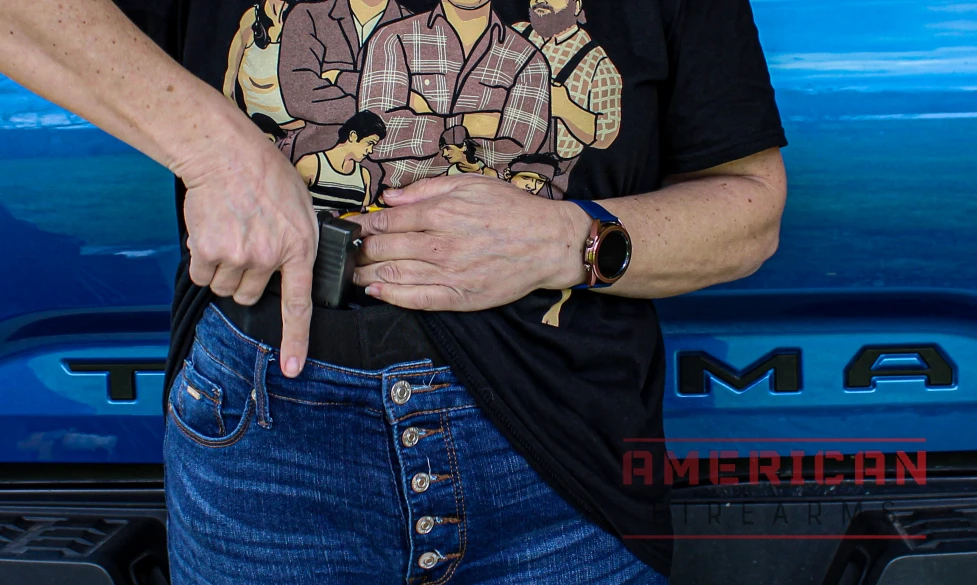 We were pretty stuck at this question, and after lots of thinking, we came up with an answer for you! The most comfortable Holster, according to us, is the:
We spent a lot of time thinking because we couldn't decide which one was more comfortable. We were split between these two options The Bear Armz, the one that we chose, and the ComfrotTac that we were just talking about in the previous paragraph.
And now, for the people who have a couple of extra inches in their bellies! Yes, we are talking about you!
Best Belly Band Holsters for Fat Guys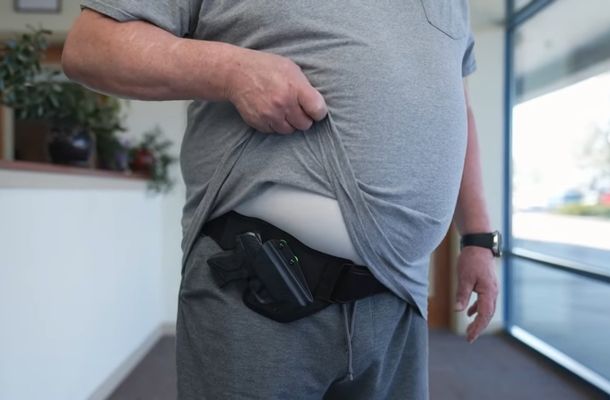 Logically, if you are fat and looking for a wider holster than you will be looking in the most stretchable ones and that is the:
LIRISY Belly Band Holster for Concealed Carry
You get whole 45 inches of Holster when you stretch this one out around your belly. And all of you larger guys and girls will love it. But if this one is not big enough for you then we would recommend you to go with the:
This one goes up the whole 13 inches more than the previous one. It is available in the XXL variant. But, if you are on the other side of things and you need a smaller Holster, than this one is good for you too! Because of the fact that the S size is only 28 inches. 
Best Belly Band Holster with Storage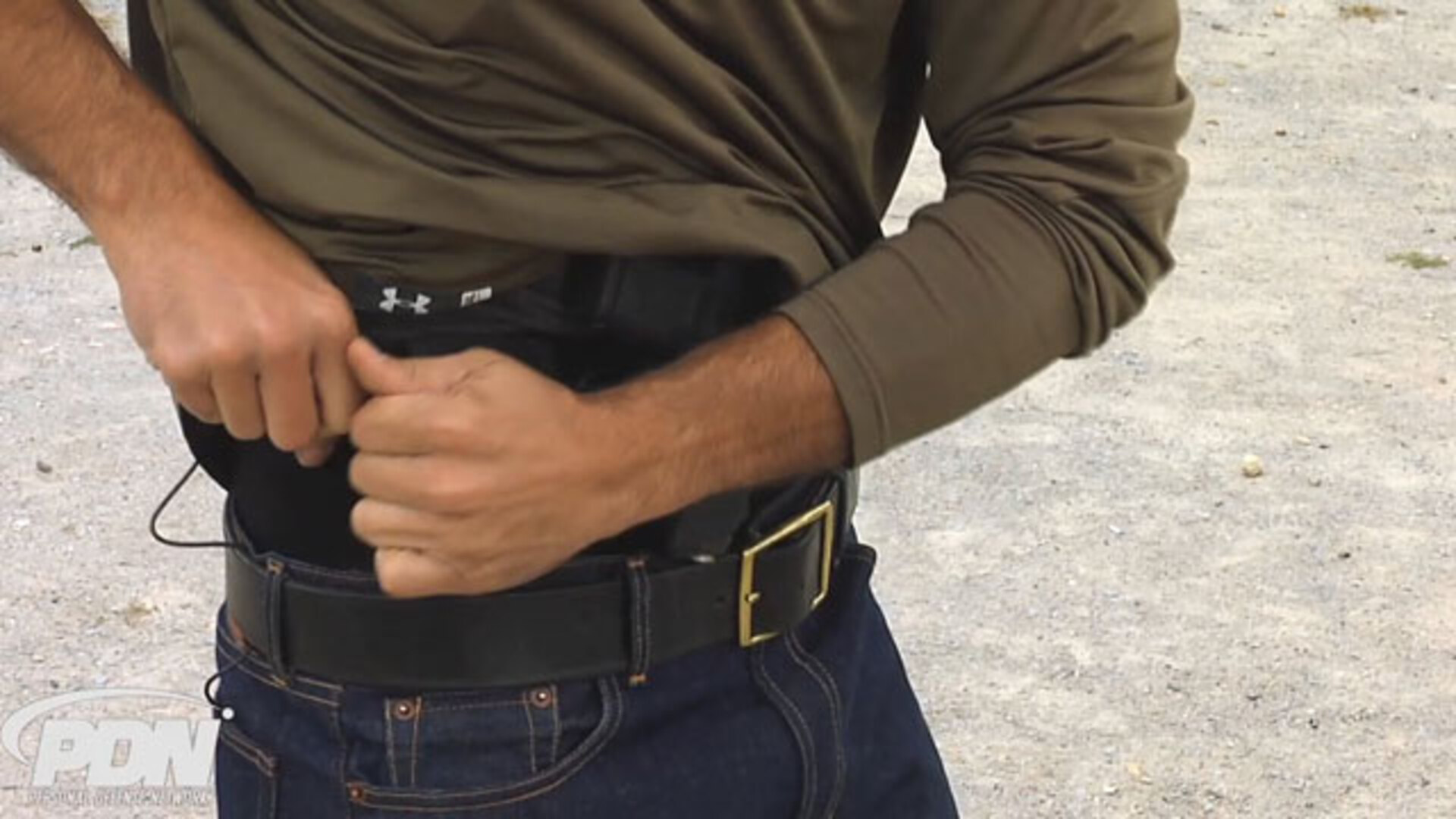 All of these listings that we went through today can hold a lot of things, and they implement innovative and clever ways of attaching pouches, but once again our award for the best storage in a holster goes to:
There's plenty of space inside this Holster, it can conceal three handguns, including four spare magazines, and it sports one big pocket where you can keep your belongings. And, the anti-sweat technology only adds up.
Best Belly Band Holster for the Money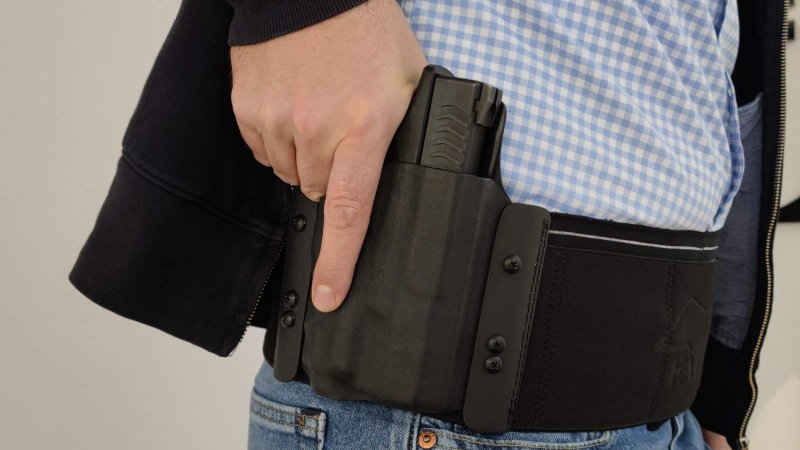 We are getting closer and closer to the end of this article and we would like to share with you one holster that really left a mark in our memories and couldn't stop thinking about the things that it offers and compare it to the price that it has. It is the literal meaning of "Bang for your Buck" if you are asking me. One holster like that which stood out for us was the:
As we mentioned before, this premium budget holster is made in the USA, so you are sure that you will get quality and high standards for your money. The fact that it is unisex and its good retention mechanism only add up to the good qualities that this holster boasts. I still cannot believe that you can get something with this many features and for that cheap! I love AlphaHolster!
And as the "Cremme de la Cremme" Here's our favorite Holster, and according to us, the best belly band holster that you can find out there.
Favorite Belly Band Holster
We thought that finishing up this article without giving you our favorite, and according to us, the best belly band holster that you can find. We were impressed by all of the holsters, but the ComfortTac really stood out from the bunch. And that's the main reason why we put it as our favorite one!
Best Belly Band Holsters Reviews Conclusion
Before we split up and end this article, we would like to thank you for taking the time and going through our list of the best belly band holsters this year. We really put our sweat and tears into this article, and the research is required to put it out there for you to read. We went through it a couple of times and made sure that there's a choice for everyone's tastes. Some of the included items are more suitable for active people, some of them are good for fashionable people, and some of them are good for males or females only.
And, before we go, we would like to remind you always to holster your weapons and safely keep it inside the Holster you buy.
Thanks once again for going through our list, and I hope you had fun reading through the article. Have a nice day and see you in the next article!