Camping
Best Kamado Grills under $1000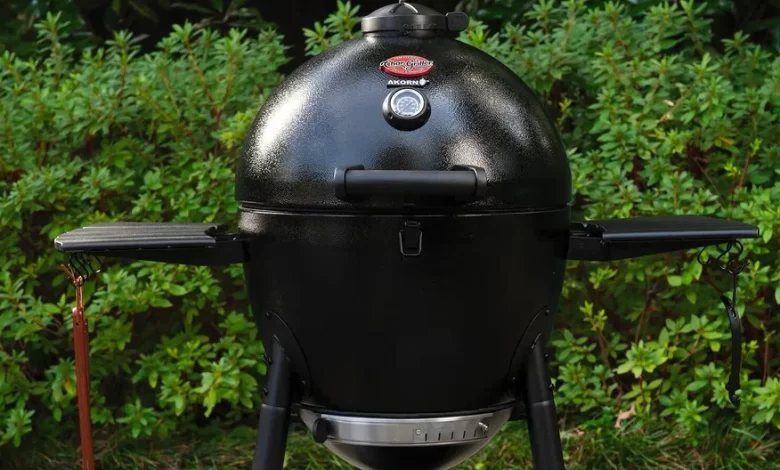 When you want to buy a kamado grill, you should be familiar with the meaning of kamado and the benefits of a kamado grill. In this article, we will discuss the 7 best kamado grills under $1000.
What is mean by Kamado?
Kamado is the name of a cooking stove that uses wood and charcoal as fuel. Traditional kamado clay or some ceramic material is used to make a kamado grill like an egg. Kamado grill is similar to a tandoor which is shaped and constructed to cook food in high temperatures.
Nowadays, kamado grills are mainly constructed with ceramic material, which is best to retain heat. You can buy the grill in different sizes and shapes. why kamado grill is different from other gas and charcoal grill, we are to discuss its qualities and benefits
Benefits of Kamado grill
Multi-tasking grill
Most grills are used to grill meat, but the kamado grill can be used for smoking, roasting, and baking. The best kamado grills under $1000 are known due to its heat retention and even heat; therefore, the temperature will be steady for 12 hours and longer. you can use it to sear steaks
Easy to use and clean
It takes 15 to 30 minutes to set up a kamado grill. You can start up the cooking in around 15 minutes. It does not matter what the weather is. The high insulation enables you to fire up the grill with oxygen and charcoal.
The cleaning of the kamado grill is easy. You just remove the ashtray and clean the cooking grate with a towel.
Fewer Flare-ups
In kamado, grill food is cooked directly above the charcoal, so there will be no risk of flare-ups in a kamado grill.
Durable material
The grills are made of ceramics, cement, and other hard material. this will increase the life of the grill and make it durable than other charcoal and gas grills
Best Kamado Grills under $1000
1. Kamado Joe KJ23RH Classic I Charcoal Grill, 18 inches, Blaze Red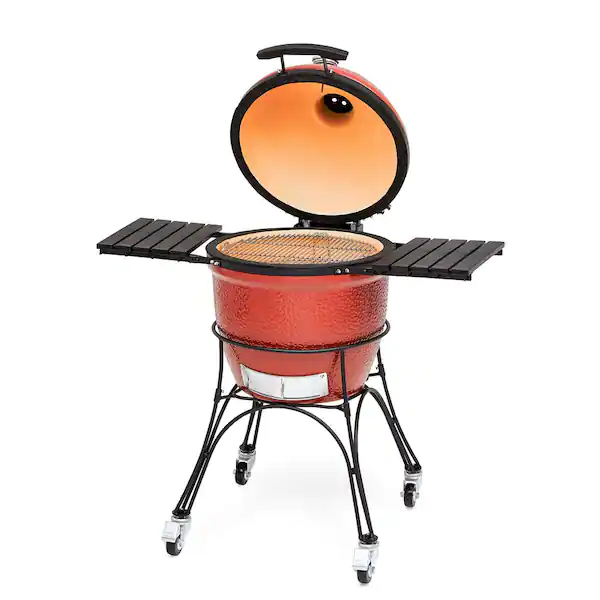 The new and improved design kamado joe classic I feature with thick-walled and heat resistant layer that holds the smoke and moisture very well. Its unique divide and conquer cooking system make it the most powerful tool you can use its a multi-level grate for cooking food in different styles at different temperatures.
The top air vent allows you to control the temperature by adjusting the air inflow and outflow. It is perfect to smoke from 225F to 750F. The cleaning process is easy. Just remove the ashtray, empty the tray in the trash box and insert the tray for more cooking.
One grill with multiple options of baking, smoking, and grilling. With the reduced dome weight by 96% with the airlift hinge, you can lift the grill dome by just one finger for a more advanced cooking experience. Definitely one of the Best Kamado Grills under $1000.
Features
The multi-piece AMP firebox retain the heat efficiently

Divide and conquer for the different temperature at the cooking surface
Slide-out ashtray for an easy and quick clean up
Cast iron top vent for more precise temperature control
Stainless steel cooking grate
Pros
Temperature control is easy with an air vent
A removable ashtray works great
Simple to use
Great cooking results
Cons
The wheels should be large to move this heavy grill
Heavier grill
It is difficult to assemble for some users
2. Char-Griller E56720 AKORN Kamado Charcoal Grill, Pack of 1, Blue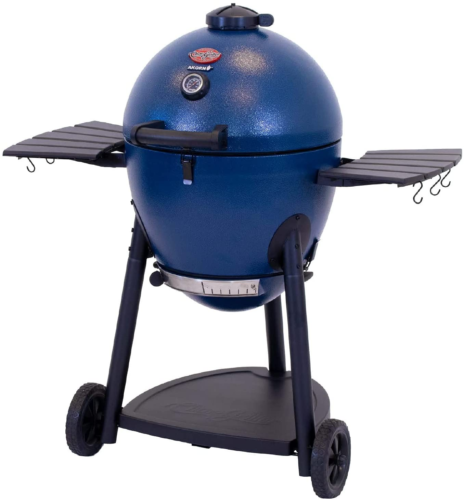 The unique char griller is triple-walled insulated made of stainless steel, which makes it durable and sturdy. Char griller gives you a cooking area of 314 square inches with 133 square inches of warming rack. The grill is insulated. Less charcoal is used with less airflow, and the food is cooked in insulated heat. It is easy to maintain the temperature with the help of top and bottom dampers during cooking and smoking.
The char griller akorn is powder coated and porcelain-coated from the inner make it durable. The side shelves are removable with utensil hooks. Cook the meat in a char griller with temperatures ranges from 200-700 degrees Fahrenheit.
Features
Triple-layered insulation to retain the heat

22 gauge stainless steel is used to construct the grill

The removable ash pan

Two large 8-inch wheels for easy moving

Two top and bottom dampers to adjust the airflow
Pros
Fuel efficiency
It is easy to use
The grill heats up quickly
The cleaning is easy with a removable ashtray
Large space for grilling and roasting
Cons
Poor customer services
Overpriced product
3. Char-Griller E6714 Akorn Jr Kamado Kooker Charcoal Grill, Black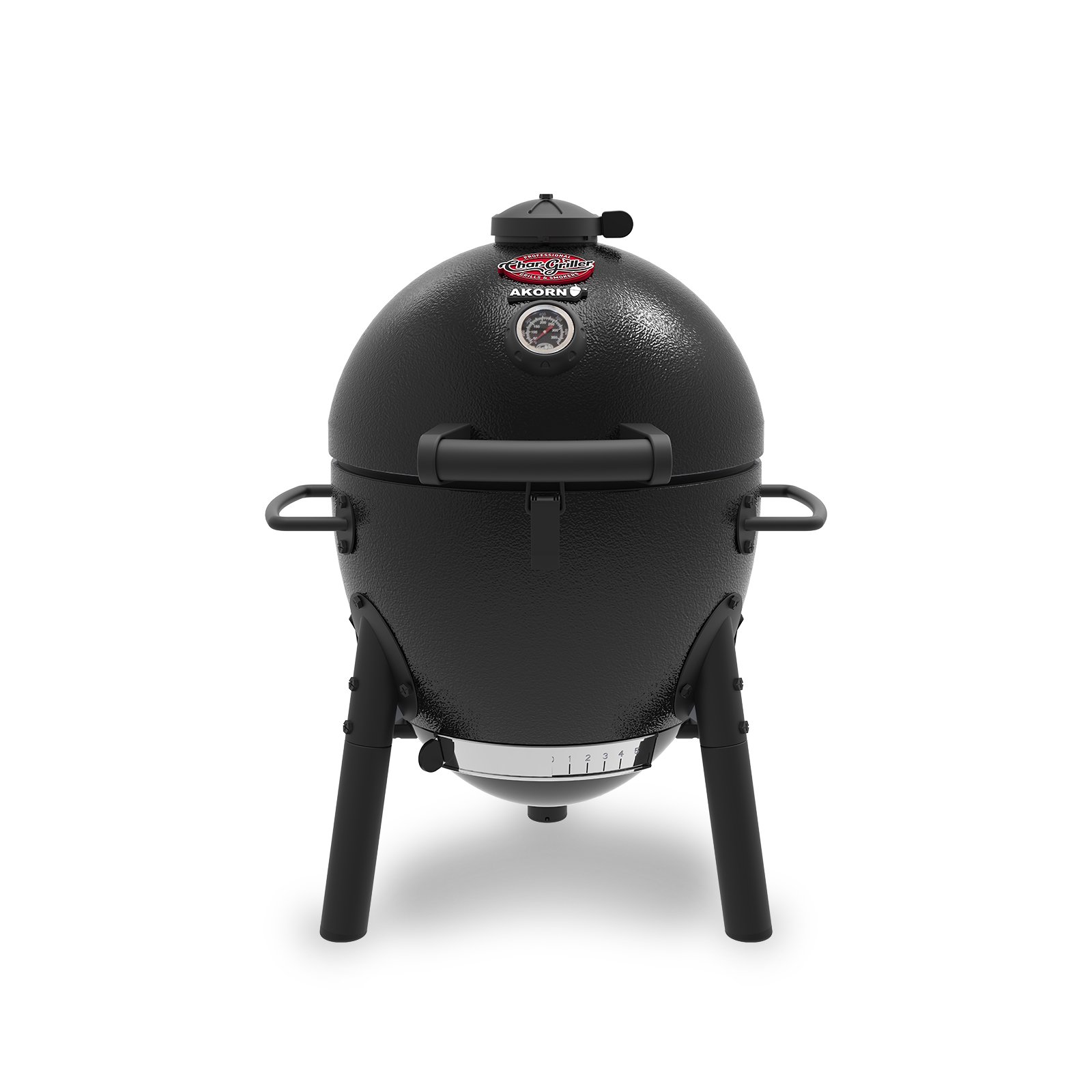 This is the perfect size grill that can be easily carried for picnics and tailgating purposes. The akorn jr kamado cooker has a cooking area of 153 square inches. The cast-iron grates retain the heat and distribute it evenly across all surfaces. Double dampers are given to adjust the heat level inside the grill.
It is easy to sear meat due to a triple-walled insulated body with temperature ranges from 200-700 degrees. It also uses less charcoal to cook food. The akorn kamado grill has large handles for easy portability and a built-in temperature gauge.
Features
Adjust the airflow of the grill with the help of dampers without lifting the lid

Cast iron cooking grate is easy to clean and retains heat

The akorn kamado grill coated with steel is durable and long-lasting

Ashtray for quick and easy cleanup
Pros
Use to cook food for 1-3 people
Heats up quickly and use less charcoal
Easy to regulate temperature
It is easy to lift the hinged lid
It is easy to adjust the heat with dampers
Cons
No wheels to move it
Some customer are not satisfied with the quality of the grill
4. Pit Boss 71220 Kamado BBQ Ceramic Grill Cooker, 22″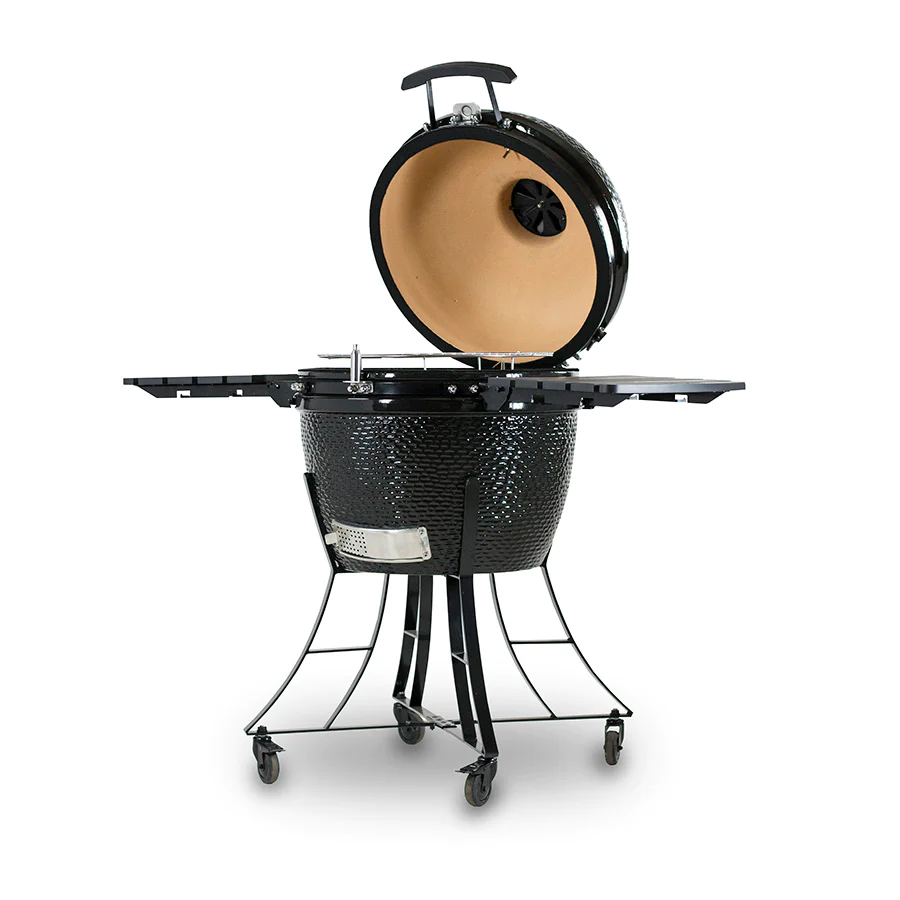 The pit boss grill is made with heavy ceramic material, which protects the charcoal efficiently. The cast iron top damper allows you to set the heat and adjust the cooking temperature according to your food.
The side shelves give you extra workspace fold down the shelves in case of limited space. The cooking surface of 662 square inches is two-tiered. Space is enough to cook ribs, veggies, and steaks.
The built-in temperature gauge to check the heat during grilling. the heavy ceramic body with black coating and steel trim is durable and long-lasting. Definitely this is one of the Best Kamado Grills under $1000.
Features
Foldable side shelves

Wood handle to open it easily

Springs on the lid to lift it easily

Use less charcoal and generate more heat

2 tier large cooking surface

Bake pizza, roast turkey, grill burgers, or sear steak with this high-class grill

Removable ashtray
Pros
Easy to assemble
High-quality material
It holds temperature like a champ
Cons
Complaint about air vent does not close completely
It is difficult for some users to close the hinge properly
5. VISION Grills Ceramic Kamado (Large, Black Bundle)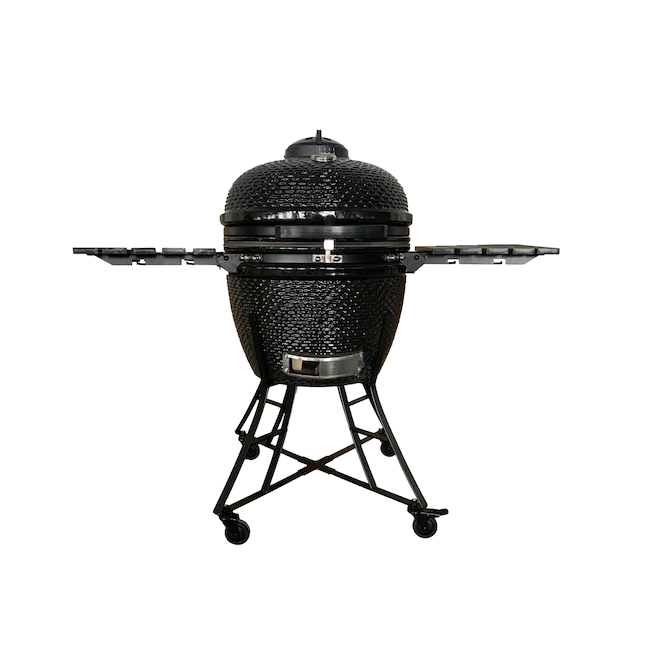 The high-quality grill is constructed with solid ceramic material. The 604 square inches stainless steel dual flip grate allows you to sear, grill, and smoke meats and vegetables, bake pizzas, and many more. The thermometer is installed to check the temperature.
This grill features with electric starter port for easy lighting—many knobs to control the temperature. The removable ashtray makes the cleaning easy and quick. This grill has 4 wheels for easy portability, two foldable side shelves, a vinyl cover to protect the grill from extreme weather.
Features
Heavy ceramic body locks the heat and moisture 

The use of charcoal will be less due to the solid ceramic body

2 drop-down side shelves

Electric starter port for effortless lighting

Aluminum top vent with powder-coated cart

Removable ash pan
Pros
Easy to set temperature
The electric starter port is great
Heavy-duty, durable grill
Cons
Side shelves are made with cheap material.
6. Broil King 911470 Keg 5000 Kamado Grill, 18.5-IN Diameter, Metallic Charcoal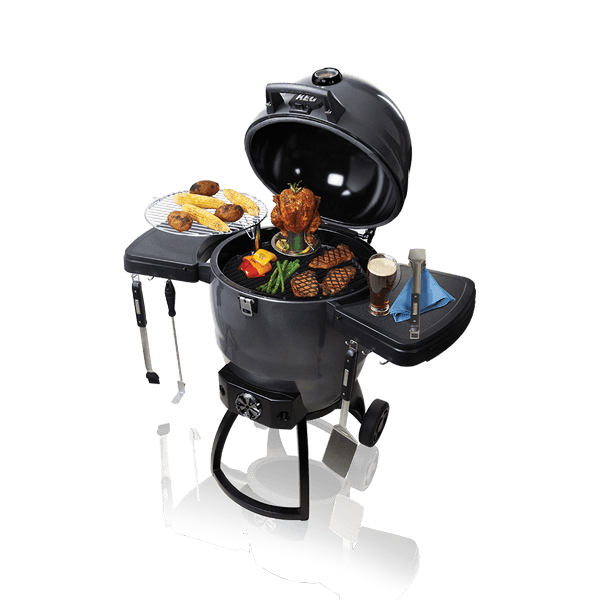 Enjoy the grilling with friends by eating the real smoky flavored food. The broil king is a durable grill that has double-walled steel insulated body to retain the maximum heat and moisture than other ceramic grills. The thick-walled steel body won't break even at the high temperature inside the grill. The insulated steel designs hold heat for a long time, and the grill uses 2X less charcoal than a normal charcoal grill and smoker, so you will spend less money to buy the fuel.
The cast iron top damper and the aluminum lower damper are installed to adjust the temperature. The removable ashtray makes the cleaning process easy and quick. Moreover, this broil king kamado grill comes with many accessories that include a swing-away rack, splittable side shelves, mobility cart.
The company gives a warranty of 10 years on the grill body and a 2-year warranty for the other parts and paint. You can buy it with full confidence.
Features
Double-walled insulated body heat up quickly

Dual dampers to control the airflow 

Primary cooking surface with 280 square inches

The warming rack gives you extra space of 200 square inches

2 removable side shelves.bottle opener

Trailer hitch adaptable and removable wheels 

The built-in temperature gauge on the lid allows you to check the temperature

Handles to lift it easily
Pros
Heat up quickly
It is the ideal grill for low and slow smoking
No need to worry about the ceramic breakage
A side table with 3 hooks are useful to hang the utensils
The removable ashtray is easy to clean
Moving cart is solid and sturdy
Cons
It is difficult to bring down the temperature from high to low.
7. Lifesmart 133″ Kamado Style Ceramic Grill with 6-Piece Accessory Bundle (SCS-K15A)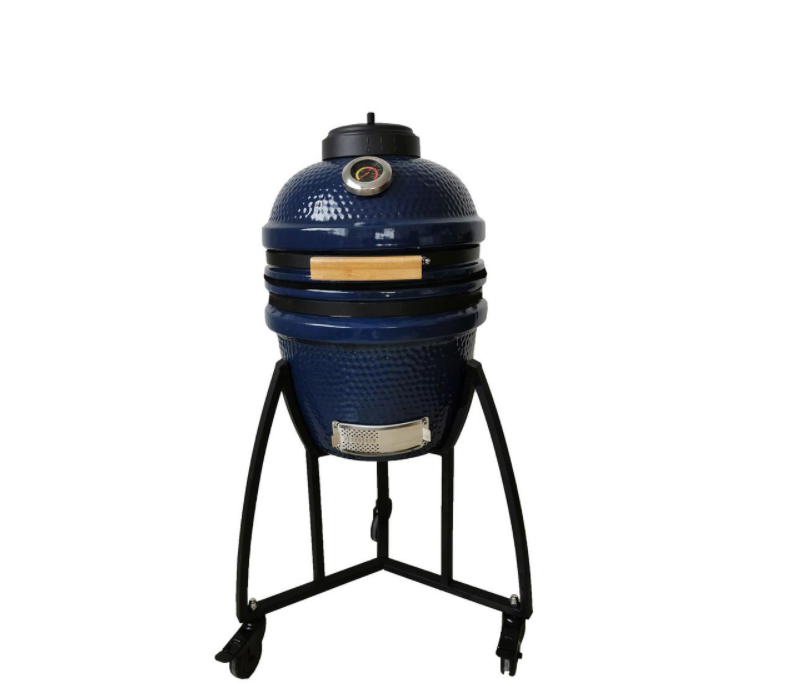 Be ready to enjoy the restaurant-quality food at your home with the LIFE SMART kamado grill. The grill with 133 square inches is the ideal grill for low and slow cooking .the high temperature of the grill is perfect for baking bread and pizzas. the 6 in 1 LIFESMART grill allows you to grill, smoke, roast, sear, braise and bake. The ceramic body of the grill keeps more heat and reduces charcoal usage.
Dual vent temperature control slides open and close to adjust the airflow. The grill comes with a powder-coated steel cart with two caster wheels for easy moving—the built-in thermometer and side table to increase the workspace.
Features
Dual vents to regulate temperature

6-in-1 kamado grill with multi-option to cook food

It also includes an electric starter

The grill uses less charcoal due to the solid ceramic body
Pros
Good customer service
Heats up quickly
It is easy to set temperature with dual dampers
Cons
Buying guide
Once you have decided to buy a kamado grill for yourself. Now you have to decide which grill is best for you. You have to select a durable and viable grill. We will guide you by writing some important factors. consider these factors before deciding to buy a grill
Size
You have to decide whether you are buying the grill for yourself and parties and large gatherings. You can buy a small-size grill for 2 people or a large-size grill with a larger area for the crowd.
BTUs
If your purpose is to cook the veggies and chicken, you can cook it on burners with lower BTUs; however, if you want to grill steaks, buy the grill with higher BTUs.
Air Dampers
Dampers are very important to control the temperature in the kamado grill. Some grill has cast iron top damper, and some have top and dual bottom dampers. the grill will be a little bit costly with dampers
Movable grill
If you store the grill, then you have to move it from the store to the backyard. It should be easy to move. If you want to place a grill on fix place, then you can choose a heavy and durable grill.
Easy cleaning
The grill should be easy to clean most kamado grill have removable ashtray that can slide out and remove the ash and grease stains with and then insert the tray into the grill.
Best Kamado Grills under $1000 Conclusion
We hope that this article will guide you in deciding to buy the best kamado grills under $1000. You can check the details and features, pros and cons of a kamado grill. Buy the grill within your budget that can give you more benefits and long-lasting. Buy the grill with incredible features and qualities.