Camping
Best Backpacking Tent Under $100 – Ultimate Guide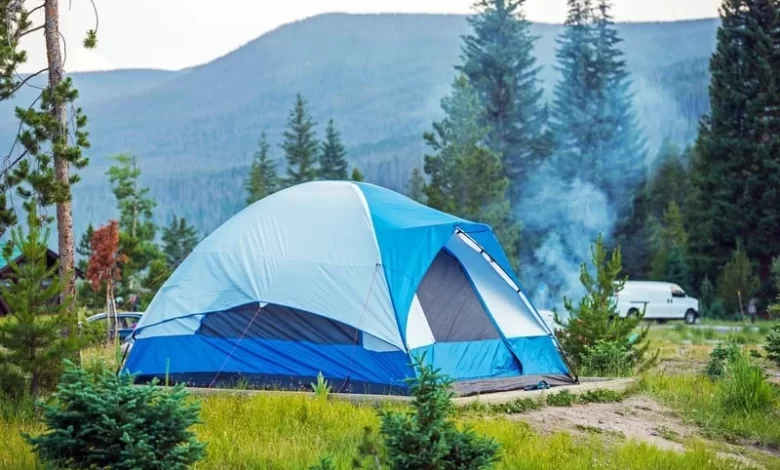 Are you on the cusp of having some memorable backpacking moments? But first, you have to prepare all must-have gears without overspending. And of course, backpacking tent is the first important kit to purchase. That's why here we have the list of the best backpacking tent under $100, all within your budget!
Why Are Backpacking Tents Necessary? 
It is hard to imagine how to go backpacking without a tent, isn't it? Although there are many minimal options like tarps, bivy bags, sleeping bags, hammocks, tents are the first gear that comes across almost everyone's mind.
The first reason is the protection that a tent provides. A decent tent protects you from insects and nocturnal animals. It must be scary and even dangerous if an animal sneaks up on while you are sleeping without shelter. Especially if you camp in the woods, it is safer to spend your night in a sufficient tent.
Moreover, a backpacking tent can be used for almost every weather condition. Even if the weather forecast says that the weather is extremely well today, you should prepare a lightweight tent. You definitely do not want to encounter heavy raining while lying on the ground in a sleeping bag, don't you?
Last but not least, a tent keeps your stuff organized. While it is true that you can put everything inside a travel bag, you may waste time finding your needed stuff among the jumble. What's more, storing in a tent prevents your belongings from getting damp by the extreme condition.
The Best Backpacking Tent Under $100 – Reviews
1. Winterial Single Person Personal Bivy Tent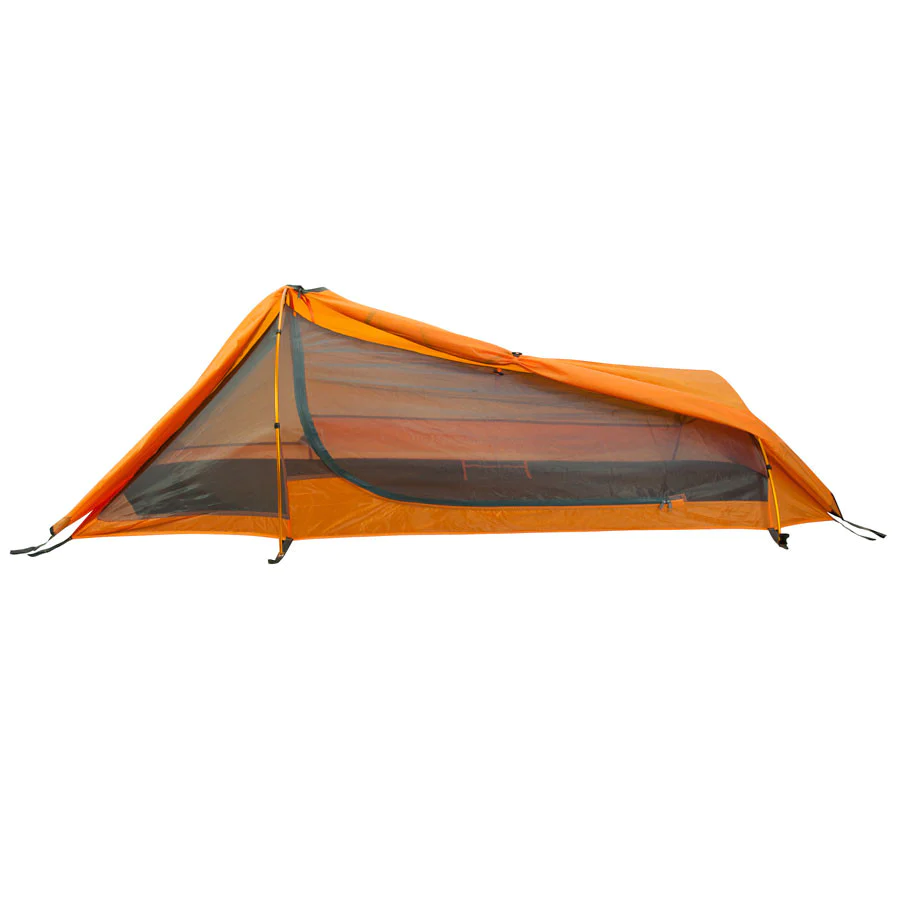 Technical Specifications
Capacity: 1 person
Assembled Dimensions: 38 x 28 x 90 inches
Weight: 3.3 pounds
The first backpacking tent to look at in our list is the Winterial Bivy Tent for a single person. At such an affordable price, the tent offers excellent quality that will make your backpacking or hiking adventure wonderful.
The first excellent feature of this three-season tent is its lightweight construction. It only weighs 3.3 pounds when packed, making it highly portable. Thus, you can carry it on your trails with ease.
Since this bivy tent features two hoops, you can assemble the tent with ease. Moreover, the package includes three bundles of durable cord and fourteen heavy-duty stakes, which are all necessary accessories for tent pitching. It will not take you so much effort to erect and remove this tent.
The second feature of this product is its non-freestanding double construction with a durable rainfly that provides excellent waterproofness. Therefore, you can enjoy the full coverage that protects you from outside weather conditions. Even in a rainy and windy climate, you can rest assured to fully enjoy your backpacking adventure.
One more thing to know is that you can remove the rainfly in warm and humid days to make the tent cooler. In addition, the roof mesh helps to reduce condensation and ensures ventilation, making your tent an ideal hideaway during the hot days.
However, consider the downside of this three-season tent as well. As it is a bivy tent, the estimated height is roughly around 2.4 feet, which is rather low to some people.
Pros
Lightweight
Portable
Waterproof
Great ventilation
Perfect for backpacking and hiking
Cons
2. Pacific Breeze Easy Setup Beach Tent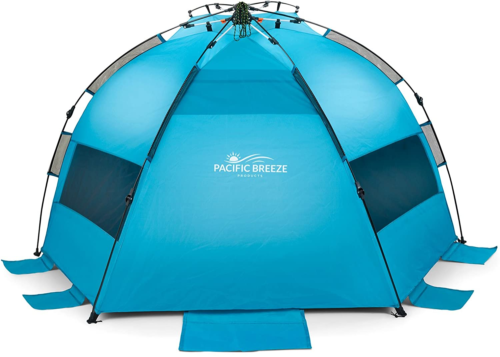 Technical Specifications
Capacity: 2 – 3 people, families with small children
Assembled Dimensions: 86.6 x 49.2 x 47.2 inches
Weight: 4.45 pounds
If you are planning for a beach expenditure, then the Pacific Breeze EasyUp is your go-to friendly-budget beach tent. This is also by far one of the most reliable and inexpensive tents on the market.
The most outstanding feature of this tent is the ease of setup (just as its name states). It uses a unique hub system that facilitates a quick and hassle-free setup. It also has a lightweight and portable construction that offers great packability.
In addition, the frame is already attached to the tent, saving you a great amount of time on tent pitching. To make it more secure, you can make use of the plastic stakes which are included in the package.
This beach tent has two large windows on each side, making it better ventilated. Its water-resistant PE floor can soundly withstand sand and saltwater, making it reliable for long outdoor uses. Another highlight in its design is the big front entrance, which allows you to get in and out with ease.
With this half-dome tent, you can enjoy any beach activities to your heart's content. Thanks to the UPF 50+ feature, the tent can block the adverse sun rays and ultraviolet rays. Besides, the tent uses breathable polyester, which can repel wind and water adequately. When it comes to wind-resistant ability, this tent is one of the most highly-rated choices at such an unbelievably low price.
Pros
Convenient and fast setup
Well-ventilated
Strong wind resistance
Lightweight and portable
Sun protection
Cons
Not for a big group or a big family
Not for severe weather conditions
3. Weanas Professional Backpacking Tent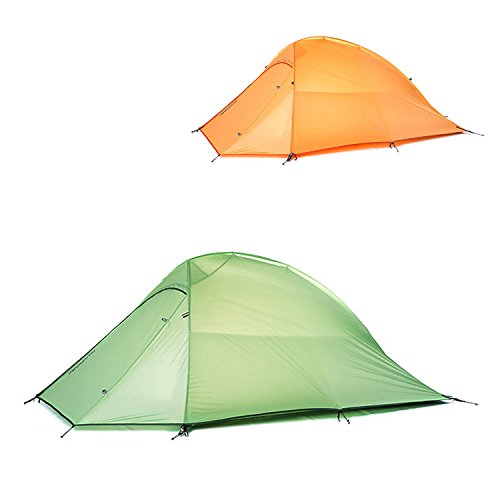 Technical Specifications
Capacity: 1 – 4 people, depending on size
Assembled Dimensions
6.9 x 6.9 x 4.3 inches (H) (4P)
6.7 x 5.3 x 3.8 inches (H) (3P)
6.7 x 4.3 x 3.6 inches(H) (2P)
Weight
6.2 Pounds (4P)
5 Pounds (3P)
4.5 Pounds (2P)
This Weanas three-season tent comes in three available types for 2 – 4 people. As a double layer backpacking tent, it offers great waterproof and weatherproof quality that will satisfy your camping experience.
About the construction, this freestanding dome tent has a two-door design that allows users to open the tent from outside and inside. It also features two ventilation windows, providing enough airflow to reduce condensation.
For fine waterproofing and breathability, both the rainfly and inner body are composed of 201T polyester. The tent is also made of no-see-um mesh, an exceptionally lightweight and durable netting that protects it from insects.
Additionally, the dual vestibules offer extra covered storage, making this three-season backpacking tent versatile for many purposes. For example, it can be used as a storage for stuff and shoes by closing the outer layer. Inside the tent also has many small pockets and compartments to store small-sized gear.
The only drawback to complain about this tent is its size problem. Although it offers capacity based on the number of users, some people find that the interior space is more cramped than they expect.
Pros
Lightweight
Available models for 2, 3, and 4 people
Extra storage for stuff
Well ventilated
Great waterproofing and weatherproofing
Cons
4. Coleman Sundome 4-Person Tent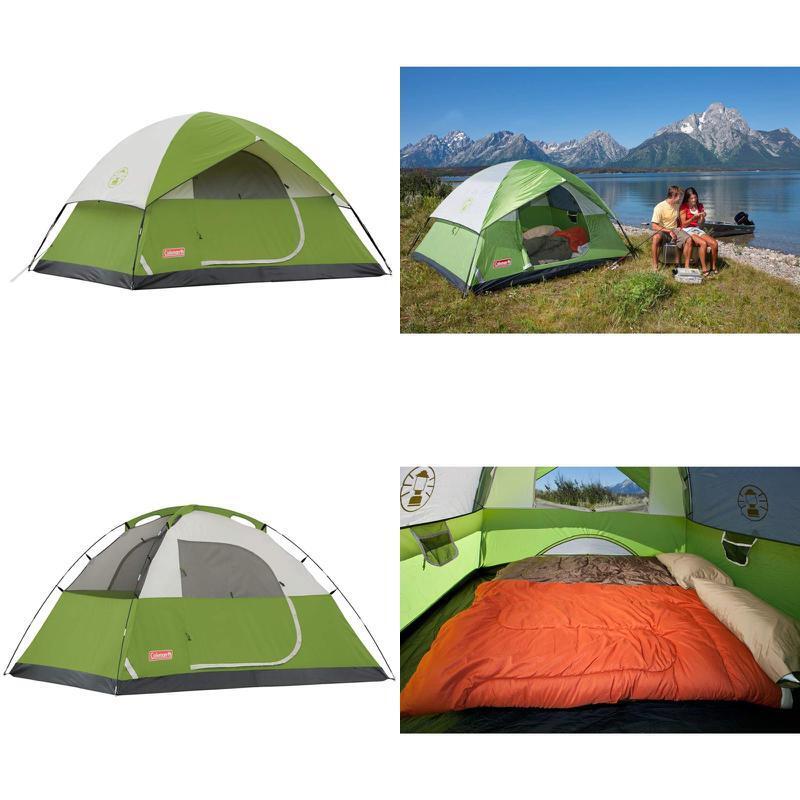 Technical Specifications
Capacity: 4
Dimensions: 108 x 84 x 59 inches (4P)
Weight: 9 pounds
Coleman gains a worldwide reputation for manufacturing high-quality outdoor products. This brand is especially strong at producing camping gear, including tents. If you plan to go backpacking with a small group, the Coleman Sundome Tent will be a brilliant choice for your journey.
As a shelter for four people, the interior is roomy enough to offer enjoyable comfort. In addition to the spacious dimensions and large windows, the inside mesh walls help to improve air circulation. The product also comes with storage pockets to organize your stuff and gain better headspace.
This three-season tent is composed of durable and high-quality materials. Besides the polyester fabric construction, the tent's floor is composed of 1000D polyethylene, which effectively prevents water leakage and outside damages.
The tent is equipped with a strong frame that can withstand 35+ mph winds. Yet it is still lightweight and portable enough for transportation. Additionally, setting up this tent is not an issue, thanks to the attached-pole design.
Even though this freestanding tent has a coated polyester rainfly, the fly does not cover the mesh vents. Another drawback is that under extreme weather conditions, the tent may fail to be durable. For example, in case of non-stop heavy downpour, there may appear unwanted leaks in the tent after a few hours. What's more, it lacks a vestibule.
Pros
Roomy interior
Durable quality
Easy setup
Excellent ventilation system
Lightweight and portable
Cons
Not suitable for extreme weather condition
Lack of vestibule
The fly does not cover the mesh vents
5. Wenzel Alpine 3-Person Tent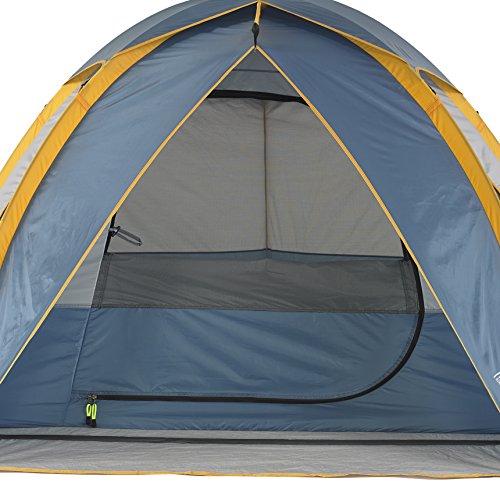 Technical Specifications
Capacity: 3
Dimensions: 102 x 48 x 96 inches
Weight: 6.9 pounds
Wenzel is a long-established outdoor camping gear manufacturer in the industry. The Alpine model is one of the highly-rated tents of this company. If you are looking for an inexpensive group shelter for your expedition, then consider this three-season tent.
The first advantage of this tent is that it is user-friendly. Setting up and taking down the tent is pretty simple when you just follow the direction. The shock-corded fiberglass frame is also provided to ensure a quick setup.
The tent features a unique design with a D-style front door and two mesh windows. Not only does it support proper ventilation, but it also facilitates convenient entry and exit. In dry and humid weather, you can also remove the rainfly to assist better airflow.
The weatherproof quality of this tent is another outstanding feature. Thanks to the domed shape, it can withstand strong winds when correctly staked down. The fly also does wonder for blocking the rain. Aside from that, the drainage system can send the accumulated water down through the holes, keeping the inner space dry.
Despite being a 3-person tent, many users review that the Wenzel Alpine is actually best for only 2 people. Although the vestibule provides larger headspace, it is a bit narrow for three people to comfortably stay inside the tent.
Additionally, you have to seal the seams yourself, which is a bit annoying since there are a great number of tents having already-sealed seams in the market.
Pros
Lightweight and portable
Excellent drainage strip
Well ventilated
Excellent weather protection
Cons
You have to seal the seams manually
Not roomy enough for 3 people
6. Eureka! Solitaire One-Person, Three-Season Backpacking Bivy Style Tent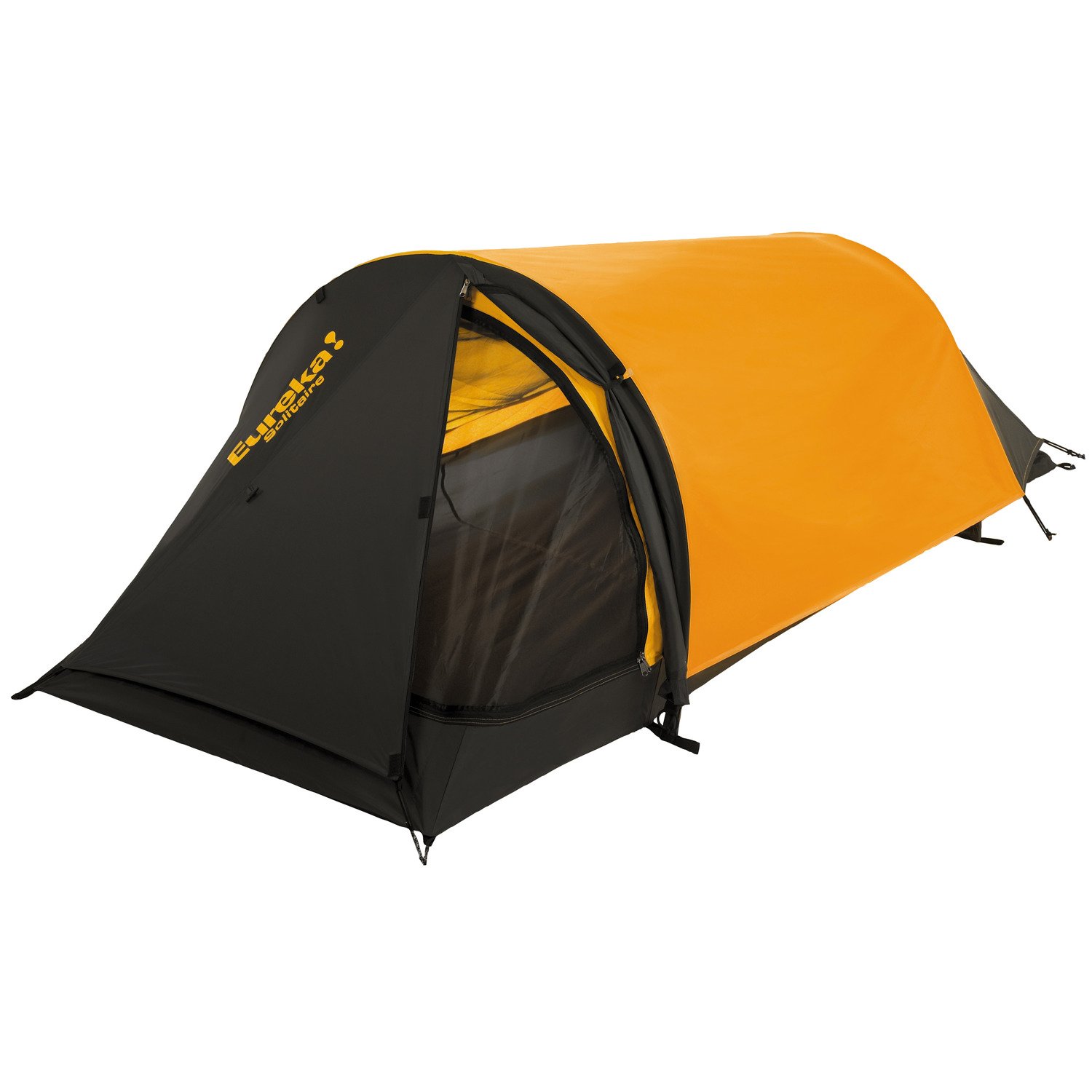 Technical Specifications
Capacity: 1
Dimensions: 96 x 32 x 28 inches
Weight: 2.9 pounds
Eureka! has been a popular name in manufacturing high-quality outdoor products since 1895. The company owns an impressive history as a part of many important expeditions throughout the 20th century.
You definitely want to take a look at this Solitaire Tent model, which is one of the best waterproof bivy tents in the market. It is also the brand's most compact single tent with high durability.
Like the majority of bivy tents, the Eureka! Solitaire is both lightweight and portable. It is by far the most lightweight product of the company. With a large lightweight mesh roof, the tent is also well-ventilated. In addition to that, the front mesh vestibule allows more airflow, making it an ideal choice for a hot summer backpacking adventure.
In addition to the sealed seams, the tent is equipped with a high-quality polyester fabric rainfly. Therefore, it is extremely waterproof while strongly blocking the UV-light. Besides, the rainfly comes with a zippered design on top, facilitating easy entrance and exit.
Eureka! Solitaire features a non-freestanding tent construction with a two-hoop design, which offers fine packability. The whole double-wall construction is stable and strong, thanks to the fiberglass-pole frame. It also allows users to set up the tent with ease.
However, some experts claim that the fiberglass poles are not compact enough for severe weather conditions. In that case, you should consider switching to aluminum poles with better quality.
Pros
Extremely lightweight and portable
Roomy enough for a bivy tent
Durable
Excellent waterproofness
Unique design
Cons
Fiberglass poles (consider aluminum poles for better quality)
7. Coleman Hooligan Backpacking Tent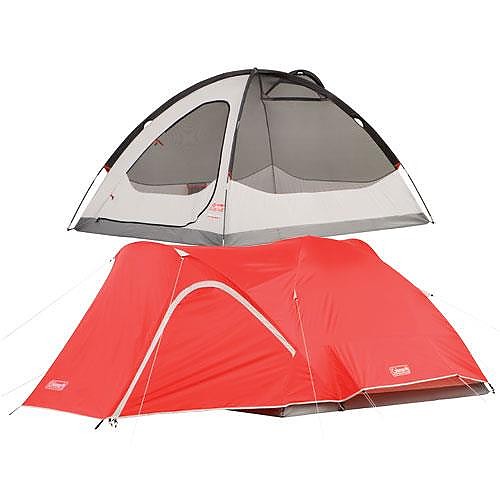 Technical Specifications
Capacity: 2,3,4
Dimensions
22 x 6.5 x 7 inches (2P)
24 x 7 x 7 inches (3P)
24.5 x 7 x 7.5 inches (4P)
Weight
7 pounds (2P)
12.31 pounds (3P)
12.6 pounds (4P)
Another high-quality backpacking tent from Coleman is the Hooligan model. The product comes in three different capacities: two, three, and four people. It is also available in three color designs.
The most distinguished feature of the Hooligan model is its unique pin-and-ring system. As the name states, this system includes a pin and a ring, so as to secure corner pole connections.
As this tent is a freestanding model, you can't just put your tent on any terrain. You need to select a nice spot for staking. Although the pin-and-ring system seems to be difficult at first, it really does its job in helping the tent to stand firmly on the ground.
About the construction, this is a good weatherproof tent. It is also highly water-resistant due to Coleman's exclusive WeatherTec system. Besides, the lightweight tent features inverted seams and zipper fabric cuff, which protects the tent from water entry and weather effects.
The tent's polyester rainfly comes with a coating that covers the whole tent, preventing harmful UV-light from entering the interior. On top of that, the interior is completely made of mesh. Thus, it supports tons of ventilation, allowing users to enjoy the comfort of staying inside the tent.
Although the tent comes with a vestibule for storage, many users find it rather small. Therefore, you may have to crawl inside to gain more space.
Pros
Unique pin-and-ring system
Great waterproofness and weather protection
Full mesh interior with excellent ventilation
Cons
8. ALPS Mountaineering Lynx 1-Person Tent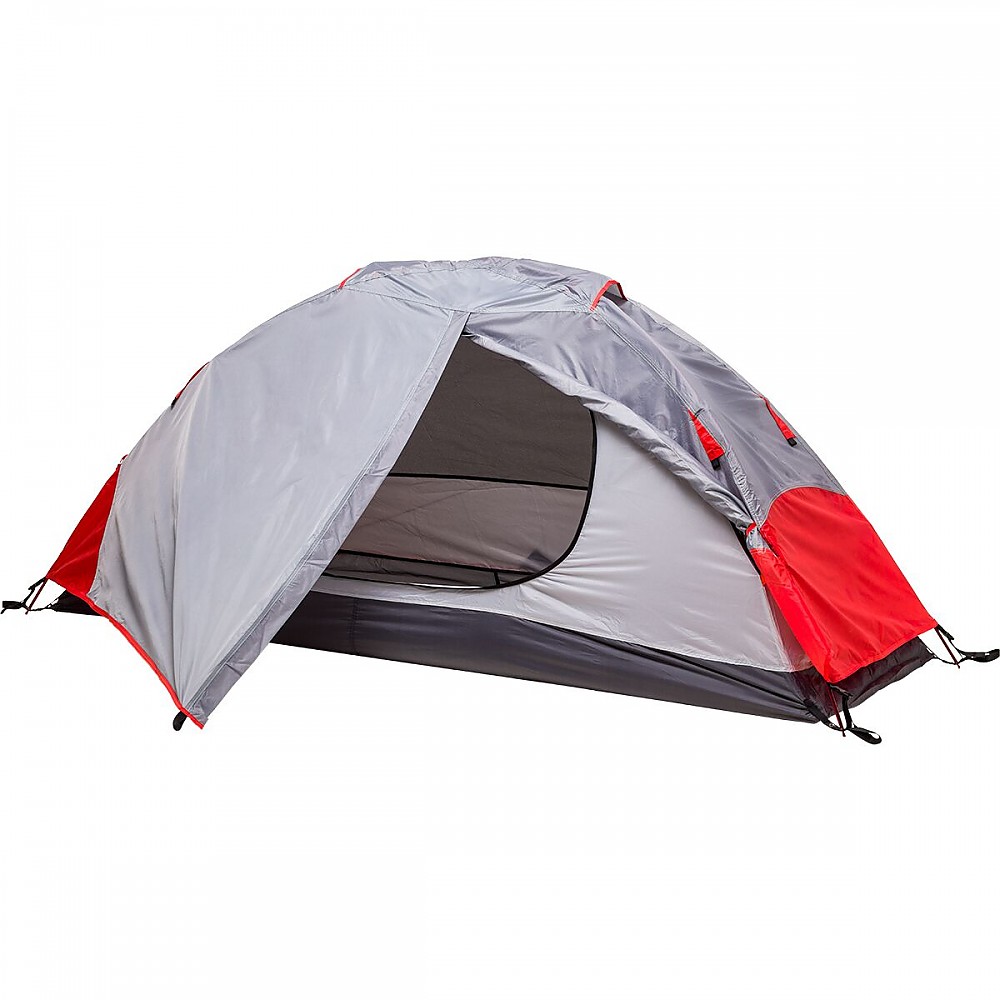 Technical Specifications
Capacity: 1
Dimensions: 32 x 90 x 36 inches
Weight: 3.97 pounds
If you are a fan of mountaineering and hiking, you will know that ALPS is one of the most trusted brands in the industry. The company offers high-performance outdoor products at an affordable price. The ALPS Mountaineering Lynx 1 model is a valued single-tent that worth your consideration for a backpacking journey.
This freestanding tent features two aluminum poles, which gives it an advantage of easy setup. It takes you only a few minutes to pitch the tent, especially on any geographical type. In addition, the two-pole design makes the whole tent ultra-lightweight and packable.
The poles of this Lynx 1 model are composed of high-grade aluminum, one of the strongest alloys in the market. Besides, the construction features half-mesh walls that provide proper ventilation.
You do not have to worry about external conditions as well. The tent features a high-quality polyester rainfly, which is both weatherproof and waterproof. On top of that, the product comes with sealed seams, which keeps you dry under rainy weather. At such a low price, this tent provides incredible weather protection that satisfies backpacker's needs.
As a 1-person tent, it is rare for this model to have a vestibule. Therefore, you can take advantage of the additional space, besides the available gear lofts and side pockets.
A potential drawback of this three-season tent is the floor. Many users report that the floor is ripped or damaged due to sharp, jagged rocks. To handle this, you can purchase a cheap floor saver from the manufacturer.
Pros
Durable materials
Feature a vestibule
Excellent weatherproofing
Lightweight and packable
Cons
9. ALPS Mountaineering Taurus 2-Person Tent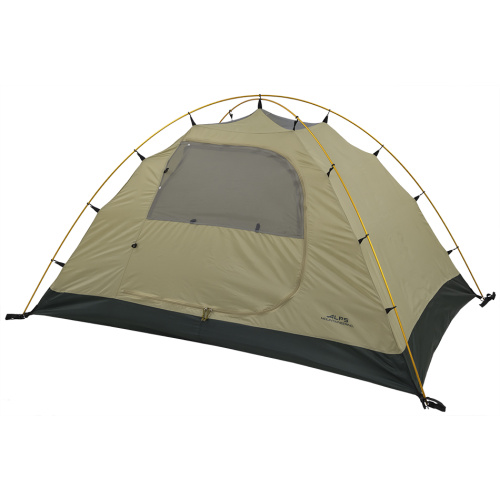 Technical Specifications
Capacity: 2
Dimensions: 60 x 90 x 46 inches
Weight: 7.1 pounds
If you are looking for a durable tent for two people, then do not miss out on the ALPS Mountaineering Taurus model.
This dome tent features two doors and two windows, supporting decent air circulation. On top of that, it features a mesh roof that does wonder for ventilation.
This freestanding tent is packed with guy ropes and lightweight aluminum stakes. While it does not need staking down, you can still make use of these gears to keep the tent secure in case of strong winds. Additionally, the tent comes with a rainfly that can cover its whole body. It can protect your shelter from both torrential downpour and harmful sun rays.
Besides the available gear lofts, the tent features two vestibules for extra storage space. Thus, you can utilize them to gain more headspace, making the shelter more comfortable to stay.
What we do not like about this product is that it is a bit heavy for a two-person tent. Aside from that, the tent bottom can rip easily, but you may fix it by adding floor protection.
Pros
Easy access with two doors
Well ventilated
Two vestibules
Good weather protection
Large rainfly
Cons
The bottom is prone to ripping
A bit heavy
10. Hyke & Byke Yosemite Backpacking Tents with Footprint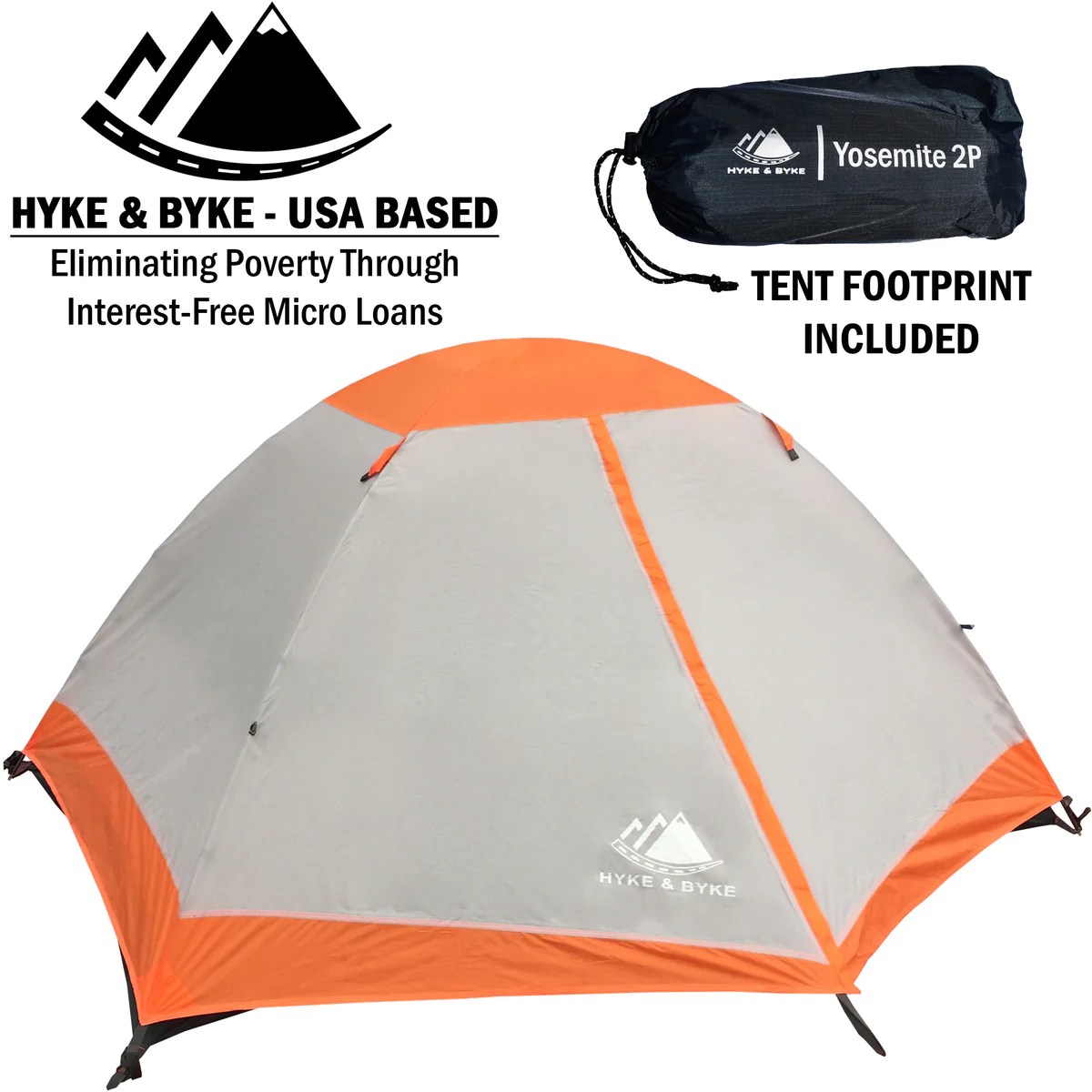 Technical Specifications
Capacity: 1,2
Dimensions
88 x 35 x 42 inches (1P)
88 x 54 x 45 inches (2P)
Weight
2.58 pounds (1P)
3.26 pounds (2P)
Hyke & Byke is a potential newcomer in the outdoor gear industry that backpacking enthusiasts cannot miss out on. The company focuses on making premium-quality outdoor products at a budget-conscious price. And the Yosemite backpacking tent is one outstanding gear that receives enormous plaudits.
The product has a featherweight construction. The no-see-um mesh walls do not only make the tent lightweight, but they also facilitate proper ventilation. On top of that, all the accessories are both durable and light, such as the aluminum alloy stakes and a proprietary stake presser. You do need to spend so much time setting up or removing this freestanding tent as well.
The full tent package is provided with the ceiling loft and a waterproof footprint. Moreover, their weatherproof ability is enhanced, thanks to the high-quality taped floor seams, rainfly, and bathtub floor.
Besides the no-see-um mesh, this three-season tent has two large doors. This design allows easy access, as well as supporting ventilation.
A small downside of this tent is that it lacks vents at the top, which may not be helpful in reducing condensation.
Pros
Great ventilation
Ultra-lightweight and portable
Weatherproof
Easy setup
Durable
Cons
Things To Consider Before Buying A Backpacking Tent 
Constructions
The first question to come to mind is choosing tents with single or double construction. Most backpackers prefer the double-wall tent because of better ventilation and versatility. 
The whole tent has two separate "walls": the tent body and the rainfly, whereas the single-wall tents have the tent body and the fly combined into one fabric. This single construction is more suitable for alpinists and mountaineers in need of a lighter-weight tent with small packed volume.
Weight 
You definitely don't want to carry heavy loads for long hours on the trail. While durability is related to lightweight materials, it does not prove that all lightweight tents are not long-lasting.
The average tent weight is around 2.5 pounds (1,1 kg) per person.
There are three usual advertised tent weights that can help you select the tent better. In fact, tent weight is usually somewhere between a packaged weight and a trail weight.
Packaged Weight (Max Weight): The heaviest weight because it includes the total weight of the whole package. It comes with every tent utensils: tent body, stuff sacks, stakes, poles, guy lines, etc. It may have a manual and a repair kit as well.

Trail Weight (Minimum Weight): The lightest weight as it only includes the fly, tent body, and poles.

Fastpack Weight: Includes only the poles, rainfly, and sometimes a groundsheet.
Seasons
The number of seasons is likely to affect your choice of buying a backpacking tent. For spring, summer, and fall backpacking, most users pick three-season tents, because they are suitable for nearly all typical weather conditions. Besides, these tents are designed to be lightweight while providing enough convenient features.
On the other hand, in severe winter with heavy snow, four-season tents will be a better option for your excursion.   
Headspace
Of course, everyone wants a comfortable tent with adequate headspace. The recommended tent space per person is around 80 length inches and 25 width inches. For tall people, a nearly 90 length inches will be better. In case you want more space to set your stuff, a gear loft can work it out. You can buy a separate gear loft if it is not available in your tent purchase.
Speaking of the roominess, you should also notice the tent's peak height, determines the capacity of the tent. Moreover, the peak height's location does matter as well. If it is in the middle of the tent, you will feel more spacious when seated in the middle. Whereas if it is at one end of the tent, it will be better to lie or sit in your sleeping bag.
Ventilation
Do not want to find your stuff getting damp after a night stay in your tent? Definitely, no. Hence, remember to select tents having proper ventilation, even with a rainfly on. 
Generally, backpackers consider the mesh on the tent body, since more mesh means better ventilation. However, the mesh may be susceptible to tears. That's why before buying, it is best to read the reviews thoroughly about all the tent's venting options.
Conclusion
As the tent is an irreplaceable part of your backpacking gear, it is vital to purchase a suitable tent within your budget. With our list of the best backpacking tent under $100, you can take the first step of your outdoor journey. Additionally, don't forget to check the tent's functions carefully to meet your needs.
Besides asking us any questions, you can also share with us your experience in choosing backpacking tents. Thanks for reading.