Camping
Coleman Sportster II Dual Fuel 1-Burner Stove Review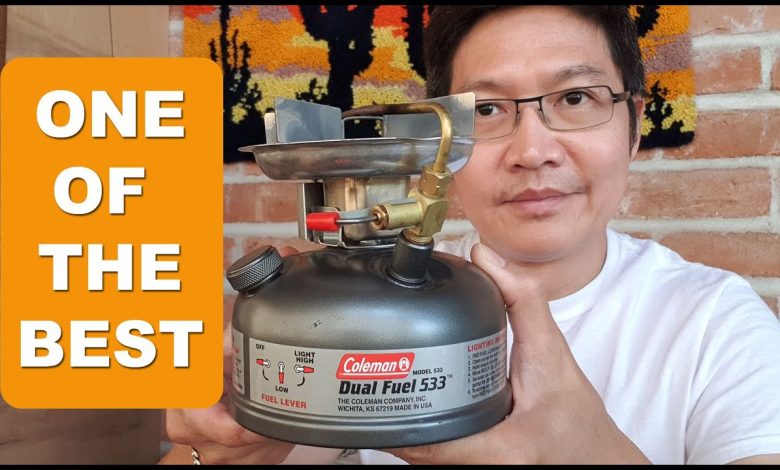 The Coleman Sportster II Dual Fuel 1-Burner Stove is a pint sized single burner camp stove that is renowned for its durability and its reliability. It is great for adventures with the family or fishing with the boys.
This portable stove offers a 10,000 BTU burner and operates using a Dual Fuel design. It conveniently burns Coleman Liquid Fuel or unleaded gasoline – with  a gallon of fuel lasting as long as 4.5 cylinders of propane!
The "Band-a-Blu" burner cooking power is reliable and can fit a 6-in. pan and can also boil a quart of water in only four minutes. Its durable technology provides reliable operation in all weather conditions. Wind baffles help protect your burner from wind for maximum heat output.
Besides being used for camping, fishing and other outdoor activities, the Coleman Dual Fuel 1 Burner camp stove has almost limitless uses. It was reported being used during recent forest fires, the US Forest Service Hotshot Crews were supplied with these stoves and no problems were reported over several weeks of daily use. In 2003 while pushing towards Baghdad, The U.S army supplied its soldiers in Iraq with these stoves to keep their thermos filled with hot coffee and the stove worked great!
The stove can be used while on motorcycle rides for the simple fact that it is a dual fuel stove, it is efficient especially because you can use the gasoline in the motorcycle or if push comes to shove you can use the stove gasoline in your bike!
Although the stove can be a little bit heavy, it can be used for backpacking. It is slightly smaller and lighter that other stoves, and has the advantage of burning two fuels.
It can be used for car camping, this little guy can cranks out a lot of heat on high, you can literally boil water for coffee in 3-4 minutes or even prepare breakfast while resting on Route 66.
This Coleman camp stove rocks for canoeing trips. The stove can capsize, sink and float. After just a couple of hours in the sun, the stove is as good as new! You'll still get great heat and excellent cooking results even after being soaked.
Fuel Type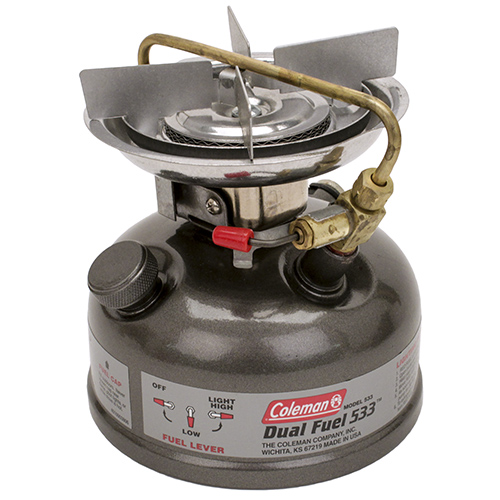 The sportster like most of Coleman's trademarked technology runs off "Coleman Liquid Fuel" which is basically just white gas. The Dual Fuel technology in this little stove allows it to run off regular unleaded gasoline as well, making it very versatile.
It is very convenient to operate; it warms up fairly quickly with a minimum of flaming, runs very hot compared to propane, and simmers reasonably well. The simmer function doesn't work great until the stove can heat up enough to vaporize the fuel effectively.
It heats water and food quickly, while going through fuel relatively slowly. A single tank of fuel will typically last from anything between 3-5 days of camping (depending on use) while a gallon of Coleman Liquid Fuel (white gas) will last as long as four and a half standard cylinders of propane. Overall this stove is much cheaper to operate than others of it's kind.
Number of Burners
The Coleman Sportster II Dual Fuel Stove is a fuel tank and burner all built together. The single burner is what Coleman calls a "Band-a-Blu" burner, which they claim lights instantly, has powerful heat, and is easily regulated.
The small 1 burner has an output of 10,000 BTU's which isn't the most powerful ever, but it's plenty to do most jobs. It is excellent for boiling water and cooking outdoor as it operates very well during different weather conditions.
Brand Reputation
Although Coleman Company Inc. is known for specializing in outdoor recreation products, it is mostly known for distributing camping gear. The company was founded by William Coffin Coleman who sold gasoline pressure lamps in the 1900's. Ever since its inception, the company has been known to produce and sell more than 50 million lanterns and camping stoves.
Its products are sold in more than 100 countries worldwide, with international sales accounting for about one-third of overall revenues. The company has also created a large loyal consumer following for a wide range of insulated food and beverage containers, sleeping bags, backpacks, tents, outdoor folding furniture, portable electric lights, and other recreational accessories.
Coleman offers a 5-year limited warranty on this camp stove
Features & Specifications
Size: 7.4 in. x 7.8 in. x 6.6 in. (18.75 cm x 19.81 cm x 16.64 cm)
Weight: 2 pounds
Color: Coleman Green
Material: Stainless Steel
Heat Output: 10,000 BTUs
Fuel Type (Dual): Coleman Liquid Fuel or regular unleaded gasoline
Fuel Capacity: 1.1 pint
Burners: 1 @ 10k BTU's
Max Pan Size: 6 inches
Price Range: $50-$100
Warranty: 5-year limited
Other Features: Built-in pot support and wind protection, filter funnel included
Manufactured: Made in the USA of US & foreign components
Consumer Reviews
The Coleman Sportster II Dual Fuel 1 Burner Camp Stove is one of the highest rated small stoves on the market, with 230 reviews and an overall rating of 4.4 out of 5 stars.
Coleman Sportster II Dual Fuel 1-Burner Stove Pros & Cons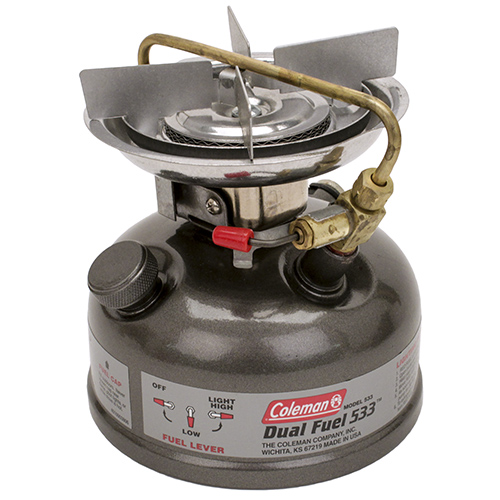 Pros
Boils a quart of water in 4 minutes
Dual fuel technology
Powerful, 10,000 BTU burner
Sturdy, durable and dependable
Fuel can last for 3 -5 days
Uses the Band-a-Blu burners that have proven reliable
Operates in all weather conditions
Convenient for backpacking and motorcycle rides
It is a rough and ready kind of a stove, no set up is required
Great for emergencies
Made in the United States
Fits a 6 inch pan
It also has a filtering funnel to help with debris inside the fuel
Can get fuel almost anywhere
Cons
It does not simmer food well as it can be a little finnicky
Does not operate well in very cold conditions
The stove is a bit heavy for backpacking
Unleaded fuel can clog the tube
Limited support for larger pots.
FAQ – Frequently Asked Questions
Does this come with a hard shell carry case? 
It does not. Shipped in cardboard box.
Just purchased a Coleman dual fuel burner and trying to follow the instructions to use it I don't know how to open or close the pump knob.
Give the pump a counter clockwise turn to release it, pump it up, and then tighten it again by turning it clockwise. NEVER open the cap while the stove is burning, or even if it's hot.
Can I use this stove inside during power outage? 
Using any gas stove / lantern can have toxic emissions and Coleman doesn't recommend using it in an enclosed area like a tent or house because of the lack of ventilation.
When using unleaded gas, will it matter if the gas contains ethanol? It is getting difficult to find unleaded without ethanol in my area. 
Technically, this stove can use unleaded automotive gasoline, but it is much better to use Coleman fuel. Automotive gas is not as clean as the Coleman fuel and will eventually clog your stove. You CAN clean the generator, but you have to know how and it is a hassle.
Now, to answer your question, unleaded fuel with ethanol will be troublesome to use. The stove will be a little more difficult to light and it will sputter and occasionally flare up. If you will use gas with ethanol, absolutely use a pre-warm for your generator like pre-start gel or fire starter sticks under the generator tube, or even paper with a little fuel on it.
Is it allowed to take the Coleman stove dual fuel-1 burner without gas into my baggage in an airplane? 
Yes, but you must completely drain and dry it. I would take the fuel cap off and carry or pack it separately to show that it is completely empty. You cannot carry any fuel in your luggage. Not even one drop.
Where do I buy parts? 
You can buy parts direct from Coleman, BUT it is highly unlikely you will need parts in your lifetime. This is a very reliable stove. The pump replacement is found at many sporting goods stores for about $10, but it is doubtful you will ever need one.
Can you mix the fuels? Let's say you have a half tank of fuel and you don't have any more can you top this off with unleaded gas? 
Yes, you can mix Coleman fuel with automobile gasoline. It will burn perfectly fine. You won't notice the difference either mixed or separate.
Read other questions asked about the Coleman Sportster II Dual Fuel 1 Burner Stove
Coleman Sportster II Dual Fuel 1-Burner Stove Summary
The Coleman Sportster II Dual Fuel camp stove has dozens of uses. Because of its portability and durability, it can withstand even the toughest of environments the weather and circumstances can offer. What makes it even more versatile is its option of running white gas or unleaded gas through it. The Coleman Sportster camp stove is sturdy, dependable, really puts out some heat and is definitely reliable. It can be used literally anywhere, it is excellent while for rescue missions, camping, fishing, motorcycle rides, and others.
This camp stove is manufactured by an American company which has a reputation for providing quality products. The price is also reasonable and will pay for itself over time with the lower cost of running it. I would highly recommend it for any type of camping because of its small size, sturdiness and efficient fuel consumption.