Camping
How to Choose a Camping Stove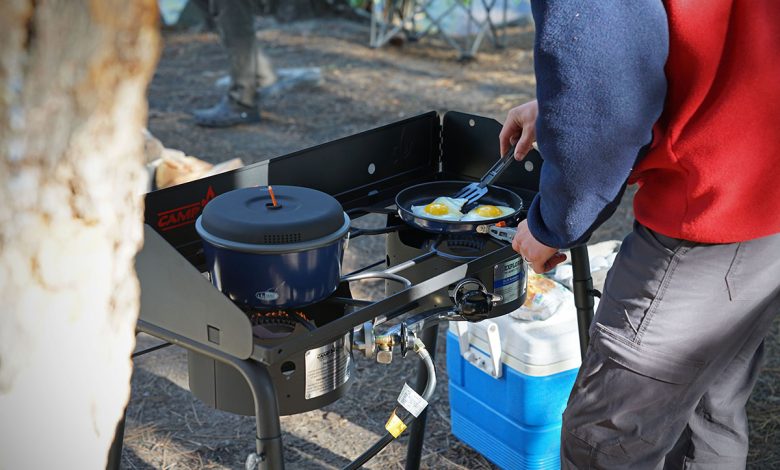 You've had a boon in the boonies and have seen it all: traversed the gorge, walked under sky-rise bluffs and crossed a waist deep river. Now, it's nearly dark and you're hungry. Those M&Ms mixed with dried fruit and nuts have carried you this far, but now you need a manly meal (even if you're a woman). If you've prepared for such a trek, then you've packed a camping stove that can handle your hunky food needs. Whether you've packed the ersatz meal or gastronomic smorgasbord, camping stoves are as unalike as two paths forking to either a grassy knoll or rocky pinnacle.
Here's how to choose one to fit your hiking and camping needs. Also, you need to know how to use a camping stove.
Camping Stove VS Backpacking Stove
First, you need to decide what kind of camping you'll be doing. A camping stove, mind you, is a bit different than a backpacking stove. The question to ask yourself: wheels or hoofs? That is, are you driving a car to the campsite or are you "hoofing" it through the wilderness?
Let's say you're choosing the former camping scenario—wheels. If you're with buddies and sitting around the camp fire shooting the breeze, as they say, then you might try a portable grill set: The Cobb Premier Portable Grill and Cooking System Combo model has it all.
However, if it's just you and one or two closer friends, then the Vulcan Ultimate Tailgating Camping Set will have all the handy tools you need to be labeled Grill Master in no time. Add a Wire Cook Stand and have plenty of room for all the fixins.
If you're a hoofer, then you better keep weight and spillage in mind. If it's going to be you and one friend, for example, you can bring along the lightest of backpacking stoves you can find. To help offset and displace weight, find backpacking stoves that can be removed from the fuel supply.
If the thing can collapse, bend and become smaller, all the better. Some stoves are small enough to fit inside a mesh or plastic bag or even inside the camping cookware itself. Be sure to clean any old fuel from the hose assembly and burner.
Camping Stoves: Good Gas VS Bad Gas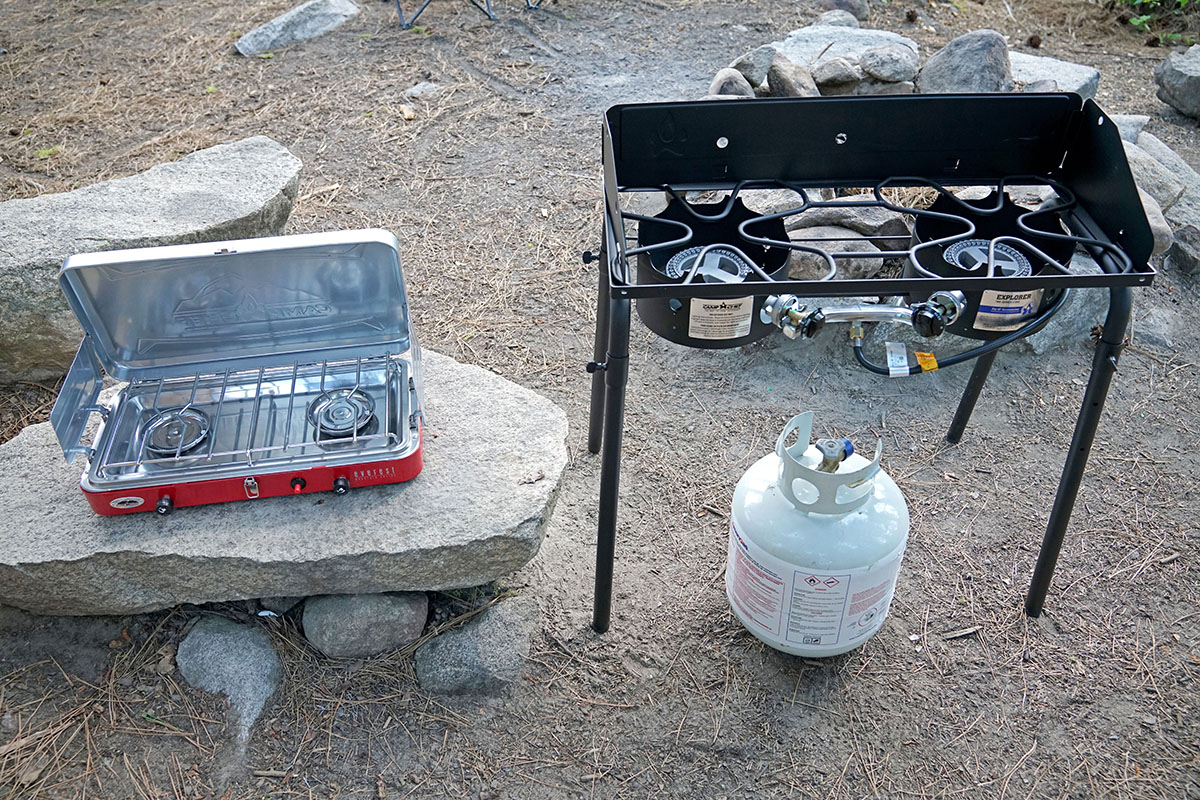 Good gas and bad gas have no connotation either to ethanol or grandpa's post-Thanksgiving meal. It does, however, signify what backpacking stoves can and cannot burn. We'll let you decide.
Unleaded Gas Burning Backpacking Stoves: Yes, they do exist, but are not widely used as in olden years. This highly flammable liquid is found the world over. However, it develops soot quickly. Should only be used sparingly.
Alcohol Burning Backpacking Stoves: This stuff is easily found in the US and Canada and is quite cheap. It doesn't burn as hot as other fuels, and takes more to heat up that water. It's clean and can be used to clean out other sootier fuels.
White Gas Burning Camping Stoves: This type of gas is readily available in the US and Canada as well. Outside of the US (or the first world) it is harder to find. You'll have to prime white gas and be careful when spilled as it ignites rather quickly.
Propane & Butane Burning Camping Stoves: These are nice because there's no priming involved. Just turn the switch on your stove and start cooking. However, it's hard to get rid of the canisters and they are not often reused. Moreover, the fuels (as of lately) have been more expensive. Propane and butane both work worse as temperatures become colder. In spite of this, you can adjust the flame easily as this fuel is kept under pressure.
Kerosene Burning Backpacking Stoves: Kerosene is cheaper than propane but is quite smelly. It can clog up your camping stove equipment quickly too. Kerosene is non-explosive and does not evaporate swiftly. It can be found from Africa to Asia to North and South America.