Camping
14 Best Camping Bed Options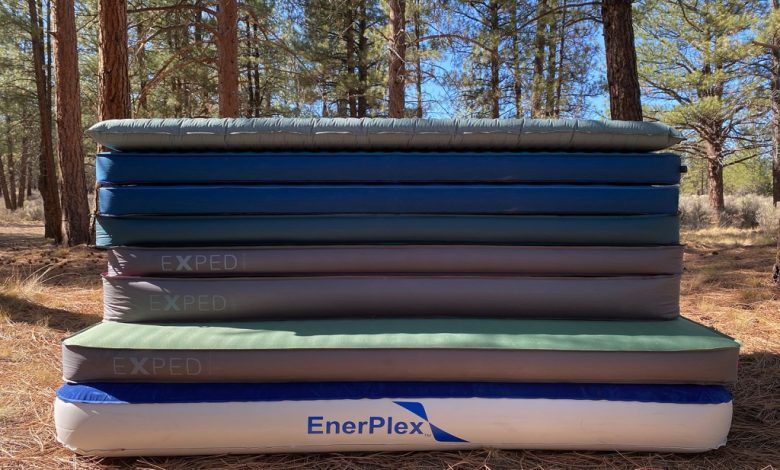 When it comes to camping you will have a better experience overall if you are getting a quality good night's sleep. You will feel far more refreshed and excited when you wake up on a comfortable camping bed. Many of the best camping bed options listed below are formally known as air beds or mattresses and have the ability to keep you comfortable when you are away from home.
Be sure to consider the reviews of each air bed, as some are puncture and leak-resistant while others are not. Long-lasting air beds are an important feature while camping, to avoid worrying about the bed popping or getting a hole in it, resulting in you sleeping on the floor. There are some camping beds that have foam padding on top of them which is highly convenient for insulation and lightweight packing during a camping trip. Something great about foam on top of camping beds is the insulation it provides you during your sleep resulting in extreme warmth on cold nights.
Top 14 Best Camping Bed Options
1. Lightspeed Outdoors 2 Individual PVC-Free Air Bed Mattress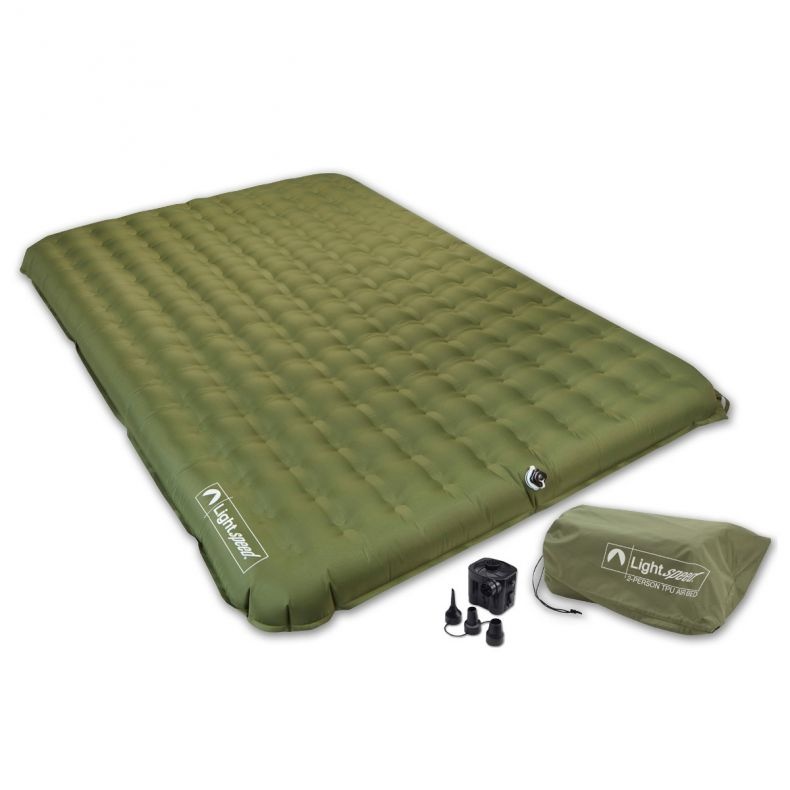 The Lightspeed Outdoors mattress is a highly ranked inexpensive bed for camping. It costs about $75 and is extremely durable as well as leak-free. When the mattress is inside of its carrying case you are looking at a size of 18 inches by 9.2 inches. This is the perfect size for those who need something small to carry in their backpack. This mattress fully blown up is 79 inches long and 55 inches wide, taking up a lot of space in a tent or RV. Everyone says that this is the best bed for consumers who have a bad back or severe joint pain.
2. Therm-a-rest Mondo King 3D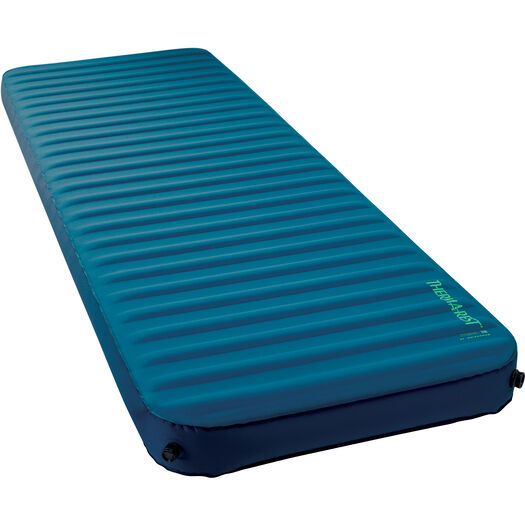 This mattress is extremely comfortable due to its 4-inch foam padding that sits on the top of the mattress. This foam padding provides comfort to all who use it. It is both easy to inflate and deflate provided by the dual valve. The dual valve allows the air to come out faster, making it a more convenient feature of the mattress. It also makes putting the mattress away an extremely fast process in comparison to other beds listed. One downside to this mattress is that it does take up a lot of space when it is packed up, making it inconvenient for some consumers.
3. Exped MegaMat10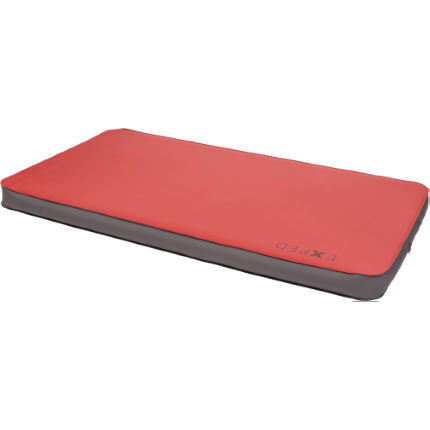 This camping bed is very similar to a bed that you would sleep in at home. It has a very comfortable top that does not make you sweat or feel sticky when you wake up. Many mattresses need a fitted sheet on top of them to avoid night sweat and stickiness but, with this mattress, you can choose not to use one and have no problems throughout the night. There is a feature included that allows you to adjust the firmness of the bed, providing consumers with maximum comfort. If you have a small tent you need to be aware that it may not fit inside because it is both wide and long.
Pros
Extreme comfort
Inflates very easily
Foot pump included
Easy to pack
Comes with a carrying sack
Cons
Expensive
Is on the bigger side, may not fit in some single person tents
4. King Koil Queen Size Luxury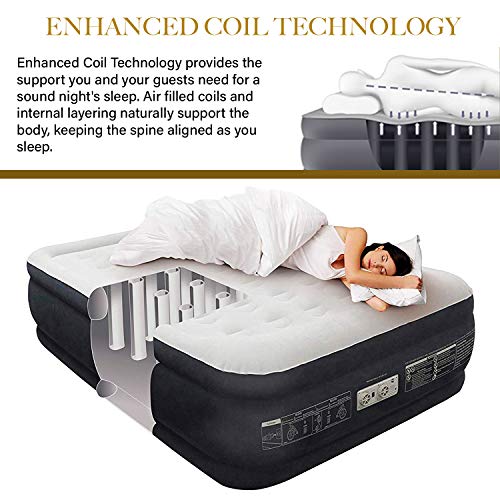 King Koil is a great mattress for those who have a hard time sleeping and getting in and out of bed. It can reach a thickness as thick as 20 inches allowing consumers to get in and out comfortably without joint pain. A downside of this camping bed is that it does not come with a portable camping pump, so you will have to purchase one separately.
5. Coleman Airbed Cot with Side Table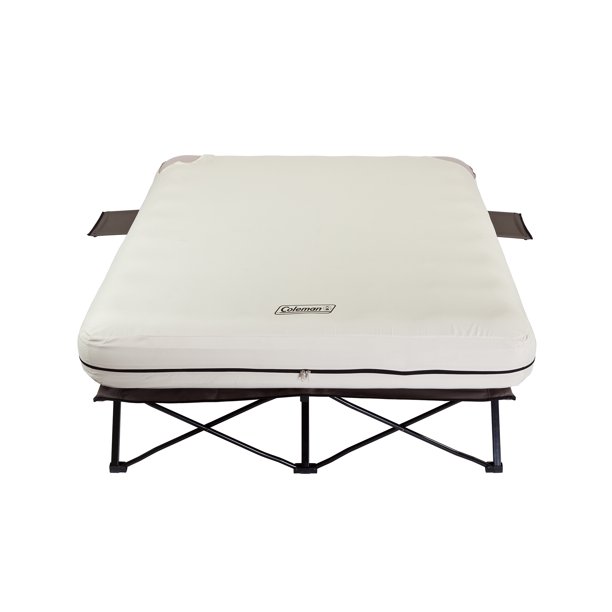 If you are willing to spend upwards of $100 for a camping cot, this is a worthwhile product to invest in. The frame is durable and keeps the mattress at 22 inches which is similar to the height of a normal bed. The frame also provides that same comfort as a bed at home. It comes with a 4D battery-operated pump that will inflate the mattress conveniently. Unfortunately, batteries are not included, so you need to consider that before purchasing.
Pros
Durable frame providing strength to the bed
Body support
Zero noise from the nylon topped mattress
Cons
Heavy
Pump is inconsistent
6. Etekcity Camping Air Mattress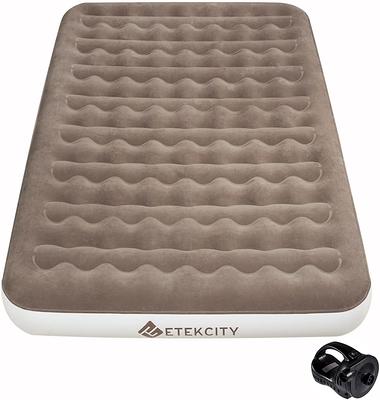 If comfort and durability are your number one priority then the Etekcity air mattress is for you. It is made of PVC that is nontoxic hard wearing, making it difficult to puncture. It is only 9 inches off of the ground but luckily, it is high enough that cold air will be unable to disrupt you during sleep. This camping bed also comes equipped with a chargeable pump that makes inflating and deflating it very easy.
7. LANGRIA Upgraded Twin Size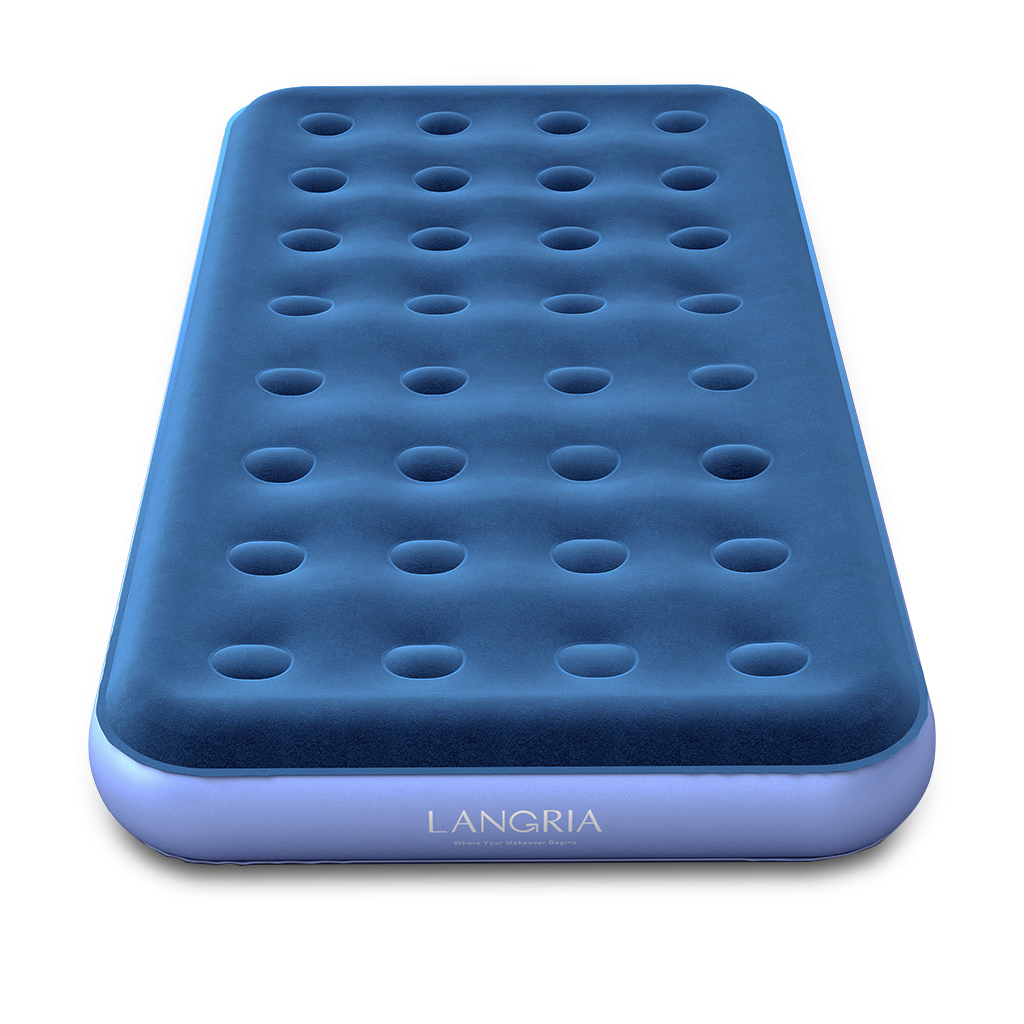 This mattress is 8.5 inches off of the ground and can support up to 300 pounds of weight making it perfect for one adult or two children to sleep on. If you are traveling or camping, it has a battery that can pump the bed while traveling or can be plugged into a traditional outlet. If you are running on a tight time window, you can pump this bed up or deflate it, in just two minutes. Also, if you are looking for convenience then this is the mattress for you as it even folds smoothly into its carrying bag.
8. Aerobed Double Flocked Camp Bed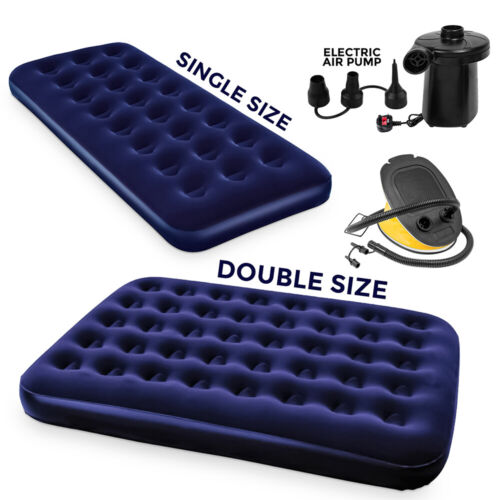 The Aerobed is perfect for camping and any other activity you may need it for. It comfortably sleeps two people, has a built-in electric pump, and has 28 air coils. All of these features make it the perfect mattress for comfort and stability while camping. Making minimal noise any active sleeper will find themselves sleeping through the night after using this mattress.
9. Coleman Comfort Single Air Camping Bed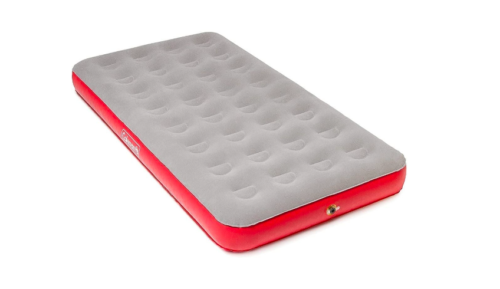 This inexpensive camping airbed is an affordable and comfortable option for those looking for affordability. The storage bag is attached to the bed, making it easy for transportation and impossible to lose. It is manufactured from tough PVC, so one would think that would make it a noisy bed during sleep. Lucky for you, it has been said to make very little noise for active sleeping consumers, but lightweight sleepers should look to other mattresses. Even though it makes little noise, there is still some emitted during sleep.
10. Teton Sports XXL Camping Cot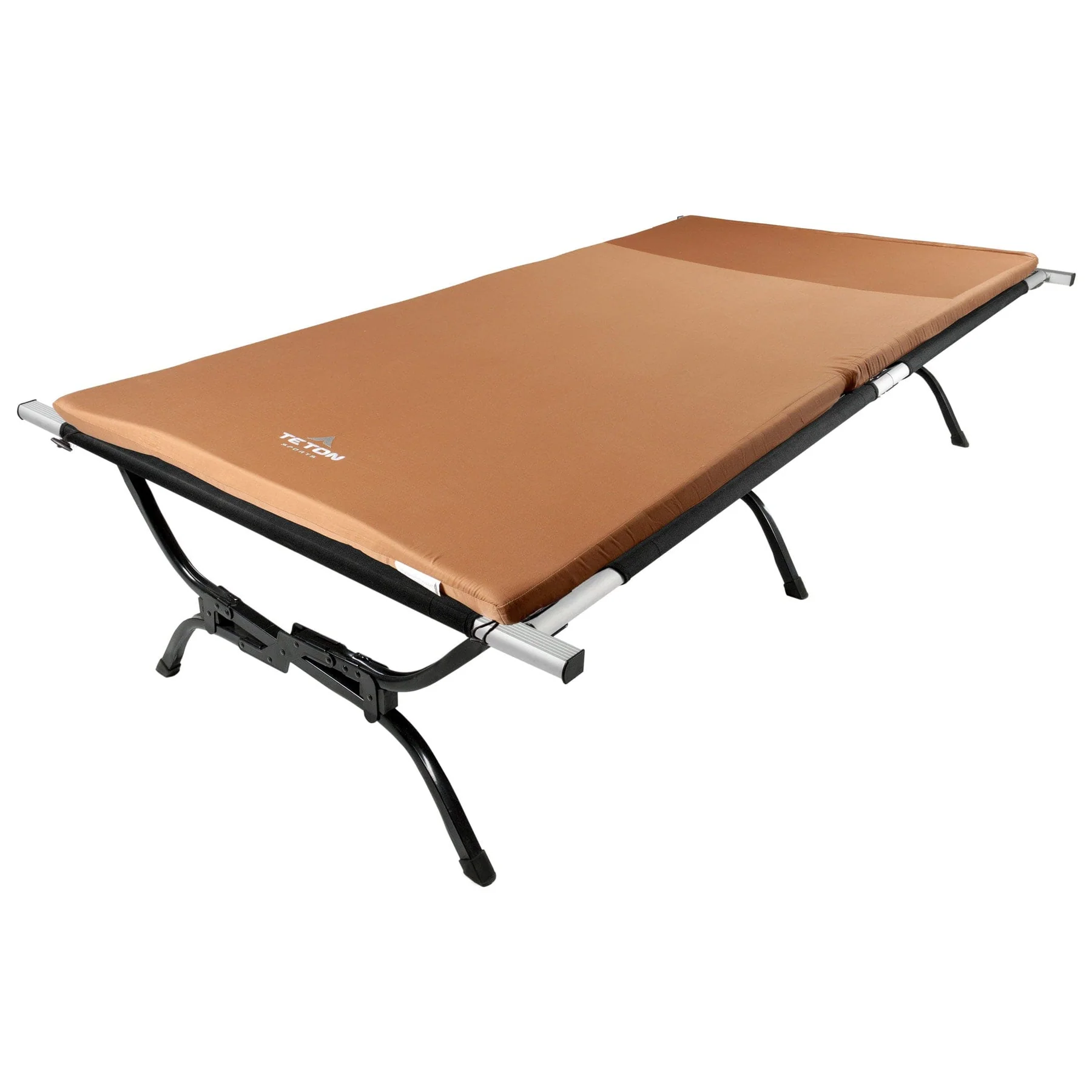 TETON provides consumers with a quick and easy setup, promoting the pivot arm to avoid any hassle during use. This Cot is both wider and longer than a twin bed which provides lots of space to relax for a comforting sleep. The frame is made of aluminum while the steel S-leg design strengthens the cot and provides support. As an XXL Cot, it weighs only 26 pounds and can support up to 600 pounds of weight.
11. Exped MegaMat Duo 10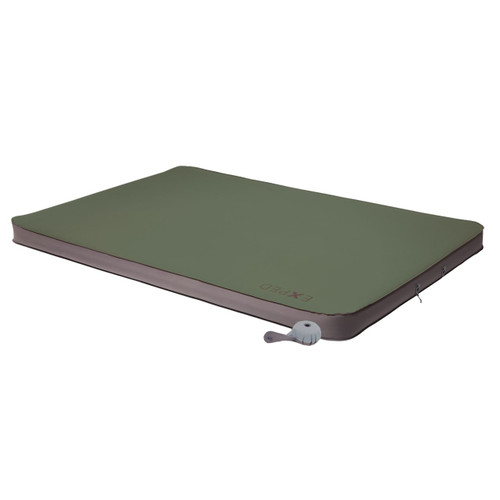 The Exped MegaMat Duo 10 is said to be the best air mattress for camping in your car. Do not get it confused with the other Exped listed here, the Megamat 10 and Megamat Duo 10 are similar but different. The exped Megamat Duo 10 can fit two people and is about 52 inches wide. It can fit perfectly in the back of pickup trucks or minivans, for those who camp in the back of their cars without a tent. Consumers have even argued that when it is completely deflated it is relatively comfortable to sleep on, so if you forget your pump to blow it up on your camping trip no need to fear!
12. Milliard Tri-Folding Mattress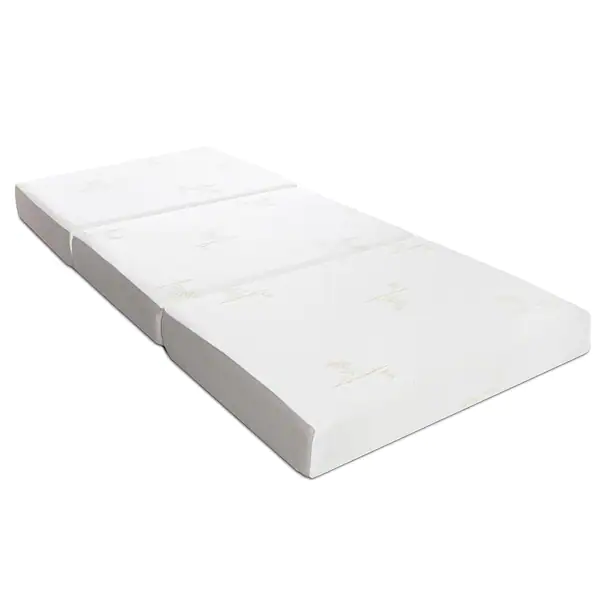 The Milliard Tri-Folding Mattress is 4 inches thick with a foam-based construction. Making its use easy, you simply unfold it onto the floor in any location you can think of. If you need to sleep in a tent, car, or even your living room, this mattress provides both convenience and comfort. Everyone loves laying and being on anything foam, as it mimics being Tempurpedic and provides a comfortable sleep similar to one in your bed at home.
Pros
Comfortable
Affordable
Easy to put away
Cons
Large and does not get small when it is time to put away
13. Nemo Roamer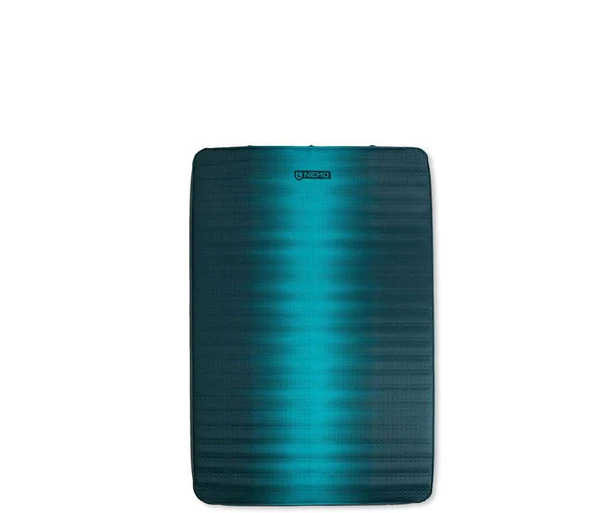 Most companies make the argument that their mattresses can self inflate, while this may be true it can take some mattresses up to thirty minutes for them to fully inflate. Unlike any other mattress on the market, the Nemo Roamer can self inflate in about 2 minutes, making it one of the best camping beds on the market. If you are someone always in a rush, this is the perfect camping bed for you as it provides extreme convenience to the consumer.
14. Therm-A Rest NeoAir Topo Luxe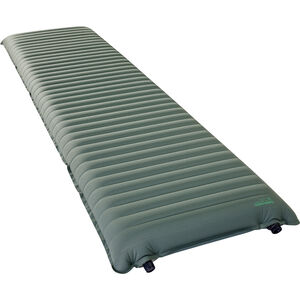 The NeoAir Topo Luxe provides great comfort as a luxury foam mattress. This is a top tier mattress that is perfect for the consumer who does not have a lot of space while packing. If you are on a tight camping budget consider this mattress because of its affordability. Those who backpack a lot during their camping adventures will find this mattress ideal, due to its small size and 2-pound weight.
Conclusion
Everyone goes camping so they can escape the modern world and experience something other than normal life. That does not mean you have to sleep on the floor of a tent in only a sleeping bag. There are plenty of options for consumers who are looking for something much more comfortable.
The best camping bed options listed above were designed for the consumer to have different options and a camping bed that will fit their every want and desire. Some are low to the ground and easy to transport, while others are the same height as a normal bed for consumers with back and joint pain. There are convenience and affordability in camping beds for those who need it and you can find the best camping bed for you, listed above. Although many were listed as camping air mattresses, there are cot options as well as sleeping hammocks. You can find all of those on Amazon if you need more information.