Hunting
Best Scope For AR 15 Under $100 Reviews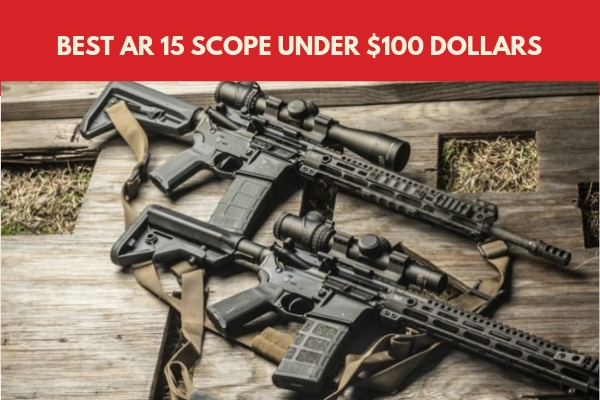 AR 15 has earned a status as the weapon of choice for many Americans because of its versatile nature. It accepts a range of scopes and an expansive selection of attachments. Scopes enhance the usability of your AR, but they can also cost a lot. Although there are plenty of cheaper options, not every budget scope deserves your money. We examined several promising budget options to find the best scope for AR 15 under $100.
It helps that the AR 15 is a modular firearm that receives customizations really well. This is a boon for firearm enthusiasts who can customize the rifle with optics, stands, and other add-ons to match their preference and usage.
The AR 15 in itself is a sufficiently powerful rifle capable of firing long-range. However, that doesn't mean anything if you don't couple the weapon's capabilities with an equally capable scope that lets you take that shot. A good scope will do wonders for your accuracy, both at long and short distances.
What Is the Best Scope for an AR 15?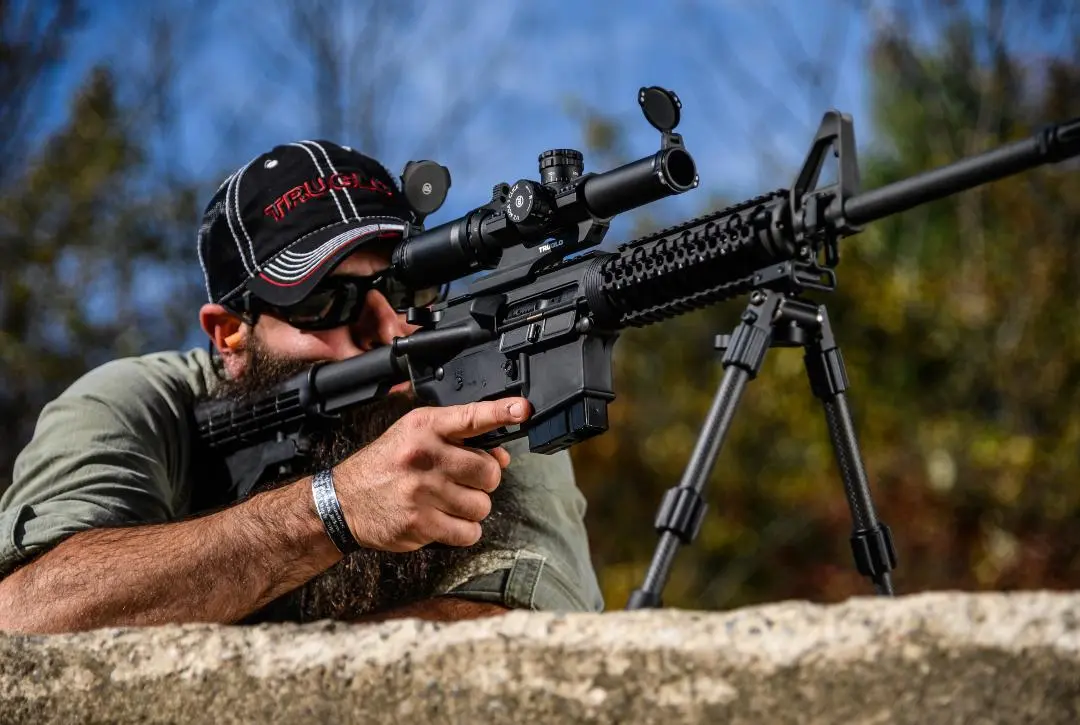 With so much competition, finding cheap optics for your rifle isn't too difficult a chore. For the inexperienced buyer, however, the specifications of these optics may be misleading. It's also easy to get hoodwinked into buying a scope that looks good on paper but lags behind others on the shooting range.
For example, you can find scopes that use the same quality of glass on two opposite ends of the pricing spectrum. This is because when it comes to optics, it's not always about the quality of glass used or the magnification it offers. Several other variables, like the type of coating, build quality, materials used, and the engineering that goes behind the optic system, determine the overall quality and price of the scope.
Now that you know the general problem new buyers might face with budget scopes, we'll look at some of the best optics for AR 15 that balance price and functionality. We will assess several variables such as magnification, stability, reticle, and focal plane to determine the best scope for AR 15 under $100.
Best Optics for AR 15
Not every scope will excel in every department, but all the scopes we have selected for this list offer a unique blend of affordability and functionality. Some are great overall, while others shine as budget picks designed to enhance short-range accuracy.
Best AR 15 Sights
Let's look at some of these scopes in more detail to weigh their strengths and weaknesses.
Best Red Dot Sight For AR-15
1. Bushnell Trophy Rifle Scope 2-7x/36mm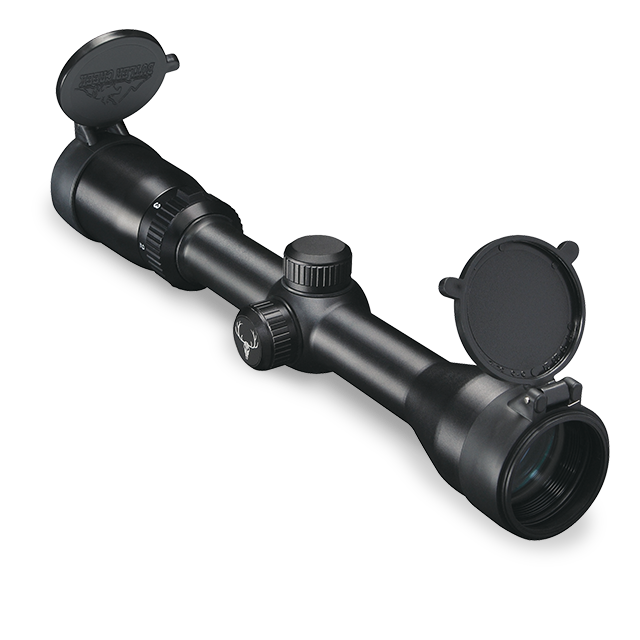 The Bushnell Trophy Rifle Scope may not be the most powerful one on this list, but it certainly offers the best value for your money. This is a 2-7x scope with a 36mm objective diameter and a 1-inch tube.
The scope weighs in at 14.3 oz with dimensions of 15.2" x 8.8" x 3", so it's among the larger ones on this list. The Bushnell Trophy 2-7x is a versatile scope best suited for rimfire and light rifles and shotguns. When used with the AR 15, this is a great scope for beginners.
The scope comes equipped with high-quality glass, which is quite impressive for the price it is marketed at. The 4-inch eye relief the scope features means it can withstand recoil sufficiently well. Although not as refined as other offerings, the Trophy 2-7x gets the job done.
The exterior of the scope comprises a single-piece housing tube with a durable hard coating. Reticle adjustment on the optic can be performed to ¼ clicks, and the scope is capable of holding zero without any trouble. With sealed turret caps to enhance durability, this budget scope provides the best optics for the AR 15 with a price to match.
Best Red Dot Sight For AR-15 For The Money
2. Bushnell Trophy TRS-25 Red-Dot Sight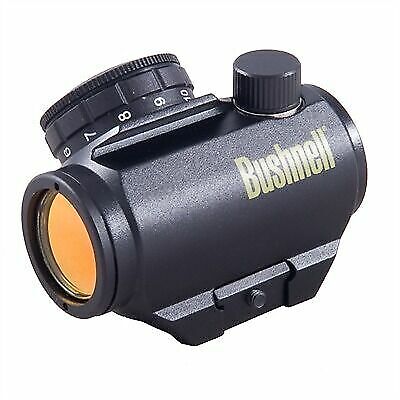 Another glass system from Bushnell, the Trophy TRS-25, isn't a long-range scope but a red-dot sight that's fairly handy at short distances. When it comes to short-range rifle optics, this is the best AR 15 scope under 100 dollars that you can get your hands on. This is owing to its precision, along with a durable waterproof design, shock resistance, and fog-proofing.
The TRS-25 is the ideal sub-compact sight that boasts a nitrogen-packed main tube, ensuring the integrity of the seal against water. This full-range red-dot sight comes in a more compact housing than most alternatives, so it goes rather well with the standard top platform of the AR 15.
This trusty red-dot sight is a great fit not only for the AR 15 but also for any weapon and any situation where close-range precision is a priority. This precision comes at a refreshingly low price point, which has made it a sight very popular choice among rifle owners.
The red dot at the center of the reticle is fairly bright, even in broad daylight. For use in darker conditions, the brightness can be easily adjusted through a single knob on the side of the optic to reduce the strain on the eyes.
3. Bushnell Banner 4-16x/40mm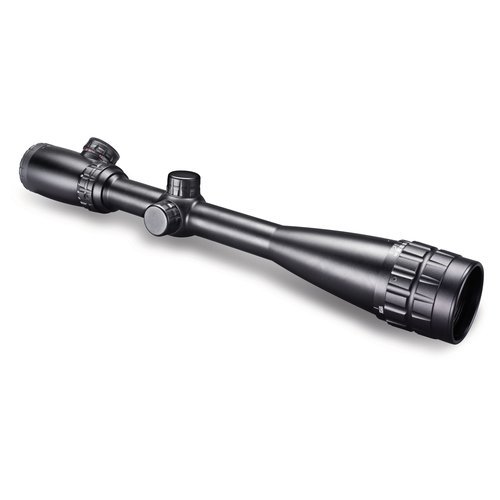 The Bushnell Banner 4-16x is one sturdy scope in a single-tube housing. The scope features a lighted reticle with variable brightness that can be adjusted for comfortable operation according to the lighting conditions.
The MZ 200 reticle with 100-yard zeroing capabilities makes it a great scope to take on your hunting trip. Although the AR 15 isn't exactly a hunting rifle. If you do use it for hunting, you'll find that the Banner 4-16x is dead precise up to a distance of 500 yards.
It is built to be used outdoors in rough conditions. The durable housing can take a lot of abuse and ensures that the sight emerges unscathed, even in demanding outdoor excursions.
Field testers have pitted the scope against conditions such as intense heat and dust without it compromising on precision. Banner sights are admired for their durability, and customers have even claimed to have used them for a good few decades without the sights losing their structural integrity.
4. Simmons 2.5-10x/40mm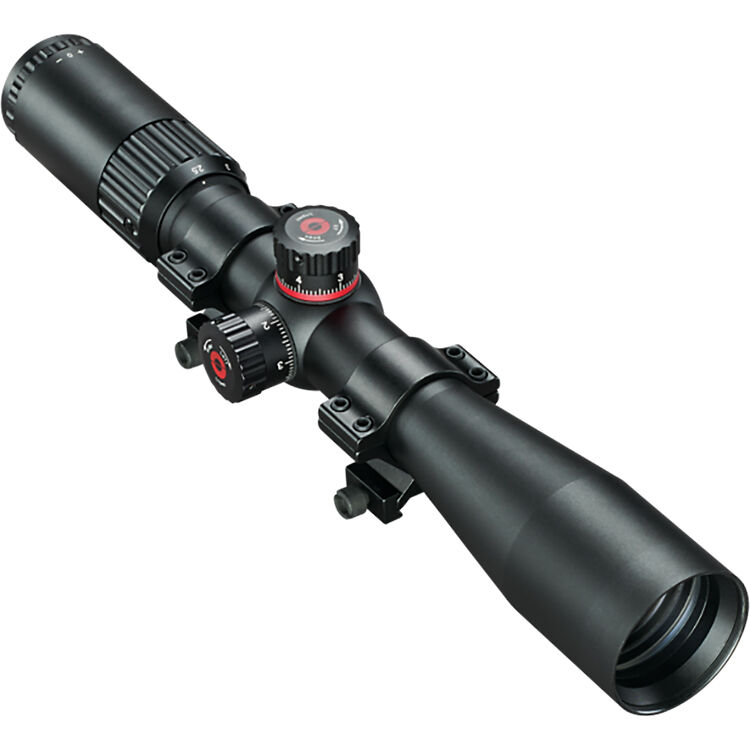 The Simmons 2.5-10x is one of the best budget tactical scopes for AR 15 on the market. It's affordable and gets the job done better than most, which is what you look for in a budget sight. The ProTarget 40mm bell that the scope features come with WP/FPT turrets.
The ProTarget allows users to adjust windage and external elevation. What this essentially means is that the Simmons 2.5-10x won't be out of place in tactical training or shooting competitions. This useful addition to the budget scope pushes it into the category of tactical scopes.
The size and structural dynamics of the scope also support its use in tactical training. Its length and width are the right sizes for the top platform with both elevated and flat-railed mountings. This Simmons scope also comes with rings that allow for direct mounting without the need for aftermarket accessories.
The scope also has a lot to offer in terms of durability. The glass used in the optic is completely coated, and the tube is water- and fog-proof. Additionally, its tactical capabilities make it a great budget scope for hunting on any rifle.
5. UTG BugBuster 3-9x/32mm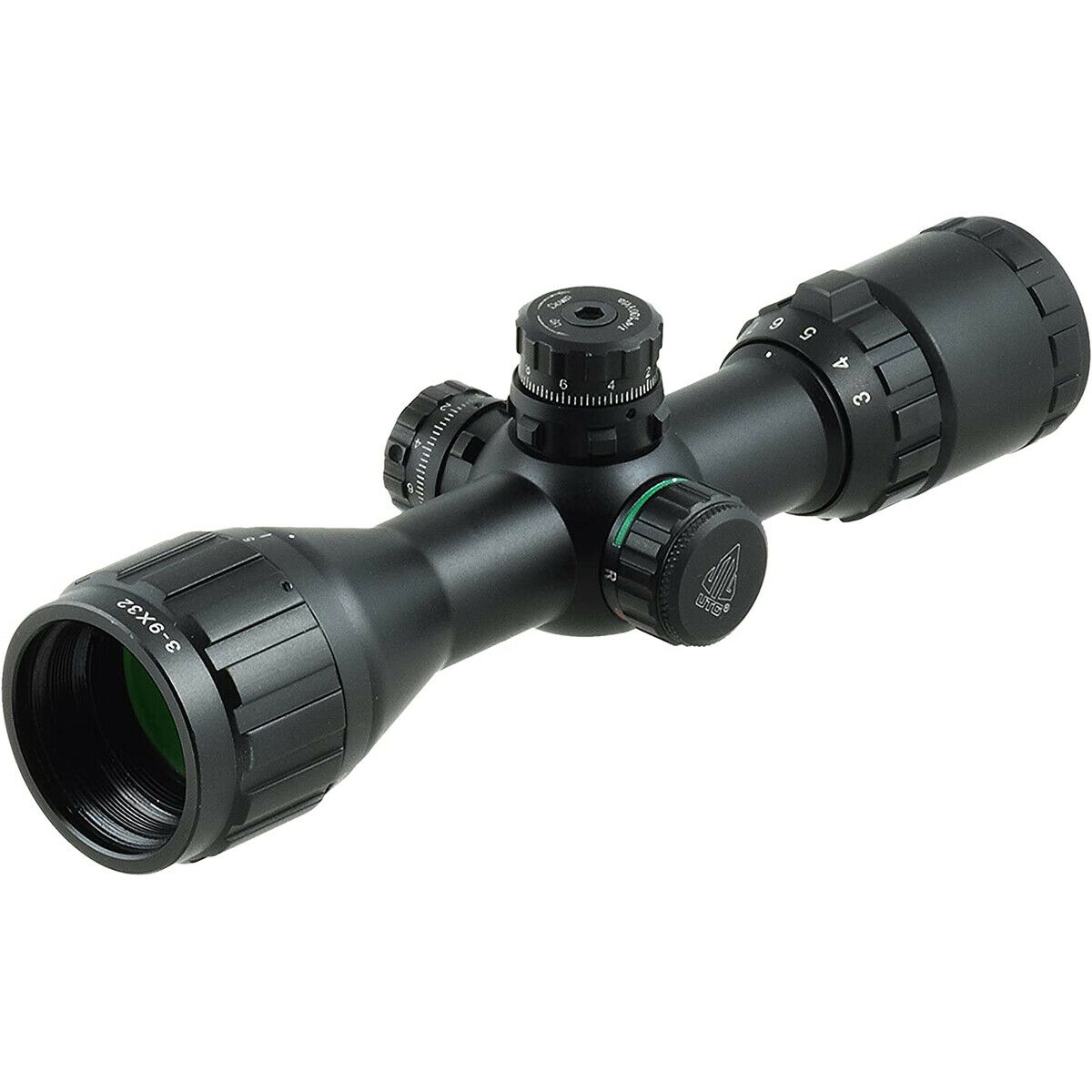 This 3-9x scope with a 1-inch main tube and an objective diameter of 32mm is an absolute favorite in the shooting community. The emerald-coated objective lens allows for great light transmission, which enhances visibility in all lighting conditions.
This UTG BugBuster features a fully adjustable external turret system with elevation and windage adjustments up to ¼ MOA clicks. Users can also set the base zero precisely through the zero-return feature on the turrets. This added feature really shines in maintaining the accuracy of the shot with increased elevation.
Some other handy features also add to the scope's usability. The mildot reticle, for instance, makes range-finding less of a chore on long-distance shots. Similarly, the variable objective on the turret can be adjusted between three yards and infinity to clear up the target on any given range.
The scope's durability and ease of use also add to its appeal. The BugBuster can hold its own under heavy usage. In fact, some of its design features encourage it. The thick lens covers that protect the glass against external bumps can be flipped open for quick usage. The 2-inch eyeshade also helps with recoil, making the sight easy to use and control.
6. Barska IR 3-9x/42mm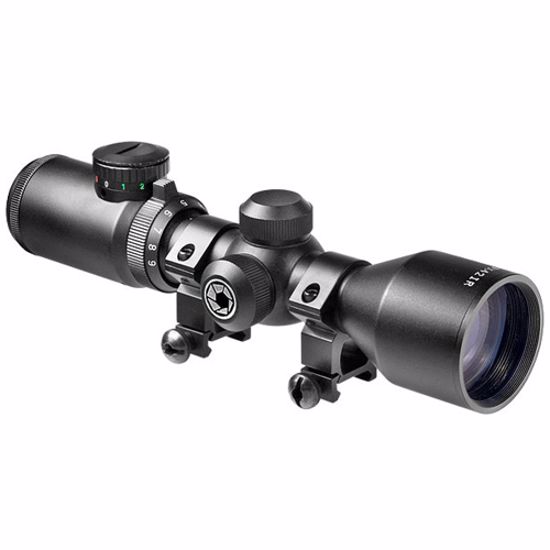 This scope comes with the largest objective diameter of any scope on this list. Made out of a single-tube construction, the Barska 3-9x is a redesigned sniper-style scope for AR and AK rifles. Anyone with basic knowledge of rifle scopes would know that actual sniper scopes cost thousands of dollars. So, don't expect this one to possess any sniping capabilities.
This doesn't mean that it isn't a good scope. For the price it's being sold at, it's among the best AR 15 sights, which is why it`s on this list. The reason the scope is called sniper-style is because of a few intelligent design choices.
The first of these is a sunshade that covers the glass sight, much like the sunshades on sniper scopes that improve visibility. Additionally, the scope is packed with gas that reinforces the waterproof sealant and provides clear vision and tracking, even in difficult weather conditions like rain and fog. The external housing of the scope also makes it ideal for rough usage on the field.
The Barska scope features an interesting reticle comprising of three mildots that can be switched between red and green colors. Range-finding is made a lot easier because of this. It also helps in having a precise holdover when focusing on long-range targets.
7. Weaver Kaspa Ballistic-X 3-9x/40mm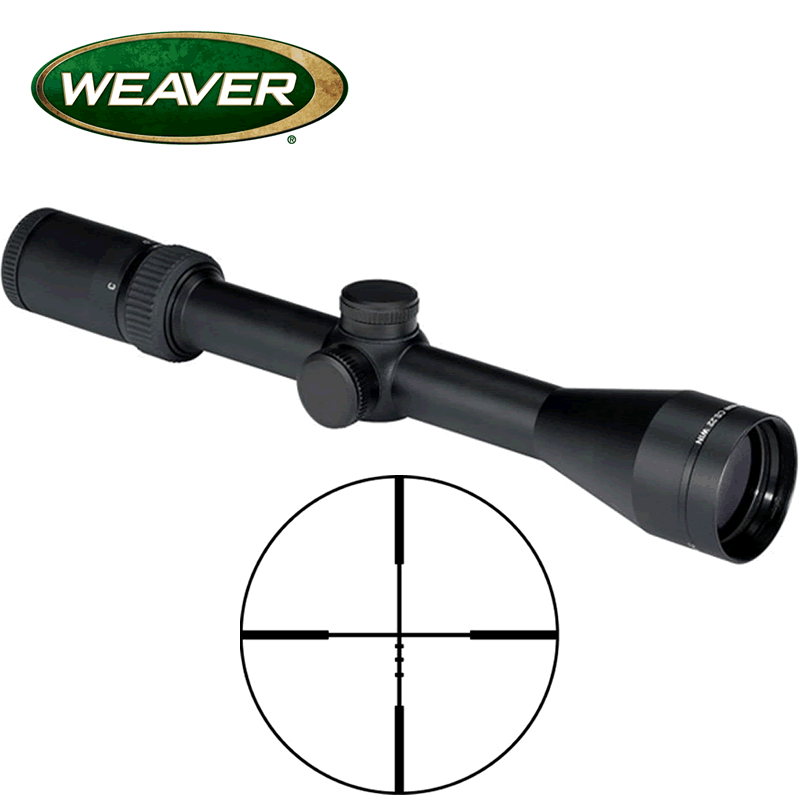 The Weaver Kaspa 3-9x isn't going to break any records, but at this price point, it doesn't intend to. It's an excellent entry-level scope for beginners that packs all the core features and does its job well. The closed turrets that make up the scope's exterior make it pretty effective for casual hunting and plinking with friends.
The scope can be adjusted for elevation and windage up to ¼ MOA clicks, enhancing its precision in less-than-ideal conditions. Sight settings are easily adjustable on the go, and zeroing is also quite an effortless process. This attention to ease of use puts this sight in a great position to be used by beginners to get accustomed to long-range scopes.
The scope comes equipped with Weaver's Ballistic-X reticle that makes targeting easier and allows for precise shots. In addition to its precision, the scope is sufficiently durable. The nitrogen-packed scope is water-resistant and works reasonably well in foggy conditions as well. The matte finish on the surface reduces glint for better visuals on bright days.
8. Truglo Compact 4x/32mm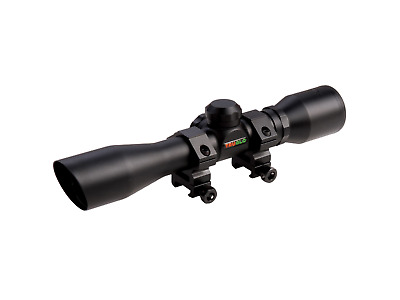 Don't let the compact in its name deceive you; the Truglo 4x is a fairly average-sized mid-range scope. This basic rimfire optic is excellent for general usage as well as for training purposes. Its 4x magnification does quite well over medium distances without losing accuracy. What's even more special is that it does this while retaining an incredibly low price tag.
Customers have long been mesmerized by its pinpoint accuracy and dependability. Some would even go as far as claiming that for mid-range shots, this affordable sight is hands down the best scope for AR 15 under $100. This is a huge claim, which the Truglo does manage to live up to.
The glasses that make up the lens system are completely coated to maximize visibility. This makes for clear shots under most circumstances. The rubber eye guard that covers the scope helps protect users against recoil, while the premium matte finish keeps reflections to a bare minimum. The reticle has a diamond-shaped center that works well for both close and long-range shots. With the shot lined up, the scope's precision will ensure that the shot hits its mark.
Conclusion
It is unfair to pretend that a budget scope will fulfill all your advanced shooting needs. Even the best scope for AR 15 under $100 is essentially a low-end optic. There are areas where it will fall short, but most of the time, for normal usage, a budget scope will serve you just fine.
The key is to assess all the variables that make up the scope and not just the magnification it offers. This will help you single out the best optics for AR 15 that fulfill your specific requirements and enable you to extract the best usage out of your trusty gun.
If your budget is over 100$, you can read our article about the best AR15 Red Dot Under $200.