Fishing
Top Best Saltwater Baitcaster – Reviews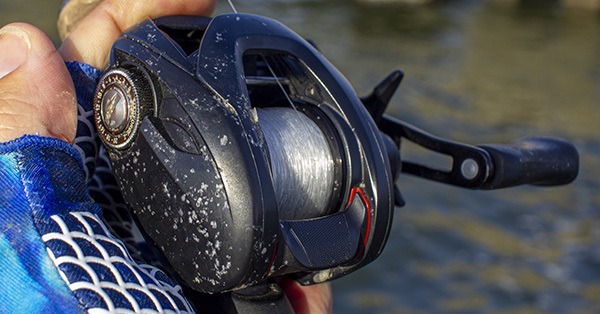 Fishing has long been a recreational activity that many people enjoy. It would be great to spend your weekends to go fishing and immerse yourself in nature. Fishing helps us to entertain after hard working days, relieving stress very well. This is an activity suitable for both individuals and groups to enjoy together.
However, there are some vast differences between saltwater and freshwater fishing you should consider. If you have a great experience with freshwater fishing, you may want to try fishing in the ocean. To have a wonderful and smooth saltwater fishing trip, you should pay attention to choosing a suitable fishing baitcaster. In this article, I will introduce to you the top best saltwater baitcaster so that you can have more choices and quickly get the best product. 
The 9 Best Saltwater Baitcasters
1. KastKing Royale Legend Baitcasting Reels – Elite Series Fishing Reel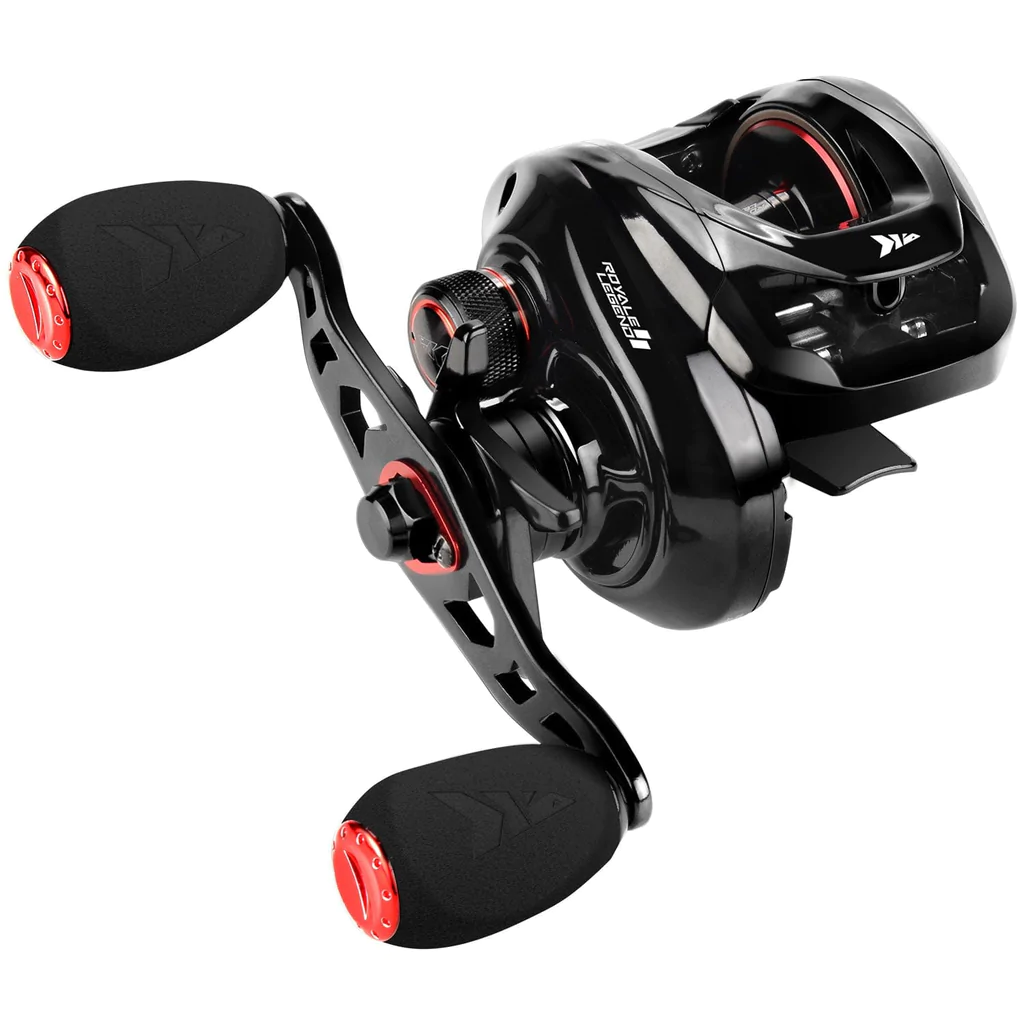 KastKing Royale Legend is the first product in my review. With a rating up to 4.7 out of 5 stars, this deserves to be of your best choices with many excellent features specialized for saltwater fishing. I have no big troubles when using this product.
What I like most about this reel is the smooth action. All the parts matched perfectly and delivered good brake performance. Each color represents a gear ratio, so look closely at the color information corresponding to the ratio you need to purchase. Marking the gear ratio in color makes it easy for buyers to choose the right one at first sight without having to read the parameters carefully. It provides the most common ratios that you will generally see, such as 8.1:1, 7.3:1, 6.6:1, and 5.3:1. For big fish in the deep sea, the low gear ratio reel will have a more powerful torque to catch these fishes.
Another outstanding feature of the KastKing Royale Legend Baitcasting Reels is the brake knob. The crown design likes a moderate size and works quite smoothly. It rarely gets stuck. Besides, magnetic brake systems with 10 adjustments to control backlash are better.
These products ensure high comfort with a compact design but still keep sturdy construction. The reel handles are made of good tacky rubber and provide an excellent palm. It can fit neatly in your hands in case your hands are not too big. All parts are made from high-quality materials such as 10 double-shielded, stainless-steel bearings, and hardened aluminum main gears to offer reliability and lightweight.
However, the only thing I don't like about this product is a drag. It can handle 17.6 lbs, strong but not enough to catch the big fish in the ocean. You should consider how much strain you are going to put on this reel before deciding whether to buy it or not. At this price range, many products may provide a more robust drag for you to choose from.
Pros & Cons
Pros
Lightweight
Solid Construction
Smooth action and control
Excellent Grip
Available in different gear ratios, identified by color
Ergonomic design
Cons
Good but not the strongest drag
This will be a good option for you for the average price. This is a great saltwater baitcaster that works incredibly well with almost no technical problems.
2. Okuma Cedros Saltwater Spinning Reel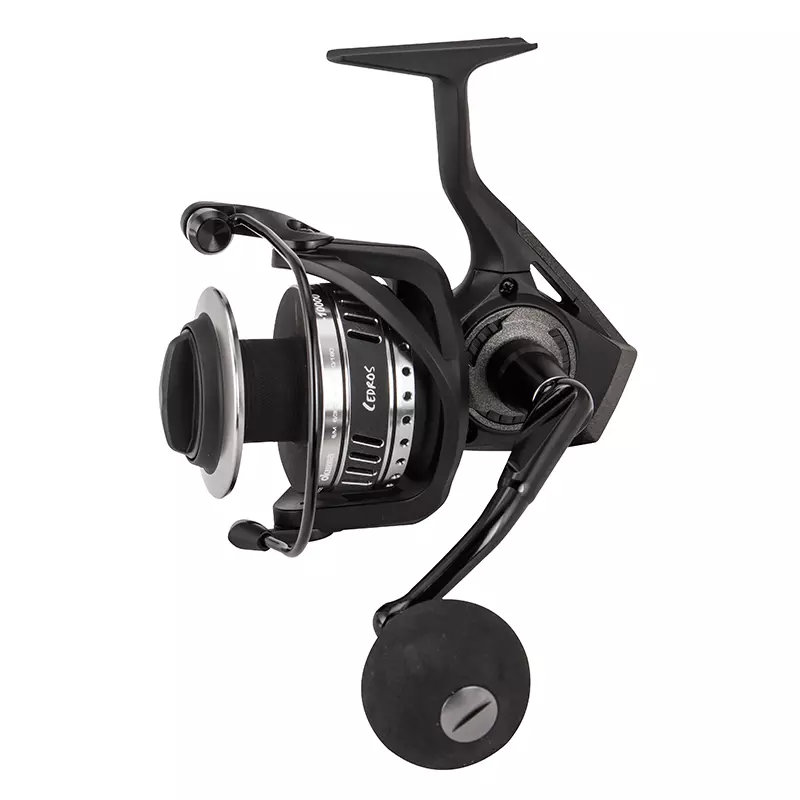 Are you looking for a durable and strong baitcaster for saltwater fishing? Okuma Cedros would be a potential candidate. This reel is suitable for both saltwater and freshwater. Let's find out the competitive advantages of this product.
At first, I was impressed with its Dual Force Drag System (DFD). It is one of the outstanding features of this saltwater baitcaster. DFD combines both surfaces of the spool to maximize superior tensile pressure, efficiency, and overall smoothness. It helps to create an even pressure which significantly increases the pull output compared to traditional single pull systems. It is very suitable for catching big fish trying to get away and dissipate heat to a minimum within lines.
Six high-performance bearings provide Okuma Cedros with outstanding smoothness and reliability in saltwater fishing environments. The balls used on HPB are made from the same premium stainless steel material as the bearing.
The pool, handle, and bail construction are super light. High-quality magnesium and aluminium alloy construction extend the durability of this product. The manual bail trip function is designed for both reliability as well as wire twisting reduction. This product has other properties suitable for saltwater fishing. For example, the corrosion-resistant coating minimizes damage from the harsh environment to the reel.
Besides, the gear ratio is suitable for catching big prey, at 5.4: 1. However, this can be considered a disadvantage because this ratio is a little low for a high-speed reel.
Pros & Cons
Pros
Smooth casting
Saltwater corrosion
Fantastic retrieval rate
Ultra- solid construction
Deepwater jigging
Cons
Okuma strives to provide the ultimate fishing experience for everyone. It always innovates and delivers the best products to the consumer. Okuma Cedros Saltwater Spinning Reel is no exception. It will make you happy from the overall performance to the smallest details. This will be a smart investment under $200.
3. Daiwa Sealine-X SHA Conventional Saltwater Reel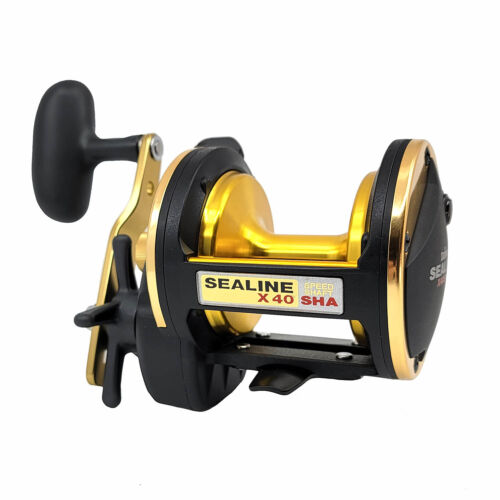 Daiwa is one of the most famous and leading brands in producing fishing tools. Most of its products are ideal for jigging or trolling and make people satisfied with their effective performance. Daiwa Sealine-X SHA Conventional Saltwater Reel is no exception. It will conquer saltwater and freshwater without killing your pockets. 
The thing that makes me very impressed by this appearance. It looks very attractive and solid in gold and black. Although that's not the most important feature to evaluate this product, I am very impressed with its outlook.
About its performance, I am totally satisfied with all functions it provides specializing in salt fishing. This has a gear ratio of 6.1:1 suitable for catching big fish with high force and reliability. The weight of this product is only 1.65 Pounds. The maximum force that the drag can ensure up to 17.6 lbs. Although this is not the highest drag, it is great at this price range. 
This reel provides a robust construction by making the spool from aluminum to enhance durability but still ensure flexibility. The handle is very soft and grippy to fit neatly and ideally in the palm. 3 Bearing System is finished with corrosion resistance to extend the longevity of this product. Not only ideal for saltwater fishing, but this versatile reel can also be appropriate for jigging or trolling.
Like most products are the same price, to keep the price down, the frame is made of plastic instead of aluminum. However, it's still very durable. 
Pros & Cons
Pros
Reasonable price
Attractive design
Durable and effective
Smooth and powerful drag
Versatile in use
Cons
What is your thinking of this saltwater baitcaster? This good saltwater baitcasting reel is a pretty marvelous assistant for fishing that is fast, smooth, solid at the middle price range for professional users under $150.
4. 
Shimano Spheros SW 3000 4000 Saltwater Spinning Reel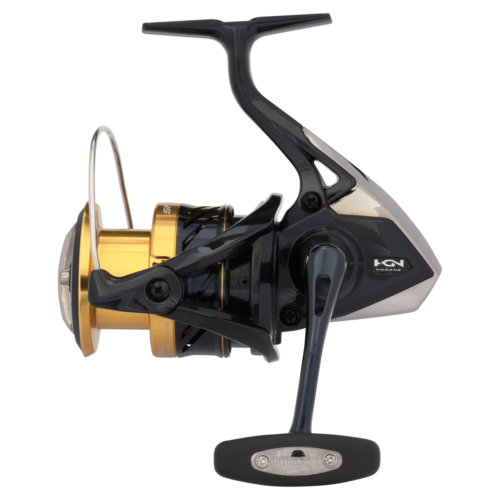 Shimano has proved its reliability around the world. Many products from this brand served different fishing purposes and terrains, from saltwater to freshwater at a wide range price range. Shimano Spheros SW 3000 4000 Saltwater Spinning Reel is one of the products at a very reasonable price specializing for saltwater fishing. This is the more budget-friendly price version of Shimano Saragosa SW.
The most outstanding feature of this product's design for saltwater is a fully sealed body.
The high-end quality Hagane body provides two key features. The first benefit is the strength to handle larger fish species. The second one is the rigidity it brings to endure harsh environments like strong wind due to body flexing. Besides, CoreProtect makes this reel waterproof and anti-corrosion.
Like most Shimano Spheros, this saltwater baitcaster also applied X-shield technology. Thanks to this advanced technology, this tool can be prevented from water and sand into the reel by placing sealing gaskets. All things incorporated into this reel makes it ideal for fishing inshore.
Besides, I am very impressed with Cross carbon drag, which offers a smooth drag when I get pressure on it. There is also a hatch pattern that includes creating stronger and smoother drag. A two-speed oscillation system eliminates the mess between lines for longer casts.
On the downsides, the body is not comprehensively made from the metal. However, it is still very durable.
Pros & Cons
Pros
Excellent waterproof design
Solid construction
Price point
Smooth gearing and drag
Withstand heavy use
Cons
Not entirely a metal body
With a solid rating up to 4.6 out of 5 stars on Amazon, this product will be one of the great choices for your next saltwater fishing trip. This saltwater bait caster is truly a bang for the buck and brings you a great experience while fishing off the beach.
5. Lew's Fishing Custom Inshore SLP Speed Spool MSB 9+1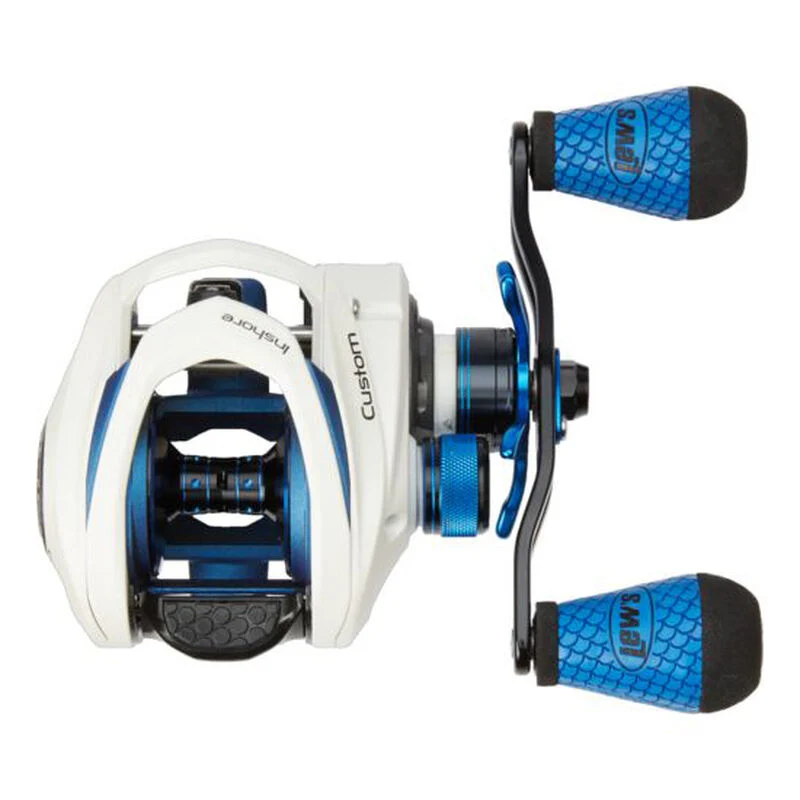 Lew's Fishing Custom Inshore SLP Speed Spool MSB 9+1 will be a potential candidate among my best ocean baitcasting reels. It has got high ratings from many buyers and saltwater anglers, up to 4,8 out of 5 stars on Amazon. This U-shaped reel only has many dominant features that will satisfy all your tough requirements.
The first thing I would like to mention is the high-quality materials. The frame is made from rugged one-piece aluminum incorporating a graphite palming side plate to minimize the weight but still ensures a great solid construction to handle multiple jobs.
This product is also famous for its premium 10-bearing system. This seems to be the feature persuading many anglers to buy this product. 10 bearings are made from stainless steel, double shielded, and anti-corrosion. This feature enhances smooth performance and extends longevity.
Another reason that makes me love this saltwater baitcaster is the aluminum reel handle and drag star. The handle is very lightweight. Multi-setting brakes combine the cast control system with helping to reduce the backlash by giving consistent braking throughout the entire cast and are adjusted by the palming side dial. With this reel, you don't have to worry about bird nests, one of the things that people hate about bait casting.
On the downside, I have to admit that the cost of this product is quite high, yet "you will get what you pay for".
Pros & Cons
Pros
Combat grip pad on thumb bar
Smooth action
Nice design and attractive appearance
Durable
Able to handle heavy load up to 20 pounds
Cons
The price is quite higher than other options
Lew's Fishing Custom Inshore SLP Speed Spool MSB 9+1 is truly a great companion for anglers with many notable functions and an attractive appearance. I have had a great experience and have caught a lot of saltwater fish. It is very easy to control and comfortable to use and seems to be the best saltwater baitcasting reel for beginners.
6. Piscifun Chaos XS Round Baitcasting Fishing Reel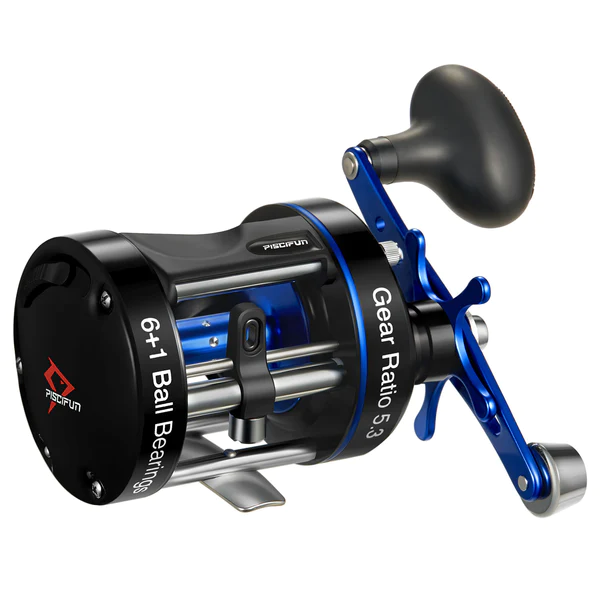 Another potential candidate that won't break the bank and satisfy your fishing trips is Piscifun Chaos XS Round. The Chaos XS 40 is a great reel for anglers enjoying fishing in the ocean.
Compared to other products I have mentioned above, this one features a super-smooth operation. Thanks to 6+1 shielded anti-corrosion stainless steel ball bearings, this saltwater baitcaster works extremely smoothly and stays durable for long-term use.
The reel construction is made of solid aluminum and minimizes the damage from outside impacts like hits and drops. The all-inclusive handle gives you extra force and capacity to enable you to deal with even large fish up to 22 pounds. By applying innovative cast technology, this saltwater baitcaster ensures better casting on longer distances and reduced backlash. This product has ultra-quiet high-speed 7.1:1 fishing line function, suitable for both freshwater and saltwater. The drag also seems to be an advantage of this product for saltwater fishing, which is made of premium carbon fiber and delivers up to 20 pounds of stopping power.
There is one disadvantage of this product is plastic gearing. Although it works very well, I think it is not the ideal choice for long-term use.
Pros & Cons
Pros
Powerful extended handle
Clicker line out alarm
Be able to manage large catfish with ease
Very smooth
Strong drag
Cons
All in all, if you are not ready to pay much money for a saltwater fishing baitcaster, this product will be the most appropriate choice for you. Speed and reliability are two dominant benefits you will get from this product. Let's buy this cheap saltwater baitcaster for under $100 and experience by yourself. This product has satisfied many people, even hardcore anglers.
7. Abu Garcia, Revo X Inshore Low Profile Casting Reel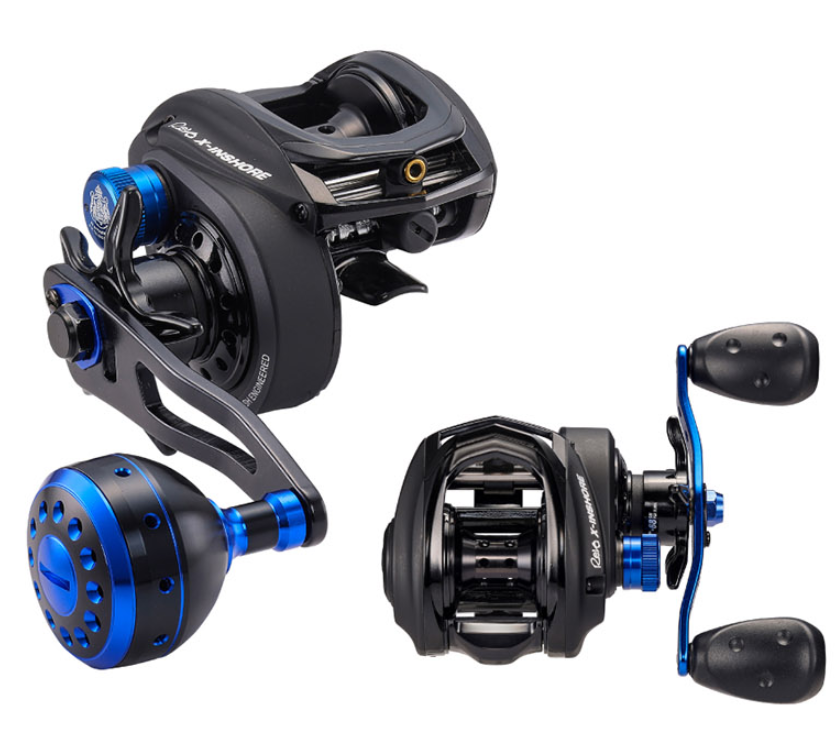 This company always brings many high-quality products for anglers. Abu Garcia, Revo X Inshore Low Profile Casting Reel, 6.6:1 Gear Ratio, 7 Bearings, 27″ Retrieve Rate is no exception. This product is specifically designed for extreme conditions in coastal inlets and brings many amazing fishing experiences.
First of all, durability is one of the greatest features that make everyone love it. X2-Cräftic alloy frame will be a useful "shield" to protect this product from corrosion in high humidity conditions and provides a stronger force to handle more stress. Compared to regular aluminum, this material is a bit lighter and more durable, and not easy to corrode. 
Like most Abu Garcia products, to ensure further and smoother casts, this saltwater baitcaster has 6 stainless steel ball bearings and 1 roller bearing. Besides, there are3 HPCR bearings in key locations to enhance the durability of this product because they are rust-resistant, shielded, and very solid.
The handle has an appropriate length and girls that fit in all hands. I feel very confident and comfortable when holding it. Besides, the MagTrax brake system and Carbon Matrix hybrid drag system are perfect for delivering the right stopping power and heavy pressure when catching fishes. 
Another thing that you can consider when buying this product is the lube port. This feature allows you to lure your reel quicker and easier. This will be a great point to access maintenance and won't make you tired when dealing with heavy loads.
All products have their pros and cons. On the downsides, many people prefer the previous version because it is a bit easier to use. From my perspective, I am pleased with it and have little trouble while using it.
Pros & Cons
Pros
Very corrosion resistant
Durable and lightweight
Comfort handle
Powerful drag
Cons
I had many joyful times with this reel. How about you? I think it will be one of the best saltwater baitcaster that can be ready for your saltwater needs. This will be a valuable saltwater baitcasting reel for the money.
8. 13 Fishing Concept Z Freshwater/Saltwater Baitcasting Fishing Reel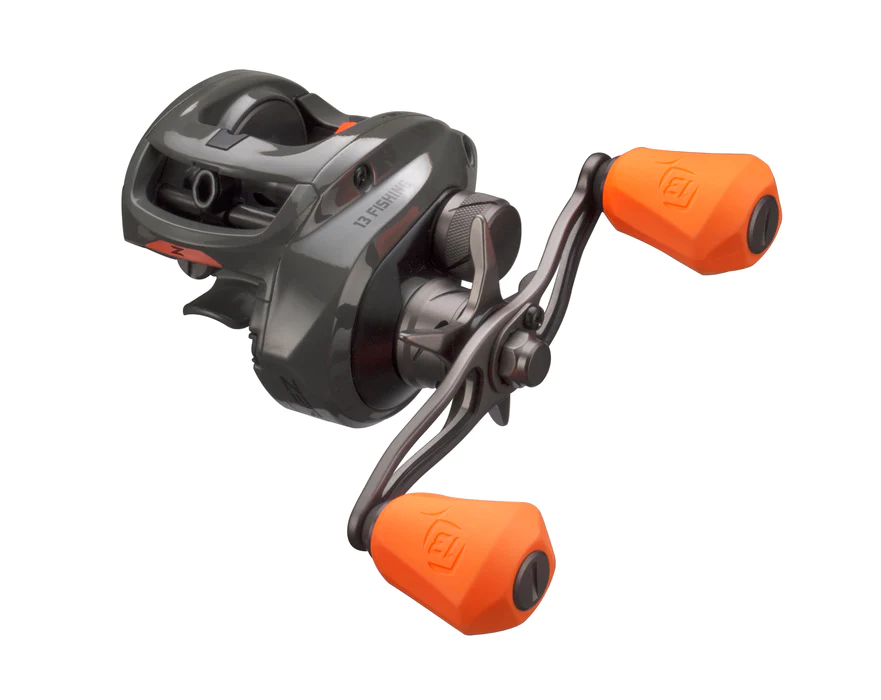 Not many products get the nearly highest rating up to 4,9 out of 5 stars from buyers on Amazon like 13 Fishing Concept Z Freshwater/Saltwater Baitcasting Fishing Reel. This product has been proven their quality and receives thousands of nice compliments from anglers. Let's take a look at this excellent product.
The reel works great on both saltwater and freshwater. It provides smooth operation and new technology instead of using a traditional bearing system. Concept Zero Bearing (CZB) technology or no ball bearings is the unique feature of this product compared to others to enhance the durability and longevity. It seems to be one of the brilliant solutions to help the reels enduring outside impacts like water sprays, grit intrusion, and so on. This technology also helps your throw to casts significantly farther. Although I have to admit that this is not the perfect solution, it is suitable to handle the timeworn problems of many anglers.
Besides, this product is also very famous for its high-quality materials. The frame and gear side plates are made of aluminium, to minimize the weight but still ensure high enough strength to catch the large fishes. They are finished with brilliant bright orange covering to make a clear signal. The drag is also powerful and incorporates a 6-way centrifugal braking system to make correct adjustments. 
Surprisingly, the only downside of this product is also from the Concept Z. I can hear some annoying sounds like whirring or minor chatter when retrieving. 
Pros & Cons
Pros
Smooth and strong drag
Durable anodized body
Further casting distance
The solid, proven bulldog drag system
Cons
13 Fishing Concept Z Freshwater/Saltwater Baitcasting Fishing Reel will be a great choice if you want to experience something new when fishing in the saltwater environment. My quick overview has just mentioned some outstanding features from my experience. I think you should try this best saltwater and freshwater baitcasting reel by yourself to feel its excellent performance.
9. Quantum Reliance Spinning Reel and Fishing Rod Combo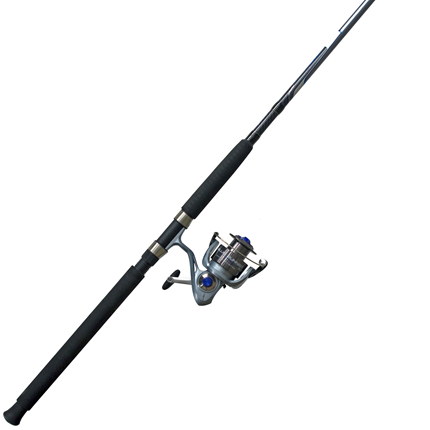 The final product in my top list about the best saltwater baitcaster is Quantum Reliance Spinning Reel and Fishing Rod Combo. This product delivers a top-class performance during use and is suitable for multiple jobs.
The Quantum PT Reliance boasts fast action and medium power, which makes it great for different terrains and size of fishes. The cork grip on the handle provides better durability and an attractive appearance. Instant Anti-Reverse is a significant feature for anyone enjoying fast-acting and immediate hooksets.
Besides, the 5+1 PT ball bearing system on the reel makes this reel extremely smooth and suitable for left or right-handed retrievers in both freshwater and seawater. This system also is anti-corrosive and very durable. There is another useful feature that makes it worth your money. It is the ceramic carbon drag system to control the heavy loads and reduce the temperature between lines. 
The thing that I don't like about this product is the design of the handle. I feel uncomfortable when holding it and hard to control for the first time. Now, it is much better to manage this part.
Pros & Cons
Pros
Anti-corrosion bearings
Smooth action
Nice design
Handle different fishing jobs
Excellent protection from water and corrosion.
Cons
In my opinion, this saltwater baitcaster does not only bring effective performance but also has an aesthetically-pleasing design to the eyes. I can feel every part works smoothly and is easy to adjust for different purposes. I highly recommend this product! 
What Is A Saltwater Baitcaster? Who Makes It Best?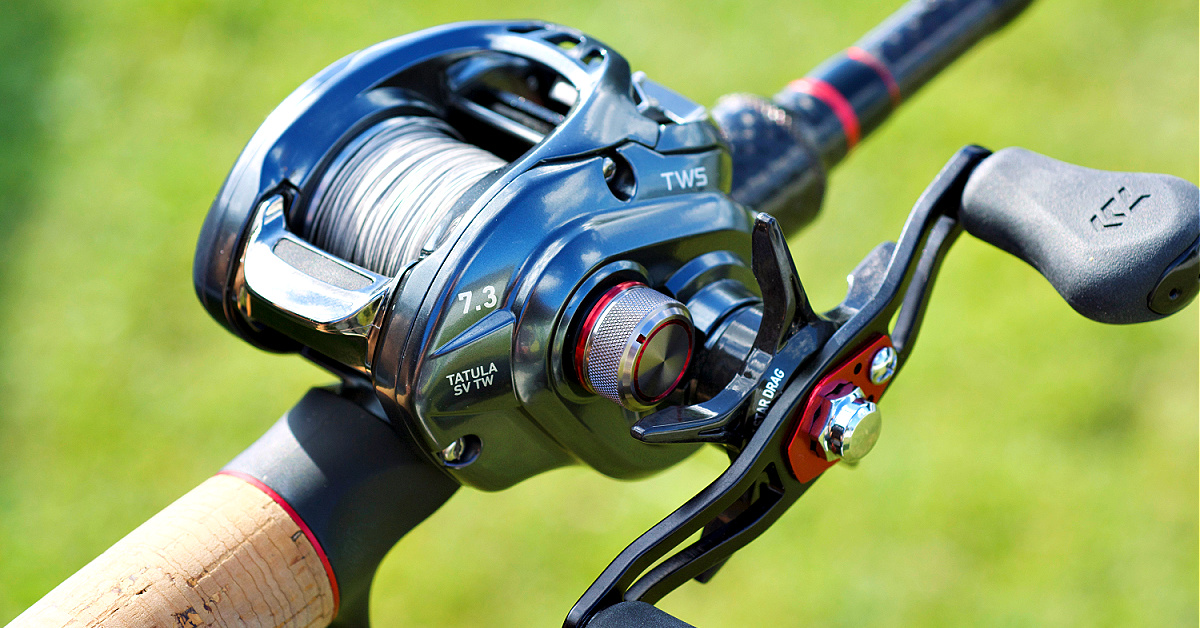 A Saltwater baitcaster is a familiar item to fishing enthusiasts. In the simplest terms, a saltwater baitcaster is a baitcaster specializing in fishing inshore or the ocean. It is often designed with low-profile reels to catch larger species that are often swimming under your boats and has protection covering from corrosion, water, and other harsh weather. This tool requires careful cleaning and maintenance. Therefore, pay much attention to these jobs after using them to extend longevity.
On the market, many brands are leading in manufacturing saltwater baitcasting reels such as PENN, Shimano, Daiwa, Abu Garcia, Pflueger, Lew's, Okuma, 13 Fishing, KastKing, Quantum, and so on. Each brand has its pros and cons and has some flagship products to show its competitive advantages. It's hard to find out "Who makes it best?". For example, PENN is one of the most dependable for saltwater fishing since its debut in 1936 and they still develop and improve their products to suit all customers' needs. Meanwhile, Shimano is great for innovation and ultra-light baitcaster to make users feel the most comfortable when holding.
How To Use A Saltwater Baitcaster To Get The Best Effect?
If you're a newbie in saltwater fishing, using a saltwater baitcaster is not an effortless task and how to optimize their best effect is much more difficult. Therefore, I would like to share some tips to make your fishing trip get the best results.
There are several ways to utilize a saltwater baitcaster to get the best impact:
First, check the brakes on the fishing reel and rod before throwing the rope. Keep the fishing rod brake in the best position for a smooth and easy flush. Because the fish is hooked, the brakes are too tight, and it will put more pressure on the rod and make it difficult to flush the line when needed. If it is too loose, the line won't have enough force to handle a heavy load and the fish will get away.
Another feature that you should pay much attention to before catching fishes is a spool-tension knob. This tension button is located on the same side of the reel handle. It`s used to adjust the tension of the line, usually adjusted at the end of the throwing bait. Depending on the weight of the bait, the tension button will be adjusted so that the reel stops spinning when the bait just hits the water surface. Press the thumb bar button and gently shake the fishing rod horizontally to release the bait, and at the same time, adjust the tension button to suit the weight of the bait. Please make sure the cord drive is still working smoothly. This button is difficult to adjust; if not careful, the saltwater baitcaster will be damaged. You need to adjust this button so that the line drive rotates freely and does not shake.
To throw the bait correctly and prevent tangles from occurring, the way we hold the reel is also important. Put your hand right in the position of the fishing reel so that your hand can embrace the entire body and hold the fishing rod. Placing the thumb directly into the thumb bar and spool will help you control the direction of the rope during bait throws.
To make it can be used for a longer time and still keep the best effect for the next trip, cleaning and maintaining are also very important. After cleaning the part, apply lubricating oil. 
The Benefits That Saltwater Baitcaster Gives You When Fishing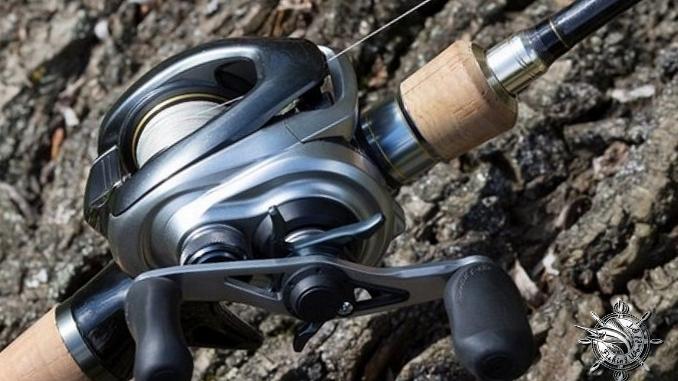 Many professional anglers always give priority to using saltwater baitcaster to help conquer the ferocious fish. A baitcaster has won the hearts of many anglers because it has many outstanding advantages.
Anglers can throw the bait far, faster, and more accurately. This fishing machine also supports good control of the rope when throwing bait.

One-handed operation is convenient; you just need to press the button to be able to operate on releasing rope – holding rope – throwing bait – spinning, and pulling fish.

The fishing rod placed above the reel to help create additional traps, easily increase pressure on the fish.

Line straightening from the spool activates the brake system immediately to handle the fish quickly and perfectly.

There are various reel handles to increase the speed when catching different types of fishes in saltwater environments.
To sum up, a saltwater baitcaster is suitable for saltwater fishing for large fish because it allows you to adjust the reels to make the bait more vivid while towing by boat.
The Important Factors You Should Know When Choosing A Saltwater Baitcaster
Saltwater baitcasting reels have many functions; however, depending on the needs of the anglers, you can choose different fishing reels to save and get the best results for your trip.
Materials
Today, most high-quality marine fishing line pipes and frames are from high-grade aluminium alloy. Although Graphite is still in usen in some cases, the material is weaker than metal. 
In addition to aluminium and Graphite, major brands also have other special materials such as Zaion carbon (Daiwa) and CI4 + (Shimano). Zaion material is created in the synthesis of Plastic and Graphite, which is very light, stronger than magnesium, and very friendly with saltwater environments. CI4 + is a carbon that is up to 50% lighter than Graphite XT-7 but twice as strong and contains no metal. It is suitable for saltwater fishing because it is waterproof anti-corrosion and very durable. Especially, make sure your reel can withstand the corrosion and rust and has some extra protection for better durability.
Reel Weight
A fishing trip often lasts for several hours or all day long. Therefore, it will be hard to hold a heavy reel for such a long time. It is necessary to help your hand less tired when fishing by choosing a lightweight reel. The ideal weight for a reel is about 7 to 10 ounces to make your hand feel comfortable.
Bearing Systems
More bearings also mean smoother and smoother. When considering the bearing system of a reel, we advise you to not ignore the number "+1" in the description. "+1" means 1 bearing on the roller. It will help to limit wear and twisting when taking the line out of the reel.
Gear Ratio
This is a parameter commonly referred to as the number of recording cycles corresponding to each rotation of the reel handle. The minimum gear ratio is about 3: 1, which helps to increase towing power for large fish. Therefore, depending on the ability to recall fast, slow or medium lines and the fish we are planning to catch, we choose the right gear ratio.
Max Drag
This is a system that helps us control the flushing of the rope during catching fish; this system will help put more pressure on the fish, especially for large fish. Therefore, if you use poor brakes and do not match well with the rod, there is a risk of the fishing line breaking and of course losing fish. 
Therefore, always pay attention to the braking system of the fishing machine when buying, should choose a product with a good and durable braking system, the rope can come out steadily and can stop firmly at the right time—more brake discs, meaning that it will be more durable and efficient than the rear brake system. 
Anti-reserve
The anti-reverse button is a snapper behind the rear of the engine, which helps to prevent the machine from tangling in the reverse direction, and helps the hook to charge more strongly and accurately. 
Best Saltwater Baitcaster Conclusion 
Both beginners or hardcore anglers need a suitable for saltwater baitcaster to have a delightful time and achieve excellent results. Saltwater is a bit different from freshwater and needs some specializing features that you should consider as I have mentioned above.
My most favourite saltwater baitcaster is KastKing Royale Legend Baitcasting Reels – Elite Series Fishing Reel. It has an attractive design and smooth operations. At a reasonable price, this fishing tool still has excellent brake systems and various gear ratios distinguished by colors.
I hope my review of the best saltwater baitcaster gives you useful information in search of suitable products that will become a noble companion for your next saltwater fishing trip.