Hiking
11 Best Camera Strap for Hiking Options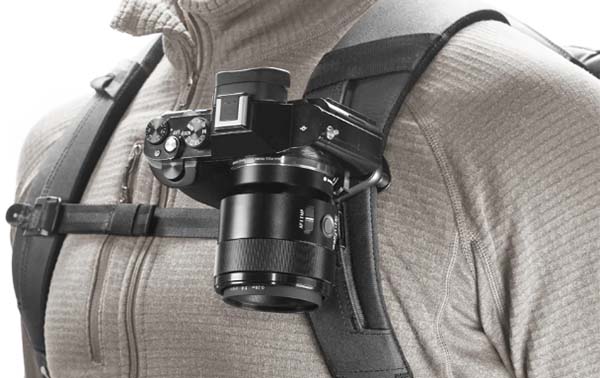 Picking the right camera strap for your hike trip can be daunting and difficult with so many different choices. Finding the best camera strap for hiking that fits your needs can be simple and easy. This list below provides you with the top options at many different price points. So, you can make the right choice for your hiking preferences.
Top 11 Best Camera Strap for Hiking Options
1. Peak Design Black Slide Camera Strap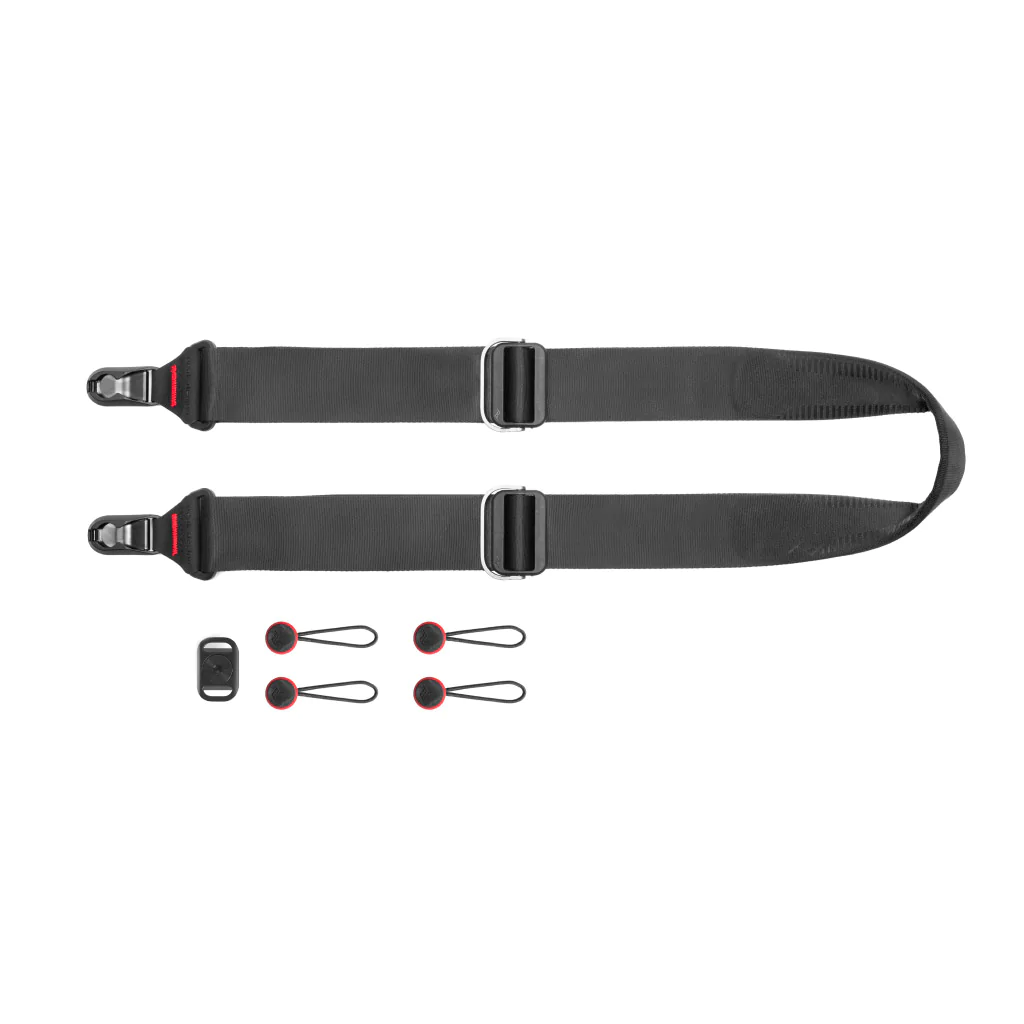 The Peak Design Black Slide Camera Strap is well-designed, durable, secure, and comfortable for photographers on the go. With a nice, wide strap, it won't dig into your neck and will hold the weight of a heavy camera up to 200 pounds.
The design makes it possible to be worn as a sling, shoulder, or neck strap. It glides smoothly over clothing in sling mode due to internally-padded nylon webbing. With this you will`be able to pull it up easily when you want to take a photo. Has a grippy side that protects against slipping while carried on a shoulder, making it very versatile. It features an Anchor Link system that can be easily attached and detached from the camera. ALso provides dual points of connection thus stabilizing your camera to a higher degree than traditional sling cameras.
Clearly, there was much thought put into the design for maximum functionality and camera safety. Whatever your hiking trip throws at you, you can be confident that this strap will keep your camera safe.
2. Peak Design Capture Camera Clip V3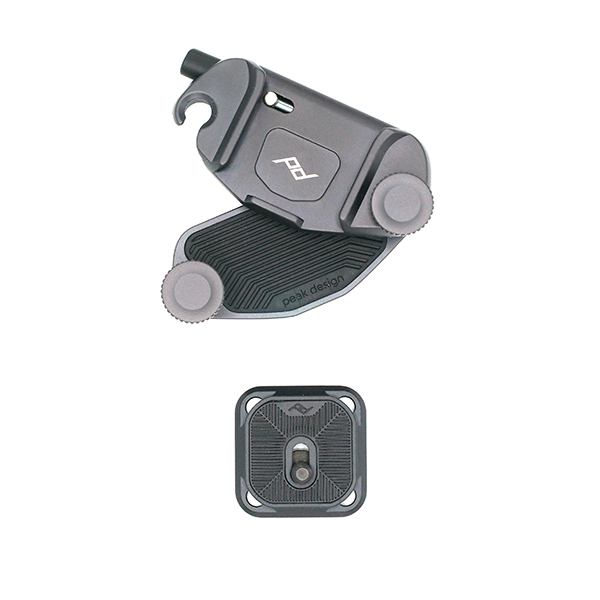 If you're hiking with a backpack, look no further. The Peak Design Capture Camera Clip V3, another amazingly durable and innovative choice from Peak Designs. The sleek metal clip can attach to any strap or belt up to 2.5 in. wide and 0.6 in. thick and can withstand over 200 lbs. of force.
It is also equipped with a backplate. It can screw into your camera and be secured onto the clip by sliding into place. This Peak design clip features a quick-release lock on the clip that keeps your camera instantly accessible at all times and safe from any physical activity while hiking.
3. Keyhole Hands Free Camera Harness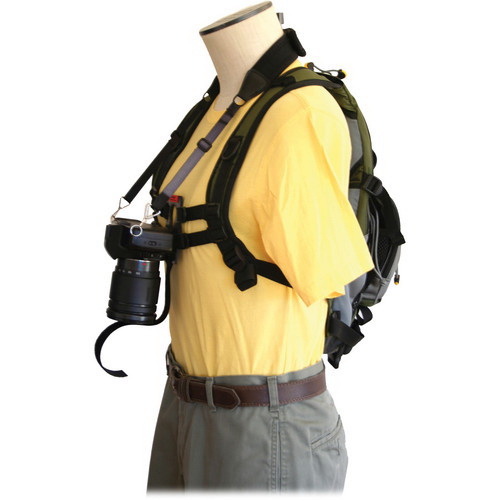 An affordable hands-free option, the Keyhole Hands-Free Camera Harness is a great option for hikers. It comfortably holds your camera against your body, keeping it steady during your trek. Also prevents any swinging or banging into anything or your person. Weighing 3 ounces with an adjustable 1-inch strap it is ideal for heavier DSLRs and longer hiking trips.
4.
HoldFast Gear MoneyMaker Two-Camera Harness

From HoldFast Gear comes the sleek and stylish MoneyMaker Two-Camera Harness. This beautifully made leather harness crosses on your back and comes down around the shoulders on backsides, allowing the user to hang two cameras, one on each hip. With reinforced D-rings to hold the cameras, this option is very durable for hiking purposes.
A lifetime guarantee from HoldFast enforces the fact the company stands by their product and its ability to withstand wear and tear from extensive use.  This harness is ideal for a serious nature photographer that desires quick and easy access to two cameras so you won't miss whatever nature throws at you.
5. Trekking 12313 Single Comfort Camera Strap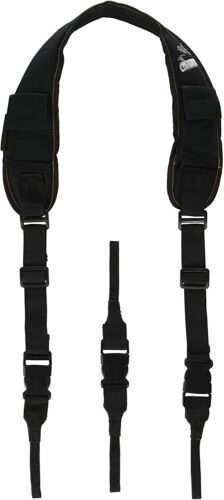 The Trekking Strap is a great option for both amateurs and pros alike at a great price. Wearable in two different ways, around your neck or across a shoulder, it has nice padding for extra comfort. The strap is even adjustable so you can fit it to your shoulders just right.
It features durable clips that release quickly from your camera at a moment's notice. Additionally, it includes two compartments for memory cards and batteries or anything else you might want to hold outside of a backpack in an easily accessible location. Extra storage is always a plus when you want to maximize space on a lightweight hike.
6. Cotton Carrier Skout Sling Style Harness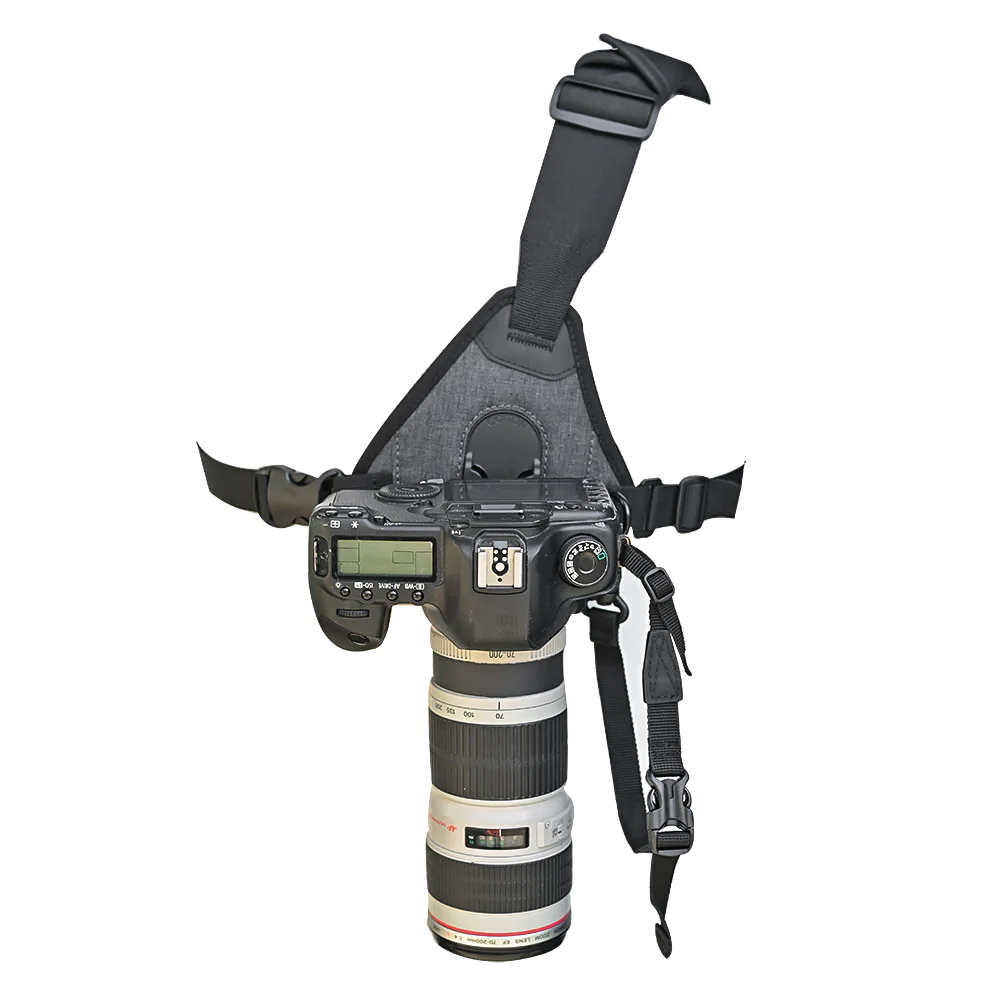 The Skout Sling Harness from Cotton Carrier keeps your camera safely secured on your chest in a beautifully fashioned harness that wraps around your back for maximum comfort and accessibility. It's another great hands-free option that keeps your camera from bouncing around while active with an adjustable strap.
The strap is easily fitted to the body by slipping over the shoulder and then clipping around the torso. It features an aluminum hub enabling a twist and lock system with the use of a slotted hole that is attached to the camera. As an added safety feature, it comes equipped with a quick-release tether to further prevent accidental drops.
Another great added feature is the weather bag it comes with. With 16 inches of clearance, this included bag is perfect for protecting your camera against any unwanted or unpredictable weather that is experienced on your hike.
7. Matin Neoprene Fast Access Sling Strap Camera Belt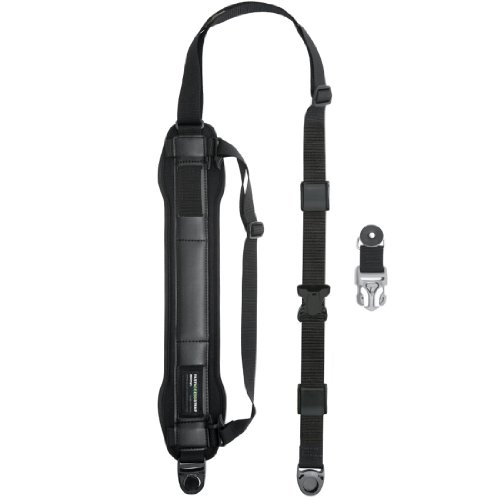 The Matin Sling Strap is another great option that ensures comfort while hiking with a neoprene padding in the strap. This the perfect strap for someone who would be more comfortable carrying their camera, with a reinforced diagonal strap rather than one around the neck.
The strap size sits at 15 in. in length and 2.5 in. in width. The diagonally placed strap reduces the strain on the neck from traditional camera straps. Also helps offset the weight of carrying a heavy camera with the long padded strap that extends onto the chest, taking away some pressure it would exert on the sternum and ribs.
The positioning of the camera on the hiker's side allows for convenient access, with the help of a detachable 120° rotating quick release buckle. Another great added feature point is the built-in DSLR holder that prevents the camera from slipping while positioned behind the body.
8. BlackRapid Hybrid Breathe Camera Sling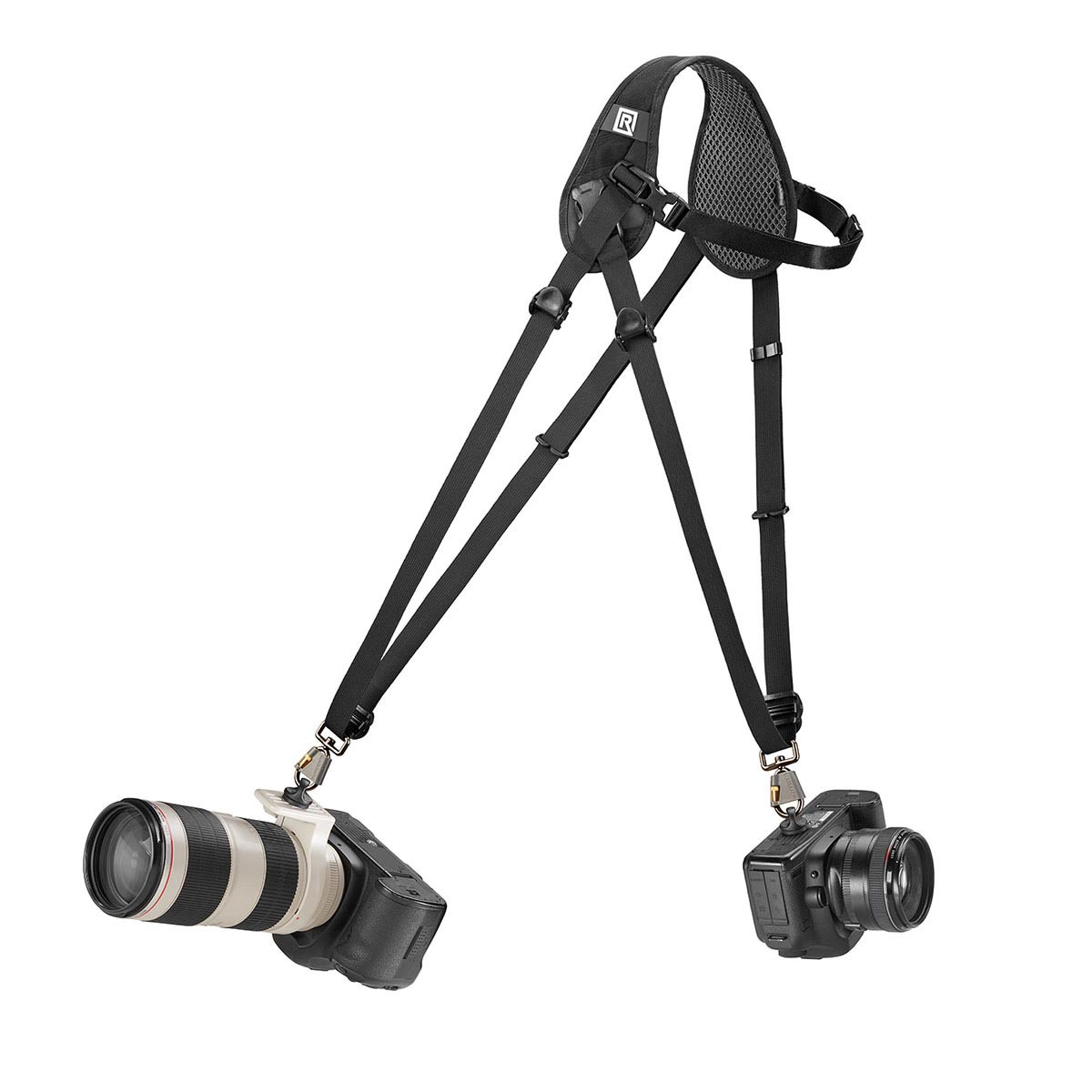 The BlackRapid Hybrid Breathe Camera Sling is another great sling-style option that has the capacity to hold two cameras or one camera and a pouch if you would prefer having extra storage at one hip. The padded nylon strap provides comfort for the user on long hikes.
The most interesting addition is the stabilizing BRAD underarm tether. This assures the strap won't slip off your shoulder during fast-paced activity on rugged or flat terrain while hiking. Spring-loaded bumper locks can be slid along the length of the strap to limit any excess and uncomfortable camera movement.
9. Nicole Elliott by BLACKRAPID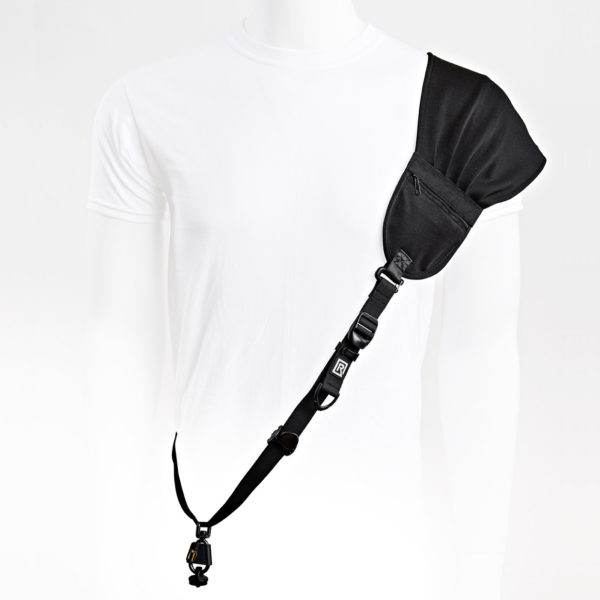 A great sling option is the Nicole Elliott by BlackRapid that is designed by women for women. Modeled after the way a woman carries a baby, this strap hugs the shoulder nicely instead of hanging onto the pressure points of your neck and shoulder. A great plus is that it can be used by right-handed and left-handed people. The wide shoulder strap includes two large pockets and two zippered pockets. Very handy for carrying small objects, and will provide easy access on a hiking trip.
The water-resistant and reversible fabric ensures durability in any environment. The thick, adjustable nylon strap features a secure connection system for the camera at the hip with a safety tether for extra security against unwanted drops. It's certainly a great choice for any hiker who wants a stylish and comfortable sling.
10. Cotton Carrier CCS G3 Camera Harness System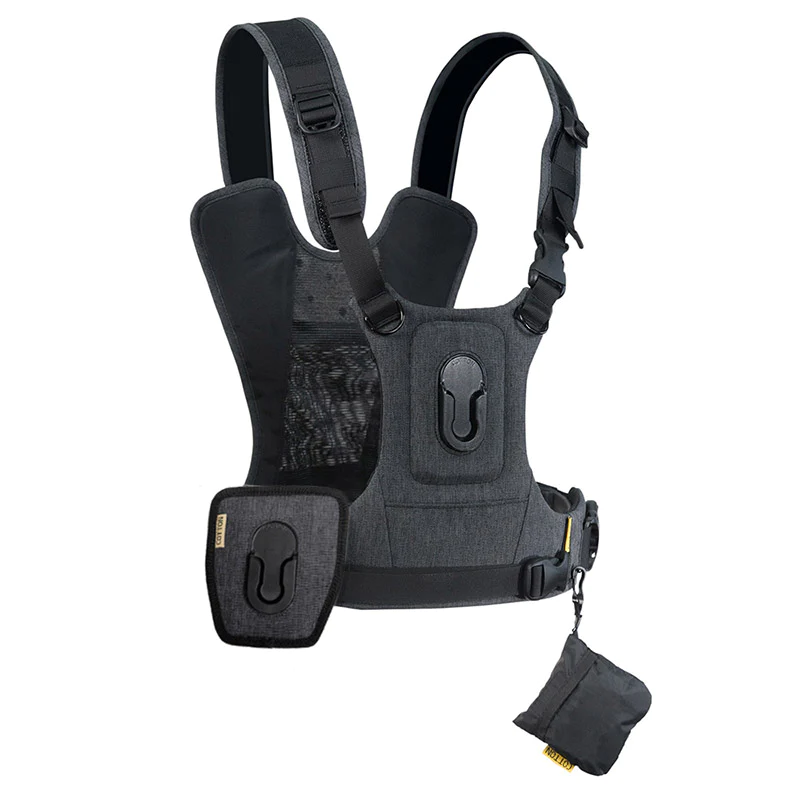 The CCS G3 Camera Harness from Cotton Carrier delivers both great durability with premium materials and a perfectly balanced fit for your camera on the chest. With the harness securely wrapped around the chest and back, your camera won't be bouncing around as you trek along on your hike. It nicely spreads the load of even your heaviest camera across the body to alleviate neck and shoulder pain.
It is certainly the best harness on the market with a patent twist and lock system for great security and stability for all conditions. Cotton Carrier even has a lens hold-down strap that will keep the camera and lens flat against your body for even less movement against your body than other similar models available. For extra protection, there are backup camera safety straps that attach the camera to the vest. So, when you do detach from the locking system, your camera will be safe from accidental drops during shots.
This includes a weather cover for your camera in case of any unpredictable rain or conditions while on your hike. This harness is guaranteed to work perfectly to keep your camera secure, a twist away so you won't miss that shot on your hike.
11. Sevenoak SK-MSP01 Multi Carrying Chest Vest System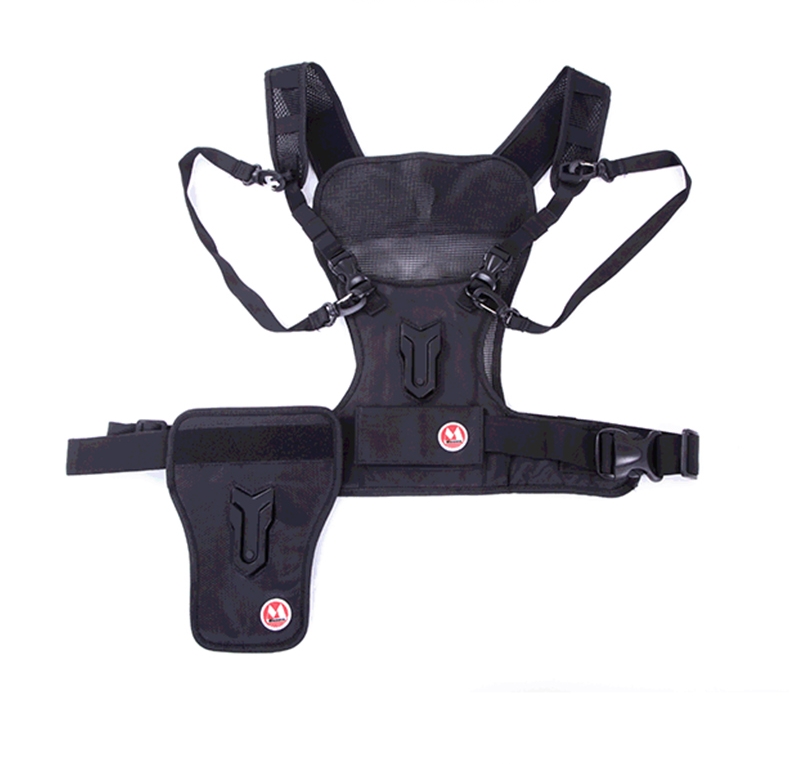 The Sevenoak SK-MSP01 is exceptionally designed for photographers who enjoy hiking and prefer a well-balanced system, capable of holding two cameras. Constructed with nylon and mesh fabric, it is both durable and comfortable to wear. The harness wraps around the body and when tightened correctly, will keep both cameras from moving around during any physical activity.
The locking system is secure and durable to withstand lengthy use. Equipped with quick and easy release from the plates located on the chest and hip. This harness is affordable and great for hikers that prefer to keep away from neck or single shoulder straps that often swing around during movement.
Choosing The Best Camera Strap For Hiking
Choosing the right hiking camera strap for your next trip isn't as easy as you might think. Before you make a choice, here are some things you should take into consideration to help you make the correct purchase for your specific purposes.
Neck Straps
This is a pretty standard option for holding a camera in a secure and easily accessed place. If you're looking for a less expensive option there are a lot of choices available for cheap. However, a neck strap can put considerable strain and pressure on the back of your neck especially if you're planning on taking longer hikes with rougher terrain. Getting one with a lot of extra padding may be a little more expensive but worth it in the long run.
Shoulder Straps
If you have a heavier camera, this might be a better option than a neck strap. It will take the pressure and weight off your neck, especially if you have a history of neck problems. However, it will put the weight on one shoulder so you should be sure to get a very padded one. That might be a little more expensive but definitely worth it for longer trips. It may not be the best option if you're carrying a backpack since the shoulder strap might interfere and make it uncomfortable.
Camera Holsters
This is a great option if you want to keep your camera on your belt or backpack without having any straps putting any strain on your shoulders or neck. While it's a really cool way to carry around your camera outside your backpack, it really only works with smaller cameras. Your giant DSLR probably won't fit comfortably on the holster.
Chest Harness
A Chest Harness is a two-strap system that crosses over both shoulders, wrapping around your torso that will give you great support for heavier cameras. It can also be a great option for two cameras which some models accommodate for. The biggest plus about this design is the camera weight being evenly distributed across your body, taking the strain off just your shoulders or neck.
Chest Harnesses offer a lot of extra safety to prevent accidental drops. With the more expensive versions being the best in this aspect with top-notch holding systems that give easy access to the camera at all times. The best plus is the reduction of any excess camera movement against your body that can often be problematic on a long hike.
Conclusion
When finding the right camera strap for you it is important to know what features will be the most beneficial. Everyone is created differently with features that are tailored to suit the needs of different aspects. Hopefully, after reviewing this list you have found the best camera strap for hiking that fits your needs.