Hiking
Best Hiking Shoes & Boots – Reviews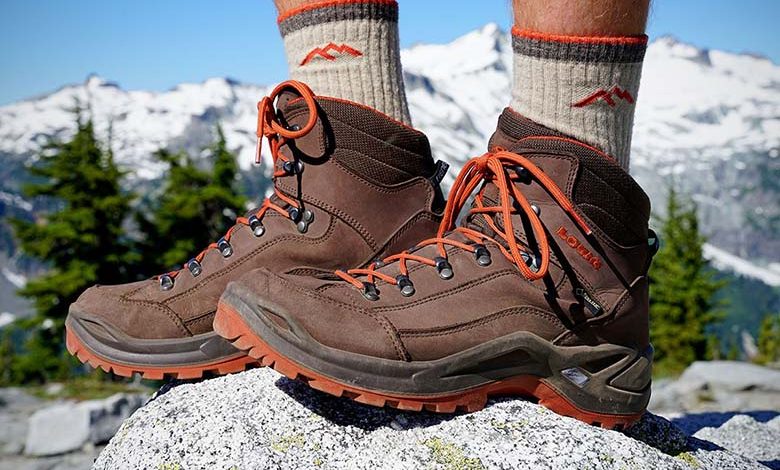 If you plan on going somewhere, where you know the terrain will be harsh and the hike will be difficult, having the best hiking shoes can go a long way. Getting any type of injuries, such as a twisted ankle, blisters, and other injuries can ruin your trip instantly. So before you plan your next trip, have a little research on what are the best hiking boots or one of the best to prevent any unwanted situations.
We think that the lightweight trail runners are the way to go when it comes to going on trips backpacking. We prefer them because they give amazing foot support, keep you agile if you get them wet, they dry up relatively quickly and they don't over exhaust your feet if the hike takes a long time. With that being said, some people still prefer hiking shoes or boots because they love the durability they have.
Why Trust Us?
We know that getting the right gear can go a long way when you are going on long backpacking trips. Everyone nowadays is trying to figure out what are the best things to take and what not to take when it comes to these kinds of activities outdoors.
These choices you are about to see are all personal and are based on personal experience. 

We have gone on some much backpacking trips and outdoor activities that we have a big track record, and when we do go on them, we test everything before recommending it. 

Not every one that recommends gear has fully tested it, and sometimes people make mistakes when choosing the right gear.

We are always up to date on up-coming gear, and visits show that are promote any equipment for hiking or backpacking trips.

When we find out about a new product that is better than the one we recommended, we get rid of the old one.
When hiking through hard and tough terrains, like the ones the Himalayas, Andes, and the Rockies have, we will always recommend trail runners. For those big trips, in our opinion, nothing else will feel better on your feet if you put some trail runners. Some of the best hikers will also tell you that it is their choice when they plan on going on big hiking trips. People who have been or are planning to go on the Appalachian Trail (AT), the Pacific Crest Trail (PCT) and the Continental Divide Trail (CDT), who are known to be extremely difficult, will tell you those trail runners is the way to go.
1. Saucony Peregrine ISO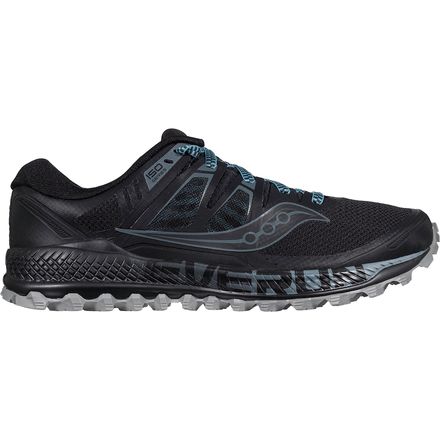 There is a reason why the Saucony Peregrine ISO will always be on the top of our list when it comes to lightweight trail runners. It is because when it comes to comfort, traction and incredible dry time, you can't find better trail runners. When you put your foot in, it morphs perfectly, and you can easily customize the way you want the trail runners to fit. Because we have tested them for years, we can genially say that when it comes to big hiking trips, these trail runners will keep your feet in tip-top shape throughout the trip. And they weigh 1lb. 5oz (pair).
2. Altra Lone Peak 4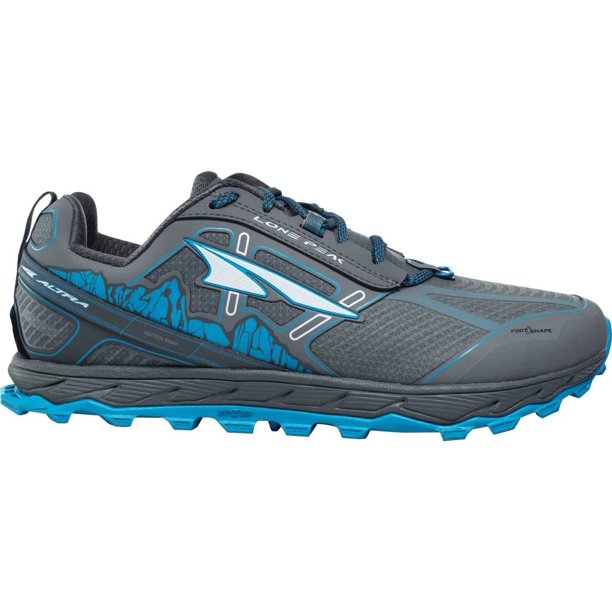 These lightweight trail runners are one of the most popular trail runners among backpackers and for great reasons. They are super comfortable and because they have a roomy "foot-shaped" toe box, they are very unique. Altra Lone Peak 4 also dry up fast and are built to have incredible traction for those though mountain trails. They are built with what is called a zero-drop build. This means that the heel and the ball of your foot are equally distanced from the ground. They are really functional shoes, and that is why they are so popular with the lightweight backpacking community. They weigh 1 lb. 3 oz. (pair).
3. Brooks Cascadia 13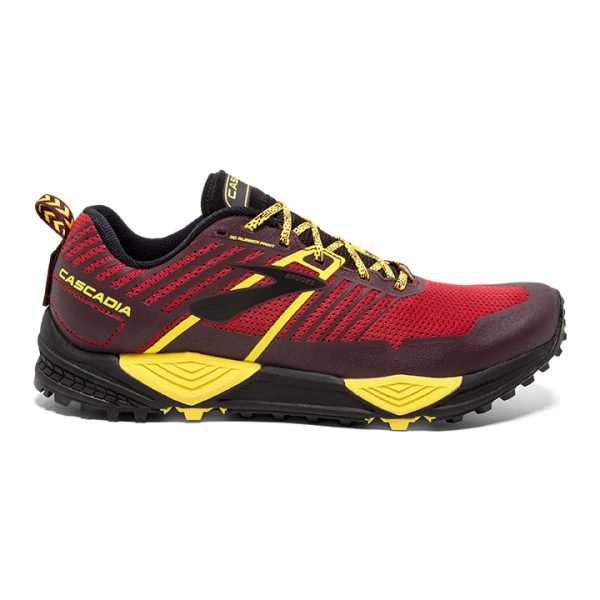 These shoes are also popular with the backpacking community, and for a good reason. They can be quite comfortable, but the highlight of this shoe is that they are more durable. The upper section of the shoe is more durable then on the shoes we have just mentioned and because of that, they are great if you plan on using them multiple times. When you put them on straight away when you buy them, they feel comfortable and have a pretty nice grip on them.
The Brooks Cascadia 13's are built more narrowly, and the small downside to them is that they are heavier from the others mentioned earlier. One more thing that the fall off a bit when it comes to top tier trail runners is that they don't get quite a dry fast as the others. Nevertheless, if you are searching for a shoe that will last you a long time, these ones are the way to go. They weigh 1 lb. 8 oz. (pair).
4. La Sportiva Bushido II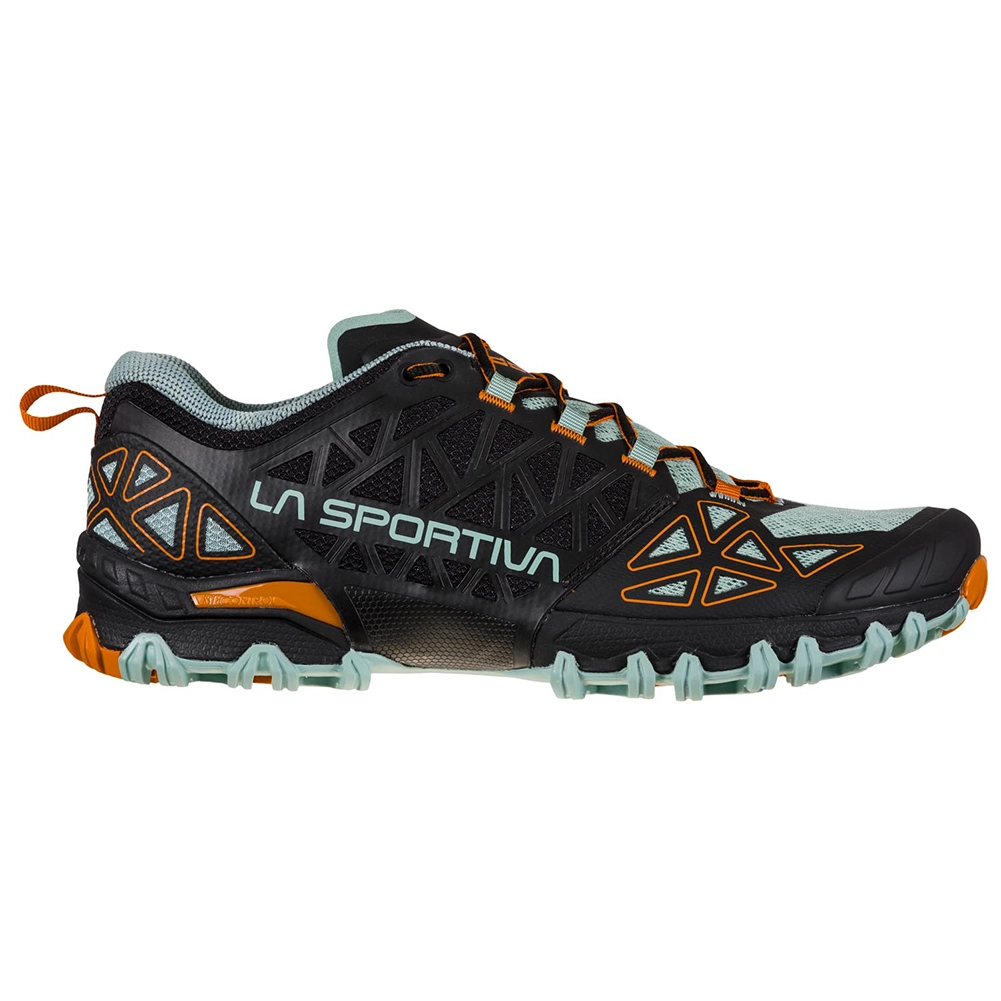 Of the bat, we are going to say that if you are one of those people who like though terrains and like a shoe that will withstand those terrains, the Bushido II will offer you amazing traction and great durability. The only downside that this shoe has is that if you want to partake in a small, short hiking trip, because of its stiff sole, your feet will feel uncomfortable as time goes by. On the other side, if you want a shoe that will protect the section under your foot, don't look any further. They weight 1 lb. 5 oz. (pair).
5. HOKA ONE ONE Speedgoat 3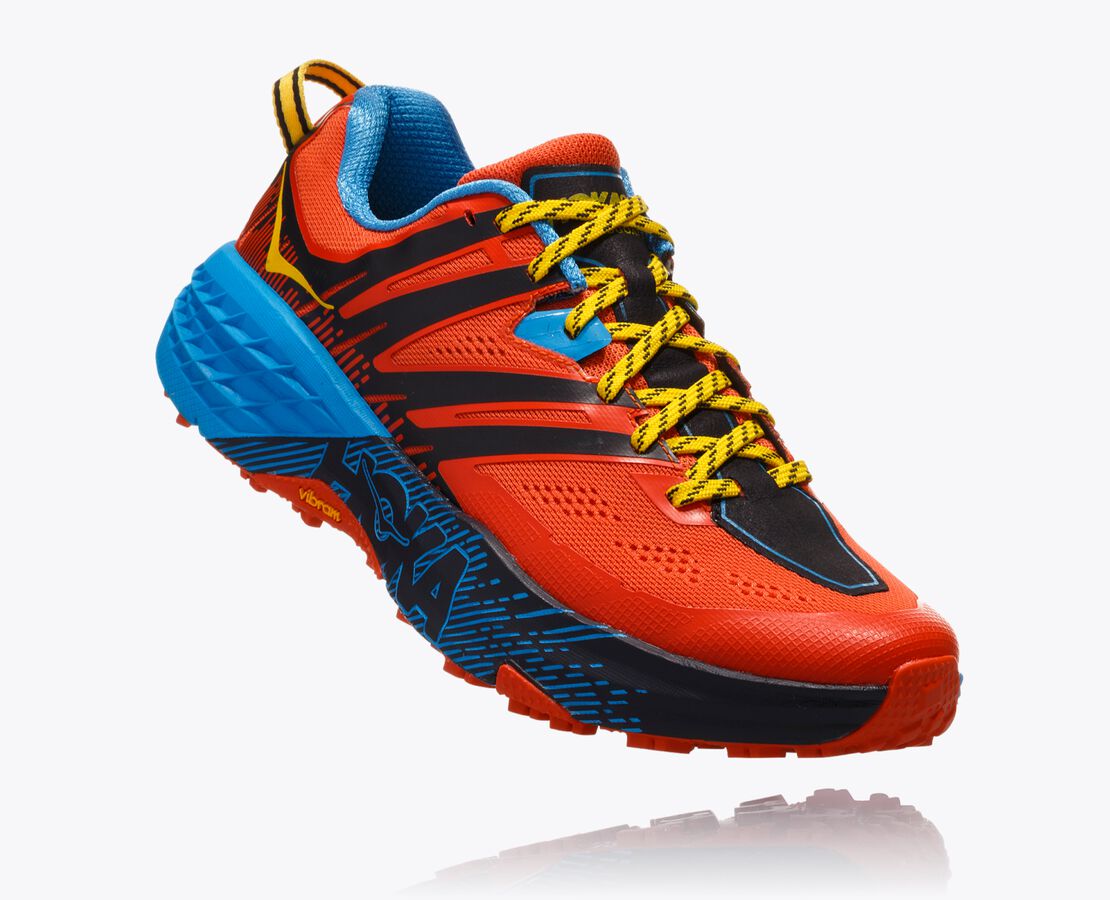 These shoes have always been known for their featherlight weight and comfort, and the Speedgoat 3's are just the new addition to their list. They are amazingly comfortable because of their cushy inside the shoe, and their outside section provides great traction when it comes to rough terrain. In this series of trail runners, they have a wider toe box compared to the previous one, which is great for long trips. The midsole is modified this time to give more durability and protection, but because of that, we think that it can mess up your balance and you may feel unstable sometimes. With everything being said, we believe these are the best ones from the Speedgoat series. They weigh 1 lb. 4.6 oz. (pair).
Best Lightweight Hiking Shoes
We know that even though we recommend trail runners for those backpacking trips, some people will always prefer having the best hiking shoes for those occasions. If you don't like buying trail runners and don't like having those big hiking boots on you when you hike, hiking shoes are the best thing in the middle.
Because the hiking shoes are generally made with a leather/mesh combination, they are more durable and can last you longer than the trail runners. Hiking shoes don't compress the soles as much as the trail runners, and that can be good. If you are a person that goes on hikes where the terrain is harsh, and there are many rocks and tree roots, you will have to take more durable shoes, and yes, they will be less comfortable.
Every shoe brand will promote their shoe being water-resistant, but at the end of the day, every water-resistant shoe will take more time to dry off. These next hiking shoes, we can say are one of the best hiking shoes that you will find on the market today.
1. Salomon X Ultra 3 Low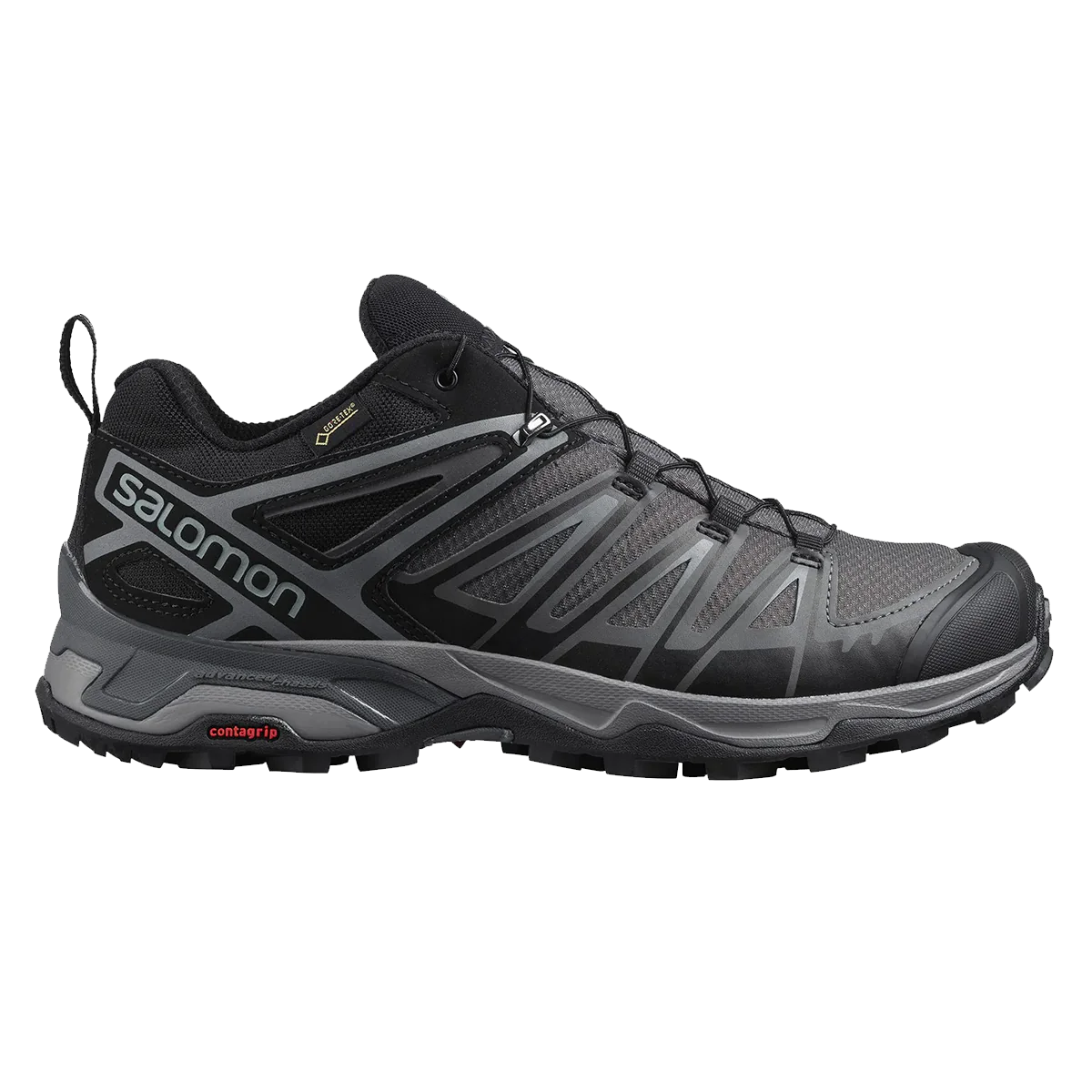 With the Solomon X Ultra 3 Low's, you will get amazing durability and comfort in one powerfully built shoe. Their traction is second to none, and you can't compare these to any light trail runners. What is unique about the Ultra 3's is that they have a one-pull lacing system, which some people may find strange at first. We also think that people will need more time to adapt to these shoes them others.
The toe box on this model is narrower than on others, so if you want a wider fit, this may not be the shoe for you. They also have a version of the shoe that comes with a gore-fix, which means a waterproof coating. Even though we would recommend a lighter shoe, if you are going for a more durable, well-built hiking shoe, the Solomon X Ultra 3 Lows are the ones for you. They have also offered a mid-height model if you want more ankle support. They weigh 1 lb. 10 oz. (pair).
2. Merrell Moab 2 Ventilator Low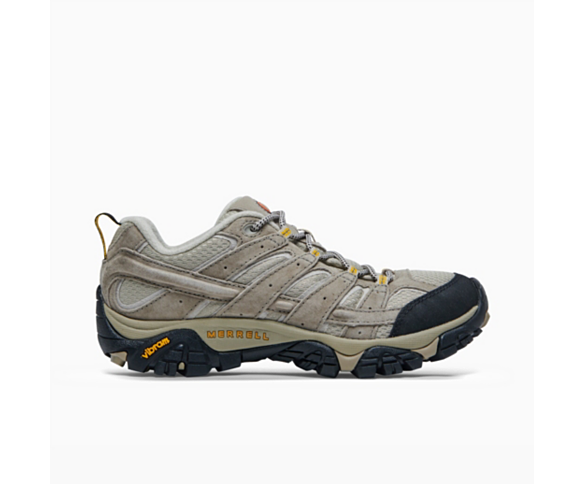 If you are still not hooked on trial runners for hiking and want one of the best hiking shoes, we can gladly recommend the Merrell Moab 2 Ventilator Lows. When it comes to comfort in a hiking shoe, Merrell has perfected the comfort part of this hiking shoe. The cushy soles are amazing, and something that you don't get in many shoes is a comfortable tongue. Because they are built with a suede leather and mesh combination, your foot can breathe quite well in these. Although we have experienced better traction in trail runners, the Moab 2 give quite well traction too. If you want to have water-resistant hiking shoes, the Moab 2's come in that form as well, but they weigh a bit more. They weight 1 lb. 15 oz. (pair).
3. The North Face Ultra 110 GTX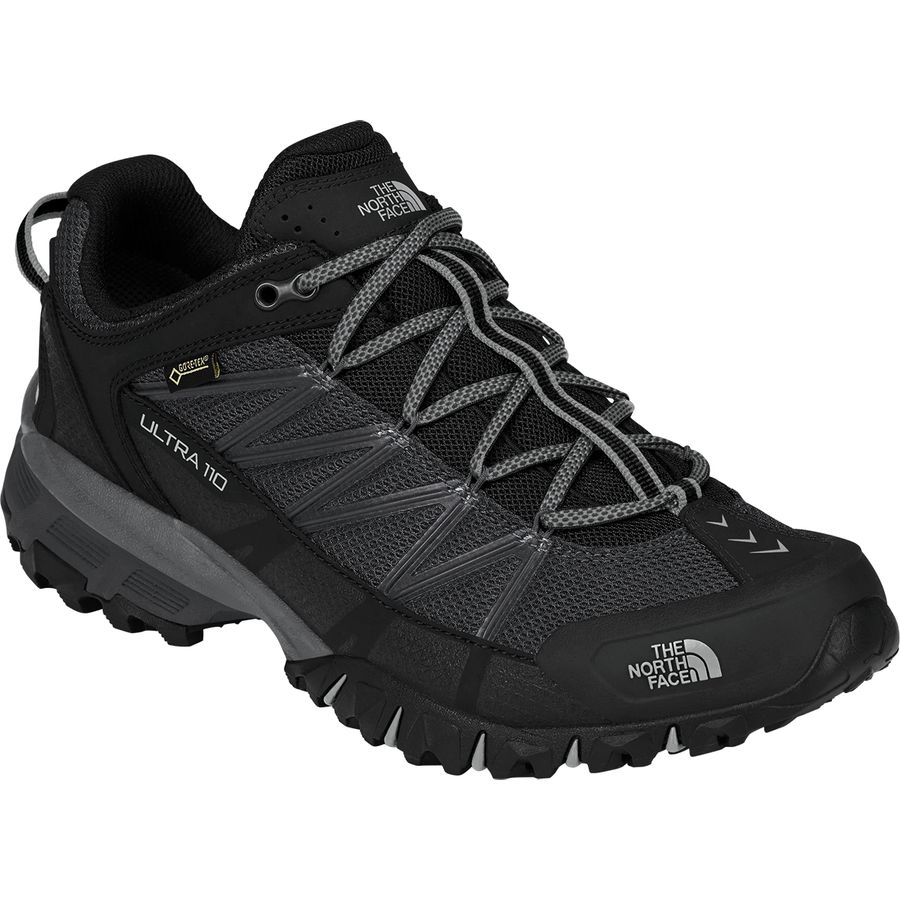 The North Face Ultra 110 GTX, are ready to take on trails right after you have unboxed them. Their waterproof and breathable coating of Gore-Tex, making them perfect for those wet and muddy terrains you are setting up to endure. Because of its leather and mesh built, no trail runners can compare with the durability of this hiking shoe. Also, because they have a great varied lug pattern, the traction on this shoe is amazing, and it makes them one of the best hiking shoes when it comes to enduring rugged terrain. Some people have said that it can take longer for their feet to get used to the shoe, but all-in-all the amazing protection and durability make them one of the best hiking shoes. They weigh 1 lb. 15 oz. (pair).
Best Lightweight Hiking Boots
The majority of people today that goes on hiking trips and backpacking have substituted the hiking boots for ether trail runners or hiking shoes. Although they may not be as much popular as before, if you choose the best hiking boots, you will be guaranteed amazing protection, durability, and support.
The only period that we will recommend having hiking boots is in the wintertime. When the mountains or trails are covered in snow, and the temperature is low, hiking boots are the way to go. If you end up buying hiking boots, make sure you do your research on the best hiking boots that are waterproof. Many people in the past have made a mistake when it comes to waterproof, because they will do their job great, but the time they need to get dry will disappoint you.
We also know that the hiking boots are significantly heavier than trail runners and hiking shoes, but in their defense, in the past few years, there have been hiking boots that have become more light. Check out below some of the best hiking boots on the market today.
1. Merrell Moab 2 Mid Ventilator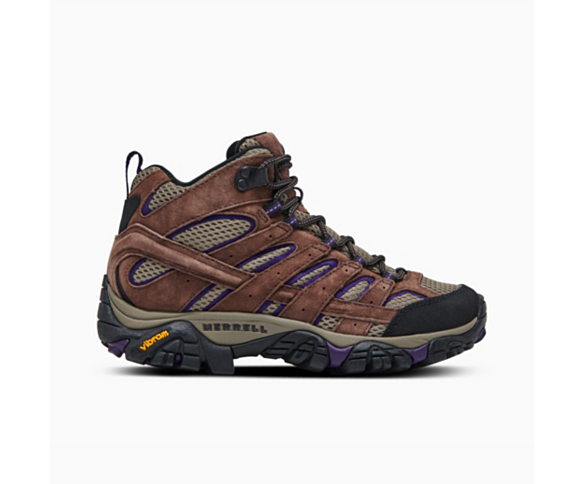 For very good reasons, the Merrell Moab 2 Mid Ventilator's, are said to be one of the best hiking boots today. You know that the Merrell models will be comfortable right after you have taken them out of the box. For a hiking boot, they are very light and are pretty durable and affordable if you compare them with others. Because of their suede leather and mesh build, we are certain that they will last you a long time regardless of what terrain you use them on. Although they offer a waterproof version, we recommend sticking to the one that has more breathability. Even if you want a hiking boot with more toe box space, Merrell also got you covered with a wide toe box version of the boot. They weigh 2 lb. 2 oz. (pair)
2. Salomon Quest 4D 3 GTX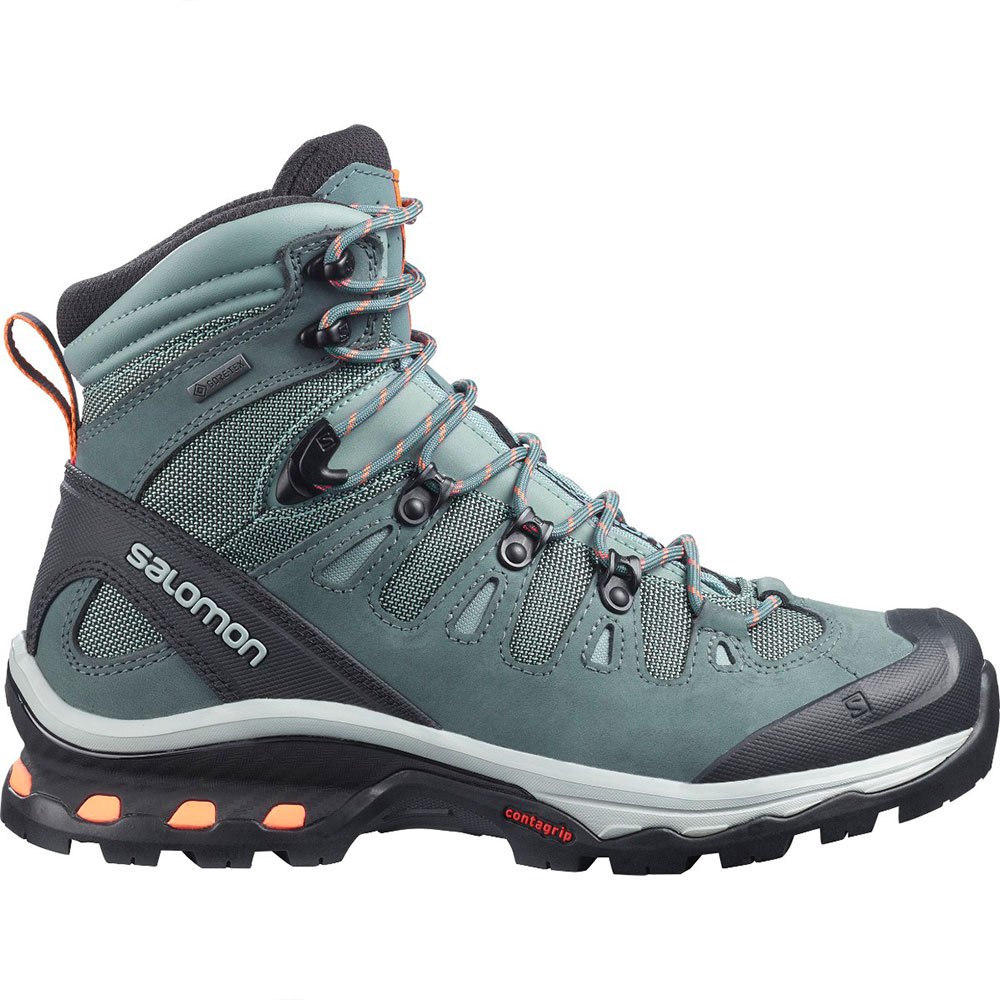 This boot has been around for some time, and why wouldn't it be when it has been said to be one of the best hiking boots on the market. The Salomon Quest 4D 3 GTX are amazing boots when it comes to durability, and although they may feel like they are light, their tough build will easily take you anywhere when it comes to rugged and harsh terrain. Other than in the wintertime, we don't recommend taking them to a light hike or backpack trip, because they are solely built for more challenging situations.
The new version of the boots has a new lug pattern below, and now it is even better when it comes to traction. The Gore-Tex covered boots will protect your feet well from becoming wet, but like all waterproof boots, over time, they begin to be less durable and like any other hiking boot, it takes them quite some time to dry off. If you are not a fan of the weight of this boot, Solomon also has a mid-height version of this boot. They weigh 2 lb. 13 oz. (pair).
3. Lowa Renegade GTX Mid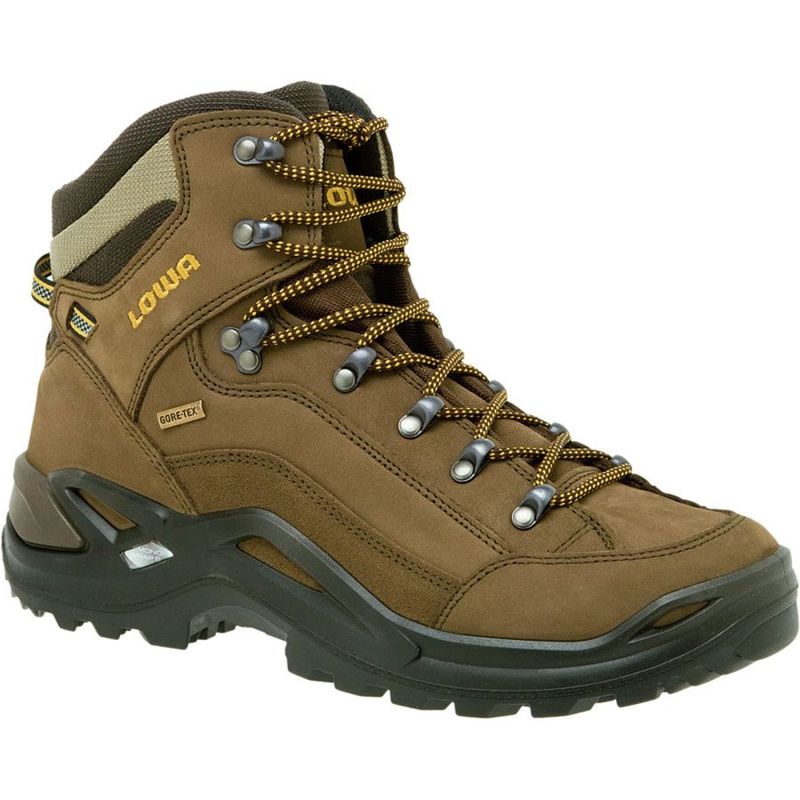 The Lowa Renegade GTX Mid is one of the most supportive and well-protected hiking boots out there. Even though you may think that to have amazing support, the boot should be not that comfortable, but in this situation, it is the opposite. When these boots were tested, it has been determined that the best time for these boots to be put on is when the day is rainier, and we don't plan on hiking too much. Because the leather will soak up water fast, it makes the boot heavier, making them less comfortable. One day hikes seem like the best trips to take these boots on, and because Lowa offers many options and versions of this boot, this makes them one of the best hiking boots when it comes to customization. They weigh 2 lb. 7 oz. (pair).
CRITICAL FOOTWEAR CONSIDERATIONS
COMFORT AND FIT
There is no wonder we put this on top because comfort and how your foot fits in your hiking footwear is the most important. Everyone has different things when it comes to comfort, having a wider or narrower shoe, more support on the ankles that will make your trip more satisfying. So take your time when choosing the right footwear, because if they are uncomfortable or they don't fit as you want, that amazing trip you have planned can turn in to a difficult one.
WEIGHT
When we talk about the weight of the footwear, the reason we prefer light trail runner shoes oppose to hiking boots, it is because when you have less weight on your feet, you are going to be more nimble, you will reduce the risk of injuries, and reduce the muscle fatigue. It will surprise some of you to know that carrying weight on your feet can take more energy out of you then carrying weight on your back. So searching the market for the best hiking shoes that weigh less than the hiking boots will be an improvement.
PRICE
When we talk about the best hiking boots or shoes and even trail runners, it is obvious that they will be more expensive than your average ones. Comfort, fit, durability and longevity comes with the price. Nevertheless, if you search well enough we are sure that you will find the right shoe or boot for the right price.
SIZING
Size is important, especially when it comes to long hikes or trips. Because sometimes your feet will experience swelling, it is a good idea to consider buying shoes or boots a half size larger them normal.
TESTING
Because most of the trips that people go on can be long, having a comfortable shoe that you like is key. When you plan those kinds of trips, the ideal thing to do is buy the shoes or boots a few weeks before going on the trip. We say that because you will spend a lot of time in them and cover many miles, so your foot must be already used to the new footwear.
TRACTION
One of the main qualities too look for when you are buying new shoes or boots, is do they have good traction. Imagine yourself hiking on a trail and the ground below has shifting gravel, and every step feels like you are going to slip and fall. To avoid that, search for the shoes and boots that have good traction. Especially boots, because when going hiking in the wintertime, there are more situations where you will find yourself walking cautiously, avoiding slipping on icy terrain.
WATERPROOFING
No matter how waterproof the brand says their shoes and boots are, when you go on multiple day hikes, your feet are going to get wet. There is no way you will prevent moisture from building up inside of your shoes too, sweat and condensation will build inside, and the inside of your shoes will get wet as well. Rain can contribute a lot, and when your shoes or boots get wet, they become heavier. Even if somehow you manage to keep your feet partially dry, there is always the act that if you wear your shoes or boots multiple times, throughout the time, they will have some tiny holes or tears and that allows water to get inside.
Because waterproof shoes or boots tend to get wet and heavy, we will always recommend hiking with lightweight trail runners that are not waterproof. It is because most of the trail runners dry off quite quickly, and when going on trips, when having a break or laying down for the night, you take off the trail runners, leave them to dry off, dry your feet as well and in the morning change your socks.
BREATHABILITY
This is also one significant factor in why we recommend using light trail runners. If your shoes and boots aren't breathable, the sweat that builds up inside your footwear will not have anywhere to go. So when that happens, your feet get pretty soft, and you increase the danger of getting blisters. Breathable shoes and boots generally aren't waterproof but can be easy to dry off.
DURABILITY
One thing that train runners don't have is durability. If you want your footwear to last longer and endure more harsh terrain, picking hiking shoes or boots over trail runners is your best choice. Hiking boots can last twice longer than your trail runners, but keep in mind the downsides you will see picking them.
ANKLE SUPPORT
This may be one of the more popular topics when backpackers come together. Everyone has their opinion on the topic when you ask. We think that ankle support isn't that big of a deal. If you talk about proper ankle support, you will have to wear high boots and your laces should be tied tight, which most of the people that wear high hiking boots don't do.
SOLES
Trail runners and hiking shoes and boots have different types of sols. With trail runners, you have more cushioned soles and in general, the trail runners are more flexible. The thicker the sole, the less you will feel the ground below.
HEEL-TO-TOE DROP
If the footwear has a noticeable high drop from the hell to the toes, it is said that your running efficiency will be increased. Most of the trail runners, we used and have recommended have zero drops, which is supposed to be better if you want a more natural running style.