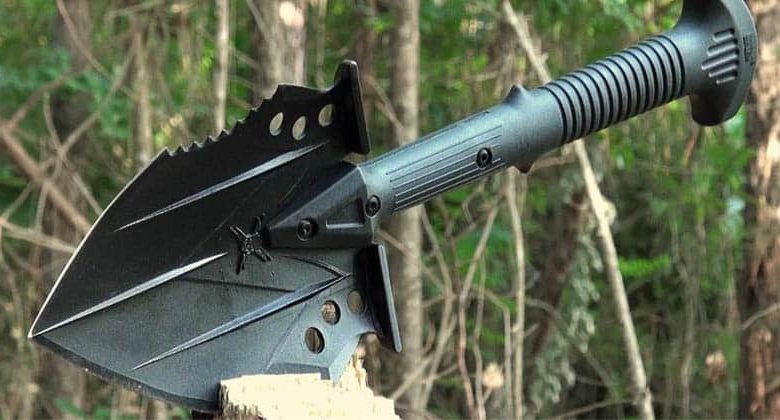 Packing up for the weekend for a relaxing camping trip? Visiting a national or state park? Taking the family for a weekend trip? Don't forget your toolbox. You never know what you will need on a camping trip but make sure you have your tools stocked up and ready for any obstacles you encounter. One tool you want to make sure you don't forget is your shovel. It is always good to have around. You never know when you are going to need a shovel. In this article, some of the best camping shovels in the market are analyzed and described to assist you in buying or upgrading your shovel.
Top 11 Best Camping Shovels
1. EST Gear Survival Shovel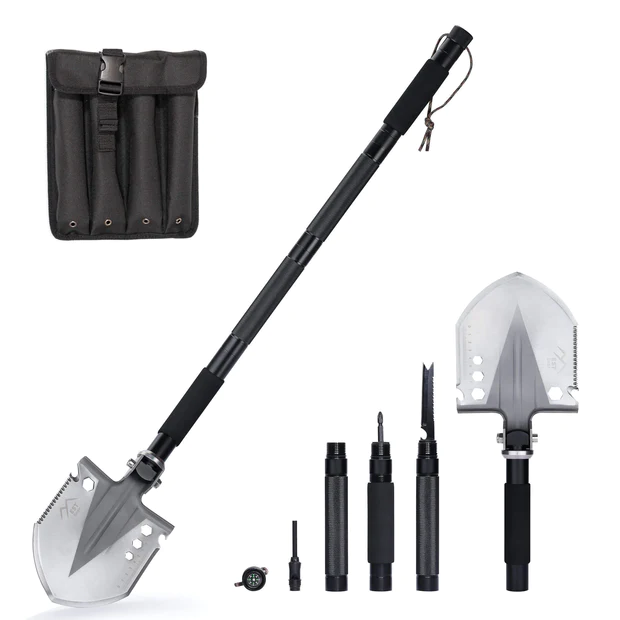 The EST Gear Survival Shovel comes with many other tools as well for this reasonable price. It comes with a shovel, saw, knife, bottle opener, a fire started, ax, and many more tools. A great way to keep your tools safe is by using the waterproof storage to keep your tools from getting damaged. These products are perfect for traveling because they can compact down to a smaller size.
The shovel can fold to save space and all of the tools fit into a pouch to transport your products simply. You may be surprised that all of these products are reasonably lightweight. This feature makes it easy to carry all of these products together and prevents you from worrying about forgetting something you might need. It disassembles easily and all of these products can have a variety of purposes.
The EST Gear Survival Shovel especially is a great tool for survival needs or in case of an emergency. It offers a sense of protection against any dangers you may face when camping. Because you get all of these products, the price is going to be higher than if you were to purchase an individual shovel.
Specifications: 
18 survival tools in one
Compact size
Lightweight and versatile
Indestructible
Lifetime replacement
Pros
Sturdy tools
Handle rough use well
Strong construction
Cons
2. Rhino USA Survival Shovel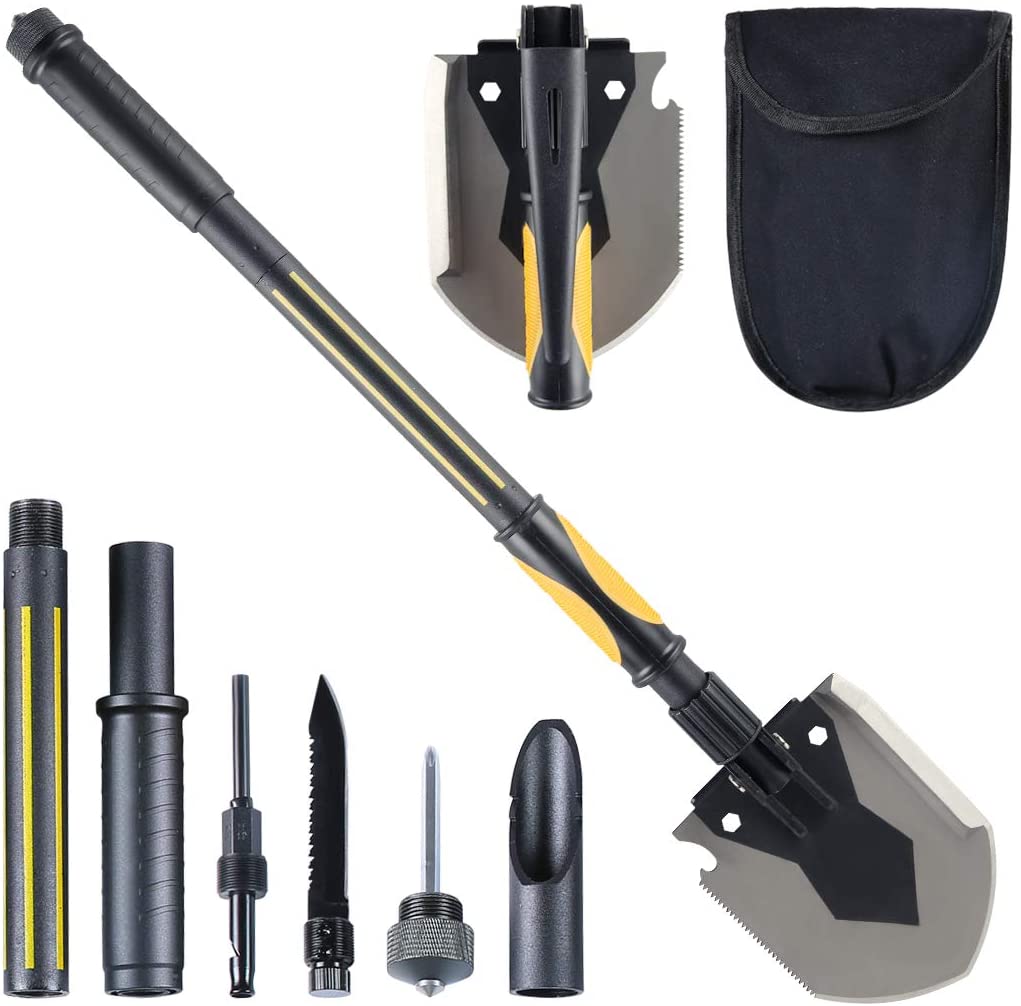 The Rhino USA Survival is one of the best camping shovels to include in any outdoor activities. Many users utilize this product for emergencies. Whether you are riding ATV's and you get stuck, or you are shoveling snow out of the driveway, this shovel is a great product to have. It compacts down and is portable. It can fold down into a lightweight carrying case so that having this product handy is not a hassle.
Since it is a lightweight product, it works better in situations where you do not need maximum strength. It works better with smaller or mild projects. Rhino is reasonably priced on the lower end of the spectrum compared to other products on the market. It is a convenient product to have around to provide safety in many situations.
Specifications: 
Military Style E-tool
Compact and portable
Multi-functional
Guaranteed 5-star experience
Pros
Versatile
Multi-functional
Sturdy
Durable
Cons
No instructions
Loose handle
3. Blackpig Camping Folding Shovel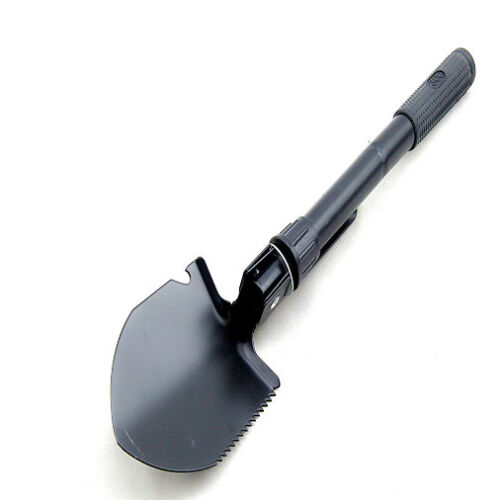 The Blackpig Camping Folding Shovel is similar to a gardening shovel because of its size. It is much smaller than some expected. If you are looking to purchase a large or regular size shovel to move or dig large amounts, this is not the shovel for you. However, if you are looking for a small gardening tool, this is perfect for you. It does have many other functions besides gardening such as; digging, sawing, chopping, bottle opening, hammering, and cutting.
Since the Blackpig Camping Folding Shovel is small, it is very portable, which makes it perfect for camping. You do not have to worry about storing a large shovel or carrying around a large product. It can be folded into two parts and placed in a small bag. This small shovel also means that it is very lightweight. Perfect to have for backpacking or hiking.
Even though it is small, this product is very durable. The material is made of high-carbon steel to ensure this product is going to last you throughout the years. A special feature of this product is that it has a compass. This feature is another great reason to have one of the best camping shovels on hiking trips. You will never get lost with this shovel.
Specifications: 
Multi-functional
Portable
Durable
Compass
Wide application
Pros
Portable
Reasonably priced
Cons
4. SOG Folding Shovel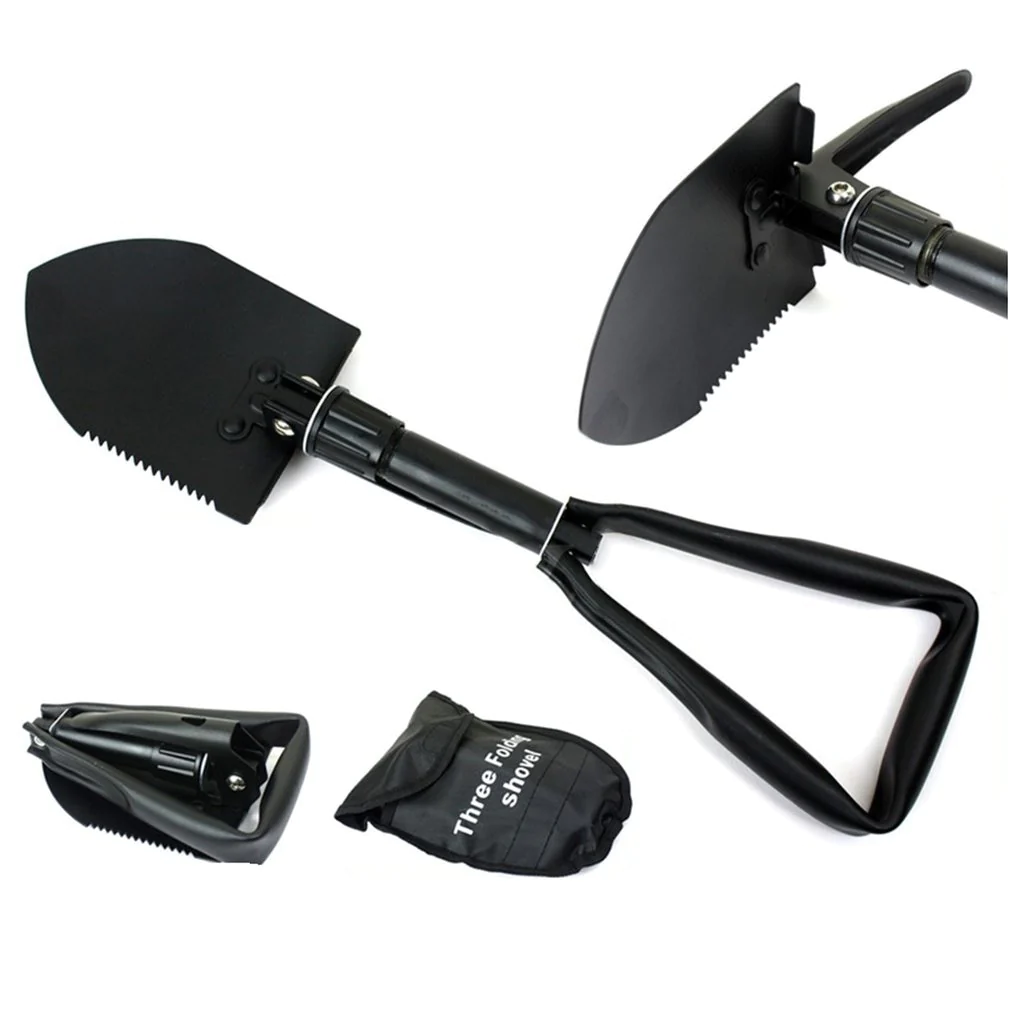 The SOG Folding Shovel has found many different purposes. Users have been able to dig trenches, foxholes, leveling sleeping spots, and clearing a spot for a fire. These uses are great for small shovels. You can also use it in the snow, gardening, or sand. It could be a great tool to bring camping if you are near a lake or the beach. It is even a fun product for the kids to play with.
Some users do not realize the benefits of having a small shovel over a large one. It comes back to your needs and what you want this product to achieve for you. Since this is a small shovel, it is lightweight and can fold down to a small size. It is perfect to bring camping because it saves space and doesn't weigh you down.
Even though this product is small, it is made of high-carbon steel to enhance the durability of this product. It also comes with a quality carrying case to ensure that your shovel is protected. The SOG Folding Shovel is designed to fulfill your shoveling needs for years to come.
Specifications: 
Small
Foldable
3-way folding design
High-carbon steel construction and carrying case
Weighs 24.5 Ounces
Pros
Multi-functional
Emergency tool
Collapsible
Cons
Not standard entrenching tool
Poor quality metal
Small
5. FiveJoy Military Folding Shovel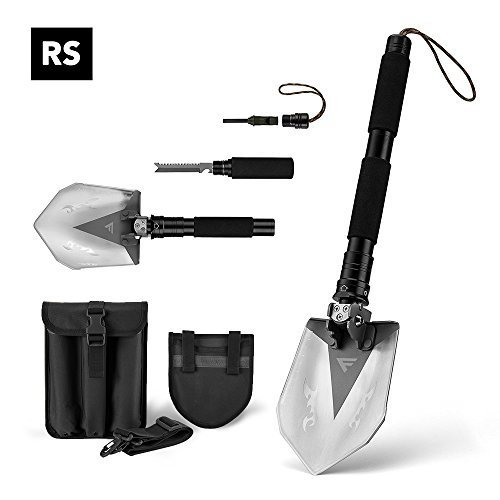 The FiveJoy Military Folding Shovel is an all-in-one survival toolset. This product includes a shovel, hoe, ax, saw, and hammer. Compared to other tool kits on the market, this one is reasonably priced for the number of tools included. With all of these tools, you would think this product would be too heavy to travel with.
Luckily, all of these products weigh 2.16 pounds and they can fit nicely in a bag. It is perfect to store in your car in case of an emergency. It is also perfect to bring on camping trips or other outdoor activities. You will never fear you don't have something you might need. You cannot plan the experiences or obstacles you are going to encounter and it is important to be prepared.
The design of the product is one of the reasons many users enjoy this product. There is a slip and sweatproof handle. This feature enhances comfort and control to ensure that you are being safe with these products. Another unique feature of the shovel is that you can adjust the degree of the spade. This allows the spade to take the function of a hook, hoe, or shovel.
The FiveJoy Military Folding Shovel is made of high-quality carbon steel. FiveJoy says that it is virtually indescribable and users notice the quality of material as well. Definitely one of the best camping shovels on the market today.
Specifications: 
High-quality solid carbon steel
Compact size
Oversized power
All-in-one survival toolset
Versatile
Virtually indestructible
Pros
Great design
Foldable
Portable
Multi-functional tool
Easy to assemble
Reasonably priced
Cons
Foam slips
Threads are too big
6. Liantral Folding Shovel and Survival Axe Set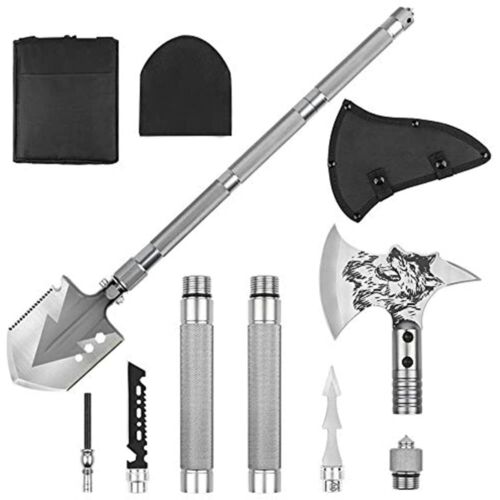 The Liantral Folding Shovel and Survival Axe is another great toolset on the market. This kit includes a shovel, ax, knife, ice ax, safety hammer, saw, ruler, and many more. This set is different and includes products that have not appeared in other sets.
Assembly is required with these products because it has a detachable function. The kit is very versatile and can be good to keep in your car or bring with you camping. It is lightweight considering all of the products that are included. The weight when shipped is 4.8 pounds.
All of the products are made of high-quality materials. The shovel is made of high-quality carbon steel to enhance the durability of this shovel. It is important to purchase products that are going to last you many years.
The carbon materials also ensure that any weather conditions are not going to provide harm to the products. Another benefit of this product is the anti-slip grip material. Whatever weather conditions you encounter, the anti-slip grip ensures that you can continue to use your tools safely.
It is perfect to bring camping because it can be compact to ensure that it doesn't take up room or cause problems when preparing for trips.
Specifications: 
Quality Carbon Steel
Multiple products
Assembly required
Shipping weight: 4.8 pounds
Pros
Versatile
Well made
Good customer service
Lightweight
Compact
Cons
7. Gerber E-Tool Folding Spade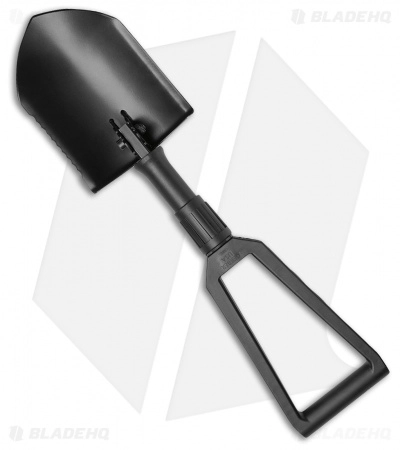 The Gerber E-Tool Folding Space is a small shovel that is sold individually. There have not been many shovels that are sold separately. Based on the number of products we are purchasing, this shovel is relatively expensive compared to others on the market.
It is well received by users and can be used for a variety of circumstances. This shovel can be used for digging out fire pits, digging holes for posts, and scraping out burs.
The reason why Gerber is one of the best camping shovels is because has a steel spade head along with an aluminum shaft. It is durable and able to manage any situation you come across. The high-quality material may be one of the reasons the price of this product is much higher compared to others.
It is also lightweight so it is convenient to have when you are trying to travel light. Additionally, you can collapse this shovel to save space. It is a practical product to have around when camping.
Besides being on the more expensive side, this shovel also doesn't come with a carrying pouch. It is convenient to have because it makes transporting the shovel easier.
Specifications: 
Lightweight and touch
Anodized shaft
No sheath included
Weighs 2.25 points
Collapsible
Aluminum shaft
Pros
Collapsible
Easy to fold and unfold
Versatile
Cons
No carrying case
The head of the shovel cannot tighten more
Not steady
8. Iunio Folding Shovel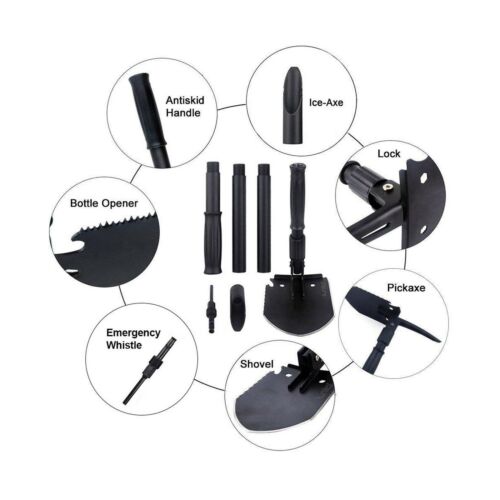 The Iunio Folding Shovel is one of the best camping shovels for multiple occasions. It is a great product to keep in your car or take with you on a hiking or backpacking trip. It is a foldable shovel and is practical for many activities outdoors. Whether you are 4-wheeling, backpacking, fishing, gardening, or gold-digging, this shovel fits all your activities. It is not only practical, but it can also act as a safety or emergency product.
A feature that makes this shovel stand out amongst others is the extension bars. This feature allows you to extend the shovel to a comfortable size. Therefore, you can use this as a small or large shovel. Whether you need to dig a large hole to plant a tree or a small hole to plant some flowers, this versatile shovel will get the job done for you. Having the ability to choose the height of the shovel is a major competitive advantage compared to others. Many customers purchase a small and a large shovel.
The Iunio Folding Shovel adjusts to any activity and it is also durable. It can handle the tough projects you need to complete. The handle is made out of high-carbon steel which increases the sturdiness of this shovel.
The handle also includes rubber material to strengthen your grip when using the shovel. It keeps you safe and allows you to use the product in any weather condition. Another feature of this shovel is that it can fold up to save space and attach to your belt loop to stay at your side. This is a great feature if you are hiking or backpacking.
This is not an ordinary shovel but it does cost an ordinary amount. This shovel is very reasonably priced for the features and the quality that it offers.
Specifications: 
Portable
Extension bars
Multifunctional
Sturdy and Durable
Portable and Compact
Pros
Durable
Great quality
Reasonably priced
Strong
Cons
Heavy
Shovelhead does not lock into place
Chipped paint
9. Kopwin Folding Shovel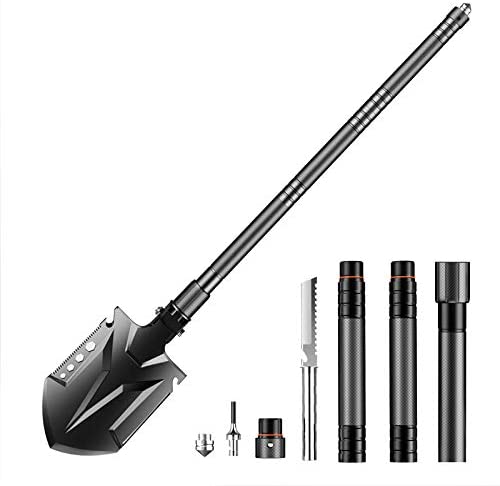 If you are in the need of multiple tools, the Kopwin Folding Shovel is the package for you. It comes with multiple tools including; saw, fire starter, ice breaker, fish scale, screwdriver, rope cutter, wire cutter, compass, and many more.
It is reasonably priced for the number of tools it includes. This is the perfect product to keep in the back of your car and bring on a camping trip in case of an emergency. It is also heavy-duty and compactable to save space no matter how you are traveling.
Specifications: 
20 in 1 folding shovel
Heavy-duty
Compact foldable
Great gift
Multifunctional
Pros
Durable
Sturdy
Multi-purpose
Cons
Small
Bag doesn't have compartments
10. The Friendly Swede Folding Survival Shovel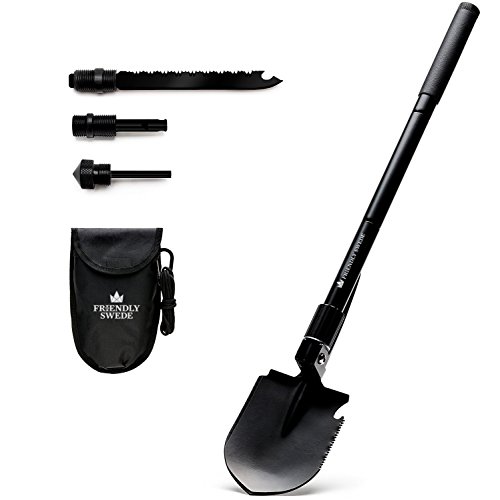 The number ten on our list of the best camping shovels is Friendly Swede Folding Shovel and has a variety of uses. It includes two axes, a fire starter, pickaxe, whistle, glass breaker, and more. Swede is made of carbon steel to ensure the product is durable. It is very practical to bring on camping or other outdoor adventures. It can compact to save you space and also includes a carrying pouch so it is easy to travel with.
Specifications: 
Compact with multiple uses
10 functions in 1
Carbon steel and smart design
Foldable
Lifetime warranty
Pros
High-quality
Multifunctional
Lightweight
Cons
11. Tabor Tools Folding Shovel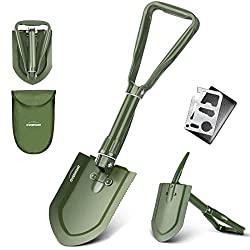 The Tabor Tools Folding Shovel is another great product to consider when purchasing a shovel. It compacts so it is easy to use when camping, hiking, or gardening. It comes with a carrying case so it is convenient to travel with. The sharpened edge can cut through roots, mud, sand, and snow. The materials are durable and able to handle any use.
Specifications: 
Multifunctional
Serrated edge design
Lightweight and portable
Durable
Pros
Cons
Things to Consider Before Choosing The Best Camping Shovels
Use
As a consumer, we have needs and wants. Most people need a shovel. Whether you need to dig a hole, trench, plant flowers, or shovel your driveway, having a shovel in your toolbox is necessary. Throughout this article, we have experienced many different uses for a shovel.
One common use is a defense mechanism or an emergency. If you do not have a specific need for a shovel, you can also use it for emergencies. While most shovels have multiple uses, you need to focus on your intended use. Always analyze why you need a product because that will help you begin your guide in looking for a product. It will be easier to narrow down other features you are looking for if you can define a use.
Size
The size of a shovel determines how you could use it. For example, if you purchased a smaller shovel for gardening and planting, but you needed to dig a large hole, this would be very challenging to do with a smaller shovel. It would take much longer and would be harder on your muscles. Another example is shoveling the driveway during a snowy winter.
You are going to want to make sure you have a large shovel handy and ready to do once the snow starts falling. Understanding your need will help you select a size that is right for you. Maybe you are looking to purchase a small and a large shovel. It is important to be aware of the limitations when selecting a shovel size.
Kits
Some of the most popular shovels come in a kit of tools. Purchasing a shovel that is a part of a tool kit could make your shopping easier. For example, if you are a first time home buyer, you may not have many tools available. Purchasing multiple tools in a kit would be ideal for a first time home buyer to prepare you for whatever situations you come across and need to fix.
Price
We have observed a wide range of prices when viewing different shovels. Analyzing the price is an easy way to eliminate options that do not fit within your budget. If you are looking for a cheap, small, gardening shovel, you can narrow down the options that fit within your specifications.
Best Camping Shovels Conclusion 
Purchasing a camping shovel can be challenging. There are so many options on the market and each has different advantages. Most of the best camping shovels aim to be lightweight and collapsible to save you space. Especially when camping, a shovel always comes in handy. You must purchase a durable shovel so that it can last throughout the years to come.
A shovel is a product that is always going to have a purpose at one point or another. Therefore, you must have one around. Purchasing a shovel only needs to be a one time deal. Ensuring the quality and durability of your shovel can keep up with your projects is crucial. Make sure you are purchasing the right shovel to fit your needs.