Camping
Coleman Sportster Propane Grill Review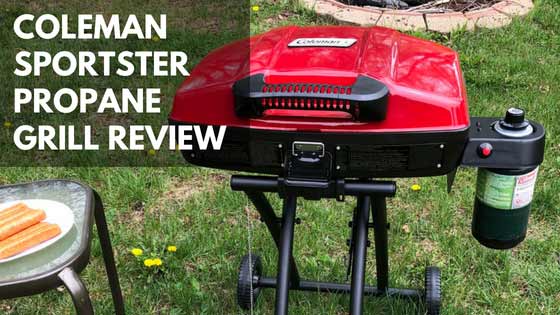 I'm participating here today to review one of the best camping gas grills, the Coleman Sportster propane grill.
What's in this review?
We're gonna start with a quick view about Coleman's history, then take a look at the Coleman Sportster's specifications, after that our in-depth reviews for the (Performance – Portability – Design – Price). Then we're gonna take a look at some of the Coleman Sportster propane grill alternatives for camping, compare them, and list the differences for you. So stick around!
About Coleman
It was founded back in the early 1900s by William Coffin Coleman, their 1st products were gas lamps which used to light the 1st football night-game in the west of the Mississippi River.
They produce almost all camping-related products, tents, coolers, furniture, sleeping bags, even lights, and camping grills of course!
The Coleman Sportster Propane Grill Quick Description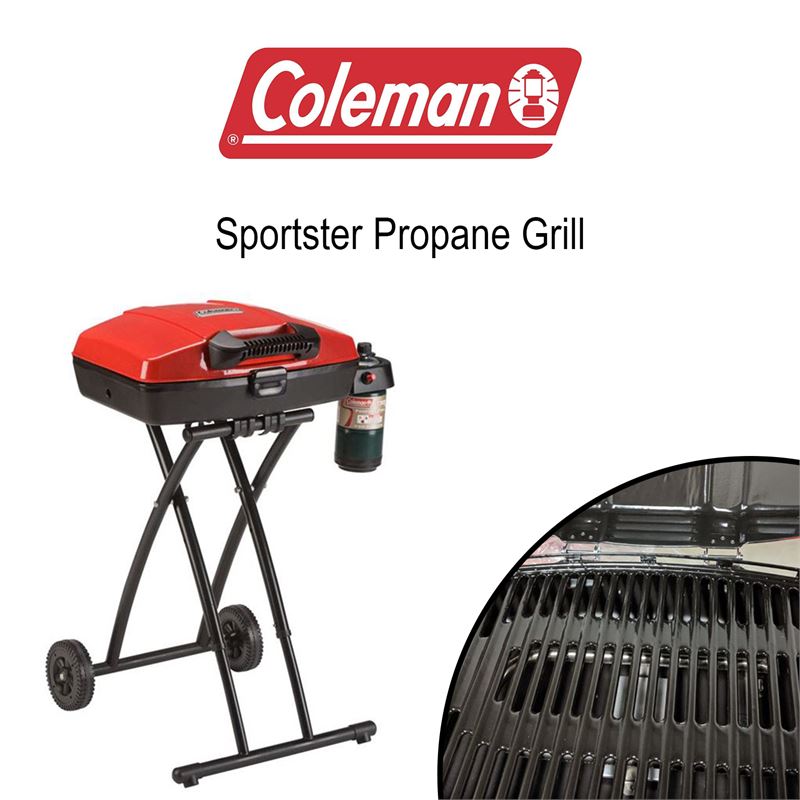 Specifications
One burner that produces 8,500 BTUs per hour.
225 square inches total cooking surface.
Electric ignition button.
Works with a small 16.4 oz. propane (1lb) propane cylinder
Front lock.
Foldable stand with 2 wheels base.
Removable drip tray.
Measures 28 x 12.9 x 19.4 inches dimensions.
Weighs 25.7 pounds.
3-years limited warranty.
Material
Made of a variety of materials.
Porcelain-coated stamped steel cooking grates.
Aluminum firebox and drip tray.
Porcelain-coated lid.
Painted steel legs.
In-depth reviews
Performance  4/5
The Sportster is one of the best Coleman camping grills, it's made from well-performing grills materials, the aluminum firebox, and the porcelain-coated lid retain the heat for faster and better cooking.
Besides the easy cleaning, thanks for the removable dripping tray. Also, the easy push-up button makes a better and more convenient experience, just push the button, wait for 10 minutes for it to heat up, and there you go.
But why 4/5! Well, it's because of the grates material, they Do perform well but not for a long time.
Price 4.5/5
The price is one of the best strength points of this Coleman Sportster, and as a grills expert, I tell you that it's one of the most affordable camping grills, and you'll see in the comparisons section of this review the prices of its alternatives from Weber which's known for the high prices but also the other Coleman grills are more expensive.
Design 4.5/5
Elegant design, everything is exactly in the perfect place, the electric ignition button, the lock, the lock, the control knob, even the propane cylinder, all in the perfect place.
The only thing I don't exactly like is the lid design, absolutely not the looking it's the most elegant-looking Coleman grill, but the thing is, it's almost flat not domed, so it doesn't allow you to roast a whole chicken for example. That's why I give the design 4.5, maybe it's not a critical feature, but if you're like me a roasting fan, you'll understand what I'm saying.
Portability 5/5
I wish there are more than 5 stars rating, the Sportster deserves an award for its perfect portability. Coleman guys really do a great job in that area, they prove that they're able to create an ideal camping experience. I'm not a camping expert, but as a BBQ one, I tell you' I've never seen better portable grill for camping than Coleman grills, all of them not just the Sportster. I have to say it always amazes me.
Maybe I'm a little enthusiastic right? Ok, a lot! It's like that I'm the one who created the design, but that shows you how much I adore the Portability of Coleman's camping grills.
How Does It Compare
After the in-depth reviews, it's time for the comparisons, I will compare the Sportster with its main competitors, the differences between them, what would make each one win, and a final bottom line.
Coleman Sportster VS Weber Q1200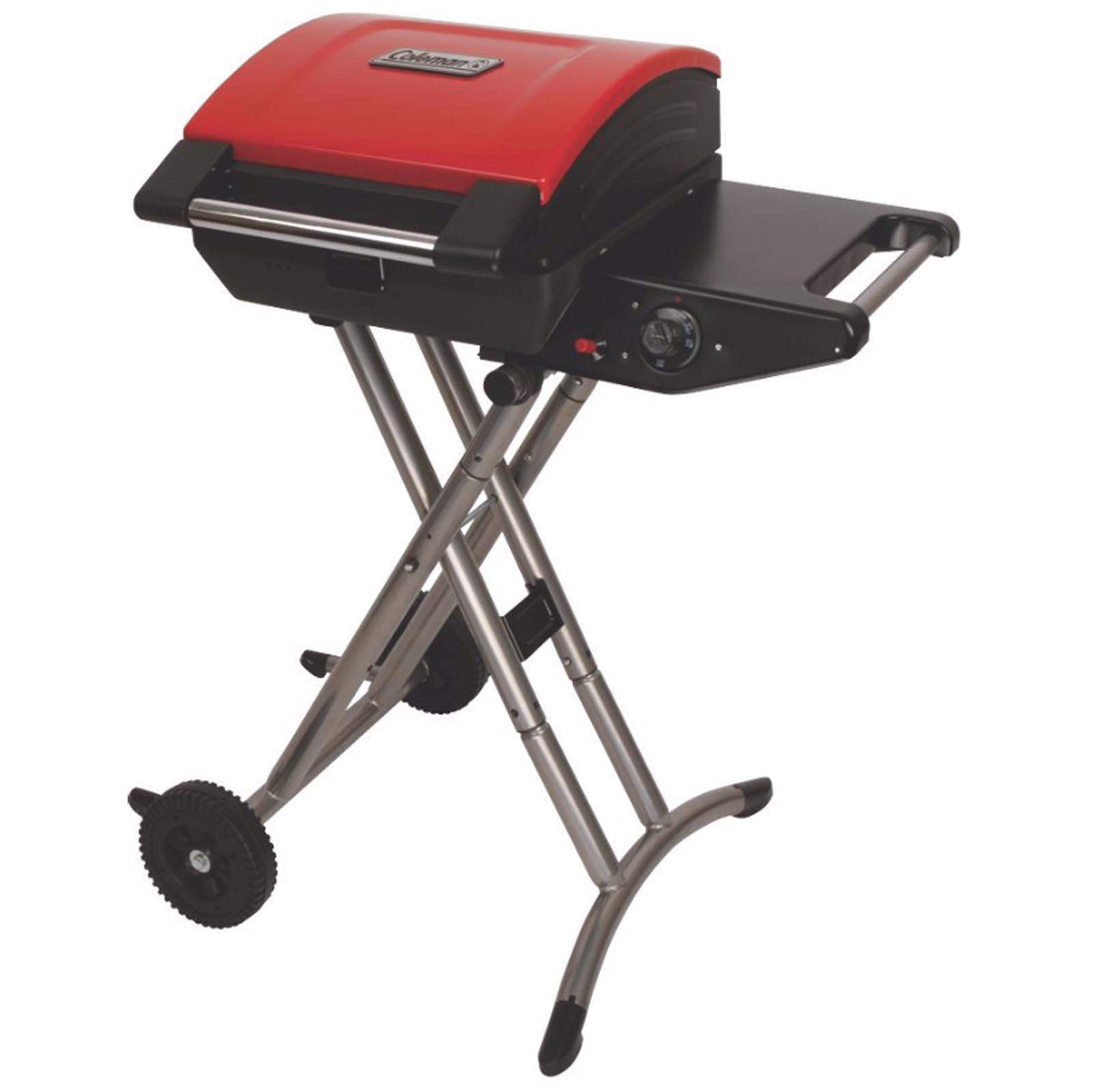 The Weber Q1200 is the most popular Weber portable gas grill for camping, but as you see, it's a tabletop not full-size.
Differences
Price: cost 50 bucks more.
Cooking space: 169 square inches (36 sq.in smaller)
Grates material: Porcelain-coated cast-iron
Has a built-in thermometer and side tables.
10-years warranty.
Comes in 6 colors.
What makes the Weber win?
The Porcelain-coated cast-iron grates perform much better in terms of heat retention and distribution.
The long warranty period.
Live longer
The domed lid allows roasting a whole chicken.
What makes the Coleman win?
Of course the portability. Which's the whole point from a camping grill anyway.
More affordable.
Larger cooking space.
The Bottom line
Weber Q1200 is a great grill in terms of performance, but when it comes to camping convenience, the Sportster is pure greatness. If you need a more detailed review read our Weber Q1200 review and the competition between it and one of the best infrared grills.
The Sportster Coleman VS The RoadTrip 285
The RoadTrip is a Clomean colleague, maybe it's more popular than the Sportster, but each one has different strengths points and stands out in different areas. Let's take a look at the differences first.
Differences
Cost 80-100 bucks more.
3 burners, 20,000 total BTUs per hour capability.
285 square inches of cooking space (VS 225).
Porcelain-coated cast-iron cooking grates.
2 side tables
Built-in thermometer.
46.7 pounds
30.2 x 19.2 x 16.1 inches dimensions.
Why would The RoadTrip Win?
Better cooking performance.
More cooking space.
Advanced features like the thermometer.
Why would The Sportster Win?
More affordable.
Lighter.
Take less space.
The Bottom Line
To summarize, as I told you, each one has his territory. The RoadTrip is more advanced and perform better, and larger, which makes it a better option for the bigger camping trips with more people. But on the other hand, the Sportster is better for the smaller and limited budget ones, or for those who don't camp that much.
Coleman Sportster Propane Grill Conclusion
A great elegant-looking grill, perfect for a small camping trip with a small number of people. Well, it's not the best performance out there, so it's not much suitable for a BBQ-while-camping enthusiast. If that's you, you'd like the Coleman RoadTrip 285 more.
That was my review for the Coleman Sportster propane grill. Thank you.