Camping
Best Camping Hatchet – Top 10 Hatchets and Axes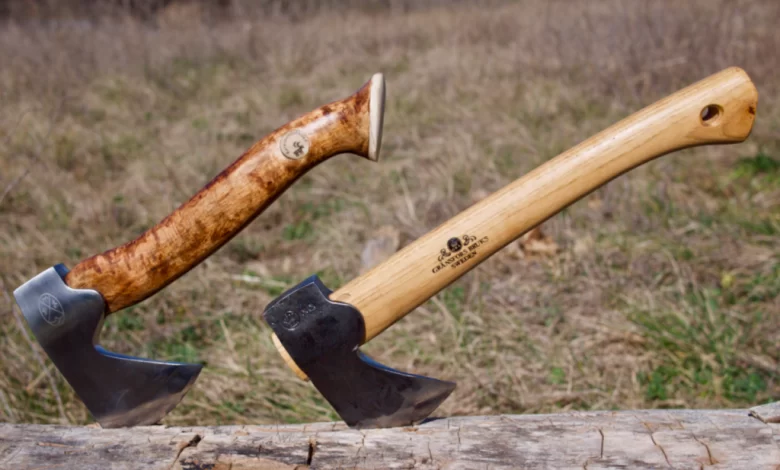 Do you have some chopping to do? Are you cutting down a tree? Do you need a hammer? A hatchet is an important tool to have around for various needs. Compared to axes, hatches are more practical because of their smaller size. If you are camping, you shouldn't leave the house without this tool. You may encounter numerous circumstances where you will need one handy.
We have helped you decide which hatchet would fit your needs the best. Provided below is a list of camping hatches for you to view. You will be able to learn about each product to determine if you see a need for a hatchet. Remember, also consider safety first when using and storing a hatchet. At the end of the article, there is a buying guide to help find the best camping hatchet for you.
Top 10 Best Camping Hatchet Options
1. Estwing Sportsman's Axe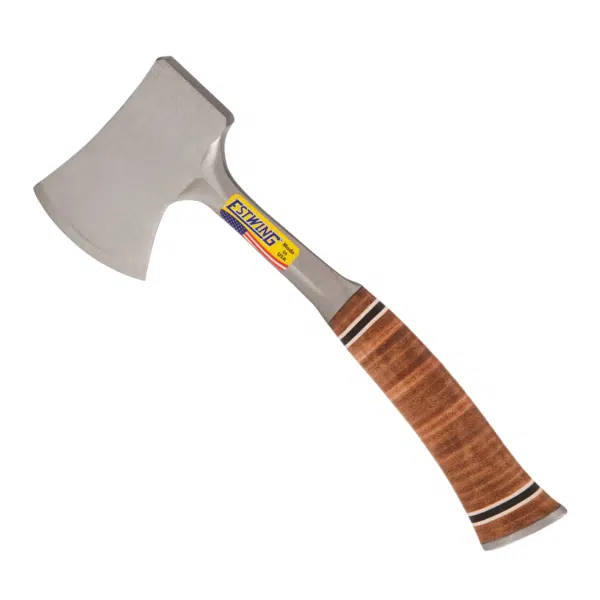 Estwing Sportsman's Axe is a great tool for numerous circumstances. It can be used for chopping large logs or branches on smaller trees. Estwing is also a great tool to prepare your fire at night to roast some marshmallows after a long day of camping. It is very practical for all of your camping needs.
The Estwing Sportsman's Axe comes in two colors. It has a genuine leather grip for your protection. It is comfortable but ensures you will not lose your hatchet. The grip is very fashionable but made with quality material to make sure you are being safe. Its clean design is one of the ways this hatchet stands out amongst others. The shorter handle makes this hatchet easier for cutting and splitting wood. The blade is also extremely sharp and this tool comes with a nylon cloth to keep the blade nice and clean.
With all of these great features, the hatchet only weighs 3.8 pounds which is on the heavier side compared to other hatches on the market. It is also reasonably priced compared to other hatches on the market as well.
Specifications:
Durable
Outdoor versatility
Heavy-duty sheath
Genuine leather grip
Made in the USA
2.75 or 3.25-inch edge
Pros
Good size
Good design
Sharp
Cons
Poor quality
Chips in design on the handle
Chips on blade
2. Fiskars X11 Splitting Axe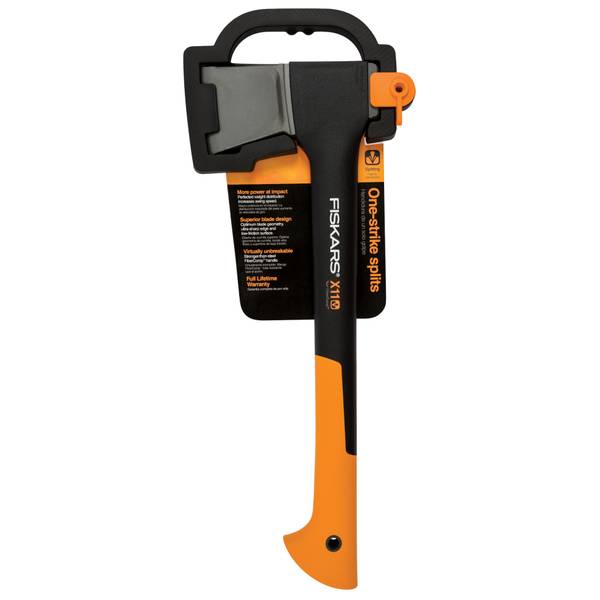 The Fiskars X11 Splitting Axe17 Inch is a great lightweight hatchet. Its weight is what attracts customers to this product. It only weighs 2.18 pounds which is much lighter than the other hatchets on the market.
The Fiskars X11 Splitting Axe has many uses. It can be used for splitting and cutting wood. On the other hand, it can be used for more detailed woodland projects. Therefore, you can cut down trees or get kindling for an evening fire very efficiently with this hatchet. It is used by many females or people who are shorter in height because it is smaller and easier to use. The size or the weight doesn't overpower the users of this tool.
The balance between weight and size makes it very easy to swing that anybody could use this effectively. However, it is going to be more challenging to cut larger pieces of wood or larger trees because it is smaller in size. However, it can also make this hatchet more practical if you are hiking or want to travel light.
It is reasonably priced for the quality of this hatchet. This product also comes with a plastic coating to ensure that the handle will not damage. The handle material also ensures that you have a strong grip when using this hatchet.
Specifications
Easy one-handed use
More one-strike splits
Good power-to-weight ratio
The sheath helps protect the blade
Lifetime warranty
Pros
Good balance
Lightweight
Sharp
Cons
3. SOG Camp Axe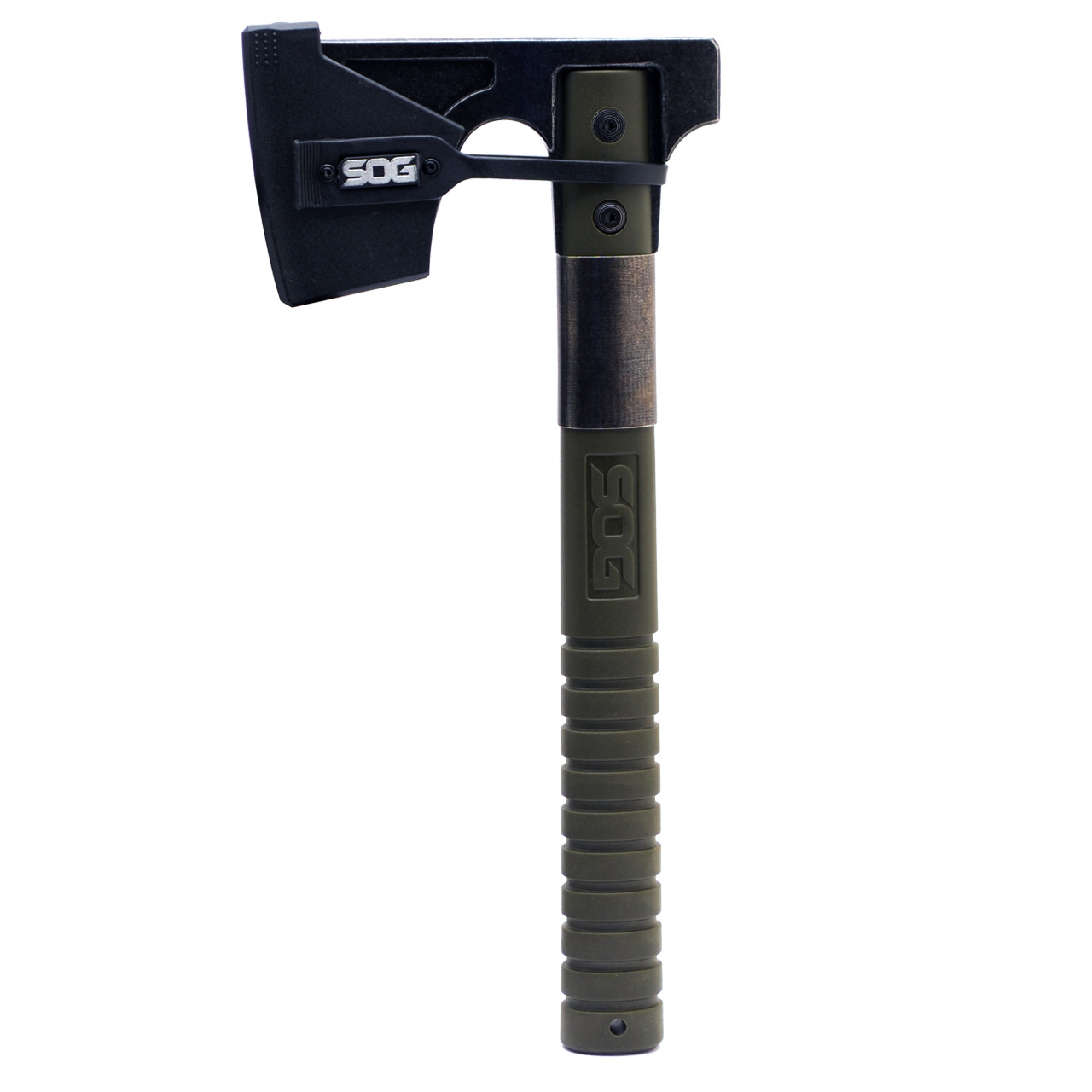 The SOG Camping Axe is another great product to consider before purchasing a hatchet. This hatchet is very versatile and can be used for many different purposes. It is lightweight which makes it perfect for throwing axes to improve your target practice. However, the lightweight feature also restricts this product because it will not be effective in splitting large pieces of wood. However, it is perfect for dealing with small logs. Another benefit of having a lightweight hatchet is that it is easy to transport if you are hiking or are looking to pack light.
The SOG Camping Axe hatchet comes with a stainless steel blade which is very durable. Unfortunately, the head of the blade cannot be replaced. Therefore, if you need to improve the quality of your blade, the only way to do this would be by sharpening the blade. The head of this hatchet also acts as a hammer to increase the versatility of this product.
It will save you from having to purchase two separate tools or bringing two separate tools on a camping trip. It also comes with a textured handle that allows you to work comfortably without having to worry about your hand cramping or hurting after a long day of work.
Specifications
Stainless steel blade
3.1-inch blade
Lightweight
Wood hatchet and hammer in one
Camping hatchet with sheath
Pros
Boomerang effect
Sharp
Lightweight
Easy to handle
Cons
Too small
Easy to cut yourself on the sheath
Cannot replace heads
4. Schrade SCAXE2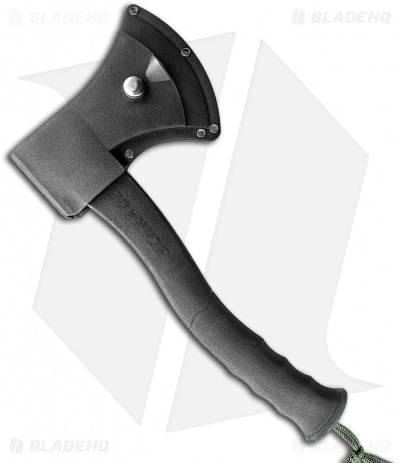 The Schrade SCAXE2 is another great hatchet on the market. Many enjoy the large blade that is made of a titanium coating along with glass fiber. These quality materials that are on the blade make it extremely durable. It is also very dependable and easy to use with its thermoplastic belt sheath. The blade is on the smaller side of the market which makes it more useful for smaller pieces of wood. It will not be as effective in splitting or cutting larger logs or trees.
These qualities make the Schrade SCAXE2 maybe the best camping hatchet no matter what the weather situation might be. Also, if it is raining, the special rubber grip ensures that you will not lose control of your hatchet.
The head of the hatchet also acts as a hammer. It is a perfect tool for hammering in the stakes of your tent. The versatility of this product is what attracts many customers. It is extremely practical for many different situations.
It is also a lightweight hatchet that is very beneficial for hiking or backpacking. This feature also makes it extremely easy to store and move around.
Specifications
Weighs 1 pound, 6.4 ounces
Blade is durable
Dependable
Secure
Rubber grip on the handle
Pros
The handle is a strong plastic material
Strong blade
Easy to store
Cons
Breaks into pieces
Doesn't arrive sharp
5. Gransfors Bruks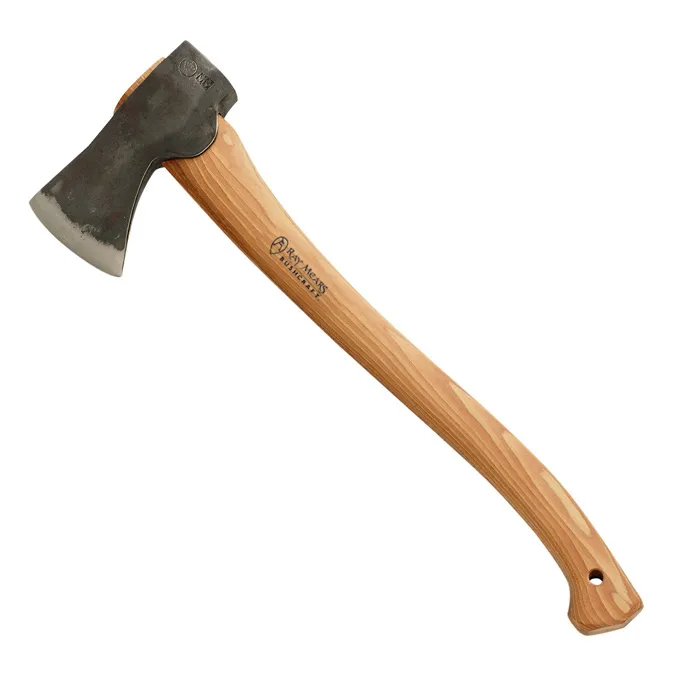 The Gransfors Bruks hatchet closely resembles a traditional hatchet. It is a great first hatchet if you are using it for the first time. For example, this would be a good tool to introduce to a group of boy scouts for the first time.
The handmade features of this tool are very rare compared to other hatchets on the market. This may be the main reason for it to drive up the price. It is more expensive than other hatchets on the market as well. It is very easy to carve or cut anything of your desire. The steel that it is made of increases the durability of this hatchet. It should be able to last decades before there is any chipping or wear-and-tear shown on the blade. The handle fits comfortably on your hand to be easy to chop and carve. The style and design of the handle also allow the hatchet to be more controllable when using.
The Gransfors Bruks hatchet also comes with a fitted leather sheath to protect the blade. This also ensures safety when the tool is not in use. This is the best camping hatchet and can get the job done.
Specifications
Weighs 1.3 pounds
Traditional hatchet
Handmade
Good handle
Pros
Comfortable
Durable steel
Reasonably lightweight
Cons
Cheap quality sheath
Small
Pricey
6. Gerber Bear Grylls Survival Hatchet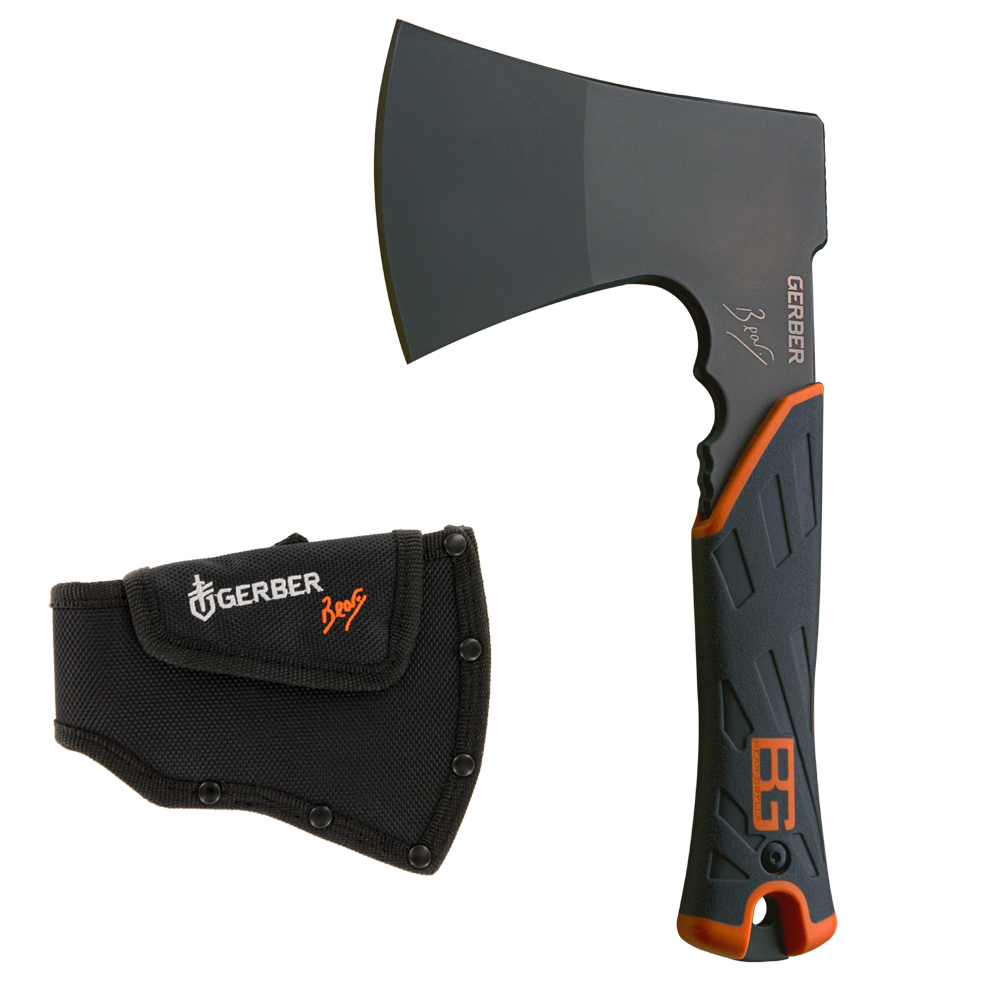 The Gerber Bear Grylls Survival Hatchet can be used for many chopping and splitting purposes. It has a great grip to protect yourself and others when in use. The non-slip rubber grip makes it safe to use in wet or dry conditions.
Some of the challenges customers noticed with this hatchet is the thin blade and lightweight tool forces you to use more muscles when trying to get the job done. It makes it harder to split branches when you don't have as much weight going into the wood. On the other hand, there are benefits to the lightweight feature. It is easy to use and have as protection when hiking. Unlike some of the other hatchets mentioned in this article, this one does not have a hammer on the head.
This hatchet comes with a nylon sheath to not only protect the blade but protect you from the blade when you are not using the tool. Another benefit of this tool is that it is ultra-compact. This is also another reason why customers like taking this tool on hiking trips.
The competitive advantage of the Gerber Bear Grylls Survival Hatchet is that it comes with a "Priorities of Survival" pocket guide. Unlike others in the market, this hatchet provides customers with numerous tips and tricks to stay safe in the outdoors and when using this hatchet.
Specifications
Lightweight
3.5-inch blade
Easily portable
Non-slip rubber grip
Nylon sheath with belt loops for accessibility
Pros
Good grip
Large blade
Nylon sheath
Cons
Inconsistent blade
Thin
Lightweight
Low quality steel
7. Husqvarna Wooden Hatchet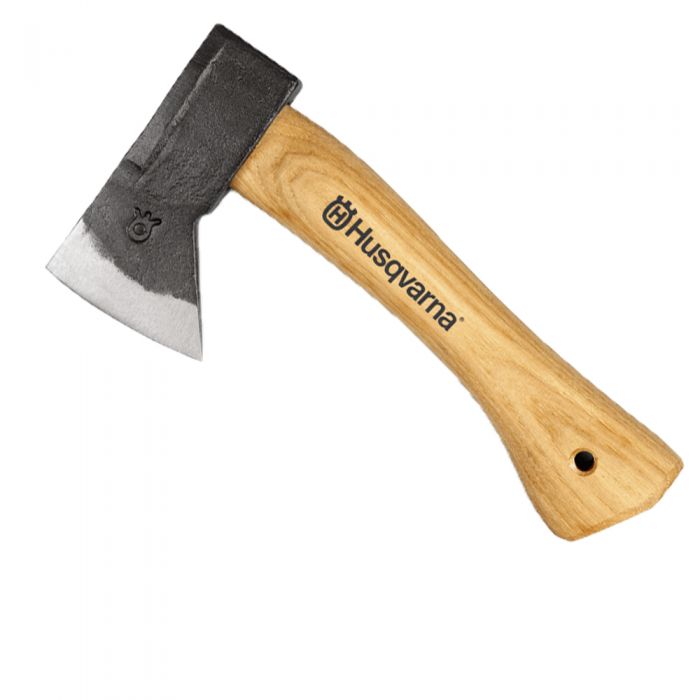 The Husqvarna Wooden Hatchet is a very traditional hatchet. The wooden handle is curved to provide comfort when using. However, it does not include any non-slip material to provide safety during wet conditions. This can also be a safety concern during dry conditions.
The Husqvarna Wooden Hatchet does weigh more than other hatchets on the market. Which does not make it a good tool to bring when hiking. The increase in weight makes it a great product for cutting or splitting large logs or trees. Also, it can be used for smaller pieces of wood. Swedish steel also contributes to the weight of this product.
However, it ensures that the blade is more durable. It is also lower priced compared to others. It does have a traditional feel to the design and style of the product but still gets the job done. Whether big or small wood, cutting trees or preparing fire kindling, the Husqvarna Wooden Hatchet can tackle any project you have to complete.
Specifications
Leather edge cover
Small
Weighs 2.4 pounds
Lower priced
No non-slip grip
Pros
Affordable
Time-saving
Quality steel
Cons
Breaks in half
Slippery handle
8. Elk Ridge ER-272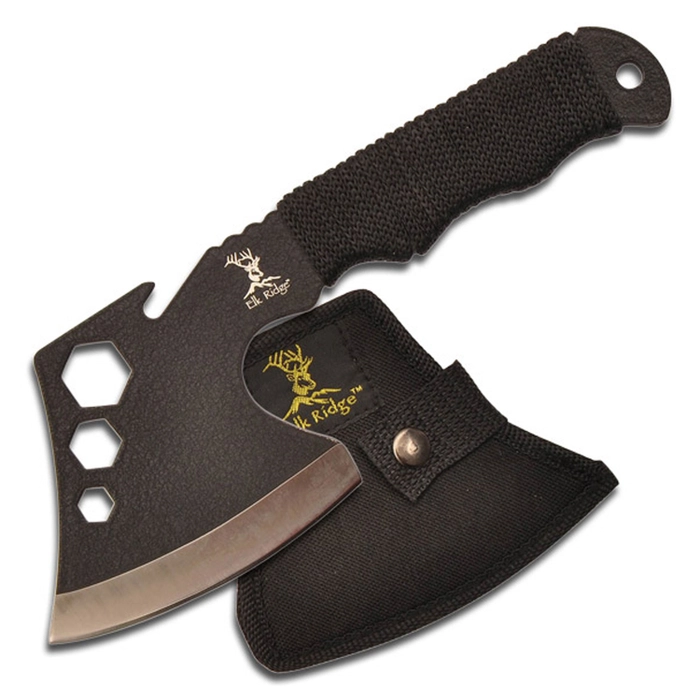 The Elk Ridge hatchet is made with a stainless steel blade. The blade is sharp for definitive cutting. It can execute all smaller chopping needs.
Many people use this product for its small and lightweight characteristics. It is great for cutting branches and preparing to kindle but not suitable for chopping large trees or logs. The lightweight feature of this tool is commonly used for hiking, camping, backpacking, and fishing. It is easy to carry. It can also be used for hammering stakes into the ground when setting up a tent camping.
This is a cheaper hatchet compared to others. The quality also explains why the price is cheaper. Many have experienced the blade gains dents and cuts easily shortly after using them. For some, the shape of the handle is not desirable and makes it hard to use. This product is not used for heavy-duty chopping projects but can split small logs.
Specifications
Lightweight
High-quality materials
Dependable
4-inch blade
Versatile
Pros
Lightweight
Affordable
Nicely shaped
Cons
Not heavy-duty
Chipped edges
Small
9. CRKT Ruger Hatchet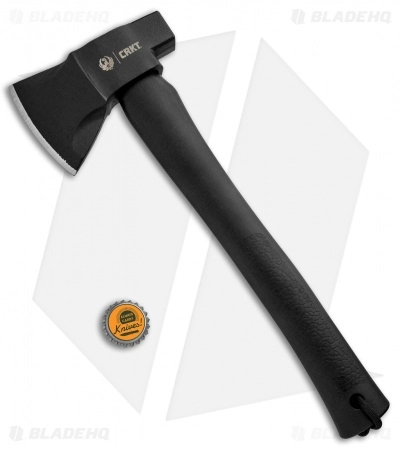 The CRKT Ruger Hatchet is reasonably priced compared to others on the market. The head of the hatchet is made out of carbon steel material to ensure the hatchet is durable. The polypropylene handle is strong and durable to handle any hatchet needs. This hatchet also includes a hammer. This feature is very useful when camping to hammer down stakes and poles.
Specifications
Carbon steel
Magnesium phosphate black coating
Hammer
Tough polypropylene
Strong
Durable
Pros
Reasonably priced
Good head design
Cons
Doesn't include a sheath
Dull
10. Off Grid Tools Survival Axe
The Off Grid Tool Survival Axe has a very unique design. Most of the other hatchets we have seen do not include a claw. This feature is a competitive advantage for this product. Additionally, it has a hammer that is an extra useful feature. It also has replaceable saw blades. Overall this hatchet has many unique features that we have not seen in other hatchets.
Specifications
Re-sharpened blade
Hammer and claw
Replaceable saw blade
Steel glass breaker
Weighs 1.6 pounds
Pros
Multifunctional
Small to save space
Cons
Cannot cut anything large
The blade is not very sharp
Thin claw
Higher priced
How to Choose The Best Camping Hatchet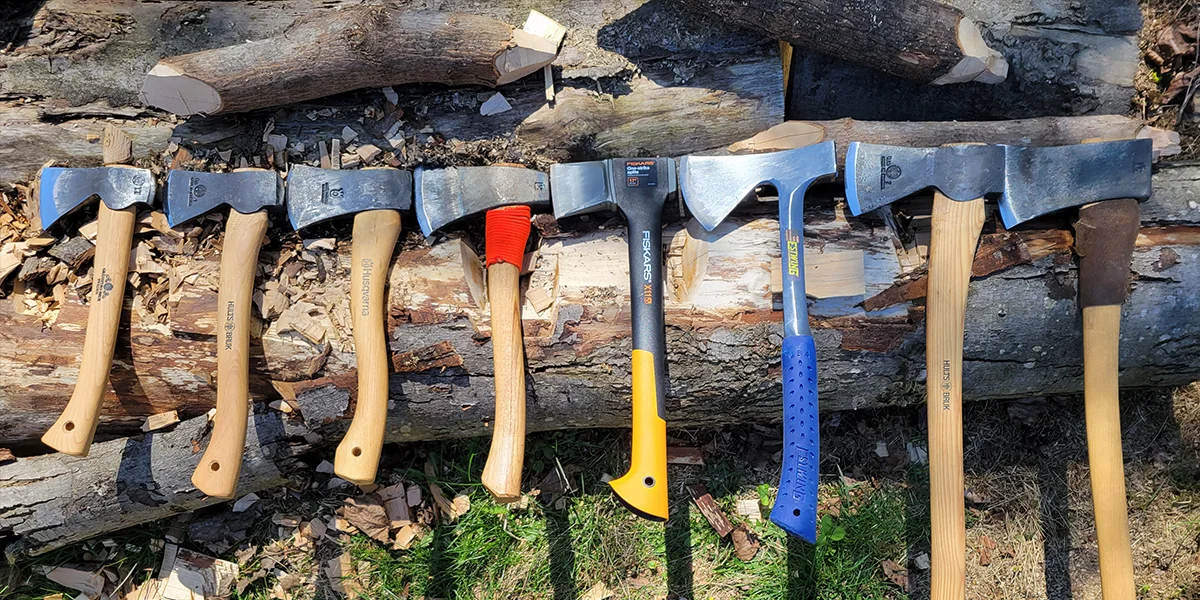 After reviewing many different hatchets that are on the market, it would be helpful for you to take into consideration a few important characteristics before purchasing.
Use
It is important to consider your reasoning behind needing a hatchet. Different people enjoy different products because of their intended use. If you are planning on using it to be convenient when hiking, a lightweight hatchet would be better than a heavier hatchet.
If you are interested in using it as a hammer as well, choose a hatch that provides this function. Maybe you are planning on using it to split small logs or prepare to kindle, you do not need a large or heavy-duty hatchet that weighs more. Taking into consideration what you use for a hatchet will help you narrow down your options to what fits your needs.
Material
Many of the blades we have seen are stainless steel. However, the brands come with different warranty features. If you are planning on using this item for many years, it would be better to invest in a hatchet that is built with higher quality materials. Yes, it is important to consider the blade and the sharpness of the blade, but it is also important to consider the material that the handle is made out of.
If you live in a climate where rain is common, you would want to purchase a hatchet that is made with a non-slip rubber material. You also want to purchase the material that is most comfortable for you. It is important that the material increases the safety of this product but that it also ensures you can chop and split away for hours.
Size
The size of the blade determines the size of the wood it is most suitable for. If you have a larger blade, you will be able to cut through larger pieces of wood. Therefore, if you have a smaller blade, you will be restricted to smaller and thinner wood.
Shape
The design of the handle is what determines your comfort level when using the hatchet. You want to make sure you can firmly grip this product for many hours. Your hand mustn't cramp when in use.
Best Camping Hatchet Conclusion
Finding the best camping hatchet is easy with the right information. The same hatches are useful for all kinds of outdoor activities, including hiking and fishing as well. The information above should be able to guide you in your purchasing decisions. Always remember that safety comes first when using and storing your hatchet. Chop and split safely.