Camping
Best Camping Hammock Reviews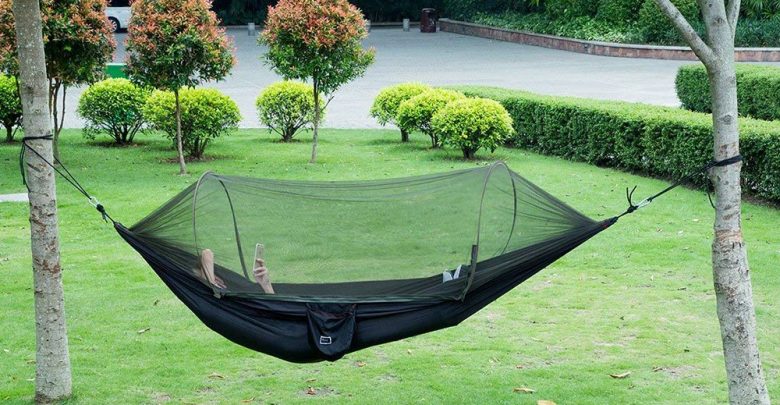 Camping hammocks are for daytime adventures. Those summer trips you have, you just put it up in some kind of shade and relax all day long. If you even want to sleep in them, you can always purchase a bug net, strap in on and enjoy the night. Camping hammocks are very light, you can pack them pretty easily, and putting them up is not that difficult. Here are some picks, and whichever you choose, you will be getting one of the best backpacking hammock.
Best Camping Hammock Reviews
1. Hummingbird Single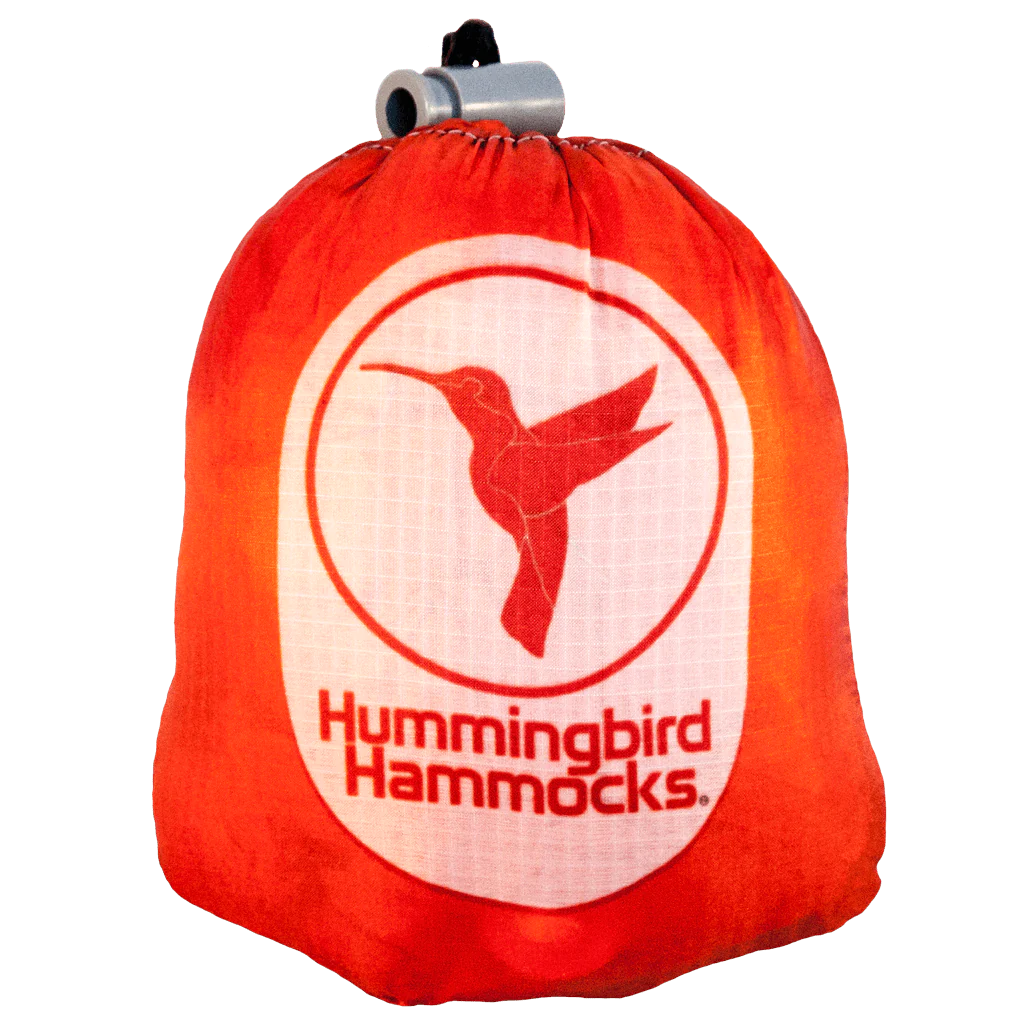 The hummingbird single is one of the lightest and compact day time hammock on the market. They are designed with the lightest materials, so you know that they are pretty easy to use. You can carry them anywhere and they are comfortable. A certified FAA parachute rigger is designing these hammocks, so you know that every Hummingbird is designed perfectly. The Hummingbird single comes in at 5.2oz and can hold up 300 pounds. They also have other versions of this hammock, like the Hummingbird single+ that is a bit longer and wider, and the Hummingbird Double that is made to fit two people.
The Hummingbird Ultralight Tree Straps go perfectly with this hammock. They are very adjustable, setting them up is so easy and the can hold up 400lb. When you buy Hummingbird hammocks, they don't go with tree straps. So, don't make the mistake of not getting some before you go on your trip. Because of its lightness and comfortability, it might as well take the first place when it comes to the best backpacking hammock.
2. Grand Trunk Nano 7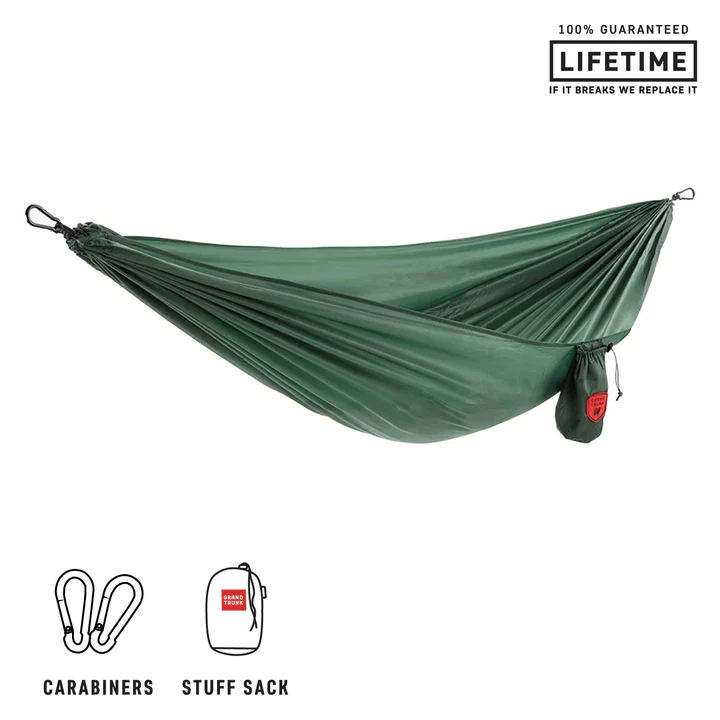 It is a little bit heavier than the last one we mentioned, but they are also easy to carry anywhere. The big plus is that you can pack them down to the size of a baseball, which tells you how easy it is to bring them anywhere. These hammocks come with bent wire carabiners, making them super easy to attach them to any tree. These also don't come with tree straps, so make sure to get some when picking up the hammock. Because you can pack them down amazingly, it is a big contender for the best backpacking hammock title.
3. ENO Sub6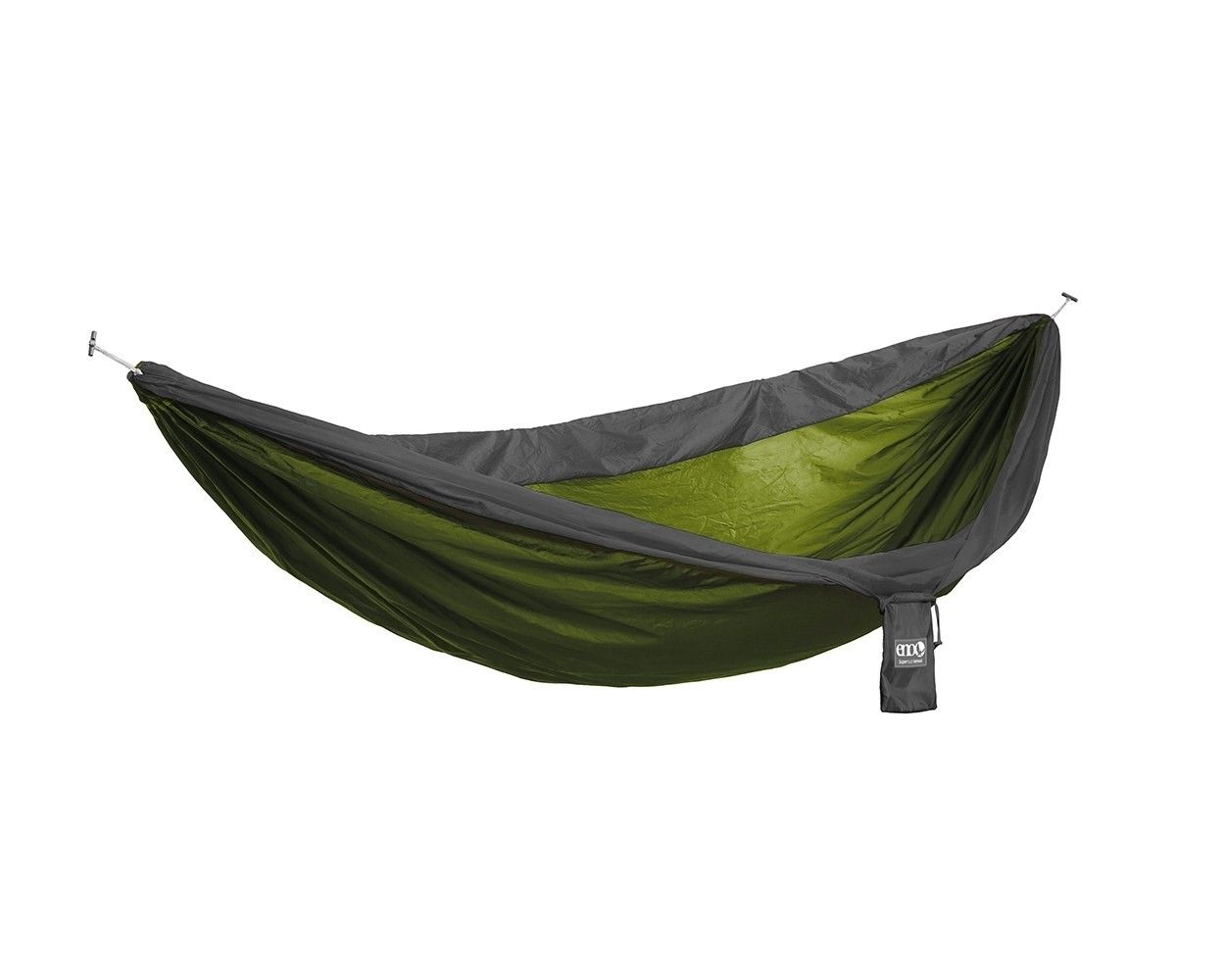 These hammocks also fall in the category light and easily packable. They are great for people who like to carry their hammocks everywhere and not encounter problems when setting them up. The Eagles Nest Outfitters Sub6 is light coming in at 6.5oz and can hold up to 300lb. Because it comes a little bit heavier than the Hummingbird, it also may be put in the category of the best backpacking hammock on the market.
4. Grand Trunk Ultralight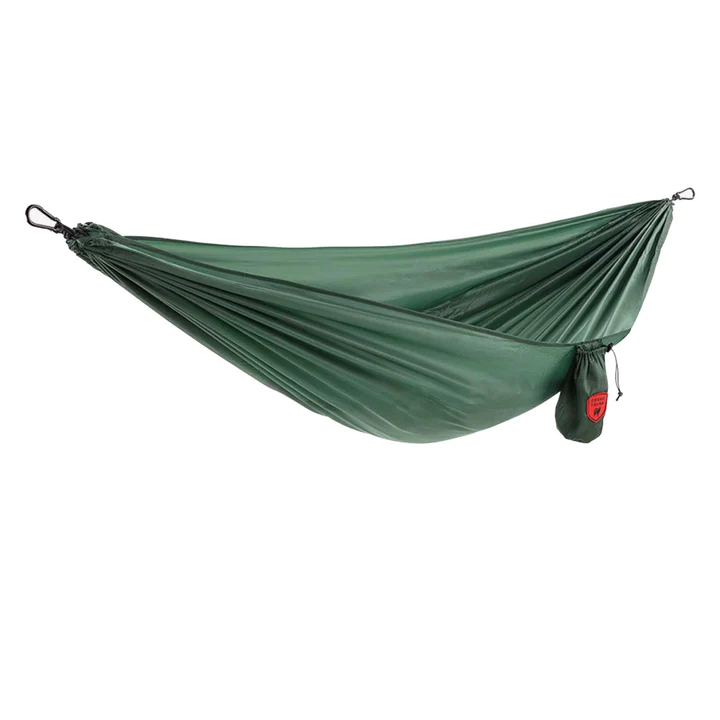 It doesn't fall in the category of most comfortable or light, because of the polyester, from which it is built. Yet, this hammock is popular because of their price and for a polyester hammock, it is not that heavy. The S-shaped hooks are not ideal, but you can always replace them. You can't compare this hammock with its nylon counterparts that are more comfortable and super light. But the price it has made it a big contender in the market. Because of its price it also can be mentioned in the best backpacking hammock conversation.
5. ENO Doublenest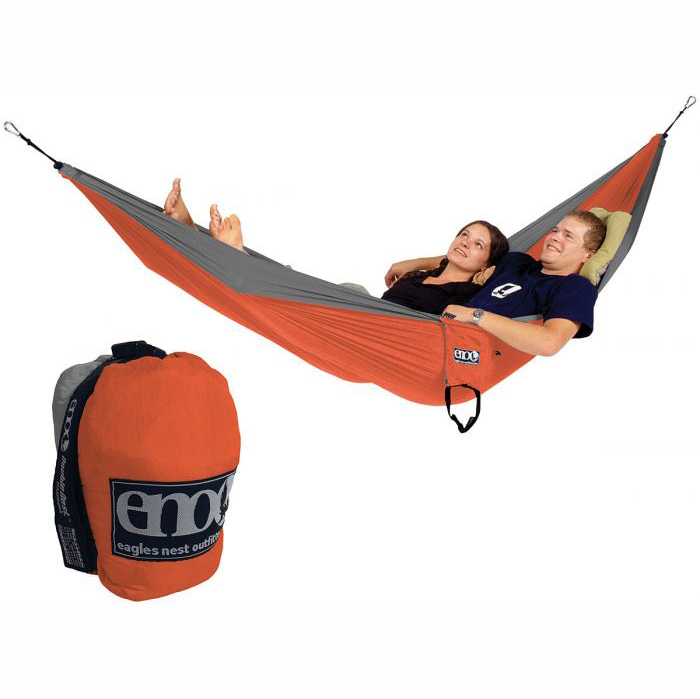 We have thought about putting the Eagles Nest Outfitters DoubleNest at the top because of its comfortability and its durability. It's big enough to fit two people, and it comes in many designs and colors. It is significantly heavier than the last hammock we recommended, but it is great to take with you when you go hiking and camping. If you don't like its weight, they have a model with the same dimensions, but has half the weight called ENO SuperSub Hammock.
6. Kammok Roo Double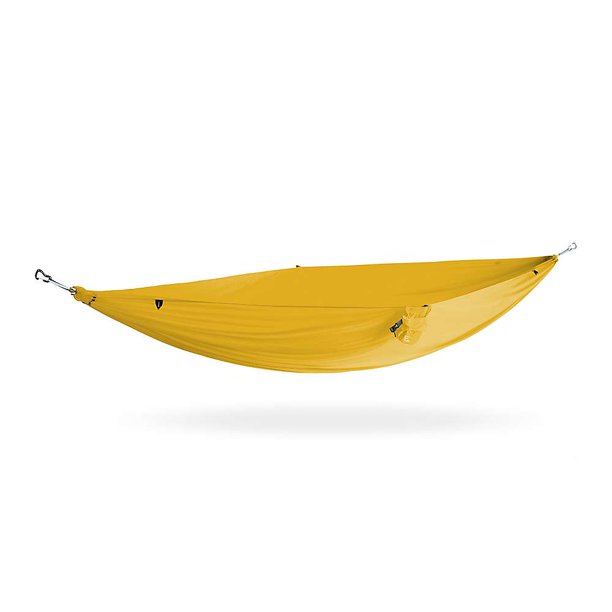 If we are talking about hammock royalty, the Kammok Roo Double is the one that fits the bill. It is one of the most comfortable, toughest, and largest you can find. It can fit two people with ease, and because of its durable materials, it will carry the weight no doubt about it. Because it is not that easy to carry, backpacking with it isn't ideal. If you want a single sized version of the hammock and you want the same comfort and durability, Kammok also has the Roo Single.
Best Backpacking Nighttime Hammocks
Some people when to try camping in hammocks, they never look back and quickly replace their tents with hammocks. Some will always prefer sleeping in their tents no matter what, at the end of the day, giving it a try can't hurt anybody. It can be more complicated, and if you don't try it out, how will you know if it is for you. It is all a learning process, and if you try it as much as you can, it can be a big change for you. The benefits of hammock camping can be big, and replacing those tents, you know that you will carry less weight.
Special Considerations For Best Hammock For Camping
INSULATION – When it comes to isolation, you have to do a bit of work if you plan on making your hammock a shelter for the night. It will get cold at night even if it is summertime, so with that being said, here are some solutions on isolating your hammock for the night.
Sleep on top of a foam or blow up pad in your hammock. 

This can be a game-changer if you are a beginner. But most people move around in their sleep so you may move away from it. It can be annoying, getting up in the middle of the night, trying to adjust. 

Get a double layer hammock. 

This option will reduce the shifting of the pad, but it will add weight to the hammock. Some hammocks come with a compartment that you place your pad in. So, you don't have to worry about getting out of place.

Use an underquilt. 

Underquilts don't come with hammocks, so you will have to buy one separately. Its purpose is to isolate you from the cold air from below the hammock. This method is used almost always by experienced hammock users.
DESIGN – People who want to spend the night in their hammock, the best type of hammock to get, is the one that has an asymmetric design. Referred to as a "flat lay", these hammocks will keep your head and feet lie lower than traditional hammocks, and you will be more comfortable. Almost every hammock camping user will tell you that the best camping hammock to get if you want to be comfortable is the one asymmetrically shaped.
PROTECTION – When we talk about day usage, you will need little to none protection. But when it comes to spending the night in a hammock, you will have to protect yourself from bugs, cold air, rain, and wind. Having no protection at night is a dangerous idea, and when you wake up, don't be surprised if you have caught a cold or your body is covered in mosquito bites.
TERRAIN – When you plan on going camping and considering using your hammock as a shelter for the night, make sure you ask someone that has been to the place you are about to go. Knowing if there are trees good enough to hang your hammock and if they are widely spread can be crucial. Because, you don't want to end up sleeping on the ground and using your hammock as a sleeping bag.
Best Camping Hammocks
1. Grand Trunk Skeeter Beeter Pro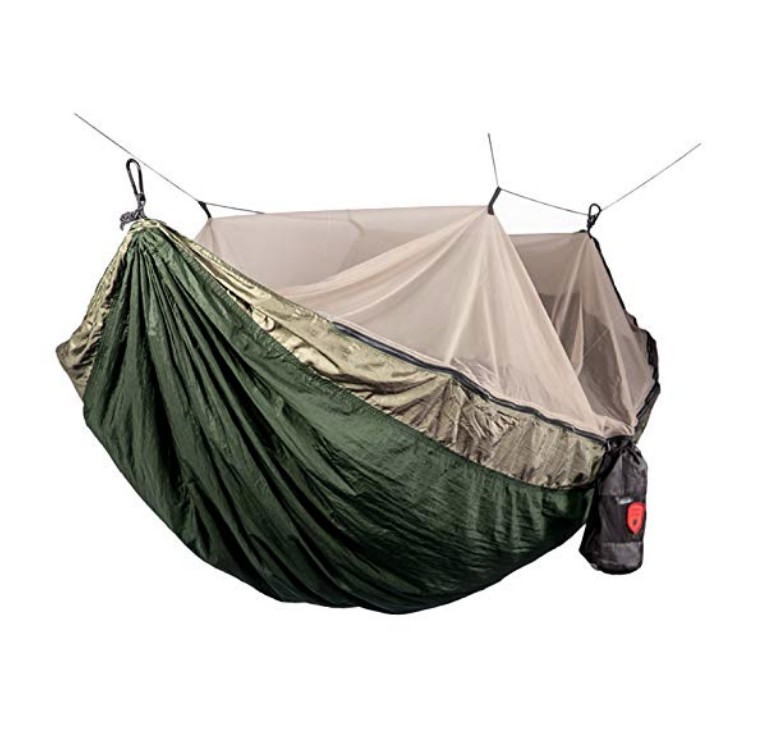 This hammock is maybe the perfect one if you want to start hammock camping. For the price that it goes, if you can't find a better one. But it also has its disadvantages. It is in a traditional form, so it won't be as comfortable, but because of its length, you will still get a good night's sleep. This model doesn't come with protective gear, so you will have to spend extra on a tarp to have protection from wind and rain. It may not fall in the category of the best camping hammock, but it will definitely do the job.
2. Hennessy Hammock Hyperlite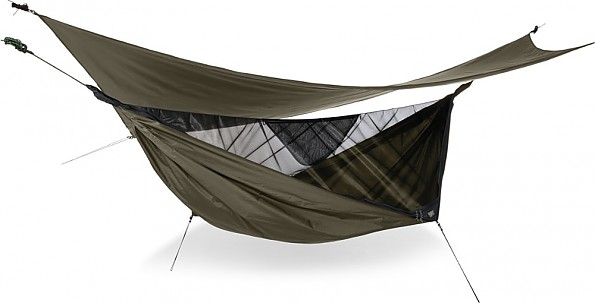 This model may be the lightest hammock on the market when it comes to camping hammocks. It also has an asymmetrical shape, which allows your body to lie flat. Unlike the previous hammock we mentioned, the Hennessy Hammock Hyperlite comes with a tarp for wind and rain protection, a bug net and other extra gear. There are two types of this hammock, one that you enter from the bottom and one that has a side zip.
This hammock can come in three different variations, the Hennessy Hammock Hyperlite, Ultralight Backpacker, and Expedition. They are all in the same dimension, but they are built with different materials, and as you go lighter the price increases. So if you want the Hyperlite model, you will pay the most, then come to the Ultralight Backpacker and at last the Expedition. It is obvious that the heavier the model is the more durable it will be. Nevertheless, all of these hammocks will last you a long time if you treat them carefully.
So if you are a backpacker, it is important to you that you carry as little weight as possible, that being said that Hyperlite is the best choice for you. The Hyperlite can hold up to 200lb, so if you want the hammock to hold up more, you should consider getting the Expedition model.
A quick note, all of these three versions are perfect for people who are 6 feet tall or under. So if you are taller than that, you may want to check out other versions such as the Explorer Ultralight model.
3. Kootek Portable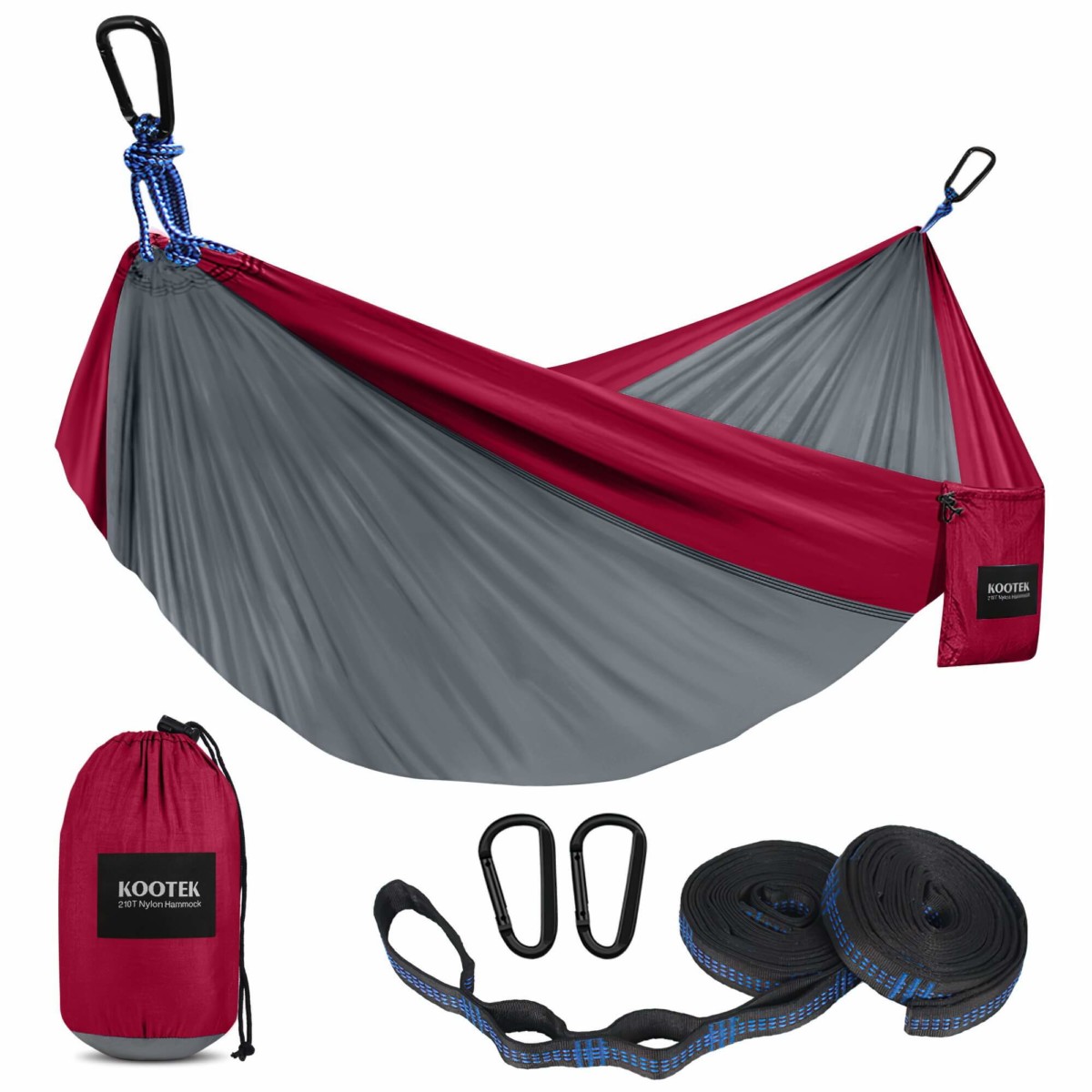 When it comes to holding up weight, the Kootek Portable hammock is the best of its kind. This hammock can hold up to 500lb with no stress. It is also designed with similar material as the previous hammocks, and is one of the largest hammocks you can get. Because it is so big, comfort won't be an issue, and you can easily lay down with your partner or friends for a good night's sleep. Also, this hammock has straps with a lot of loops, so you have more attachment options.
The downside of this hammock is that its carabiners aren't the best quality. Nevertheless, we highly recommend this hammock if you are looking for something to fit multiple people and will hold the weight very easy. We can definitely put this hammock in the category of the best camping hammock.
4. Sea to Summit Ultralight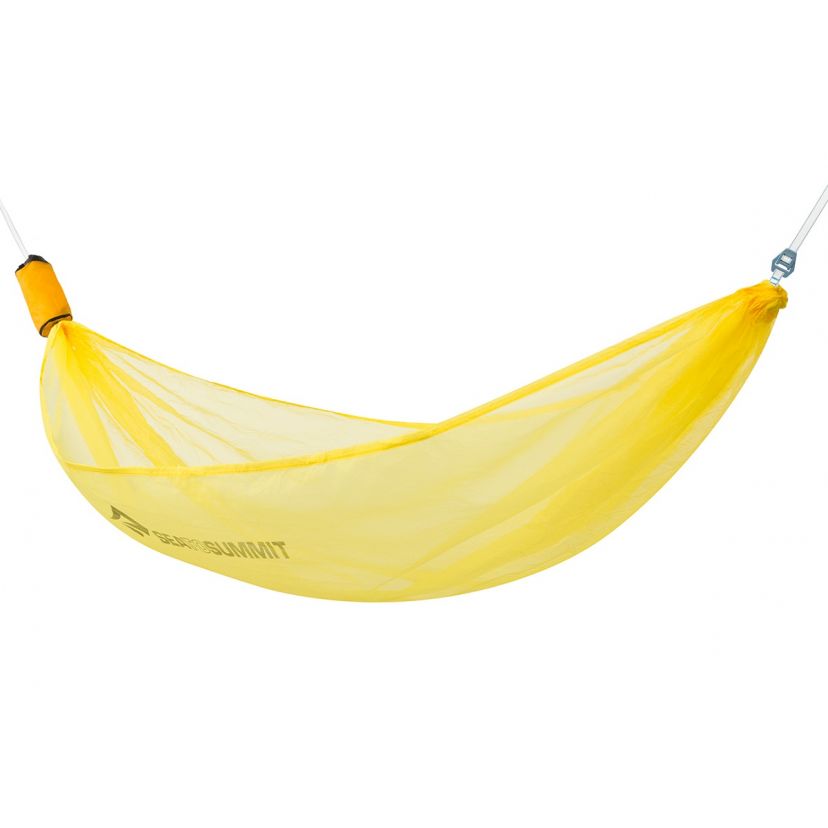 For people that are planning to go backpacking and want to have a light load on their back, this type of hammock is the best choice. How light are we talking? You will be able to put it in your backpack and feel nothing because it weighs 5.8 ounces. This hammock doesn't come with extra gear, like straps and suspension, so you will have to buy them separately.
It packs down to a size of a soda can and it is so thin that it is almost see-through. Sea to Summit Ultralight it`s not a big hammock, so people over 5'11" won't fit in it. It isn't asymmetric, so you won't get that good diagonal lay down. It has its downsides, but we can proudly put it in the category of best backpacking hammock with ease.
Best Hammock Straps
Almost every daytime hammock on the market right now doesn't include straps, which is a bit disappointing. Even if you excited and have already bought your hammock, unless you use ropes to put it up, which can be pretty hard, you won't get to use your hammock.
The worst thing is that some hammock do come with their own straps, but most of them are built with cheap material and are of low quality. So ether way to end up buying your own straps. But you're lucky because we have picked the best of the best hammock straps, so you don't have to do research.
If you don't know who to set up a hammock, there are numerous tutorials online that will explain every detail. And if you are feeling more adventurous, there are also guides on how to set a hammock without the straps and only using light rope and simple knots.
Suspension Types
WHOOPIE SLINGS – Whoopie slings are just a lightweight, very adjustable way of hanging up your hammock. They are super adjustable when they aren't under any pressure, and they use a simple loop and knot system that keeps everything in place. They all have small differences but all in all the same system.
STRAPS – Unlike the whoopie slings, the hammock straps are very easy to use. They might not be very adjustable or light, but they will help you get the job done by putting the hammock up quicker. It is the most convenient way of hanging a hammock because they have two straps with numerous loops on them. You just have to loop each strap around a tree and clip the hammock on each side.
1. Hummingbird Ultralight Tree Straps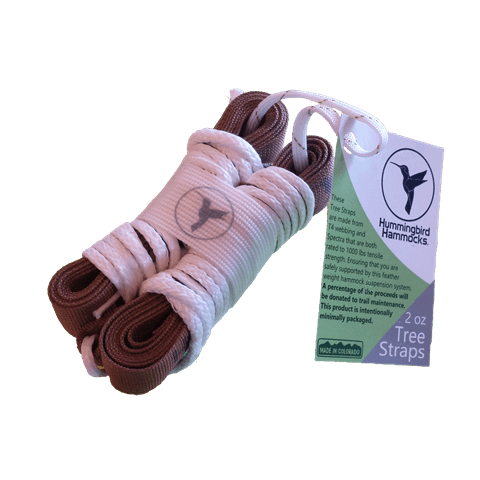 They are one of the lightest straps you will find on the market. They are designed as a whoopie sling. Because of that, they are adjustable and very quick to setup. They can hold up to 400lb, and the two straps combine up to 2.1oz in weight.
2. Wise Owl Outfitters Hammock Straps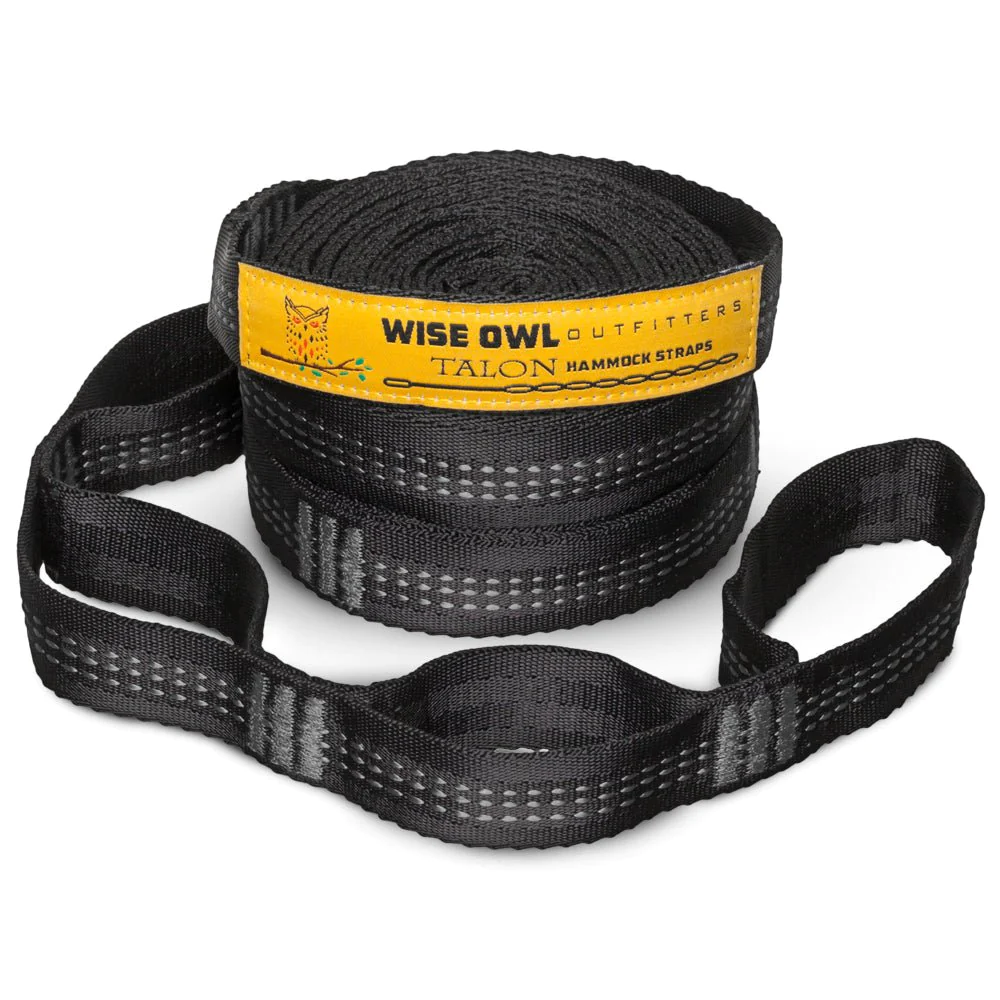 What makes these straps one of the best on the market is because of their design. They are super easy to use and are an excellent choice for beginners. Wise Owl Straps may be more expensive than others, but the quality is there and they won't disappoint you. They can hold up to 400lb and they weight about 15oz.
3. Rallt Hammock Tree Straps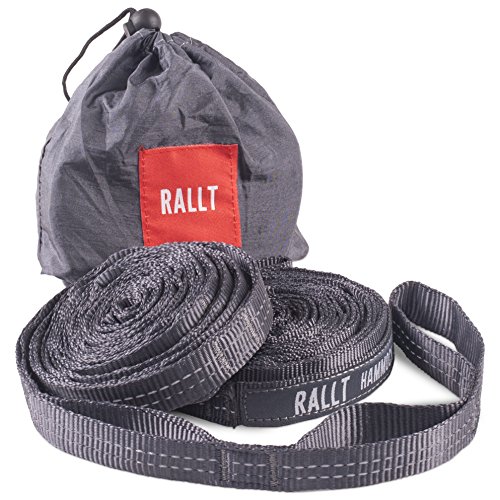 Upon revision, these might be the best hammock straps that money can buy. Rallt has made an amazing product that is lightweight and is incredibly strong. They are pretty easy to pack, and when it comes to putting your hammock up, they do their job perfectly. They can hold up to 500lb and they weigh almost 12oz.
Best Hammock For Camping

 Considerations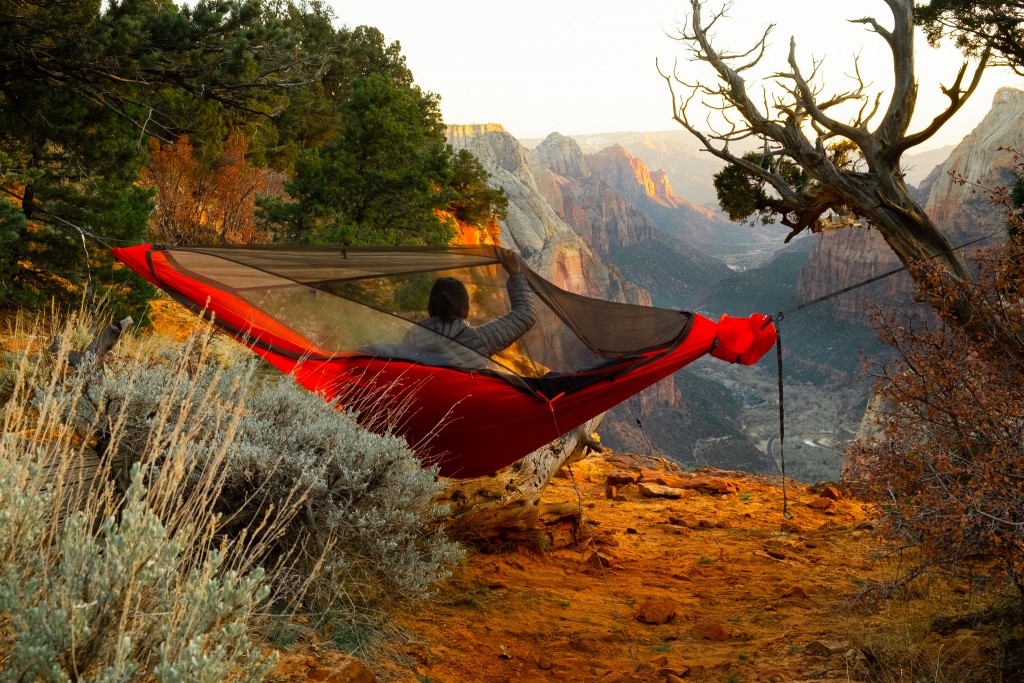 PRICE – You don't have to spend a lot of money to get a good hammock. But of course, with a higher price comes higher quality. We have put multiple options for you. So either you can pay extra to have the best hammock on the market or just buy one that will satisfy your needs.
WEIGHT – When it comes to backpacking, weight is very important. That is why we recommended some hammocks that are in the category for the best backpacking hammock. So when you put them in your backpack, you will hardly notice them inside. If you want a big enough hammock to fit one more person, there are options as well.
DIMENSIONS – If your plan is to spend the night in a hammock, getting a larger one that will be more comfortable for you, it is a good idea. It will be more comfortable for you if the hammock is longer and wider. When we put hammocks in the category best camping hammock, every single one of them is models that are wider and bigger. If your only use of the hammock in the daytime, any shape or form will do its job.
STRENGHT – It all goes down to what material are the hammocks made. Every hammock we have recommended here has been tested. We can say that if you get one, you won't have the risk of slipping out. It goes without saying, the heavier the hammock is, the more durable it will be.
CAPACITY – If you are planning on laying or sleeping solo, there are multiple models for you to choose from. That also goes for people who plan on sharing their hammock with a friend or loved one. There are hammocks designed for two people, but because they are larger, they will be heavier.
BEST USE – As we said, some hammocks are designed just for laying down and chill in the daytime. But there is also a hammock that is designed to spend the night in them as a shelter. Because you will use them for sleeping, they do require more gear than your normal daytime hammock.
STRAPS – It is a bummer that most hammocks don't come with straps. Even the small percentage that does have straps when you buy them, they aren't the best quality. Buying your straps that we have recommended can save you so much time and you won't stress out while trying to hang up your hammock.
BUYING ONLINE – If you don't have stores near where you live that sell different types of hammocks, buying online can be the best thing. Almost always you can return the purchased hammock if it doesn't quite fit your needs. The best thing you can do when buying a hammock is to test it in your back yard or take it to the nearest park. If you see a problem, you have the option to return it or replace it with the one that will be the right one for you.
We have recommended everything that we know about different types of hammocks. The next step for you is to get yourself a hammock of your choice and plan your next camping adventure.