Fishing
Best Fishing SUP Boards – Reviews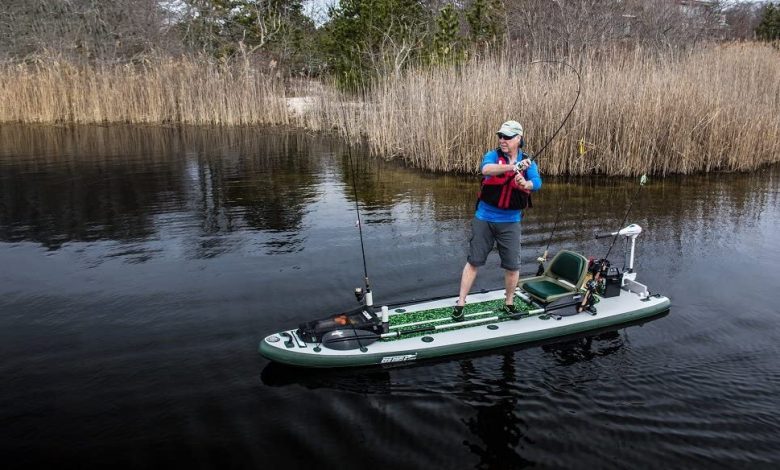 When you think about going fishing in your nearest spot, most of the anglers think of going for a boat or canoe. But what you don't think about is a paddleboat. Paddleboat can provide you all the stability you need when fishing while keeping things interesting at your end. A paddleboat is a fantastic way to spend your day on the water, paddling, and fishing. You will find numerous paddle boats in the market, but you won't always know which SUP to choose. That is where we come in. We understand how difficult it is to choose one paddle boat from a myriad of options. Because of that we did our research and came up with the following options for you. Check out the Best Fishing SUP Boards out and find the one that will work best for you.
Best Fishing SUP Boards Reviews
1. Elkton Outdoors Grebe 12 Foot Fishing Inflatable Paddle Board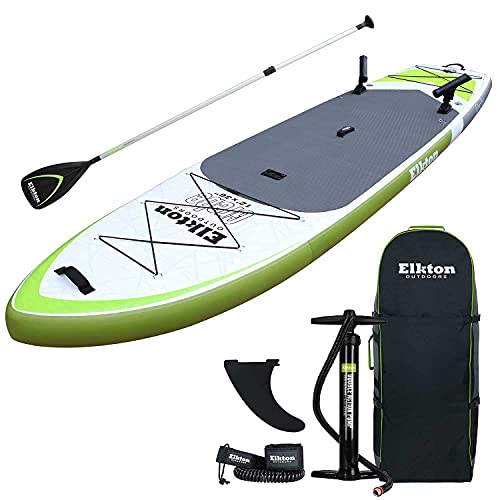 Our very first recommendation for best fishing SUP's is a from a renowned company that is known for making some of the best cooler, kayaks, and fishing vests in the market. The company has just recently released the Grebe 12 Foot Fishing Inflatable Paddle Board. So, it wouldn't have been fair to our readers if we didn't start this list from the best.
This inflatable paddle board is fantastic for all its features, versatility, and storage space. It is one of the wisest choices if you're looking for a SUP for casual excursions. It is one of l boards in the market with its amazing dimensions, such as 3-feet wide and 12-feet long.
These dimensions provide you with all the room you need to store your gear while you have a fulfilling past time.
Let's see everything that Elkton Outdoor Grebe 12 Foot Fishing Inflatable Paddle Board is offering you,
More significant and broader inflatable paddle boards are ideal for bringing a lot of gear on your fishing trips like coolers or boxes while being able to transport it efficiently.
The model is stable because stability is all you need when you're reeling in a bigger fish. You don't want to get caught off-balance while you're getting the fish you dreamed of.
While combining the heavy-duty PVC, the body is made out of drop stitch technology that is not just lightweight but also resists punctures and trips tremendously.
The board features an EVA textured pad where you will be standing while there are cords thoughtfully placed on the board to keep your things intact and in order.
The board features three carry handles that will make transportation easier for you.
Best Inflatable Fishing SUP Board
2. SBBC Premium Inflatable Stand Up Paddle Board Package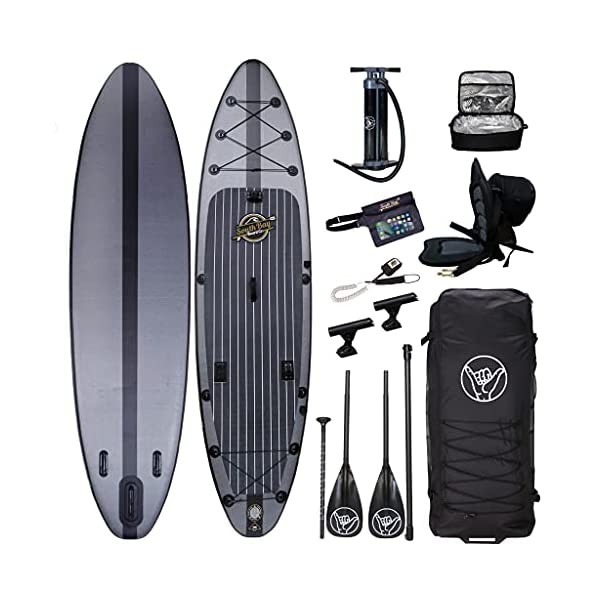 Do you want to know what makes SBBC's Premium Inflatable Stand Up Paddle Board so worth all the noise? It is the fact that this board is one of the best inflatable sup for fishing you can ever find. The company has put their heart and soul into the manufacturing of this board. The best part is, it comes with a lot of space where you can store all your accessories conveniently.
The board has a pretty much excellent dimension with 10 feet and 6 inches in length along with a width of 32′. We have to say this isn't the most extended board on our list, but the range is still good enough. The thing that we loved most about SBBC Premium Inflatable Stand Up Board Package is its thickness. The board is 6″ thick, which makes it one of the most stable boards in the market.
Let's talk about everything that SBBC Premium Inflatable Board offers you,
The board has been constructed by combining drop stitch technology and military-grade PVC layers. This makes it highly durable and worth the money.
The board is extremely lightweight, which will allow you to paddle and maneuver around easily.
It features a thick EZ carry handle that will ensure you have no trouble carrying it in and out of water.
The company has provided the top paddle deck with a nice fingerprint texture that feels soft and nice to the touch, and that ensures your hands don't slip from the paddle even if they get wet.
The board also features bungee straps that can help you store all your gear in a very contained environment.
3. Sea Eagle Inflatable FishSUP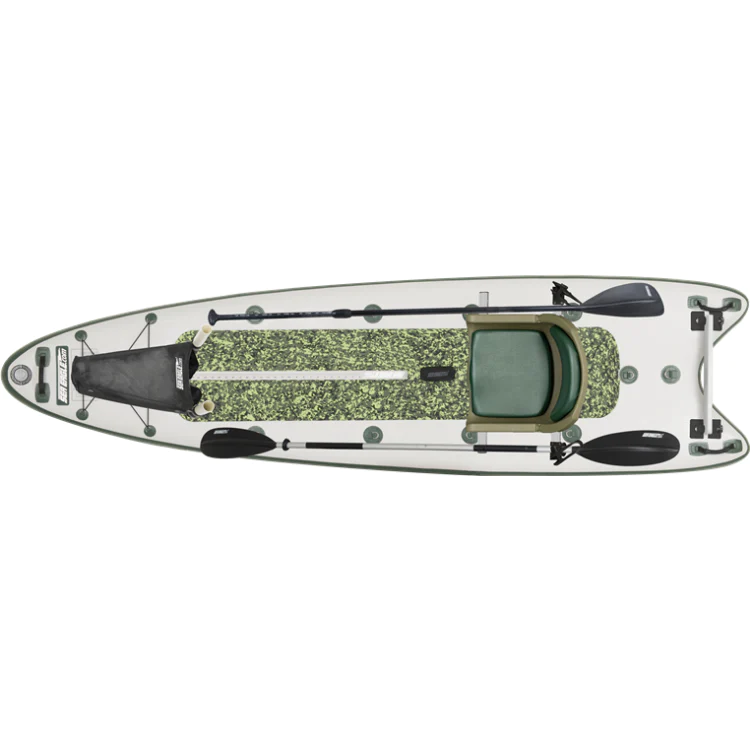 If you have been hunting a SUP that offers you a truckload of heavy-duty, then Sea Eagle Inflatable FishSUP is going to be the game-changer for you. This SUP caught our attention because of its construction and the weight capacity it offers, which is, by the way, phenomenal. The board can carry 500lbs of weight along with several of your accessories.
The board measure 40″ inches wide and 12″ long, both of which dimensions are insane. If you are looking for a board that provides you with the utmost stability and high level of support, then you just cannot pass this up.
Let's look at all the fantastic features Sea Eagle Inflatable FishSUP comes with.
One of the things that we loved about this board is its versatility. You can use it with a variety of accessories very quickly.
The company has added a seal in this board that swivels along with a trolling motor. Of all the SUPs we have seen in the market, we didn't see any other board that came with both these features.
The company has manufactured Inflatable FishSUP with 1100 Decitex Reinforced Drop Stitched Material. You won't have to worry about ripping apart because this board is made to last a lifetime.
Another fantastic feature that we haven't seen anywhere else is the cool traction pad. It is made out of long-lasting EVA foam. The board also comes with a built-in ruler that will allow you to measure the size of your fish beforehand.
You will also find a nylon mesh storage box, fishing rod holders, and stainless steel D-rings on the sides of the traction pad to make things even easier for you while you're busy fishing.
The only thing that set us off a bit was that the bag in which the box can be folded into isn't waterproof. Other than that, this board is impressive.
4. Aqua Marina Drift Fishing Inflatable Stand-up Paddle Board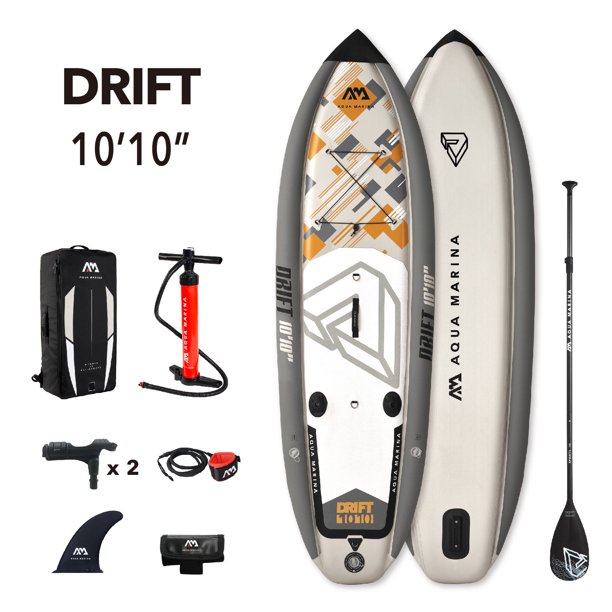 Among all the boards that we tested, Aqua Marina Drift Fishing Inflatable Stand-up Paddle Board is another SUP that we tried out and loved every bit of our experience. The overall construction of the board is phenomenal. You also get a few extras in the package, which makes this board all the more worth buying.
The length isn't that much as our previous model offered. But still, 10 feet and 10 inches is a pretty good length. The width, however, is quite more extensive than most of the products that we have recommended so far. This makes this board lovable all the more.
The feature that made Aqua Marina unique is the sidewalls that will keep the person fishing safely from tripping over. If you love fighting a huge fish while on the river or you're fond of fishing while standing up, then you are going to love the extra stability that Aqua Marina offers you.
Talking about all the features of Aqua Marina Drift Fishing Inflatable Stand-up Paddle Board down below,
The board is capable of taking a material because it has been manufactured by using military-grade material, combining it with drop stitch technology. Once you have gotten the board on the water, the body feels extremely sturdy and well-balanced without even a hint of instability.
The weight capacity of Aqua Marina is 280lbs, which is more than enough for most of the fishing enthusiasts.
You also get a bungee cord and D-rings to keep all your accessories in one place. You also get several D-strings on the traction pad so you can attach your cooler easily.
The company has integrated the board with a diamond-grooved traction pad that feels cool to the skin and is very easy to stand on.
You also get two built-in fishing rod holders. This will keep them from going overboard while you take a break or paddle to maneuver.
The best part is, if you're on a budget, the Drift by Aqua Marina is one of the most affordable and durable options for you.
5. California Board Company CBC 10′ Marlin Foam Fishing SUP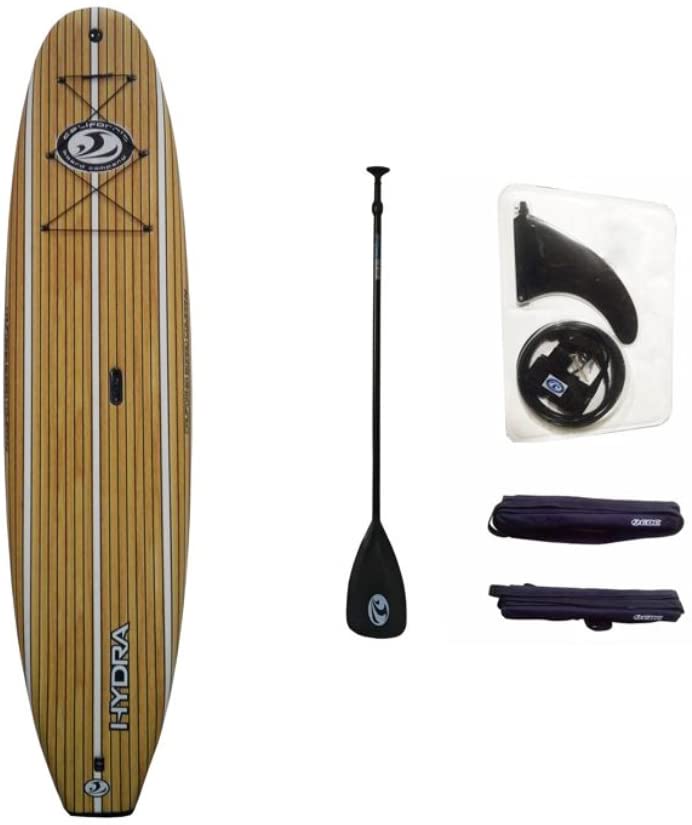 Have you been hunting down an ultimate budget-friendly SUP that will allow you to fulfill all your fishing dreams without having to overthink your pocket? If so, then you should check out California Board Company CBC 10″ Marlin Foam Fishing SUP.
The board comes at half of the price as compared to most of the SUPs that you will find in the market. As most of you might have been thinking that since this is a budget-friendly board, the quality might not be up-to-the-mark, but that is where we will have to disappoint you.
This is a fantastic fishing board that offers you all the main features you find in most of the premium boards. It is made with 100% High-Density waterproof foam, which keeps the board lightweight and stable.
Talking about all the significant features of this California Board Company CBC 10″ Marlin Foam Fishing SUP down below.
This is among the shortest boards on our list, which means it is a very easy maneuver. It won't be as fast to track as compared to the longer boards, but it is still worth the price.
The width is pretty wide, which provides you all the storage space you need to keep your accessories.
The board comes with some loose board mounts and 2-rod holders. This will keep your fishing rods in one place without any hassle.
California Board Company has integrated the board with bungee cords on the front and the back to help you keep all your accessories in one safe place.
The traction pad is also soft and sweat-free. This will allow you to stand easily even if you have to stand all day.
6. ISLE 11'6″ Sportsman | Inflatable Fishing Stand Up Paddle Board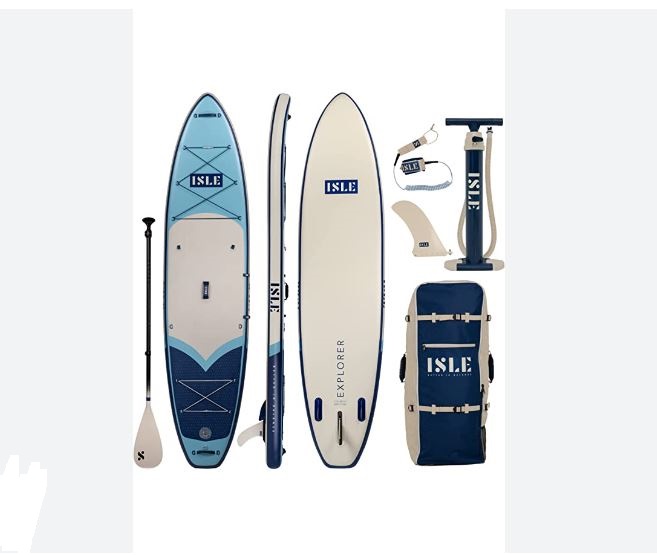 Last but not least, ISLE Sportsman is among those companies that have been known for manufacturing fantastic gear for fishing. Their SUPs are spoken for, and the board that we chose to test is their Inflatable Fishing Stand Up Paddle Board.
This is the perfect board for all the beginners out there. If you love fishing, but you're intimidated at the thought of going all-in with the sport, then you should go for ISLE Sportsman Inflatable Fishing Stand Up Paddle Board.
The length of this board is 11'6 feet while the width is 36,". Both of the dimensions aren't bad at all. We love how lightweight this is, and because of that, it is effortless to maneuver around if you're new to the sport.
We have enlisted down all the features of ISLE Sportsman Inflatable Fishing Stand Up Paddle Board down below for you to take a look at.
The board features military-grade construction, which is highly durable and provides all the support the user needs.
It comes with a soft and smooth textured traction pad that provides the necessary grip user needs while standing. The pad keeps the user stable even when he catches a fish that might be a little out of his control.
The board doesn't come with any rod holders, but it does have Scotty Mounts. So you can add the rod holders you choose yourself.
If you happen to be someone who loves catching fish while standing up on the board, then this will be the best choice for you.
Conclusion
So, these are all the best fishing SUPs that we found in the market for you. We loved all these recommendations personally, and they are all tested by our users.
If there is a SUP that you have been using yourself and is worth recommending? Then do let us know through your feedback below.