Hunting
Lucas Gun Oil Review: Guns Love Lucas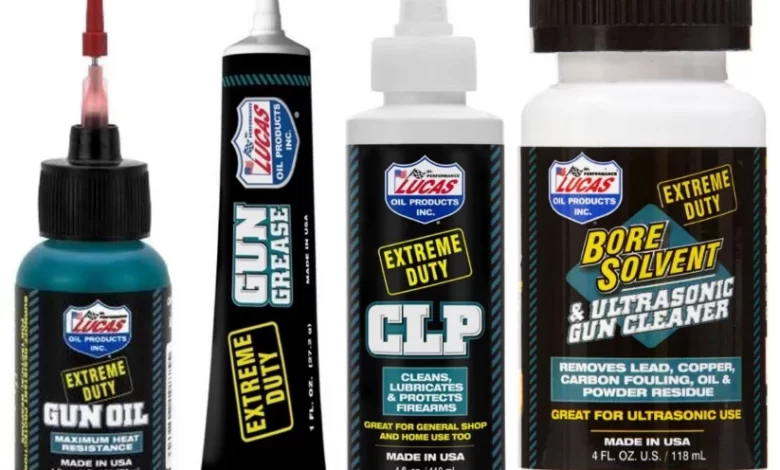 When you ask random people about what first comes to their minds when you say Lucas Oil, the few things that instantly pop up are car maintenance and racing. But since this American company was founded in the 80s, their line of products has increased immensely. When you compare Lucas Oil to other automotive companies from the US or anywhere in general, you can see that no other has grown as much as they have in the past 40 years.
All of their products can be found in 40 different countries around the world and in almost every car parts stores. They were also very determined to get in the market for firearm cleaners, and you would think that the existing companies such as Hoppe's 9 and Rem Oil would be your first choices, but Lucas Oil with their high-end oils and lubes have been a strong challenger. Today, you can read Lucas Gun Oil review, his ratings, price, ingredients and everything you need to know about this oil.
And people have been saying that because Lucas Oil is already known for their high-end oils and lubes, the expectations for their line of gun maintenance products have been set high. Some people who have tried this line of products have said that every expectation they had has been met. Also, added that the products could easily compete with the products of other big companies in the market.
Lucas Gun Oil Review
People who have reviewed the gun oil have said that there is something captivating when you get that little bottle of gun oil. Because it has a very simple design with the company logo on it, to some users it is quite enough. The deer that Lucas has also put on the bottle can be a suggestion that this oil is good for your hunting rifles and shotguns, but some people have used it with their smaller guns, pistols and even their compound bows. Reviewers of the oil said that the formula that the oil has perfectly gone into the metal components of the weapon and cleans the dirt, rust and other dirty things that are on the gun.
It may not be as good as a standard CLP, but this oil also has perfect protection. After you have cleaned your gun, there is still a layer that keeps the gun protected. With that layer in place, future fouling can be prevented. It also keeps the gun from overheating and protects it from future wear and tear. Because of its affordable price, people have been recommending this oil if anyone needs a good gun oil that will do the job.
Lucas Extreme Duty Gun Oil & Grease Review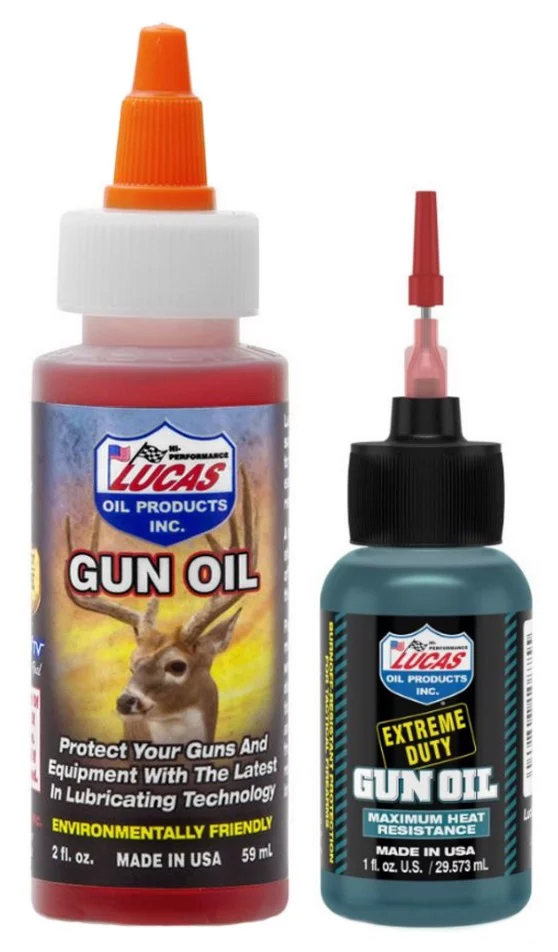 The Extreme Duty Gun Oil, on the other hand, is quite different from the normal oil. When you use and operate with firearms that take more fire volume and will heat up quicker than other guns, the normal, standard oil will not cut it, so there is where the Extreme Duty Gun Oil comes in. Not only will it sustain your gun if your firing volume is higher, but it will also protect the gun in extreme conditions, whether they are hot or cold. This product is more of a protector, quite the opposite of the standard Lucas gun oil. Lucas Oil's Extreme Duty can be a lubricant and can also be bought as gun grease.
The one thing that makes this line of oil stand out is the high melting point. With this oil, it will begin to melt around 600 degrees, which is double the temperature that takes the normal oil to melt. Because of its high-temperature tolerance, it gives the gun more lubrication for a longer period of time.
Lucas Oil Gun Oil Ingredients
The making of these oils is quite simple if fact. All of the ingredients are combined together to create a perfectly thick, red oil, that doesn't give out any smell and when applied it can stay active for a long period of time, even if you don't use the firearm. The Extreme Duty line of products is made so effective by the blend of ingredients such as oil and petroleum-extracted additives. All of the ingredients used are of course, eco-friendly, and it is a common myth that the more safe ingredients you use, the less effective the end product will be.
At the end of the day, these oil products prove that those myths are just that, myths. Even though they use so many environmentally safe components, the oils do their jobs amazingly. They are strong cleaners and protectors of the firearms you use them on and can withstand any harsh encounters.
Where to Buy Lucas Gun Oil
Like we mentioned at the start, Lucas Oil products can be found in almost every car part store or sporting goods store. If you go to your local sporting goods store, you will definitely find what you are looking for. If you like to buy some of the products online, you can either check for them on Amazon, and the other obvious place to look for them is on the Lucas Oil website.
Lucas Gun Oil vs FrogLube, Remington Oil and Hoppe's 9
Because they are relatively new products, some comparisons can be easy, but some can be hard as well. In some categories, the fall down a bit, but what you get overall, it is still a top tier product. Their lube is not quite as efficient as FrogLube, but we can say that it is a better protector. And for the Extreme Duty line of product, we can say that no one gets close to it, and with the price the product has, they are certainly more affordable.
Conclusion
If you decide to buy some of the products from Lucas Oil, you will see that you will be getting a top tier product that will take care of all of your needs. They continue to excel and then maintain that level of effectiveness. They are quite dependable and you can find them almost everywhere, and with the price they go with, they are a fantastic product that you will be more than happy with.