Camping
The Best RV Roof Cleaner – Reviews and Buying Guide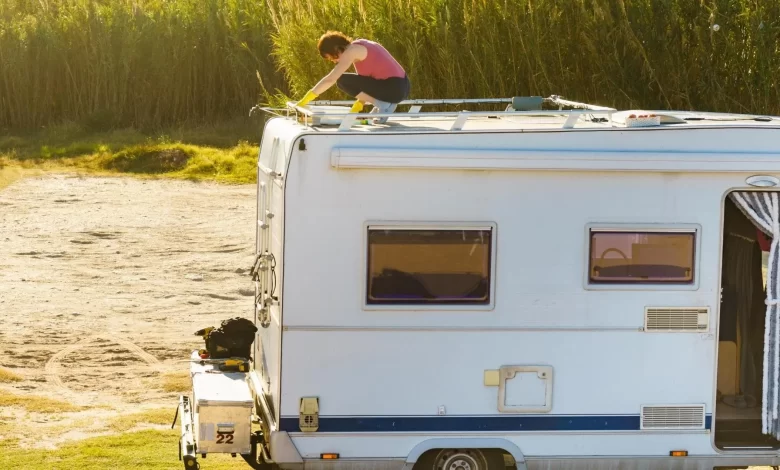 Among the simplest operations to have a clean RV roof, the most immediate and within everyone's reach is a cleaner. So, how to choose the best RV roof cleaner?
Snow, air pollution, sun and saltiness affect the bodywork of the RV, especially the rooftop. There is no better way to carefully check the condition of a vehicle than to clean it personally. So, how to choose the best RV roof cleaner? This article offers nine best options and an in-depth buying guide.
Top 9 Best RV Roof Cleaners
Best Overall: Camco Pro-Tec RV Rubber Roof Cleaner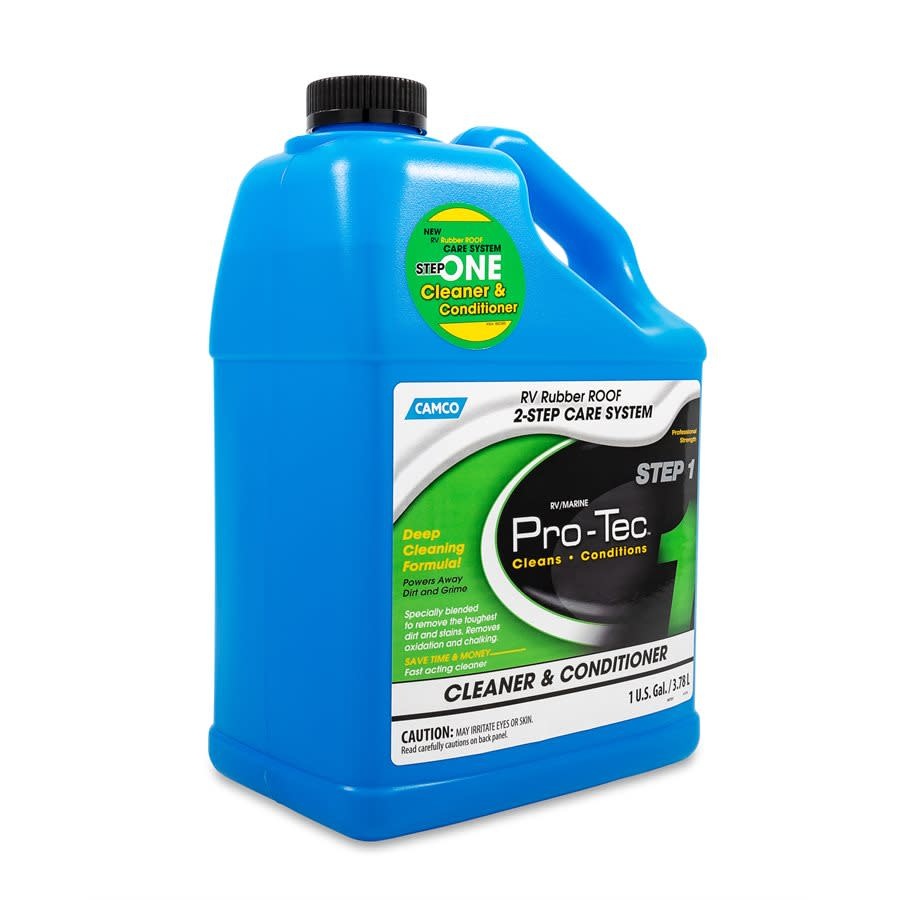 Camco Pro-Tech RV Cleaner comes from one of the most well-known car cleaner company, Camco. The product contains detergent and protectant function, which is almost a 2-in-1 unique feature. It can save a certain amount of your money from buying a separate protection product.
Besides, many customers love the Camco cleaner's efficiency of protecting the RV roof from ultraviolet rays. This function is fascinating because everybody always has a lousy experience when trying to find a cool place to park their RV.
In addition to being very powerful against the sun heat, it can also well eliminate the contaminants that often accumulate on the roof such as tree sap, dirt, and bird droppings. It is also efficient to remove the terrible scratchpad.
Most customers praise that product that it can make the RV roof look cleaner and tidier than other alternatives. However, for those who are environmentally-friendly user, there is a drawback that this unit is non-biodegradable.
With a manageable price, especially when it comes with additional protective agents, there is no argument that the Camco Pro-Tech RV Cleaner is our top pick for the best RV roof cleaner.
Pros
Double treatment to reduce potential damages efficiently
Reliable UV protection and anti-fouling capabilities
Affordable price
Get rid of all contaminants such as sap and road dirt
Cons
Being a non-biodegradable product is unfavourable to all environmental protection projects
Best Value: ProtectAll Rubber Roof Cleaner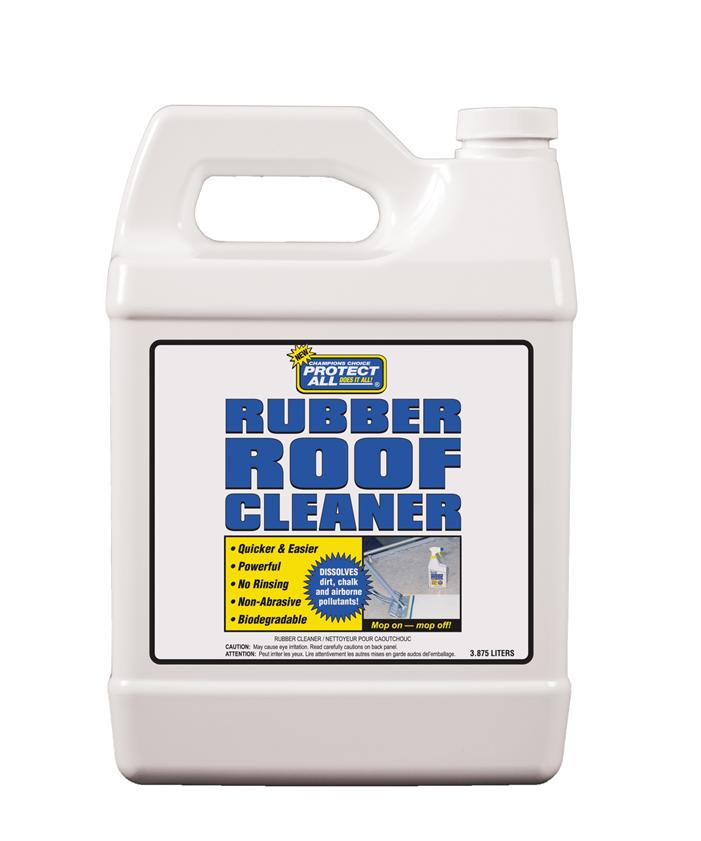 For the runner-up, the ProtectAll RV Cleaner stands out due to its high efficiency and long-lasting results that will satisfy your requirements. Most buyers prefer ProtectAll product as it brings speedy results within a short amount of using time.
The product can easily remove all the grime and contaminants on the roof within seconds. Notably, the cleaner is 100% biodegradable. So, if you are an environmental protection activist, it is a perfect choice.
Moreover, the product is compatible with all types of surface. With this product, you do not have to spend so much time to read the instruction manual and ingredient specifications. The implementing steps are only sprayed, mop, and let it dry.
Besides, it doesn't need to be rinsed after cleaning, which is convenient and time-saving. The price of ProtectAll RV Cleaner is more palatable than another rival on the market.
Overall, if you need a cleaner that is extraordinarily accessible but gives high efficiency and flexibility, the ProtectAll RV Cleaner is an outstanding choice.
Pros
High efficiency with speed results
Works well for all types of surface
Biodegradable for environment's protection
Low price
Cons
It is not suitable for professional cleaning tasks.
Best Protectant: ProtectAll Rubber Roof Treatment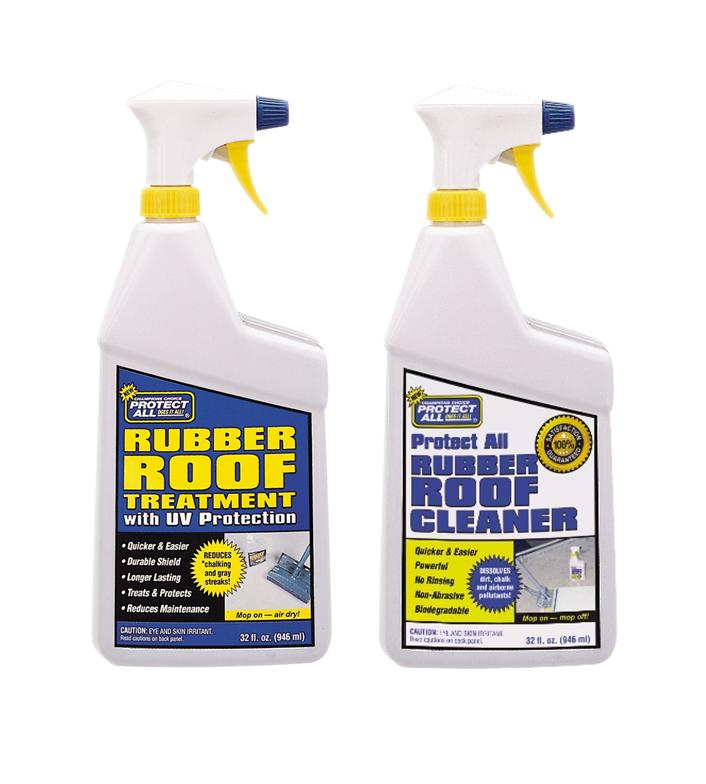 ProtectAll Rubber Roof Treatment is the first protective treatment on our list. The product mainly provides ultimate UV protection to your RV roof.
Also, it can ensure that dust and dirt will not accumulate on the roof within 3 or 4 months. With this protective agent, you can reduce the cleaning time by minimizing the problems for a very long time.
This protectant will significantly speed up the cleaning to keep the roof clean. Primarily, it is straightforward to operate and versatile. The product can reduce the damage of chalk accumulation, which avoids the unsightly grey stripes on the RV roof.
However, there is a remarkably high price that you have to pay. But considering what it can bring to your RV roof, it is still a profitable investment.
Pros
Protects the roof from UV rays and dirt accumulation
Reduces the risk of potential damages
Easy to use
High efficiency
Cons
Mould Removal: BEST 55048 Rubber Roof Cleaner/Protectant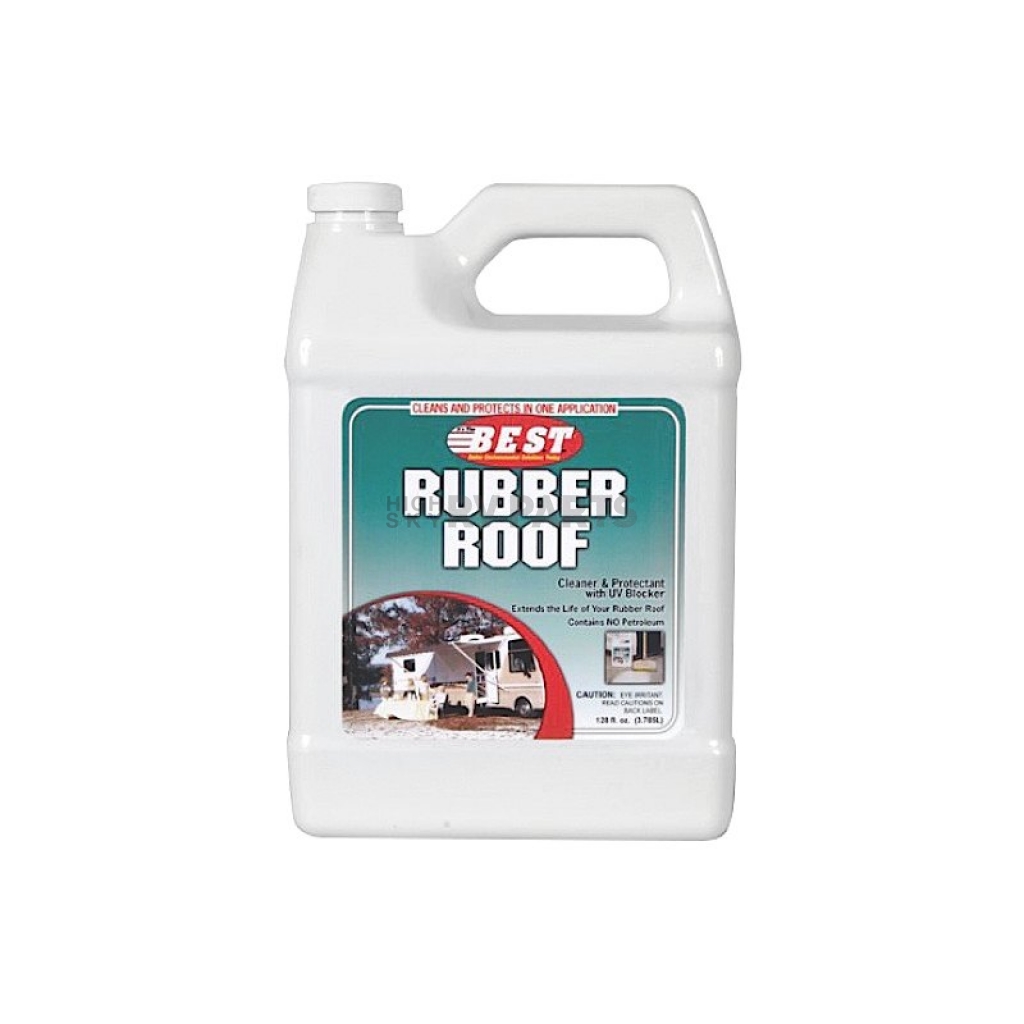 Compare with other products on this list, and BEST 55048 cleaner/protective agent is distinctive. It can clean and protect the RV roof with top-notch quality.
This product is incredible in preventing nasty mould on your roof. The most crucial thing that you need to avoid is water damage because it can cause rust. The product ensures that mould will never become a problem by terminating the existing mould and its growth.
Moreover, the BEST 55048 unit also enhances the UV protection. And with reasonable price, the product is ideal for any family household who about to enjoy a long trip.
However, it is not biodegradable. It is a common drawback that most cleaners have to deal with and receive boycotts from environmental activists. 
Pros
Clean and protect RV roof efficiently
Prevent mould and its growth
Reasonable price
Prevent UV rays and streaks effectively
Cons
Most Versatile: Dicor Corporation RP-RC-1GL Rubber Roof Cleaner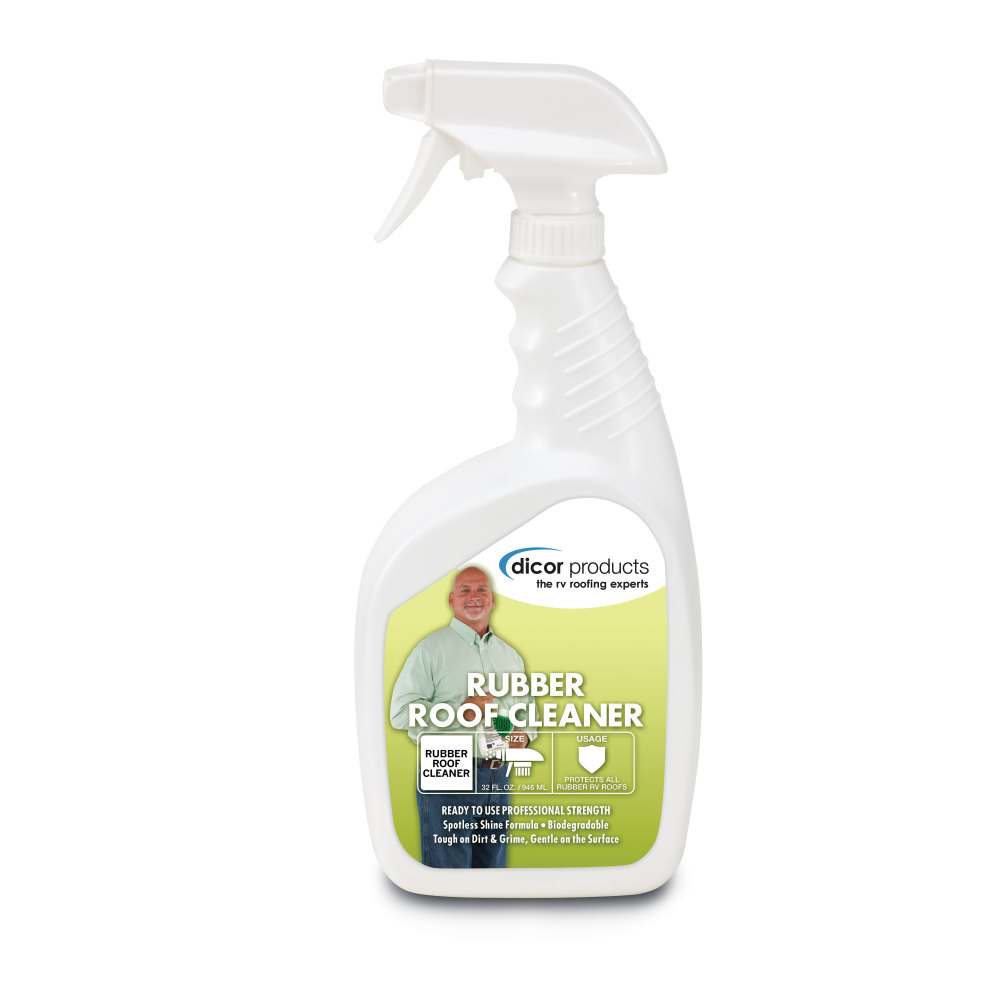 Dicor Corporation RP-RC-1GL cleaner is a top-notch product with a wide range of uses. This motorhome cleaner is accessible with all types of RV roof, including rubber, vinyl, and aluminium.
Besides its fantastic versatility, it can remove contaminant and debris faster than most of the products on the market. This product makes your roof clean effortlessly. And it is also affordable to attract a broad of users in many countries.
The usage of this product is simple that you do not need any instruction at the beginning. Since you only have to spray and mop the bottle, the cleaning tasks with Dicor unit only take several minutes.
By being biodegradable, this product is an excellent choice if you are clumsy and do not get familiar with cleaning liquid. However, unlike the products above, this cleaner requires a rinse off after washing. So, it may require more effort than others.
Pros
High versatility and effectiveness
Suitable for all types of RV roof
Simple usage and affordable price
Biodegradable
Cons
Liquid Removal: Dicor Corporation RP-RG-1GL Rubber Roof Protectant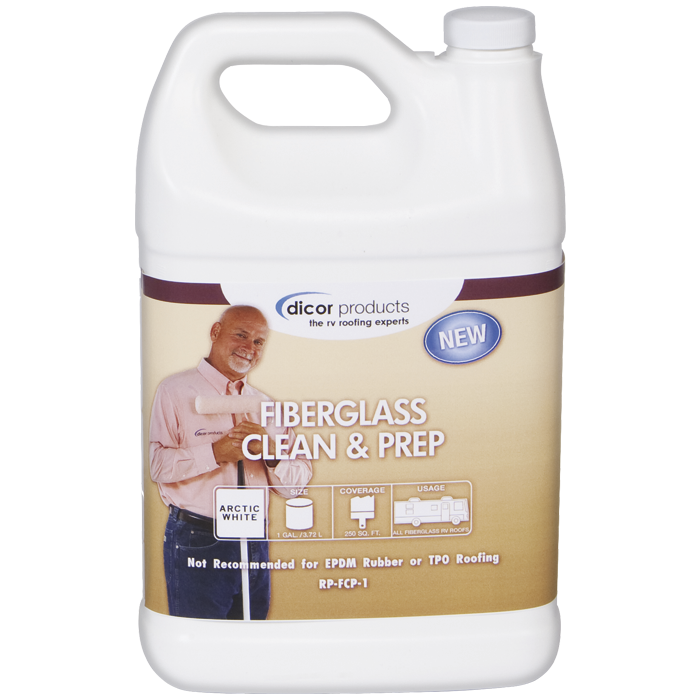 The second Dicor's product is the RP-RG-1GL model. It is one of the most high-end products on this list. And like other top products, it is compatible with all surfaces and does prevent oxidation.
It also fights against all kinds of nasty substances such as dirt and bird droppings, which are dangerous things for any RV owner. With the protectant feature, you will have no concern about seeing contaminants on top of your RV.
Nevertheless, it gets rid of the accumulation of oil or residue, which is the RV owner's nightmare. Fortunately, with those spectacular features, its price is not high at all.
However, some customers are not happy with the sunlight protection of the product. It is tough to find the right parking place for a RV, so it is a bit disappointing.
Pros
Suitable for all types of surface
Gets rid of contamination liquid and residue effectively
Prevents oxidation
Affordable price
Cons
Best for All RV Parts: Gel-Gloss RV Wash and Wax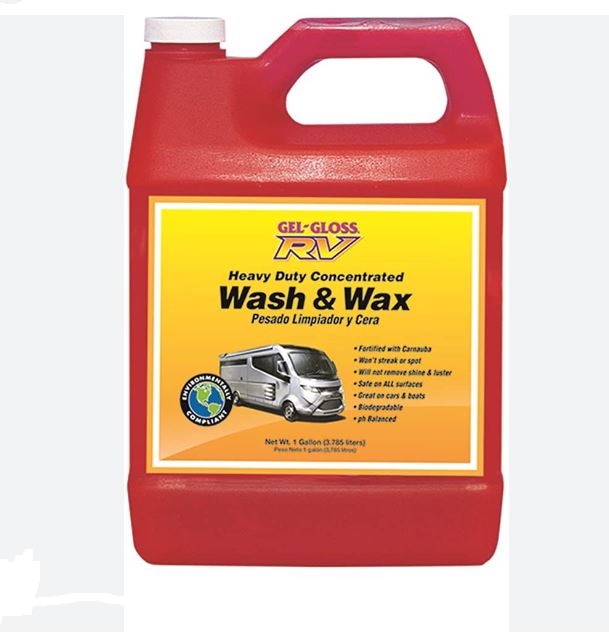 Gel-Gloss RV Wash and Wax can be used on all surfaces. And beyond your expectation, it can work well for all parts of your RV. It will deep clean every part of the RV with a pure cleaning agent.
It not only cleans the RV, but also waxes effectively. Therefore, you will never see any non-luminous part of the RV every again. Or we should say that this product is a phenomenal restoration.
In addition to providing much-needed cleaning and waxing for your RV, it can handle any other transportation, such as cars and trucks. Mostly, you may worry about streaks or water stains when using a cleaning product, but Gel-Gloss RV Wash and Wax conquer this thing quickly.
However, the customers encountered problems with the delivery service. Multiple reviews complained that the detergent leaked into the box.
For high-quality products like this, you would not expect this problem. Gel-Gloss seems to be just lazy. However, if this problem is unique, then I can't help but consider them because their products are incredible.
Besides this inconvenience, the product is extremely affordable and biodegradable. If you want a cleaner that is compatible with more than an RV, the Gel-Gloss product is one of the best choices.
Pros
Works for other vehicles
Enhances with waxing and cleaning
Easy to use and affordable
Do not cause water spots and streaks on the surface
Highly biodegradable
Cons
Wrong delivery and shipping services
Best for All Surfaces: Thetford Premium RV Rubber Roof Cleaner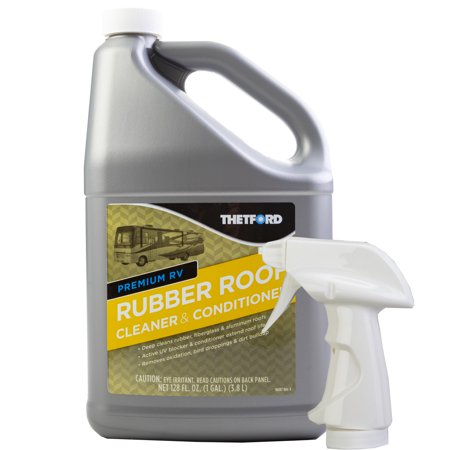 Another suitable product is Thetford Rubber Roof Cleaner. It has a variety of functions, making it stood out among single-functional products. Can be safely used on any rubber or vinyl roof to make it shine brightly.
It also has active sunlight protection to prevent the heatwave from hitting your RV roof. This feature will help avoid problems with the heated roof of the RV when someone is continually driving the RV.
Similarly, it is incredibly efficient to remove grime, grease and dirt deposits on many RV roofs. However, some customers point out that this product is not much different from regular cleaning ones.
Pros
Considerably cleans all types of RV roof
Effective UV blocker
Extremely cheap
High efficiency in cleaning
Biodegradable
Cons
There are no advanced features from this product
Best Price: Camco 41063 Pro-Strength Rubber Roof Cleaner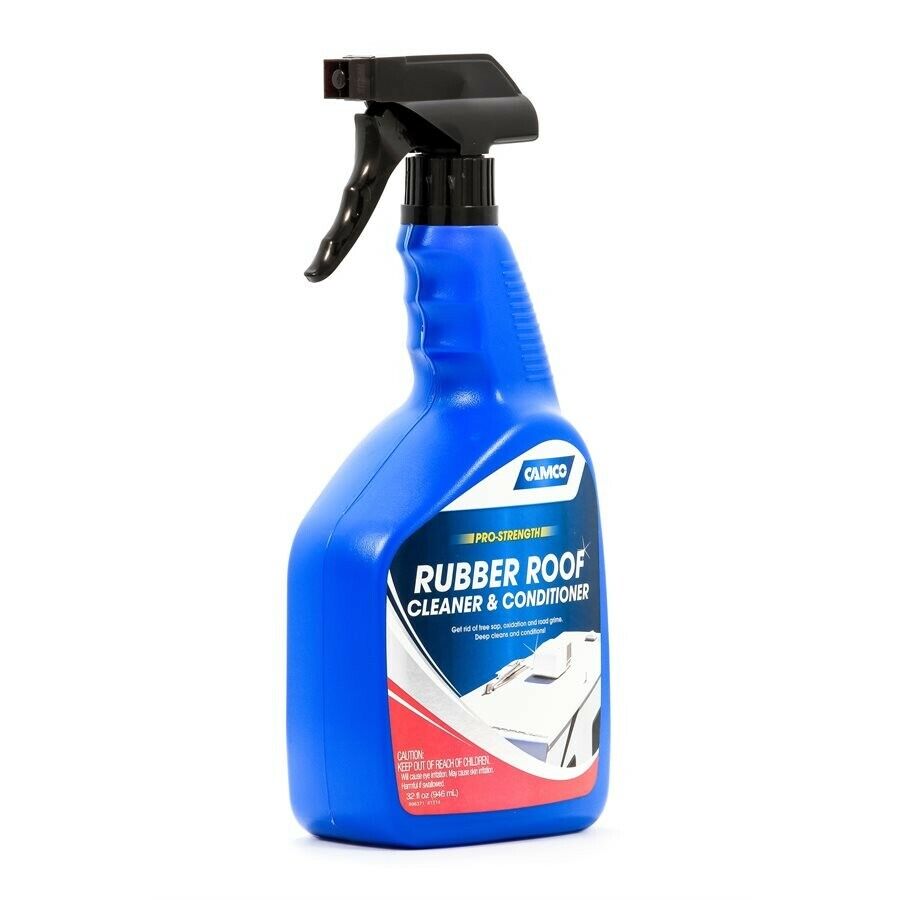 Our last review is about Camco's other product, Camco Pro-Strength Rubber Roof Cleaner from the top manufacturer, Camco. The product is easy to use with a one-step operation. In addition to being easy to use, it can get rid of sap and other nasty substances with the first use.
Primarily, it can ensure to remove all dirt and another contaminant with ease. The specialized formula gives an arm to prevent potential damages to your RV roof. For the second time after the first cleaning, you only have to spend less effort to have a perfectly clean roof.
Considering all these factors, the price of this roof cleaner is surprisingly affordable. For any RV owner, this is a profitable investment. However, several customers complained about substandard shipping package. Some complaint shows that the box was torn and the cleaning agent had leaked when arriving.
How to Clean the RV Roof?
With the development of life, RVs have slowly spread to every household, but many people have little knowledge of RV maintenance. The cleaning of the car roof is the most easily overlooked for most car owners. Because the roof generally uses fabric materials, which cannot be washed with a brush, and the cleaning of the inner tent is very cumbersome. 
The cleaning of the outer roof of the RV is effortless. Just like washing the car in regular times, it is enough to mix it with a cleaning agent and rinse it with water, and then correctly maintain the whole RV roof.
The specific cleaning method for the RV roof is using a high-power vacuum cleaner to vacuum, and at the same time perform a preliminary cleaning of the ceiling with a soft ceiling brush. Then, spray a neutral foam cleaner on the suede surface of the roof. After a few minutes, use the special cleaning soft brush for the ceiling to scrub gently and carefully, and finally wipe it with a wet towel.
Remember not to use other hard-bristled brushes. Otherwise, the hair will fall off easily. Suede ceilings are difficult to clean, so you must buy the right foam cleaner. The best is a dry foam cleaner for washing fabric sofas, which can condense the dust into small beads after spraying.
Then use a vacuum cleaner to absorb it. For stubborn stains, the owner only needs to spray foam repeatedly for scrubbing. After the treatment is clean, use another clean cotton cloth or towel and gently smooth it along the direction of the fluff to restore it to its original appearance.
How to Choose the Best RV Roof Cleaner?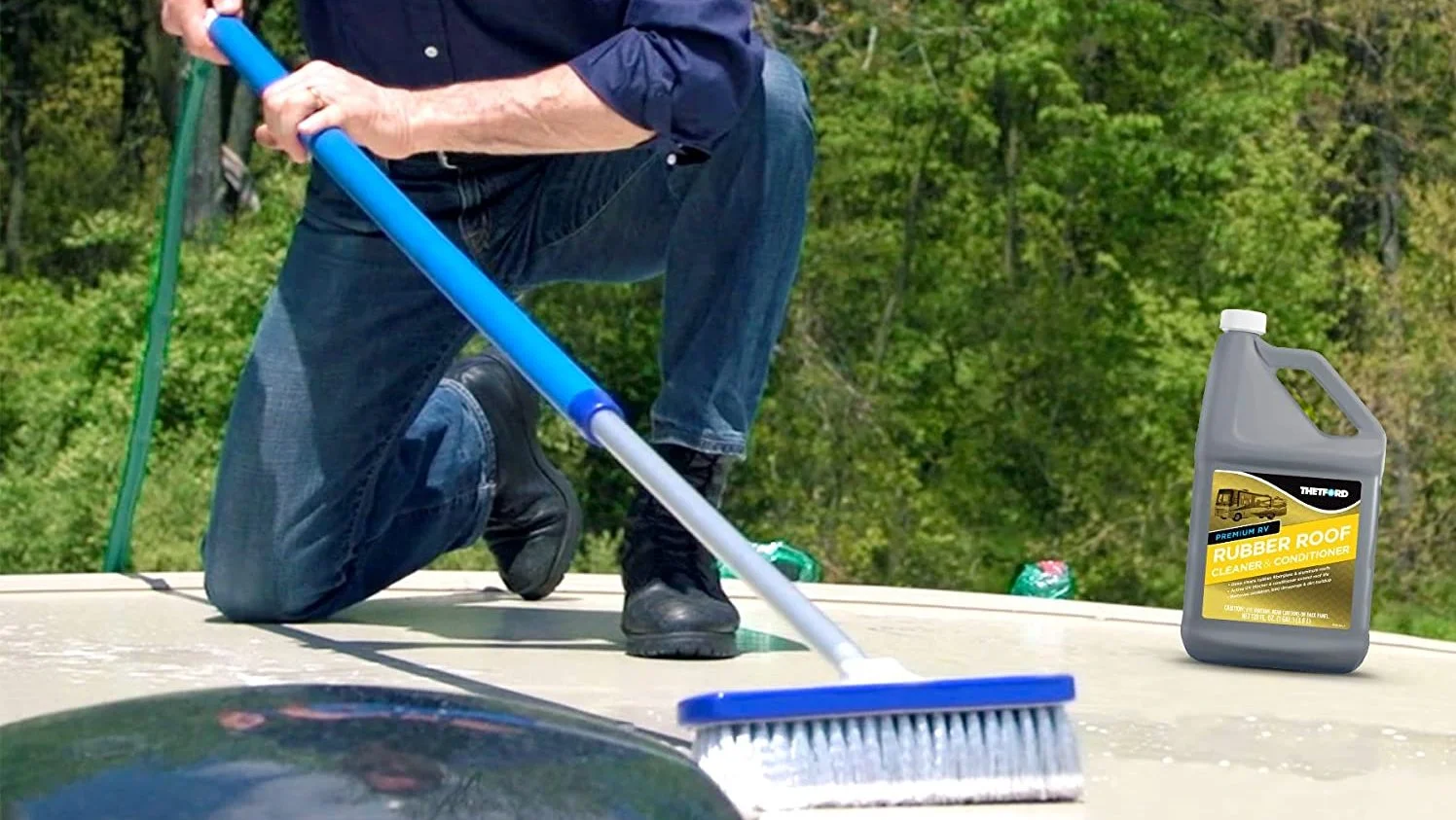 Multiple Functions
When choosing the best RV roof cleaner, you should use a special detergent for car washing, and the soap with water-containing wax composition is the best. The pH value of the professional detergent should be neutral, and will not destroy the surface of the car, such as water wax in the car washing process.
Also, it can give the car body a moisturizing and maintenance effect. Even if the car is washed frequently, the paint will not be damaged, and the result is ideal.
We recommend that you should not use strong alkaline detergents or soap powder to wash the car because although they have strong detergency. The RV roof will be eroded; and it will accelerate the ageing of body rubber parts, tires, car windows, etc.
Product Specifications
The brands who over-promote their super decontamination ability of car cleaners should be cautious. These cleaners are likely to be strongly acidic or alkaline cleaners. The content of individual filters exceeds the standard, which can easily cause bleaching of automobile fabrics, or cause the surface of the object to become dark and lose its lustre gradually.
Some cleaners are used on leather seats to harden and crack the leather. Some cleaning agents cause rust spots and stains on car metal parts after use. The more common problem is that the smell of inferior car cleaners is strange, stubborn, and trying to terminate.
A safer approach is to choose a cleaner with moderate decontamination ability, preferably a natural and environmentally friendly type with less chemical ingredients.
Usages
Be cautious when encountering universal cleaners. If a car cleaner can be applied to all parts of the car, it can be said dialectically that in fact, it can be used in all parts of the vehicle. And it is unrealistic. This simple truth is understandable to everyone.
When buying car cleaners, it is recommended that car owners choose several special cleaners for spare use, such as cleaning products for cloth seats, leather seats, car interiors, car paint, car wheels and other parts.
FAQs
Does cleaning the interior roof differ from cleaning the exterior one?
Yes, the cleaning of the inner ceiling is much more meticulous. The cleaning method is usually to clean a large area with a high-power vacuum tube and a brush. And then use a neutral detergent to clean the dirt, and finally complete the cleaning.
What should I notice when buying a RV roof cleaner?
At present, there are many car cleaners on the market that contain acid and alkali, such as detergent and washing powder. Acidic or alkaline car cleaners will cause severe damage to the car paint. So when you choose car cleaners, you must be cautious and don't be greedy for cheap.
How many types of RV roof cleaner available?
Non-dewaxing car wash: It is a water-based cleaning agent widely used in the automobile industry at home and abroad. It has substantial wetting and dispersing ability. It can effectively remove dust and oil on the surface of the car body, but will not wash off the original car wax on the car surface.
Brighten car wash liquid: It is one of the non-dewaxing car washes, and its performance is better than ordinary non-dewaxing car washes.
Dewaxing car washing liquid: It is an organic cleaning agent. It is mainly used to remove paraffin, grease, silicone, polishing agent, dirt, etc. on the surface of the car body.
Powerful tire detergent: The cleaning agent is a potent alkali type cleaning agent, which has a noticeable effect on cleaning tires with unwound coils.
Glass detergent: Used to remove the misty film accumulated on the glass.
Powerful engine cleaning agent: It is a biodegradable branch oil agent that is stronger than general solvents. It can clean interiors and pumping units after 1:1 dilution. It is the only biodegradable solvent in the world.
Final Words
In the process of RV roof washing, the choice of the best RV roof cleaner is critical. If you choose a terrible car cleaner, it is straightforward to wash off the wax layer on the surface of the car body.
Some detergents also contain a certain amount of alkalinity, which is easy to paint the car body. And metals cause strong corrosion, as well as gloss, rust, etc. So, it is essential to know how to choose the best RV roof cleaner.
If you have any question, feel free to comment below!