Fishing
Best Braided Fishing Line Review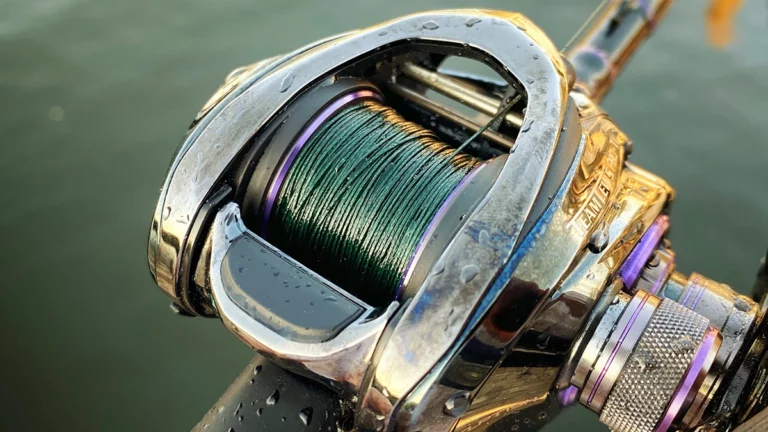 If you are a fishing lover, you must know how essential owning a braided fishing line is. However, choosing the best braided fishing line is sometimes a daunting task due to its variety in the current market. Which one can fulfill your requirement?
Well, do not look any further as we are here to help you with the overall review braided fishing line of the top 4 products. Let's take a closer glance at it to find out your desired fishing line.
Top 4 Best Braided Fishing Line 
1. Power Pro Spectra Fiber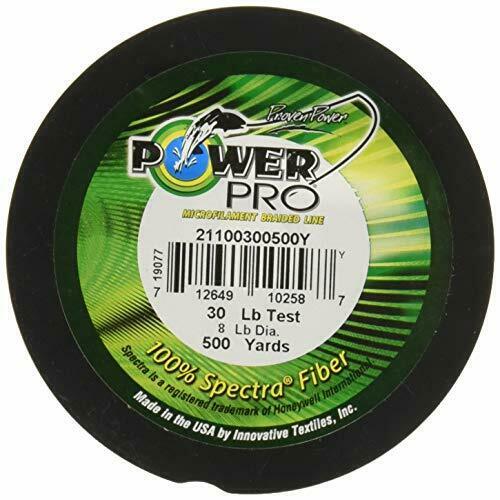 Ranking first on the list is Power Pro Spectra Fiber. Do you wonder the reason why? 
First and foremost, when it comes to a round, smooth, and sensitive fishing line, this stuff undoubtedly meets the demands. It is all thanks to Enhanced Body Technology (EBT) to amaze you at its excellent handling performance. 
Additionally, it must be mentioned that this item is made from ultra-strong Spectra Fiber that contributes significantly to the strength. 
This material is highly sought-after by every angler due to its superb power. This is one of the main reasons that you cannot overlook this product. Unfortunately, remember that this fishing line is quite hard to untangle. 
Besides, it offers a variety of weights and lengths so that you will have lots of line options. Furthermore, this product comes with many colors, such as moss green, hi-vis yellow, white, and so on. You can feel free to pick the right line blending well with the color of the water. 
Fish cannot notice the fishing line, and the chance of catching them is much higher as a result. Also, its thin diameter from 0.005 to 0.035 inches allows you to give lures more action to make fish take the bait easier. 
Pros
Designed by Enhanced Body Technology.
Comes with strong material.
Available in various colors, weights, and lengths to choose from.
Features thin diameter.
Cons
Verdict: 
In sum, this stuff is pretty incredible, making it an all-time pick for fishing lovers. Due to several amazing features, it promises to deliver the high performance of catching fish. 
2. Berkley Fireline Superline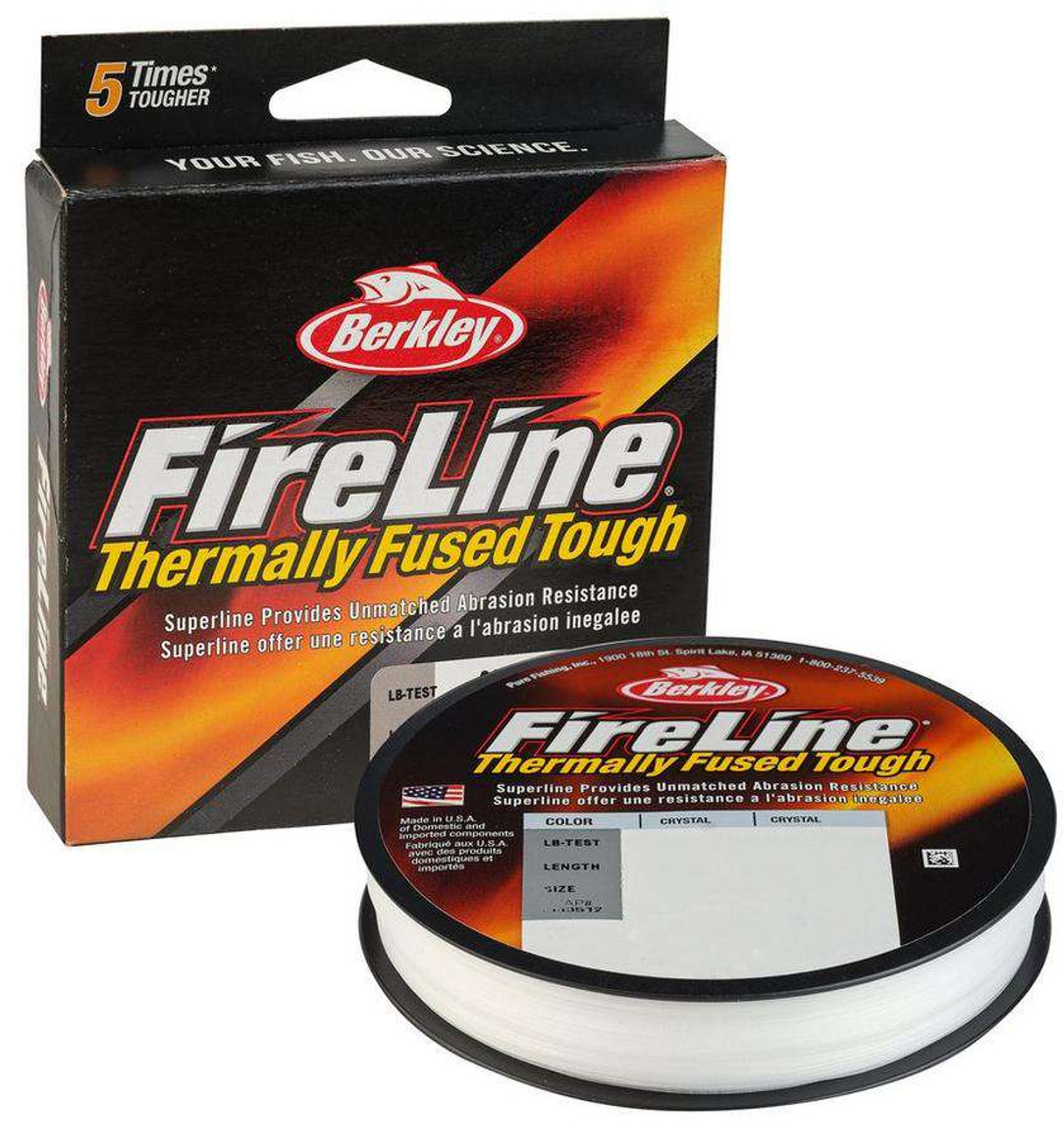 Up next, we would like to introduce you to a fishing line from Berkley named Berkley FireLine Superline. This item is considered a thermally fused line that gives you a smoother feeling than a standard braided line when taking it out of the package. 
Besides, the Fireline is made with Microfused Dyneema PE fibers, which is claimed to be 3 to 4 times stronger than monofilament lines, and offer a long and fast casting line. 
Apart from being the first translucent Superline that offers low in-water visibility, this unit also features super-thin diameter. And its incredible thinness of up to 0.015 inches has also reduced the visible range in order to track the fishing line's movement effortlessly. 
Most notably, we highly praise the versatility for fitting several spinning reels of the Berkley fishing line due to the high abrasion resistant Superline. Simultaneously, its durability to be utilized on even rough underwater surfaces will not let you down. 
However, some of you might do not like its waxy coating. Notice this feature before buying one. 
Pros
The first ultra low-visibility line.
Brings a smooth finish thanks to a thermally fused line.
Incredible strength.
Offers both versatility and durability for anglers.
Cons
Causes discoloration if not correctly used.
Has a waxy coating.
Verdict:
This product might have a few disadvantages. But with the Berkley Fireline Superline, rest assured that you can deal with some of the roughest conditions in the water with ease. 
3. KastKing SuperPower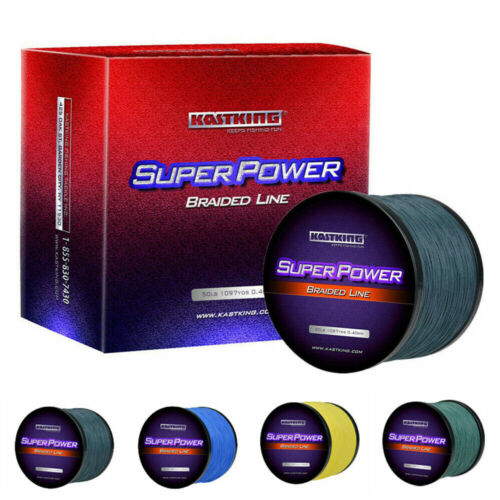 Are you searching for a fine braided fishing line with a knot strength? Then the upcoming fishing line called KastKing SuperPower will surely live up to your expectation. 
Expressly, its strands are dynamically incorporated, enabling to tie a solid knot or even an improved clinch knot quickly without any difficulty. And its supple fishing line can easily pass through the guides to the target to provide superior lure performance as a result. 
Unlike the Berkley FireLine Superline, this line does not have a waxy coating. Instead, its great abrasion resistance to rough underwater obstacles undertake the long-lasting quality of this fishing line. 
On top of that, do not forget that this KastKing line has ultra-high sensitivity and zero stretches that increase your catch ratio. Of course, it can all perform well regardless of your demand.  
In particular, it must be mentioned that it features a thicker line and some colors of this line are getting faded quickly. 
Pros
Does not have a waxy coating.
High abrasion resistance.
Ties a knot easily and quickly.
Brings superior lure swimming action.
Cons
Offers a thicker line than other lines.
Some color lines fade after time.
Verdict: 
Undeniably, the KastKing SuperPower fishing line can be the best-braided line for many anglers from newbie to expert. You can totally consider this one if its drawbacks do not mind you at all.
4. Spiderwire Braided Stealth Superline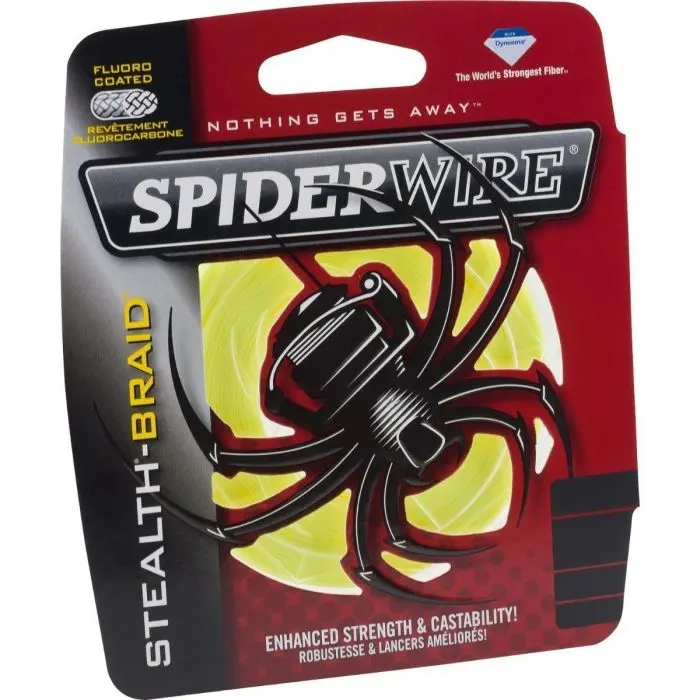 Have you made a decision yet? Wait! Another fishing line from the brand Spiderwire called Spiderwire Braided Stealth Superline is waiting for you to consider. 
Which feature makes this product outshine? Well, it is treated with Dyneema polyethylene microfibers and a fluoropolymer coating. Therefore, it gives you a smoother, more robust line as well as strengthens the handling, castability, and quiet operation.
Most notably, its sleek and durable braided fishing line is what you should not look down on. This feature has resulted effectively in casting further and lasting longer. Besides, be happy that you will find this Spiderwire line quite effortless to set up and utilize.
Its manufacturer has designed this fishing line with the Color-Lock coating technology to maintain its color and prevent fading. However, sadly its efficiency is not really as expected.  
Pros
Higher performance thanks to Dyneema PE Microfiber design.
Has a sleek and durable braided fishing line.
Quiet performance.
Easy to set up and use.
Cons
Verdict: 
Although the Spiderwire Braided Stealth Superline is not as excellent as other lines in the list, it is still worth a purchase to help you catch fish. 
Best Braided Fishing Line Wrapping Up
Here is the wrap up of our review braided fishing line. We have picked some prevalent products so that you can consider carefully according to your need. Have you found your favorite brand and product after consulting this article yet? We all expect that the answer is yes.  
And do not hesitate and invest in the right braided line to fish with right off the bat.