Biking
Best Road Cycling Helmet Reviews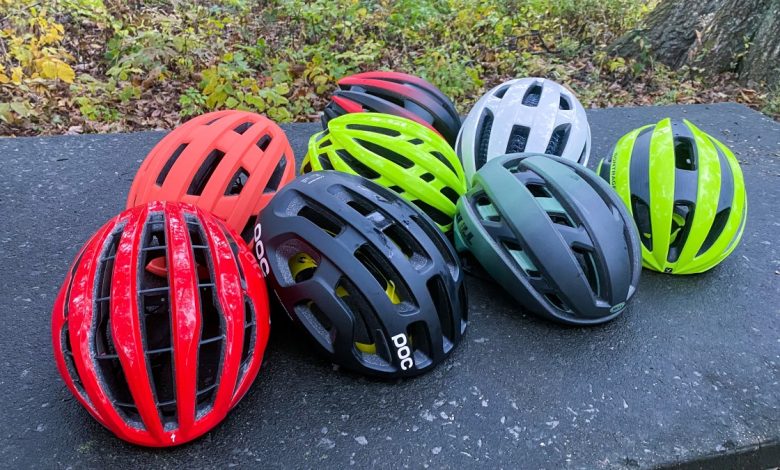 If you are an avid road cyclist, you should be aware that the law has mandated that all road cyclists wear a road bicycle helmet while pedaling. In fact, a road bike helmet is always the essential protective gear that every cyclist must not neglect because the world of cycling is full of different disciplines. You never know what will happen when your life is on the road, so safety must be your priority. Therefore, you should buy the best road cycling helmet to protect or prevent you from any severe injuries.
Generally, a bicycle helmet is composed of 2 significant parts: outer and inner. The outer part is a visible shell made of expanded polystyrene material covered with polymer while the inner part is made of expanded or foamed polyurethane covered with padding. The polystyrene material is proved to be an excellent buffer to absorb impact energy and compression during the event of an accident. According to the research, after the significant impact, most of the helmet's inner polystyrene beneath is likely to be damaged even though the outer polymer may appear to be intact. Thus, cyclists should consider replacing a new helmet after every significant accident or impact.
Like a bicycle itself, the bike helmet can be categorized into a road bike and mountain bike helmet. Typically, the mountain bike helmet is designed to be tough to withstand harsh conditions while cursing on various dirt trails. On the other hand, the road bike or racing bike helmet is built on an aerodynamic design by facilitating air intake and ventilation systems.  
Best Road Cycling Helmet Reviews
In this guide, we have provided a comprehensive review of 8 best road cycling helmets by analyzing each brand's unique characteristics, features, pros, and cons. Also, we have studied hundreds of users worldwide to ensure that the information we have collected and reviewed is accurate and trustworthy. Our best advice is to carefully read our review of 8 best road bicycle helmets and decide which one suits you most.
1. Giro Syntax Road Cycling Helmet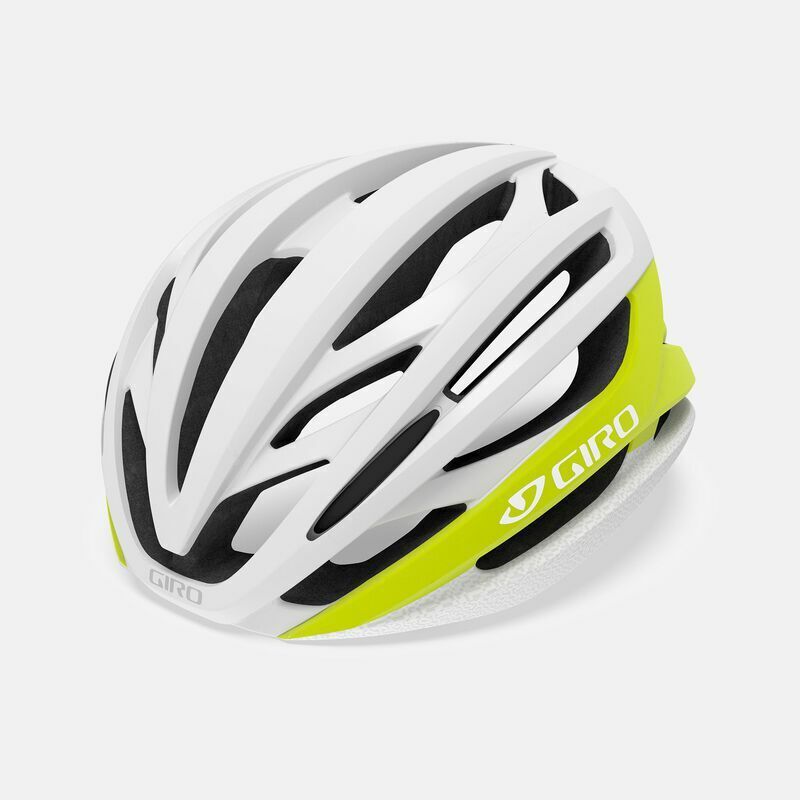 Giro Syntax road cycling helmet is one of the best protective gear available on the market. The helmet itself is built with in-mold construction technology to not only reinforce the outer shell with solid polycarbonate material but also enhance the ventilation system. Thus, it is lighter and fresher than a traditional road bike helmet. Besides, Giro Syntax integrates MIPS technology to redirect rotational force energy during the crash, minimizing the impact, which may harm cyclists' brains in an inevitable accident.
Thanks to its high-density polycarbonate material, the helmet does perform well to absorb impact and effectively reduce shock pressure to protect cyclists' head during the accident. The ROC LOC 5 air fit system provides ample clearance between the helmet and top of the skull to allow the fresh air to flow over the head, improving the ventilation and exhausting heat out of the helmet. The Giro Syntax road cycling helmet is an adjustable, one-size-fits-all helmet that can tighten the side strap to fit the head circumference. Additionally, the helmet comes with 25 exhaust wind tunnels to force heat and stale air out. 
Features:
The Multi-Directional-Impact-Protection-System (MIPS) is capable of redirecting rotational force energy during the crash

25 exhaust wind tunnels to effectively reduce heat and stale air inside the helmet

In-mode construction technology offers lightweight design and comfort

ROC LOCK air fit system facilitates the airflow

Reinforce outer shell with high-density polycarbonate material

Removable anti-microbial padding for maximum hygiene 
Pros
Sturdy and sleek design
Optimum protection performance
Well ventilated with cool and comfortable airflow
Unisex and one-size-fits-all helmet
Affordable price for a mid-range product
Cons
Instead leave forehead open while wearing
Heavier than other helmet brands
2. TeamObsidian Airflow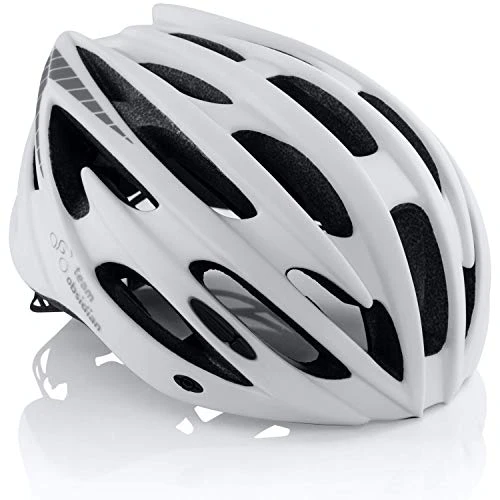 The dynamic and unique design of the TeamObsidian airflow road bike helmet makes it look substantially noticeable when cycling on the busy street or the high-way road. The helmet features the in-molded reinforcing skeleton technology with long-lasting polycarbonate material on the outer shell and shock-absorption EPS polyfoam on the inner shell to guarantee maximum protection on your skull in any unexpected event of an accident. 
Additionally, the TeamObsidian Airflow road cycling helmet comes with incredible 22 exhaust wind tunnels ventilation to effectively drive heat and staple air to accommodate cool and comfortable feeling during the ride.
Besides the classy look, the helmet also features a detachable visor for maximum protection on any objects, and it is equipped with a washable inner pad, an adjustable chin strap, and the dial fit at the back for both vertically and horizontally fit with your head circumference. The strap and dial fit are designed to wrap around the ponytail to accommodate female cyclists. The helmet weighs only 0.6 lbs. For S/M size and 0.63 lbs. For M/L size, respectively. TeamObsidiean Airflow road bicycle helmet comes with a 2-year manufacturer warranty, and CPSC certifies the helmet for maximum safety. 
Features:
In-molded skeleton technology provides maximum protection on your skull

22 exhaust air ventilation system to reduce heat and increase airflow inside the helmet

The back dial fit in the back and quick release chin buckle to vertically and horizontally fit with your head circumference

Washable pads for best hygiene

2-year manufacturer warranty 

  

Weighs only 0.6 lbs. For S/M size and 0.63 lbs. for M/L size
Pros
Lightweight and durable design
Cool and comfortable
Excellent shock absorption and crash protection
Affordable price
Easy for cleaning and maintenance
Suitable for all genders
Cons
The front part of the strap is too loose
The padding is too thin
3. Omne Air Spin Road Cycling Helmet By POC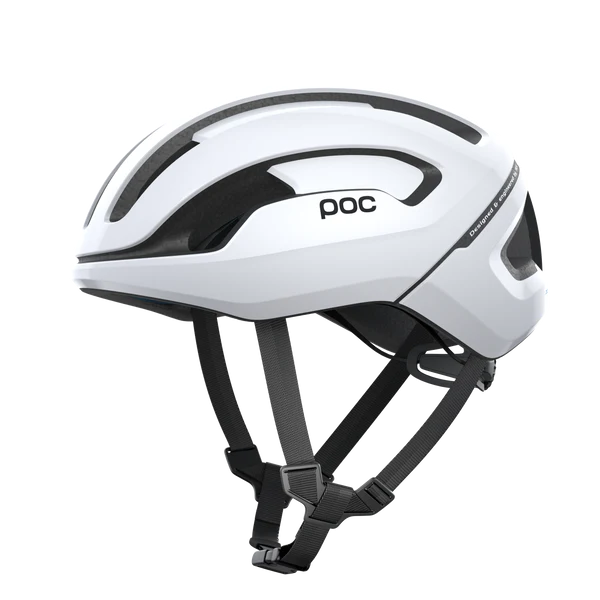 Omne Air Spin road cycling helmet is best known for its high performance, which always sticks firmly with the cyclist's head regardless of any type of terrains. Besides, it is designed to be used as a multi-purpose helmet for professional and amateur alike. Serious cyclists can enjoy as many features of this helmet as weekend riders do. This protective helmet is built with advanced optimized-density EPS liner to provide the maximum protection to your head. It also features exclusive POC's patent-pending silicone pad technology system called SPIN (Sharing Pad Inside). This technology enables the POC to apply innovative processes and design to deliver better comfort and performance.
POC does apply the concept of minimalist to design this helmet. It features a clean aesthetic, lightweight structure, and superb airflow ventilation system in simple design and functionality. Like other road bike helmets, POC has built this helmet using in-molded technology that the outer shell is tough to withstand a more energetic impact. On the contrary, the inner shell is soft enough to provide comfort while cycling on rough terrains. Together both parts work in combination to soften and progressively dissipate multi-directional impact. The helmet is also equipped with an easily adjustable precision strap for extra safety during the long ride. Furthermore, the Omni Air Spin road bicycle helmet features the lightweight 360˚ size adjustment system, which allows the cyclist to adjust the helmet with one-hand dial quickly.
Features:
In-molded technology with advance optimized -density EPS liner for providing comfort and durability

POC's exclusive patent silicone pad technology system SPIN (Sharing Pad Inside)

The lightweight 360˚ size adjustment system

Minimal design 

Available in 3 different sizes S/M/L
Pros
Multi-purpose helmet for both racing and commuting ride
Slim and clean design
Quick adjustable fit with a one-hand dial
POC's patent-pending SPIN deliver better comfort and performance
Cons
Not suitable for oval-shape head
No spare pad included
4. Base Camp ACE II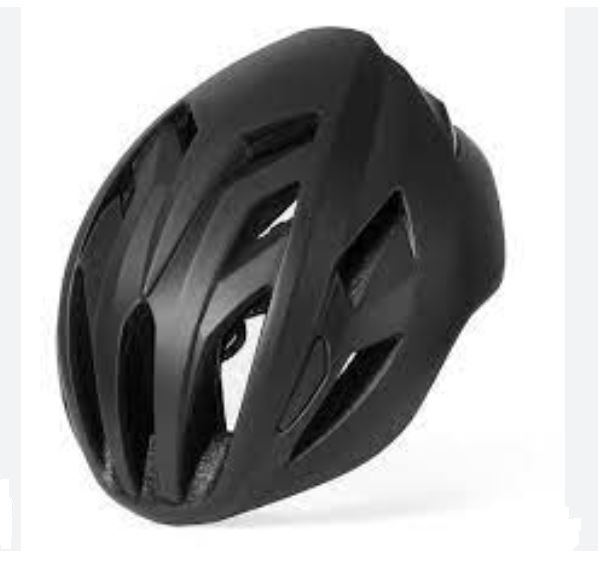 Base Camp ACE II helmet is ranked as one of the most aerodynamic helmets in its class. Thanks to the Venturi effect via an air channeling system, the helmet can drive the heat out through its rear exhaustion system while letting the cool air flow through 14 super-ventilating channels. Being molded in a droplet shape, the Base Camp ACE II helmet enjoys extremely low dynamic drag. This allows the smooth airflow through multiple air channels on the helmet. Besides, the ACE II has applied the in-molded technology using the sturdy polycarbonate material for the outer shell and soft EPS foam for the inner shell to offer the maximum protection as well as comfort to all cyclists. The inner padding is removable and washable to accommodate hygiene. 
Moreover, the helmet features the RTS FIT system to provide a comfortable and snug fit for most standard adult size. It is equipped with quick-adjust fasteners to align strap to the flat position properly. Although the helmet can be adjustable to fit most adult size, it is the best suit for head circumference from 22 to 24.5 inches. It is advisable to measure your head circumference to determine the right head size before buying the product.
Features:
The Venturi effect system for a perfect ventilation

A droplet-shape helmet provides the aerodynamic advantage

Removable and washable internal padding for hygiene

In-molded construction offer durability and comfort

The RTS FIT system accommodate highly adjustable fasteners to fit most adult sizes

Complied with CPSC and CE. EN 1087 safety standard for materials used

Weighs 9 ounces
Pros
Sturdy and ultralightweight design
Single universal size fit all adult head size
Optimized for cooling airflow via super-ventilating channels
Budget-friendly price
Easy maintenance
Cons
The strap seems too loose
Thin inner padding
5. Giro Fixture Women MIPS Dirt Cycling Helmet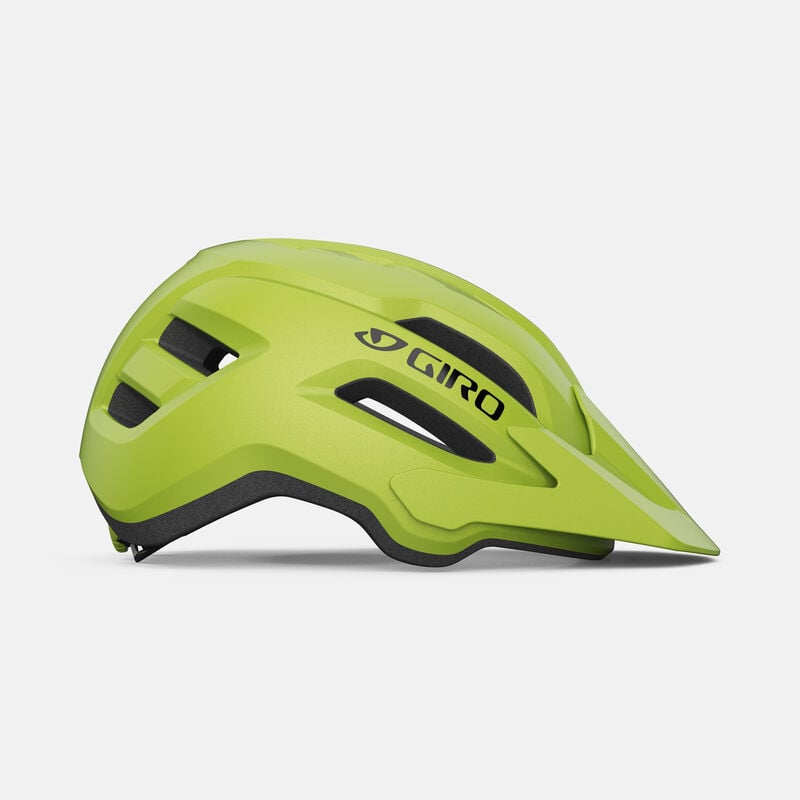 This dirt cycling helmet is another high-performance road bike helmet from Giro family. Giro, the California based company, has been in the business since 1985, and the company has involved in developing high-performance helmets for cycling and snow spots. Giro Fixture offers an excellent integrate MIPS (Multi-Directional-Impact-System) to minimize the rotational force that could hardly hit the cyclist by the severe impact of the unexpected accident. By utilizing the in-molded construction, Giro has crafted the helmet with a durable polycarbonate on the outer shell and inner foam liner on the inner shell. With the combination of both external and inner shells, it is capable of withstanding multi-directional impacts from the severe rotational force, which may cause permanent damage to your brain.
Additionally, the Giro Fixture helmet also features 18 ventilation wind tunnels, which effectively exhaust the heat from the rear exhaustion system and allow the more refreshing airflow through the channeling wind tunnels cooler and lighter than a traditional helmet. Furthermore, the patent-pending ROC LOC Sport MIPS fit system offers quick and easy adjustable one-hand operation for comfort and snug fit. It also supports ponytail compatibility by wrapping around it. 
Giro Fixture is initially designed for universal fit to most cyclists with few adjustments.
Features
:
The MIPS (Multi-Directional-Impact-System) to minimize multi-directional impact force

The ROC LOC Sport MIPS fit system offers quick adjustable operation

In-molded construction for maximum protection and comfort

18 ventilation wind tunnels system

Universal fit for most cyclists

Available in multiple colors combination
Pros
Sleek and lightweight design
Easily adjustable to universally fit for most cyclists
The MIPS system offers maximum protection by negating impact energy
Affordable price
Exclusively designed for women
Good value for money
Cons
Multiple reports on defect ventilation wind tunnels
Not suitable for big-size head
6. MOKFIRE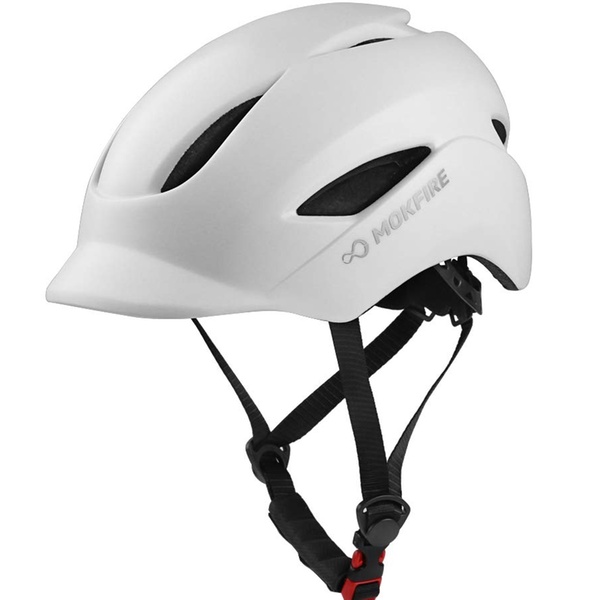 This road bike helmet is a budget-friendly helmet from MOKFIRE, a helmet brand from China-based Luoyang Cool Charge Trading Co. MOKFIRE is well known as one of the prominent budget brands of bicycle-related products. The helmet comes with two different models, one with a taillight option and one without. MOKFIRE road bike helmet is designed using sturdy polycarbonate material for its outer shell and EPS foam polyurethane material for the inner shell. With the combined force of both materials, the helmet can provide full protection for severe impact energy during the crash. Additionally, the soft EPS foam polyurethane offers support and comfort to cyclists. Thanks to ultralightweight polycarbonate and EPS materials, the helmet is sleek in style and light enough to fit your head comfortably.
MOKFIRE road bike helmet comes with 19 ventilation wind tunnels to enhance the cooling airflow inside the helmet. The system works by driving the heat and staple air out through the rear exhaustion channels and push the fresh air to circulate inside the helmet, providing cyclists with a comfortable feel. 
Furthermore, the helmet also features the dial fit retention system, which provides adjustable operation to fit most of the cyclists' head size universally. The inner padding is removable and washable for flowless hygiene. The delivery package comes with a removable visor. Optionally, this model comes with LED tailing for providing extra visibility during cycling at night.
Features:
Integrate molding with polycarbonate on the outer shell and EPS foam on the inner shell

3-mode LED tailing for extra visibility at night (optional)

19 ventilation system to facilitate the airflow inside the helmet

Removable and washable inner padding for hygiene

The dial fit retention system accommodates easy adjustment to fit head circumference.

Weighs 6.7 – 7.4 ounces

Removable visor included
Pros
Durable and lightweight design
Fresh ventilation system for maximum comfort
Budget-friendly price
Soft and comfortable touch
Easy adjustment to fit most of the head sizes
Comes with LED taillight (Optional)
Cons
Made from cheap materials
A thin piece of padding
7. Giro Cinder MIPS Road Cycling Helmet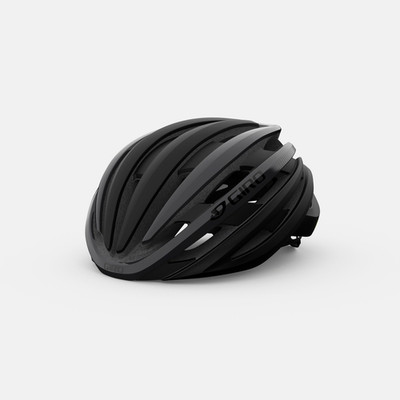 Inspired by the classic aesthetic of the premium Synthes helmet, Giro has molded the Cinder MIPS road cycling helmet to reflect its performance and style. Giro Cinder features the signature in-molded construction, which is the combination of a sturdy polycarbonate outer shell and flexible soft foam liner inner shell. Together they have created the superb ventilation system, making this helmet one of the lightest and coolest helmets on the market. Thanks to 26 spectacular wind tunnels ventilation system, the heat, and stale air are quickly driven off via the rear exhaust channels. On top of that, more refreshing air will be channeled via wind tunnels.  
The MIPS technology does an excellent job to subdue or negate the rotational force elsewhere. According to the research, the rotational force causes a tremendous impact on the human brain and results in permanent brain damage. The patented ROC LOC 5 air fit system mandate the design to leave ample space to allow the cooling airflow to pass directly over the head, improving the ventilation system and internal channeling process. Moreover, the fit system also enables you to make a necessary adjustment to fit your head circumference, using its signature one-hand operation.
Features:
In-molded polycarbonate shell with EPS liner

Thermoform SL Roll Cage Reinforcement

26 wind tunnels ventilation system with internal channeling

ROC LOC 5 Fit system 

The Multiple-Directional-Impact-System to reduce rotational force

Available in multiple colors combination

AIR-FX padding for extra hygrine
Pros
Durable and beautiful aesthetic design
Easily adjustable strap with one-hand operation
Aerodynamic advantage
AIR-FX padding provides an internal antibacterial coating
Ultra-lightweight with a superb ventilation system
Cons
Slightly expensive than other models in the same range
May not suitable for all head shapes
8. Exclusky Aero TT Road Bike Helmet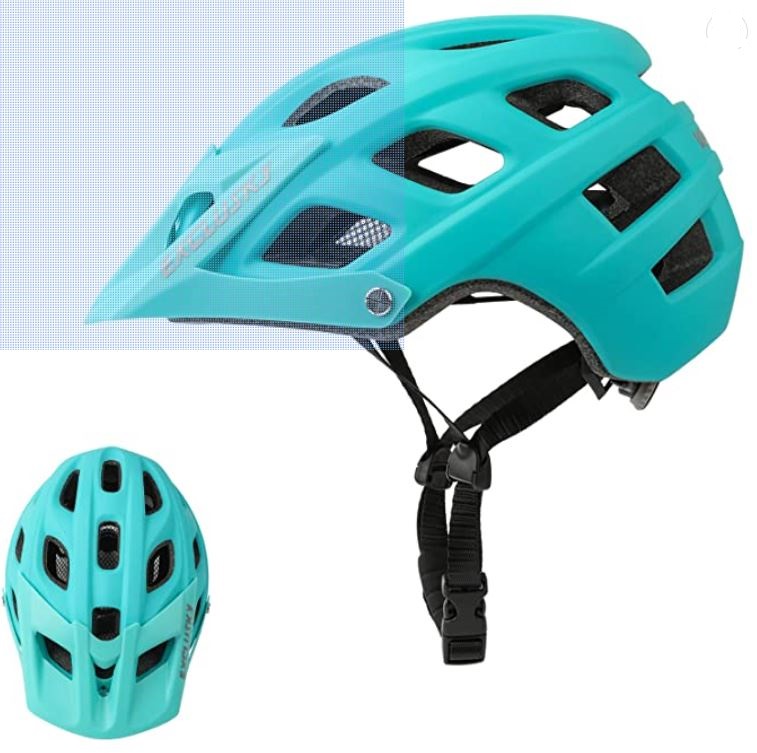 Unlike other road cycling helmets on the market, Exclusky Aero TT has opted to apply a new aerodynamic concept by designing the helmet's new front end. According to the study led by the research team, Exclusky has discovered that, by molding the helmet with drag avoided-inducing vortices, the aerodynamic benefit is substantially improved by directing the airflow through 8 ventilation channels. With a new tail design, Exclusky Aero TT is capable of eliminating the surface area when facing an extreme crosswind condition. Thus, cyclists will enjoy cycling the bike even on a long-distance ride. Also, the helmet is certified with a CPSC safety standard.
The in-molded construction is carefully practiced using the abrasion resistance polycarbonate material for the outer shell and soft EPS foam for the inner shell. This structure enables Excusky Aero TT to absorb impact energy to prevent serious torsion injuries. Furthermore, the helmet comes with a detachable UV-protection goggle to protect your eyes from glare during riding under the sunlight. Additionally, the helmet also features the adjustment retention system, which provides the adjustment from 22 to 24 inches. Besides, Exclusky also owns the patented adjustable rotary internal regulator, which can help you adjust it to fit your head.
Features:
In-molded construction with CPSC safety standard certified

New aerodynamic design with 8 ventilation channels

Adjustment retention system to fit helmet perfect with your head

Patented adjustable rotary internal regulator 

Durable buckle and chin pad

Detachable UV-protection goggle included
Pros
Sleek and lightweight structure
Budget-friendly price
Compatible with all head shape
Easily adjustable to perfectly fit your head
Durable and requires a low maintenance cost
Cons
Goggle may get fog up during the rain
No rubber piece on the bridge of the nose
Tips to Choose The Best Road Cycling Helmets
The first and most important criterion you should consider before buying a road cycling helmet is the safety factor because this factor means saving your life during an unexpected accident. By the way, you can quickly check the conformity to safety standards by looking at the certification numbers such as EN:1078 1997 and the EN:1080 1997. For US buyers, it is advisable to search for the CPSC safety standard. Theoretically, every helmet on the market should be certified by one or more of these standards, which are clearly printed inside the helmet. If you don't find them, likely, the helmet may not comply with the safety standards.
Another aspect to consider is the weight and materials used. Generally, budget helmets are carrying more substantial weight than those of mid-range and high-end products. Also, budget models usually come with a substandard ventilation system. More importantly, they are built with cheap materials that tremendous affect on your safety. From our point of view, it is worth to pay extra dollars to get a better-quality helmet because your life is the most precious thing you have. 
Although most helmets on the market are designed to be adjustable to fit most of the head size, you should buy the helmet that corresponds with the helmet size. Typically, helmets are being marketed in 3 different sizes: S, M, L. The standard measurement is as follows;
SM = between 20.4 – 21.2 inches, MD = between 21.6 – 22.4 inches, LG = between 22.8 – 23.6 inches 
Features to consider when buying a helmet
Straps:

 Examine the adjustment wheel or ratchet dial to make sure that it functions well.

Padding:

 Should be removable and washable.

Ventilation:

 the number of ventilation doesn't matter. Make sure that the internal channels in the polystyrene are firmly in place.

Weight:

 the lighter, the better.

Fitting:

 Helmet should snugly fit the head.

Materials:

 Polycarbonate for the outer shell and EPS foam for the inner shell.  
The Bottom Line
The online marketplace is one of the best places to buy a decent helmet. With a few clicks, you will find tons of items being offered on the internet. As mentioned earlier, this helmet's review was written by studying hundreds of users. We also applied these studies to supplement our list of best road cycling helmets for 2023. With the golden age of e-commerce, you can take advantage of many bargaining online offers. Read as many reviews as you can, do your homework, and the success will be yours.