Biking
Top 5 Best Spin Bike Mats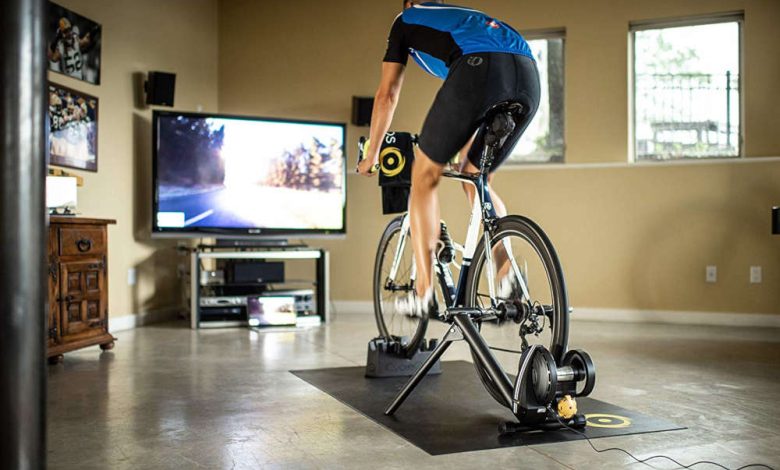 If you don't want to work out in the gym, there are exercises and equipment that you can use to get fit.
Having some equipment at home that you can use to stay fit can benefit you quite a lot. If you have a spin bicycle, now is a great time to purchase a spin bike mat. The mat keeps your bike clean, not collecting any dust. In today's market, you can find numerous brands and types of spin bike mats, which for some of you can be a challenge choosing the right one. That is why we have create a list of the best spin bike mats in order for you to choose the one that satisfies you most. From stationary bike mats, the Peloton bike mat to the Saris trainer mat, this list will help you choose from the best spin bike mats that you can purchase now.
Best Spin Bike Mats Reviews
1. CAP Barbell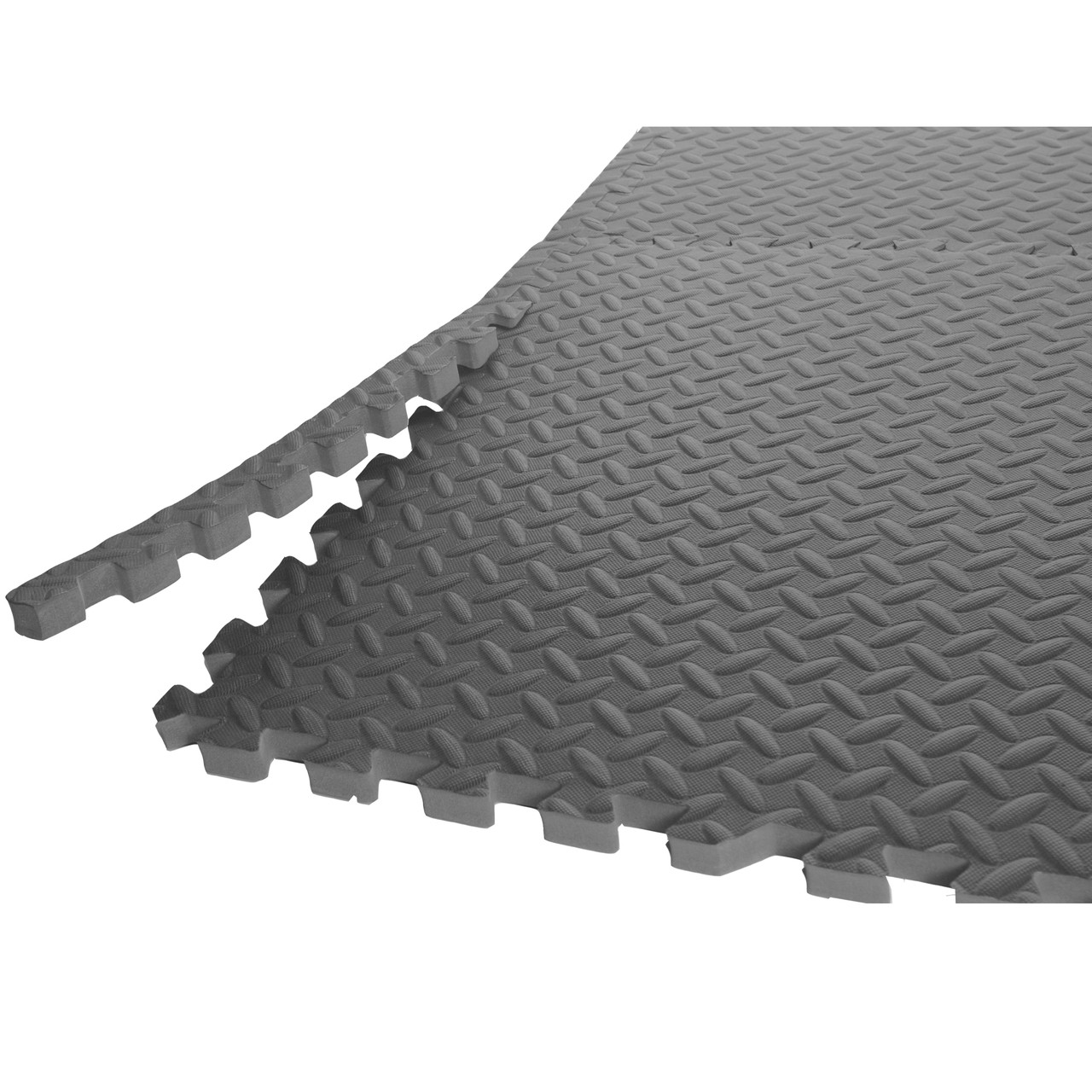 First on the list of the best bike trainer mats is the CAO Barbell Premium Spin Bike Mat. This exercise bike mat is completely made of PVC, which will ensure your floor or carpet of the vibrations of the machines that are placed on it. Because it measures by 48″ by 36-inch, almost every training machine can be placed on it. This mat will surely prevent any dust or dirt from going into the spin bike. It is well cushioned and it doesn't weight that much. Compared to other spin bike mats, this one is relatively cheaper than the rest of them. The one thing that may be a drawback to this mat is that when you first use it, there will be a plastic smell. Some people may not like the smell, but after a couple of uses, the smell will be gone.
2. Stamina Fold-to-Fit 
Folding Equipment Mat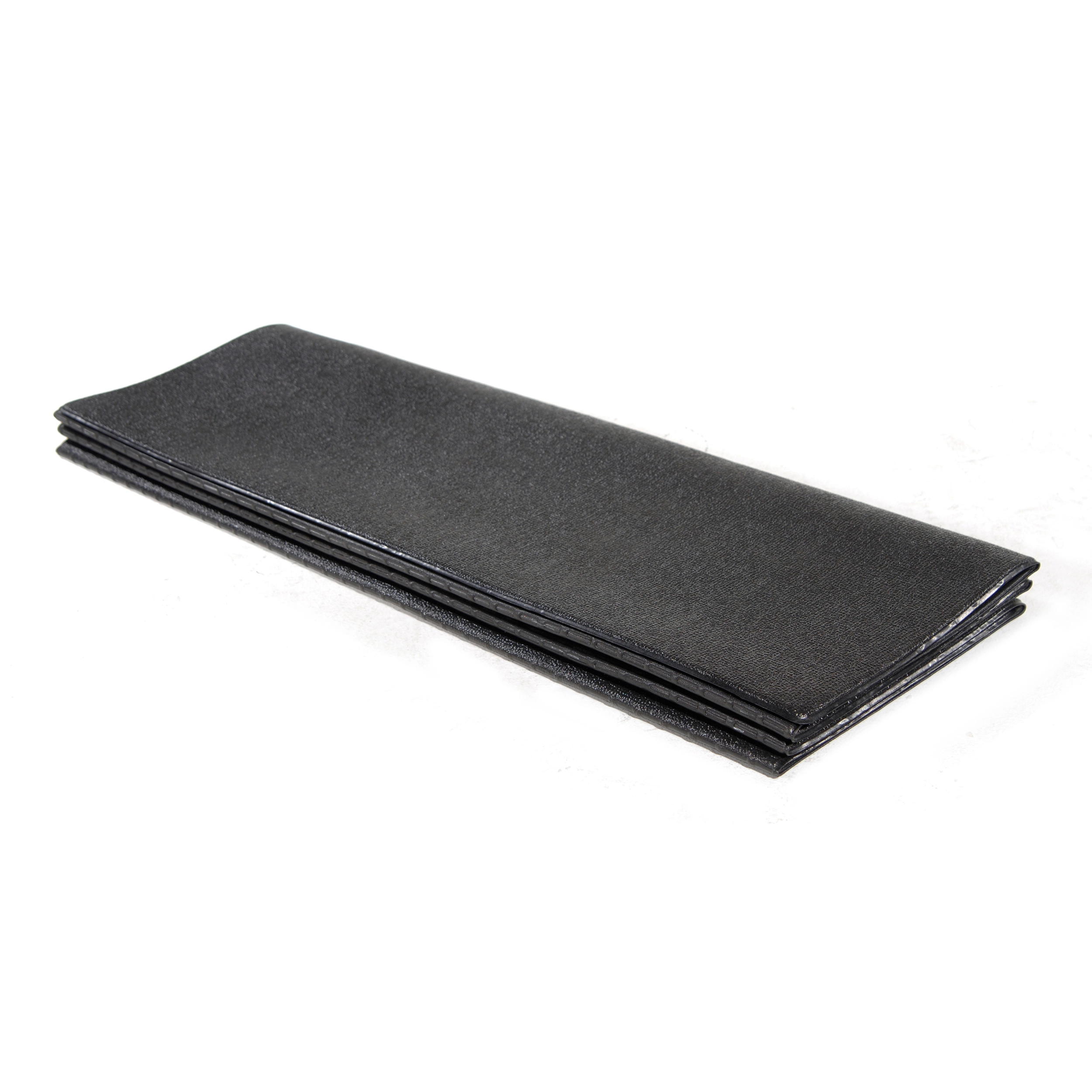 This mat is a mat for people that don't want to spend much money but still get a product that will protect their carpet and floor from work out machines they place on it. From exercise bikes to weight benches, this mat can be used with any machine that you have at home. Because it is 3-feet wide by 7-feet long, and it can be divided into 7-folds that measure 12″ each, you won't have any problem fitting your work out machines. It has a 1/4-inch thick closed-cell foam that is super tough and will prevent any damage to your floor or carpet. It has a textured surface which makes it pretty easy to maintain.
3. 
Supermats Heavy Duty Equipment Mat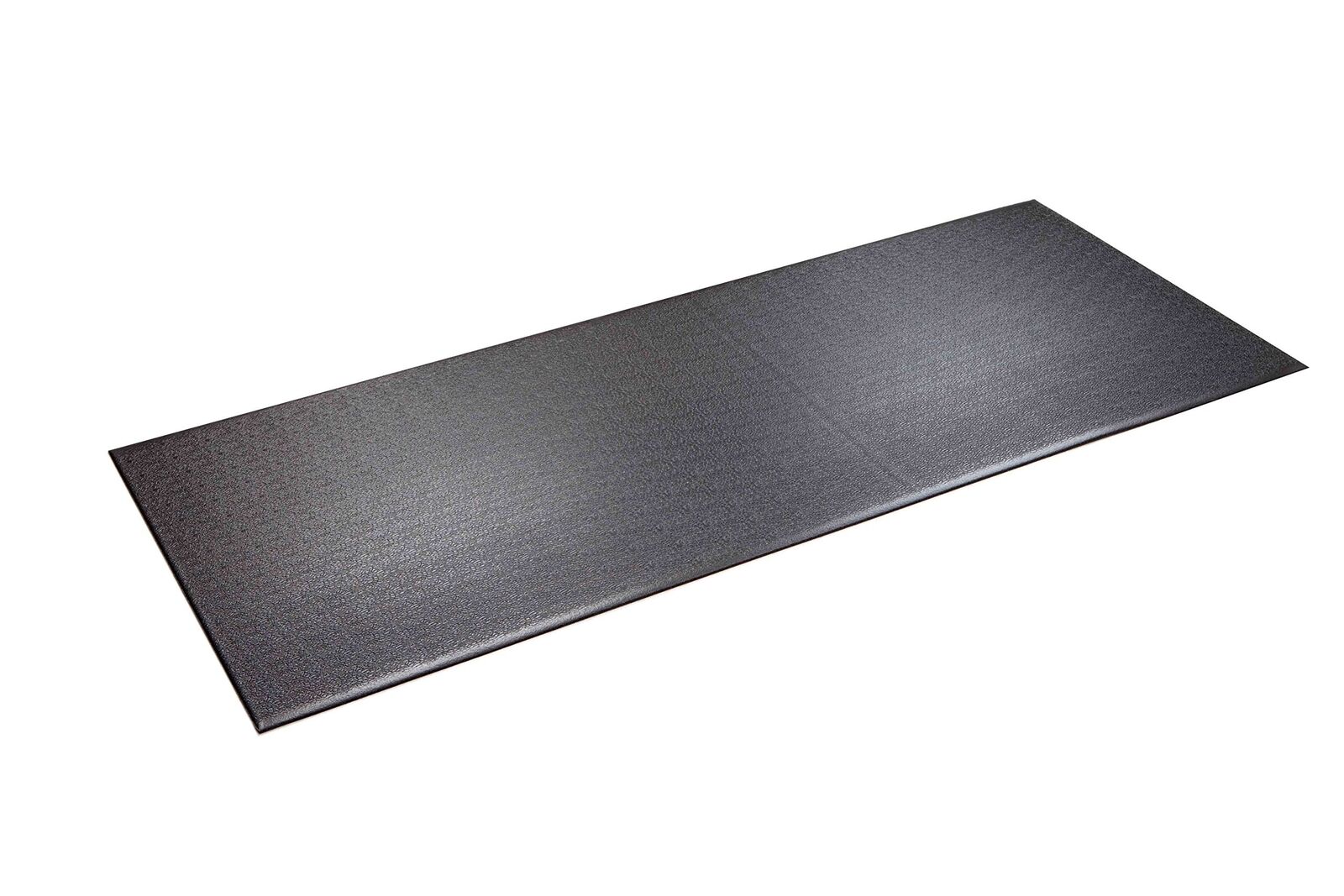 Coming in next on the list is the Supermats, which is considered one of the best bike mats on the market today. This exercise bike mat is made of super-strong PVC material that will protect your equipment and your floor from being damaged. Measuring 6-inch by 2.5-inch by, it can fit any type of equipment and it will surely protect the floors and carpet from the machine. It also absorbs noise, which means when you are using your spin bike, there won't be much noise that can disturb the people you live with and your neighbors. No dust will get in your spin bike and the mat is pretty easy to maintain.
4. 
Malamute Sports Indoor Bike Mat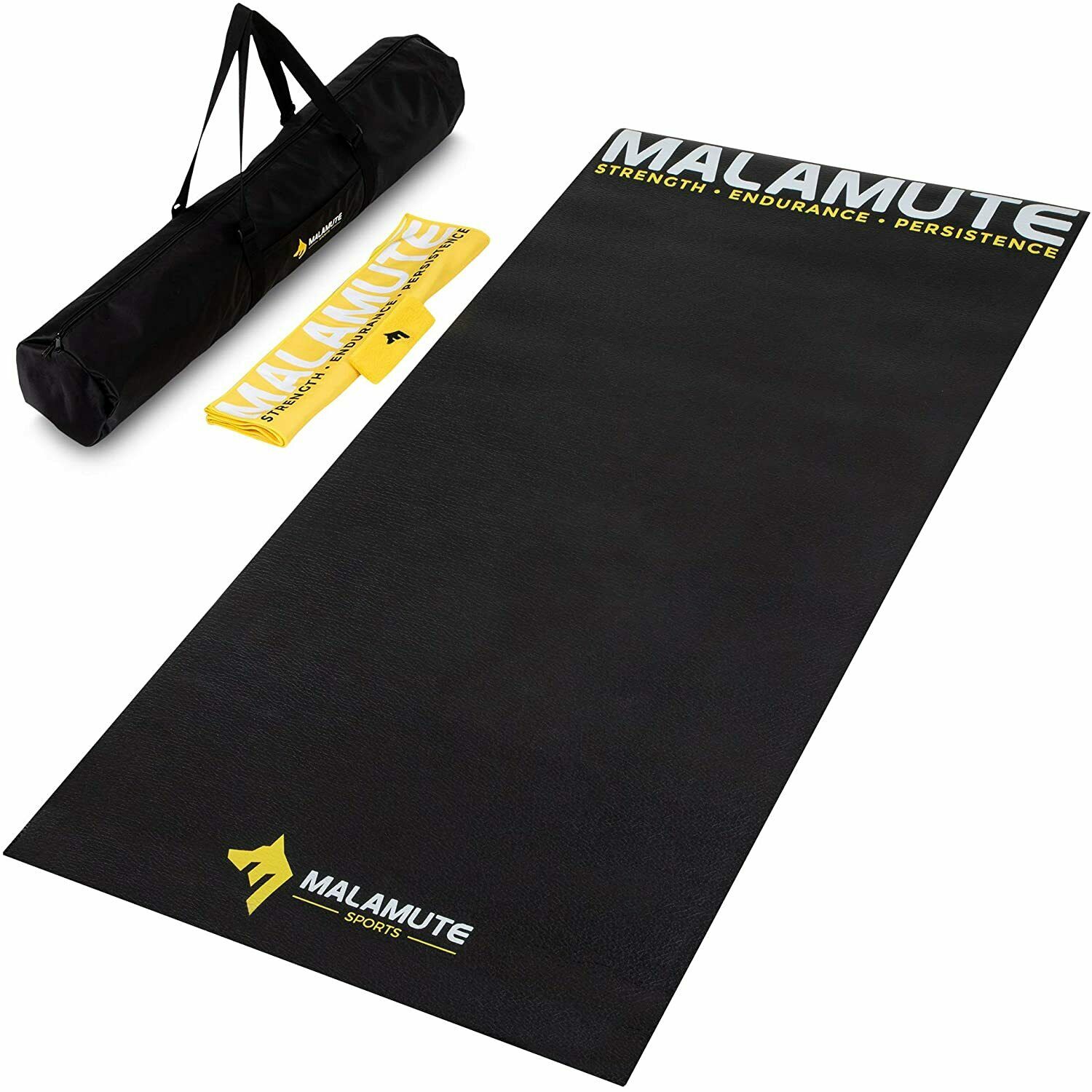 Malamute is made from 1/4-inch, or 6mm PVC closed foam that will soften the vibrations and will absorb most of the noise. It is a great protector for your floors as well as the equipment placed on it. The best thing about Malamute is the absorption of the vibration. This gives you more stability when you are exercising. It also can be used as a stretching mat because it is so large and soft.
5. Kinetic Trainer Mat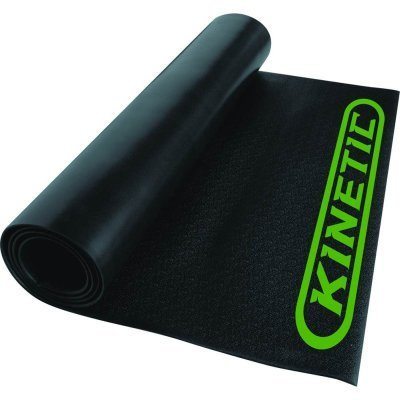 This trainer mat like some others on the list falls in the category of affordable training mats. Kinetic is a very popular brand, so we know that this mat will not disappoint. It is great in absorbing vibrations and noise with its flexible design. The 36-inch by 72-inch size gives you the options for fitting large and small equipment. Like other products on the list, this mat is also built with closed-cell foam, with a textured top that will prevent any sweat coming off of it.
Stationary Bike Mats Thing 

You Should Know 
These mats can be put under any kind of equipment to ensure any kind of damaging to the equipment and the floor. Because of their durable and tough materials, your machines and floor will be protected. You can bet that these exercise bike mats will last you a long time.
Peloton Bike Mat – Best Spin Bike Mats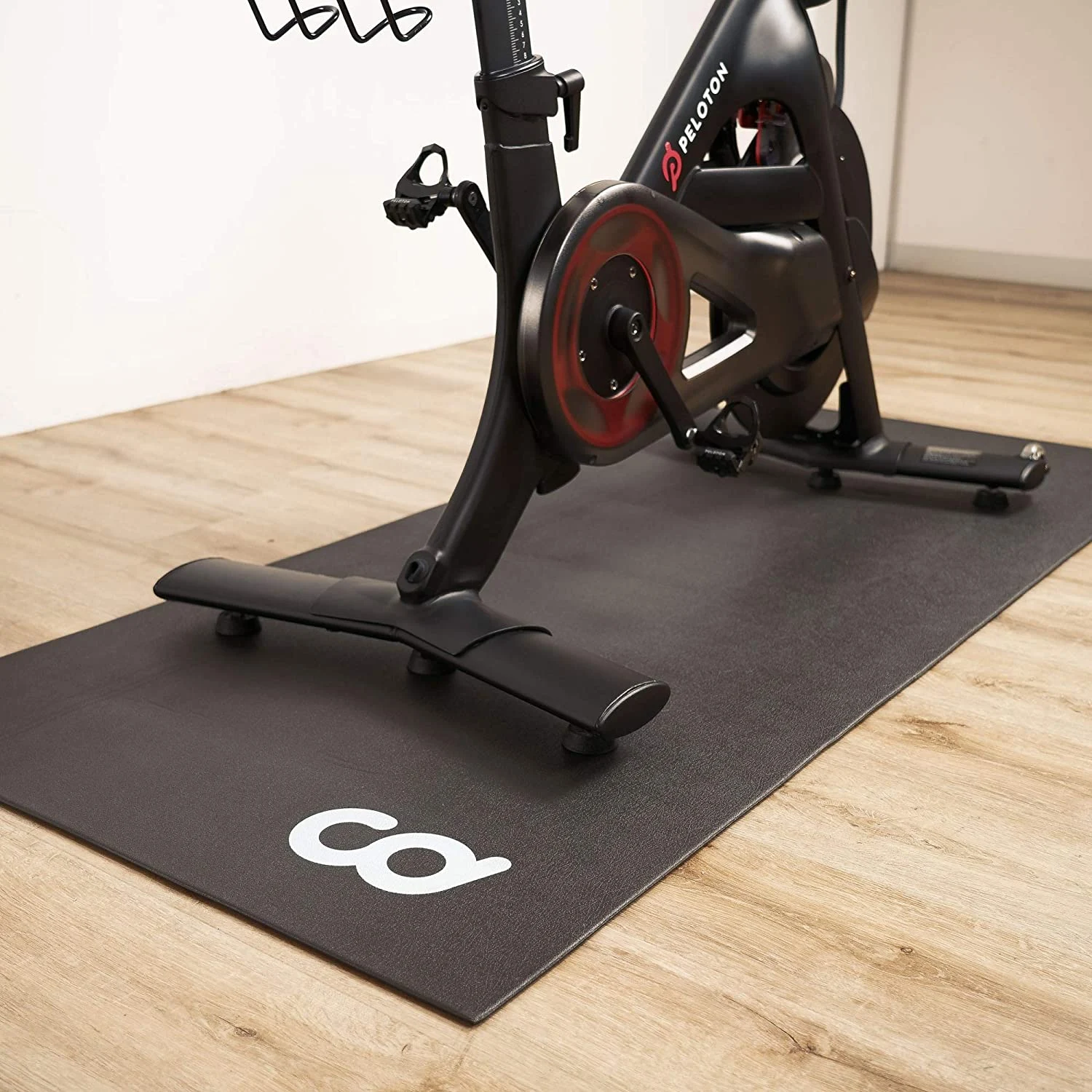 This mat is made for bikes that are produced by Peloton. Measuring 48-inch by 36-inch, this mat will fit your bike perfectly. The standard size of a bike mat is 72-inch by 36-inch, which is quite large. That is why if you own a Peloton branded bike, it is wise to invest in their mat as well.
Saris Training Mat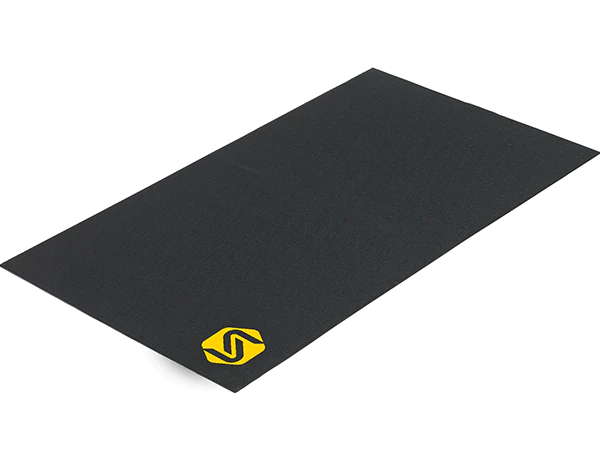 These mats are perfect for aerobics and bike trainers. They are quite like a stationary bike mat; the only difference is that they are made from solid rubber.
Bike Trainer Mats Conclusion
Like we mentioned in the beginning, there are a lot of bike mats in the market today. Because of that, we think this list will make your search for one a little bit easier. We are recommending the spin bike mats because they are second-to-none when it comes to the protection of your machines and flooring, adding great stability while you are working out. Which one you choose is totally up to you. Every mat on this list we are certain it will get the job done. All of the mats on this list come from companies that have proven to be reliable. Their products have always lasted the users a long time. We think this was helpful it the search for your ideal bike mat.